Philip Stevens for Air International reports;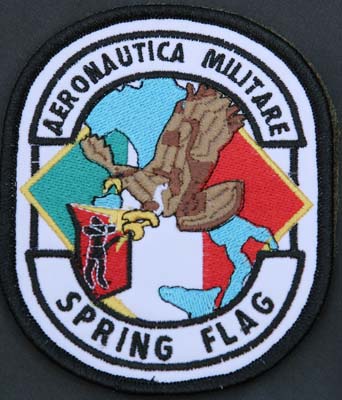 'Italy heads multi-national force over dispute between Zaraland and Etnaland'
Under Italian leadership, over 50 fighter aircraft from four NATO members deployed to Decimomannu air base, under a United Nations mandate to provide 'Peace Support Operations' over a simulated conflict between two countries. This is the scenario for the Italian Air Force's main annual exercise; 'Spring Flag' the objective being to train personnel to prepare for complex or Composite Air Operations (COMAO) and Tactical Air Support Maritime Operations (TASMO).

'Spring Flag' is a multi-national day and night exercise run by the Italian Air Force (Aeronautica Militare Italiana or AMI), but also involves the Italian Navy (Marina Militare Italiana or MMI) and Italian Army (Aviazione Dell' Esercito or AVES). Additionally a number of foreign air forces are invited each year. The exercise is organised by the Operative Command of the AMI with the participation of both the Logistic Command and the Air Squadron Command. The first 'Spring Flag' was held in 2003 and each year since, with the exception of the scheduled 2005 event, which was cancelled to cut costs. 'Spring Flag 2007' (SF07) started on May 7 with the arrival of aircraft at the AMI air base of Decimomannu on Sardinia. Adding to a full range of Italian forces were fighter aircraft from Turkey, Hungary and Germany. Turkey were flying six Lockheed Martin F-16C/Ds and Hungary had four Saab JAS-39 EBS HU Gripen, both countries were here for the first time. Germany attended with six McDonnell Douglas F-4F Phantoms. A large number of temporary units had already been assembled before the exercise began. These included a mobile fuel depot, mobile weapons depot, mobile chemical laboratory, mobile control tower and a special shelter for command and logistical control. Also, a large number of tents had been erected for the nearly 1,000 strong attending Italian personnel, while foreign guests with typical Italian hospitality were housed in the air base's main buildings.