In Conclusion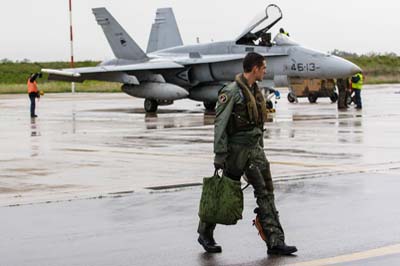 Col Capelli, Director of Operations was based at Decimo' for the exercise, "My role, with my staff, is to coordinate all the activities. We plan the whole exercise, we setup the meetings and prepare all the documents." Planning started nine months ago with the initial planning conference. He was clearly pleased with all aspects of the exercise. "There have been no major problems with the exception of the weather, which has caused some COMAO's to be cancelled for safety reasons."
This year Spring Flag was held a month earlier than in previous years making it more vulnerable to poor weather. Out of the 373 missions planned from Decimo' only 212 (63%) were flown due to adverse weather conditions in the operational areas. The poor sea state due to high winds was also a factor. This would have it made it very difficult to rescue a pilot who was forced to eject over the sea. OpFor at Trapani fared a little better being able to fly 87% of its planned 137 missions.
Despite the cancellation of some COMAO's it did not stop pilots from continuing to train. Detachment commanders from each nation would after or in place of a cancelled COMAO's, meet to organise small scale aerial battles. SF08 was an ideal opportunity for Dissimilar Air Combat Training (DACT), where pilots of different types of aircraft can fly against each other in one versus one or two versus two scenarios.
Following completion of the exercise on April 17 a VIP and media day was scheduled with over 100 journalists invited. Lt Col Alessandro Alfonsi, Press Officer and Chief of Media Operation Centre (MOC) was very keen to utilise the media in all its forms, including TV, to demonstrate to the Italian people the value and necessity for such exercises. No live weapons are used and the disruption to civilian life in Sardinia is kept to a minimum, "We have nothing to hide", said Lt Col Alfonsi. Last year there were some small protests at Decimo' air base this year none were reported, which is testimony showing how MOC staff had successfully proven their case.
The exercise did not only come under the scrutiny of the media. Official observers from; Algeria, Brazil, United Arab Emerates, Finland, Jordan, India, Kuwait and Romania attended to similarly learn how large scale aerial exercises are run.
Spring Flag 2008 was once again deemed to have been a success. Personnel from all participating nations were able to test their methods and skills in an environment that came as close to a live situation as is possible and without a live weapon being fired. With the updating of technology, methods have to change and lessons learned. Consequently on-going training for those directly involved in peace keeping or peace making operations is essential. The AMI's Spring Flag exercise remains perfect for procedures and standards to be developed and maintained.