Air to Air Photography
Flying with the Army Air Corp's
'Blue Eagles' helicopter display team
Middle Wallop
July 2007
The Army Air Corp's (AAC) 'Blue Eagles' helicopter display team was formed in 1968 with five Sioux helicopters. Over the following 40 years the Blue Eagles employed instructors from the School of Army Aviation at Middle Wallop in Hampshire. By 1995 the display team was flying four Gazelle and a Lynx and on occasions flew with the Army Historic Flight. 2008 was a momentous year. The years displays celebrated the 100th year of Army Aviation in what was also the 40th year of the Blue Eagles but sadly 2008 was going to be the final year of the display team. Due to increasing operational commitments the team's helicopters were transferred to the Joint Helicopter Command. The Army Historic Flight will continue to perform at air shows for the foreseeable future.
AAC Westland Lynx AH.7 (XZ663 'I') of 671 Squadron, 2 Regiment landing at Middle Wallop.
Left to right: The two AAC Westland Gazelle AH.1s (XX447 and XZ338 'Y') and the AH.7 Lynx (XZ663 'I') depart Middle Wallop.
Left to right: Gazelle AH.1 (XZ338 'Y') of 671 Squadron, 2 Regiment.
Left to right: Lynx AH.7 (XZ663 'I') of 671 Squadron, 2 Regiment.
Left to right: Lynx AH.7 (XZ663 'I') of 671 Squadron, 2 Regiment.
Left to right: Returning to Middle Wallop adjacent to the electric fence which protects the Apache ramp. Lynx AH.7 (XZ663 'I') and Gazelle AH.1s (XZ338 'Y', ZB673 'P' and my camera-ship XX447).
Photography note: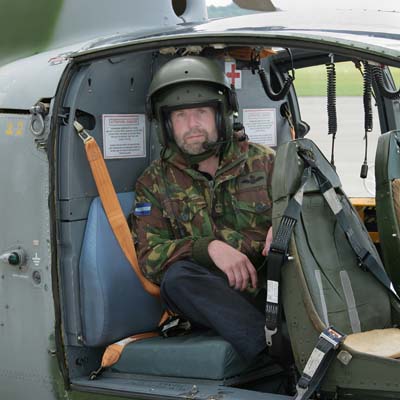 I was using a DSLR x1.6 sensor + Canon EF 24-105mm L IS lens. To shoot the AAC helicopters we discussed where was the best place for me to photograph from. Whenever possible it is best to avoid shooting through glass, so we decided that I should sit in the backseat of the Gazelle with the starboard side doors removed. To take the doors off is just a five minute job. We were flying at 400 feet and so it was not expected to be cold.

I found that flying at up to 150 mph and with the air flow through the open door, it was better to loosen the seat straps and slide across to the middle of the seat for some protection from the wind. I wanted to shoot at the slowest shutter speed possible for effective rotor blur.

However with the required focal length (up to 105mm) of the lens, the wind within the cabin and helicopter's vibration, only shutter speeds of between 1/160th and 1/250th were usable. The shoot lasted 20 minutes and I took over 400 images, to make sure that I got as many crisp shots as possible without camera shake.