On-Target

......

Philip Stevens, writer and freelance aviation photographer for over 30 years.
Ready, willing and available for any assignment .......
If you would like some air to air photographs I would by happy to offer my services free of charge.

Got an idea then just ask....using either or both of the following email addresses



The aims of the Target Aviation Photography website
Firstly, the Target Aviation Photography site aims to promote my main interest in life (apart from my family), aviation photography. Totally focussed on aviation photography if I am not planning an assignment or for an event, whether it be in the UK, Europe or North America, then I am taking time off to go to Wales or Cumbria for low-level flying photography.
Aviation Photography for me includes, vintage and veteran civil aircraft, warbirds and modern military aircraft which add a bit more excitement to aviation photography when they are flying. When I was approved to fly with the RAF and other air forces for Air to air images, it took my aviation photography a stage further. Military air base visits has given me the chance to talk to pilots and get in close to the aircraft. Aviation photography is so much better when the shots are taken of aircraft in their 'natural' surroundings away from the public and barriers.

Secondly, the Target Aviation Photography website aims to bring ideas and inspiration to other aviation photographers. I hope that does not sound too pompous! I am just fed up of the same old side-on shots. I believe that photographic aspects such as; action, angles, backgrounds, time of day and weather should all be included in the creative thought process.

About Me

I was born in Toronto, Canada in 1956. My father served with the RAF in the 50s, but after moving to Canada for some years we returned to England to settle in the Midlands. From the mid-1960s I lived in Elmdon Lane, beside Elmdon Airport or as it is now known, Birmingham International Airport. I witnessed the first jet to land there in 1967, a KLM Douglas DC-9. I took up spotting from the age of nine or ten and photography followed a few years later.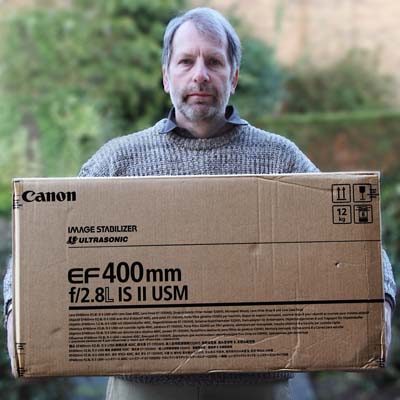 My first serious camera was a second hand Praktica 35mm SLR. I remember taking landing shots with my only lens, a standard 50mm, at RAF Valley in the early 70s whilst sitting amongst the landing lights, the jets were full-frame! I bought my first telephoto lens in 1973 a 300mm f5.6 Sigma for just £22, my telephoto lenses have been replaced many times since, with more expensive models. I have favoured Canon equipment since the 1980s. I am now a member of Canon Professional Services (CPS).

Travelling widely I am searching for the most interesting and exciting aircraft images. I specialise in military aircraft and civil aircraft, as long as the type first flew before 1960. Why 1960 you ask, well prior to the 60s aircraft were hand crafted and had character, they were not the mass produced 'tins' of the modern day. I must admit these days it is getting harder to find quality civil aircraft when turning up by chance at a small French airfield for example.

My favourite civil airfield is Cerny-La Ferté-Alais just outside Paris, which is the home of l'Amicale Jean-Baptiste Salis (AJBS), with it's wonderful collection of veteran (warbirds!) aircraft. They host the Meeting Aerienne at the end of May/early June each year.

My favourite museums are the Italian Air Force Museum (Museo Storico) at Vigna di Valle, Rome and the Belgium Air Force Museum (Musée Royal de l'Armée et d'Histoire Militaire) in Brussels. I must have visited Vigna di Valle at least 20 times over the years, the lakeside vista, the incredible unique exhibits are just a wonder. One of my favourite aviation shows used to be at Woburn Abbey, England where the DH Moth Club held their annual Moth fly-in.

I have taken colour prints, processed my own film and black and white prints in a dark room constructed in my bathroom. I have 1000s of slides from a period when I did not have the time to process my negative film and prints. Since 2003 I have only used Canon digital cameras and lenses, processing digital images has given me once again, full creative control over my pictures. My two children and long-suffering wife struggle to understand my obsession for aviation photography but are supportive to a degree.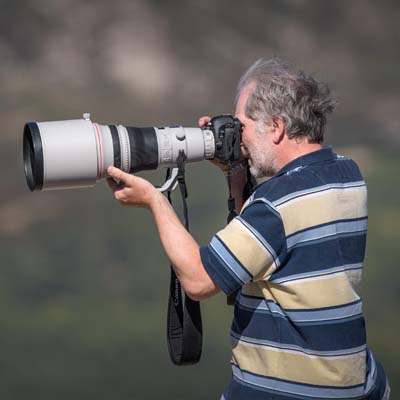 Mostly self-taught, I did however attend Sutton Coldfield College to study photography achieving an 'A' grade at GCSE level. I then achieved a Distinction in 'City and Guilds' level exams for the following photography subjects; Movement and Action, Portraiture, Natural History, Black and White and Photo-journalism.



Photo-Journalist


My book

Thunder Through the Valleys: Low Level Flying - Low Level Photography.

about low level flying, was published in 2018 after seven years of research and many interviews.

As a freelance photographer and writer I regularly produce articles for a number of magazines in the United Kingdom and around Europe. To date I have been published in 38 magazines in at least 15 countries with articles translated into 6 languages. I also provide images for editors to enhance other writers articles. Book writers also ask for my images for their own books, which I am happy to supply.

My website contains my own work and is my labour of love. It chronicles my aviation photography since I went digital in 2003. Images taken from the 1970's mostly remain in storage as slides (until 2020) and black and white negatives.



On television


On a number of occasions I have been asked to assist with television productions I have even appeared on camera for interviews on low level flying. This is not something I enjoy to be honest, far from it, but I am always willing to help. Click; Philip Stevens on television to find out more about my amusing television career!



Philip Stevens


My new office

Aviation Photography Talks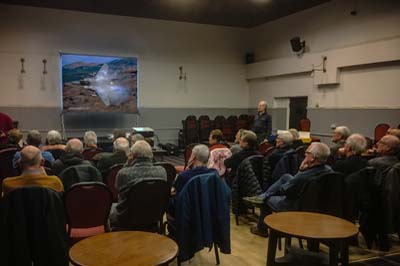 Charity Talks

- Philip Stevens conducting a talk 'The Background to my Photography' at Chorley Photographic Society, raising another £100 for the RAF Association.


I give talks to camera clubs, photographic societies and to aviation enthusiast groups about my aviation photography. Please email me to ask about my availability. I have travelled right across the UK to talk, some groups have invited back to conduct a second talk.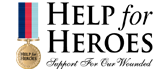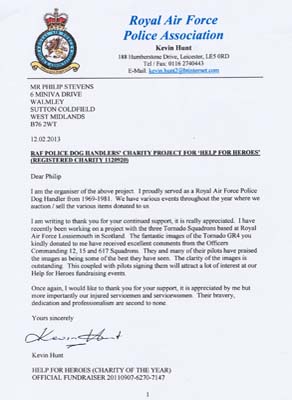 Help for Heroes is a charity formed to help those who have been wounded in Britain's conflicts.
Philip Stevens has donated his best images for the disposal of the charity. Working with Kevin Hunt of the Royal Air Force Police Association images have been printed and circulated within the RAF as far as Afghanistan for signing by aircrew to be auctioned to raise money for the charity, with over £2,000 raised by July 2016.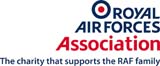 Philip Stevens now raises money for the

RAF Association

accepting invitations to present his images and talk about aviation photography. Fees received are passed on to charity, notably; 'Help For Heroes' or the RAF Association.



A number of different talks have been created;





The Background to my photography:

I discuss the importance of the background to making a great image (sunsets, clouds, hillsides, water etc.).



Photographic projects:

I discuss taking a series of images and interviews for magazine articles.



Thunder Through the Valleys:

I discuss the writing and photography required for my published book on military low flying.



Aircraft museum and relic photography:

I discuss producing the best images at my favourite aircraft museums, photographic techniques and post processing to enhance my images.



Photographing people with their aircraft:

I discuss shooting aircrew and groundcrew with their aircraft to make images more interesting for magazine editors etc.

All talks use my best digital images taken over the last 20 years. My talks are tailored to suit the audience and has Q and A session. Usually, two talks are selected for each evening of two one hour sessions.

Flying with the Italian Air Force's Gliding Centre (Centro di Volo a Vela) at Guidonia-Montecelio Air Force Base after

my article

was published in Sailplane & Gliding, it is now adorning a wall in their main building. I am with my friend Captain Stefano Rotatori an Instructor Pilot at the Centro di Volo a Vela.
Some of my magazine front covers
Published in the 38 magazines listed below in at least 15 countries with articles translated into 6 languages
Aeronautika, Aircraft Illustrated, Air Combat, Air Forces Monthly, Air International, Airports of the World, Arabian Aerospace, Aranysas, Aviation History, Aviation News, Aviation and Time, Aviation World, Club Wings, Combat Aircraft, Control & Automation, Flieger Revue, Flight International, Flying in Ireland, FlyPast, General Aviation, Loop, Lotnictwo, The Moth, Pacific Wings, PhotoPlus, Pilot, Ptisi & Diastima, RAF Magazine, Revista Força Aérea, Rivista Aeronautica, Royal Air Force Yearbook, Royal Air Force Annual Review, SA Flyer, Sailplane & Gliding, UK Air Power, Digital Photographer, EOS Magazine, Outdoor Photography and even in Maxim!
Please note: All images (unless otherwise stated) on this website remain copyright © 1973-2023 Philip Stevens,
they should not be copied or reproduced in any medium without written permission from Philip Stevens. All rights reserved.