Air to Air Photography
Swedish Armed Forces Sikorsky Hkp16 Black Hawk
Linköping/Malmen, Sweden
August 2014
2 HkpSkv (Helikopterskvadronen) at Linköping/Malmen in Sweden
The Sikorsky UH-60M Black Hawk designated in Sweden Hkp16 (serials 161226 to 161239) is a medium-lift four bladed twin-engine helicopter. 14 helicopters were ordered in May 2011 and delivered in January 2012 and by March were being used in Afghanistan in the MEDEVAC role. Their purchase was pushed through due to protracted delays with the delivery of the NH Industries NH90 / Hkp14 helicopter. They are operated from Linköping/Malmen by 2 HkpSkv (Helikopterskvadronen).



For this air to air sortie there was no real pre-flight briefing apart from opening and closing the cabin door in flight which must be done at speeds not quicker than 80 knots. I was alone in the back. I was to wait for a helicopter to return to base so I could hop aboard and fly out with the Hkp16. With problems with the internal intercom we were delayed and the Hkp16 had already been in the hover a few minutes but the pilot patiently waited for us to get airborne. Eventually we set off south in trail about a mile apart until we got to the helicopter training area. With the Hkp16 alongside I had some control regarding our position and height. Well in to the sortie and now heading back north I asked if the Hkp14 could hover over one of the lakes and they were apparently happy to do that. Eventually they asked if I was happy as they wanted to leave and start their planned mission.

Early morning sortie length was 16 minutes alongside Hkp16 plus transit time of around ten minutes each way.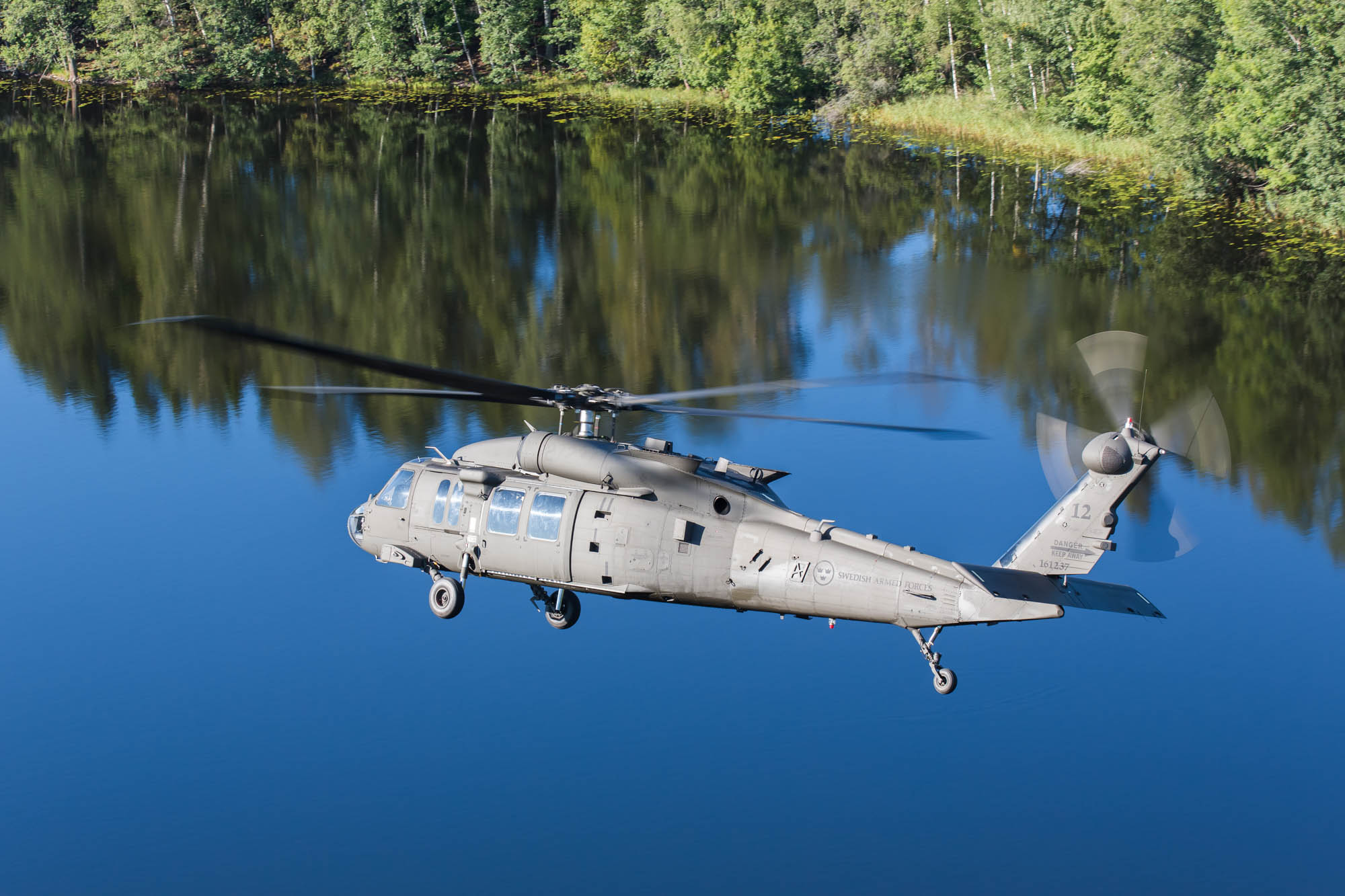 Hkp16 Black Hawk (161237 '12') passing over a mirror lake
Hkp16 Black Hawk (161237 '12').
Hkp16 Black Hawk (161237 '12').
Hkp16 Black Hawk (161237 '12') descending over a lake.
Hkp16 Black Hawk (161237 '12') passing over a telephone line hidden between the trees.
Captain Andreas Höglund Hkp16 Black Hawk pilot commented; "At low-level it is important not to fly into an object or wires and antennas, we always avoid flying low over cattle and buildings to show respect to the people living there. For missions abroad we similarly avoid flying over built up areas as it could be a hostile environment".
Hkp16 Black Hawk up close
Hkp16 Black Hawk (161237 '12') over a mirror lake