Air to Air Photography
Spanish Hornets Link up with RAF Tankers
As part of air to air refuelling sortie for TLP 2004-4
September 2004
In the final week of the current Tactical Leadership Program (TLP) four Spanish Air Force EF-18A Hornets were tasked to perform air to air refuelling with two types of RAF tankers. TLPs currently operate from Florennes Air Force Base in Belgium. Each of the five courses in the year last for 4 weeks. The latest TLP was the fourth of the year and finished on September 25. They are designed to increase the effectiveness of allied tactical air forces and 8 NATO nations are signed up to the program. TLP courses build up in the level of difficulty, from simple missions in the first week, to more technical missions in the second week. By the third and fourth weeks external forces are added to act as opposing forces. Apart from strike missions there are also air to air refuelling and combat SAR missions.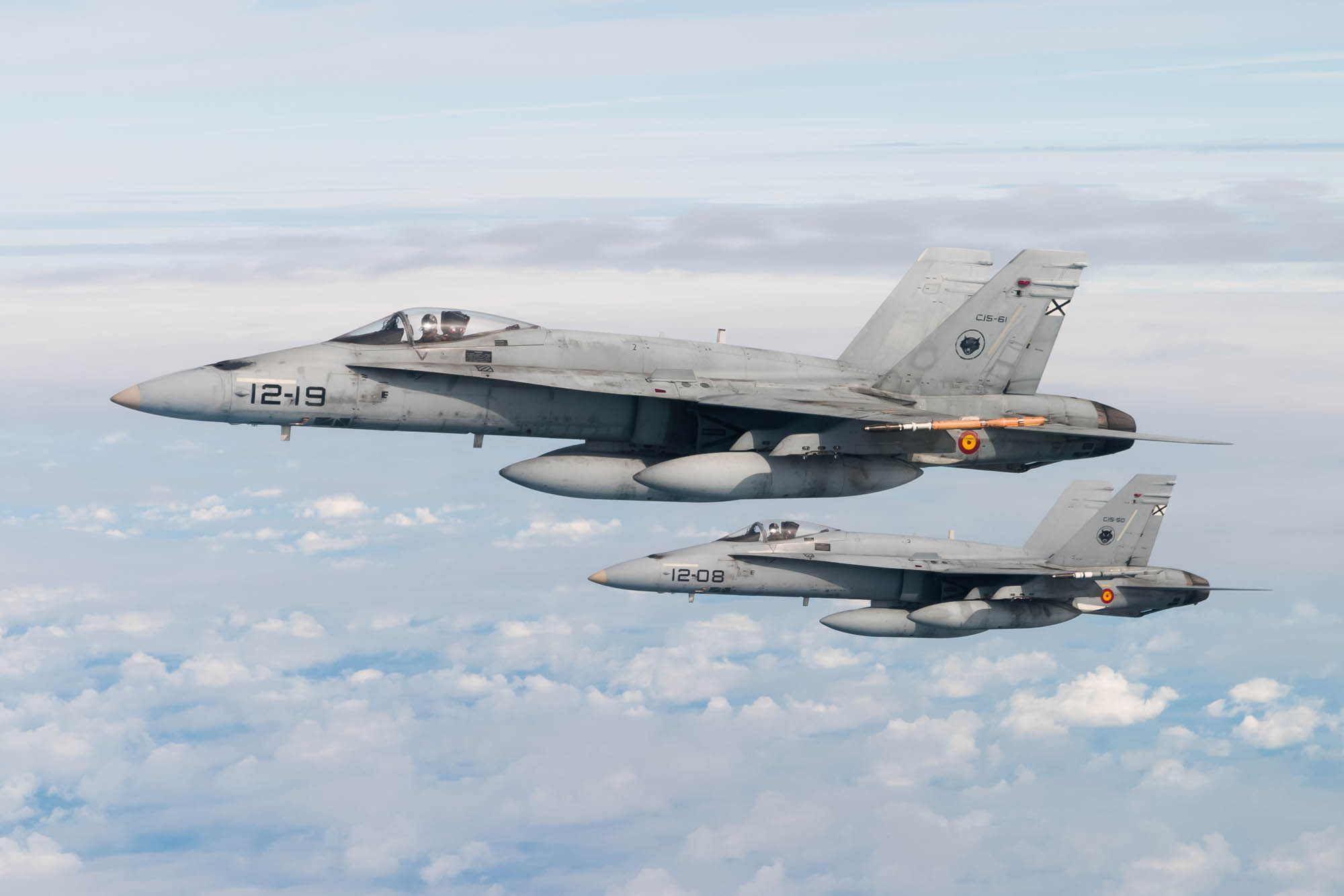 Spanish Air Force EF-18A Hornets (C.15-61 '12-19' and C.15-50 '12-08') of Ala 12 based at Torrejon,
just before refuelling with RAF Tristar KC.1 (ZD950) callsign 'Fagin 42' on September 16, 2004.
Air to air refuelling usually takes place on the Tuesday and Thursday of the second week. The single combat SAR mission is expected to take place in the middle of the fourth week, when the larger transports and attack helicopters are included. TLP missions usually start at around 13:00 local time and last around 60 to 90 minutes in duration (air to air refuelling missions take longer).
Frequently guest nations such as Spain are invited to participate in TLPs. Three planned sorties in the current course, had the requirement to air to air refuel (AAR). Not every nation is able to participate in AAR due to dissimilar receiver/refueller combinations. The Spanish Air Forces EF-18As of Ala 12 and based at Torrejon, had no such restriction and 2 aircraft refuelled with a 216 squadron Tristar KC.1 and another 2 simultaneously with a 10 Squadron VC-10 C.1K, flying over the North Sea. The Hornets met up at 22,000 feet in air to air refuelling area 7 (AARA 7), each aircraft took just over 6,000 pounds of fuel in less than 20 minutes.
Spanish Air Force EF-18A Hornet (C.15-61 '12-19') of Ala 12 based at Torrejon.