Air to Air Photography
Exercise 'Swift Panther'
May 31, 2006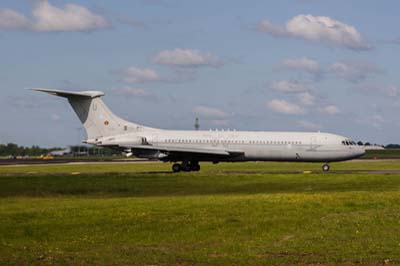 I was lucky to be invited to fly as part of the 'purple force' during exercise 'Swift Panther'. 'Swift Panther' exercises should run every three months or so, the first was held in February 2006. It has been designed to prepare aircrew for operations in Afghanistan and Iraq. Participants experience specially defined Rules of Engagement and have to make decisions involving collateral damage and targeting constraints. Todays exercise was held between 14:00 and 16:00 on May 31, 200 and involved a small number fast jets consisting of Harriers, Tornados and Jaguars operating in the UK low-fly System (UKLFS). An E-3 Sentry provided aerial 'cover' and information gathered by the crew was downloaded to the relevant aircraft using the relatively new Joint Tactical Information Data System (JTIDS) or 'Link 16'. JTIDS is a data link that provides the pilot with a situational report of what other pilots and surveillance aircraft like the E-3D are seeing. This is one of the most valuable tools for pilots.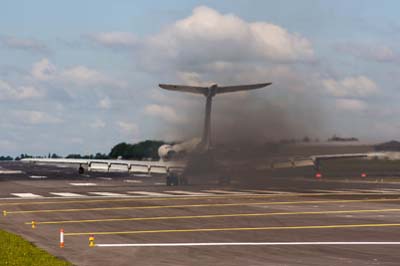 Our aircraft was a 101 Squadron VC-10 K.3 (ZA147) and was part of the neutral 'Purple Force' which in fact meant that they were happy to supply fuel to both opposing forces, which consisted of 'Red Force' (the enemy) and 'Blue Force' (our friends). 'Blue force' the Harriers and Jaguars were tasked to attack the electronic warfare bombing range at Spadeadam in northern England, while the 'Red Force' Tornado F.3s of 43 Squadron and 25 Squadron tried to stop them. For the duration of the exercise Spadeadam was to be considered a 'terrorist camp' and was to be attacked at low-level by the 'blue force' aircraft.

The aim of the exercise I was told was to help develop force integration and train planning staff in coordinating this kind of activity.

We departed RAF Brize Norton on schedule at 11:50 and climbed to 20,000 feet to be on task at 12:00 in Air to Air Refuelling Area 6 (AARA 6) over the North Sea.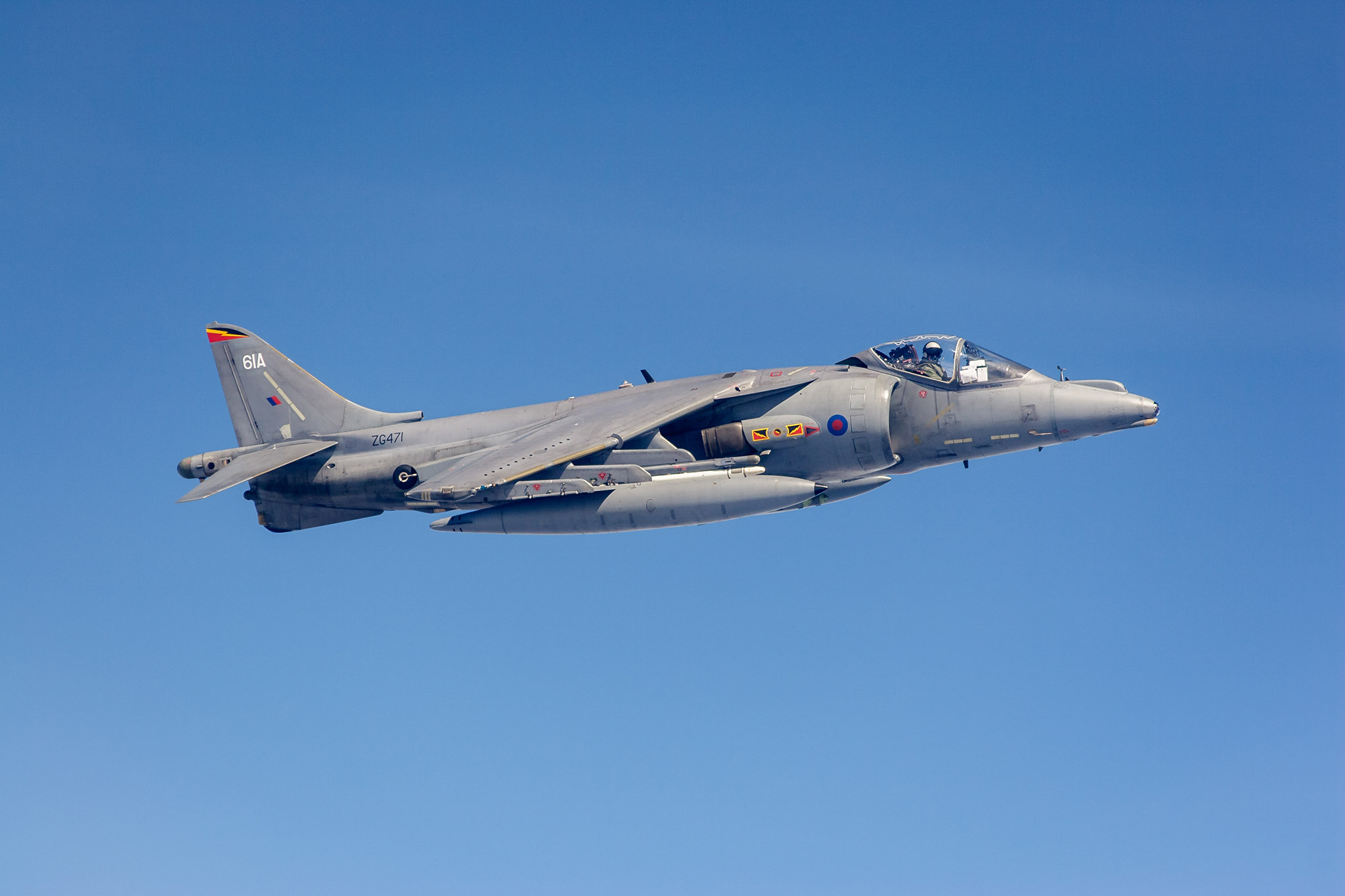 4 Squadron Harrier GR.7A shortly after refuelling from VC-10 and on its way home to RAF Cottesmore.
The first aircraft to require fuel was a 'blue force' pair of 6 Squadron Jaguars GR.3s using callsigns 'Rafter 21' (XX970 'EH' and XZ399 'EJ') from RAF Coningsby their relatively new base.
Almost immediately after the Jags had departed, the 'Red Force' Tornado F.3s popped up for fuel. Tornado F.3s callsign 'Macho 21' (ZE157 'TY' and ZG755 'GL') operating with 43 Squadron the F.3 coded 'TY' was painted in 56(R) Squadron colours.
It was now 25 Squadron's turn to require aerial refuelling.
Left to right: Tornado F.3 (ZE907 'DA') using callsign 'Volatile 31'
Left to right: 25 Squadron Tornado F.3s (ZE165 'GE' and ZE763 'FJ').
Finally some Harrier GR.7As from 4 Squadron, callsign 'Spangle 11' requested some fuel and were soon on their way home.
Left to right: Harrier GR.7A (ZG471 '61A').
Harrier GR.7 (ZD352 '19'), GR.7A (ZD348 '15A').
Left to right: Finally 8 Squadron E-3D Sentry (ZH104 '104') callsign 'NATO 33' joins us for part of the journey home for some practice refuelling prior to diving down to its base at Waddington. Our VC-10 K.3 (ZA147) back at Brize Norton with VC-10 C.1K (XR808) on the ramp nearby.