Parc de Découverte Aéronautique
L'Epopée de l'Industrie et de l'Aéronautique
Albert, France
June 2011
This is collection of a considerable number of interesting aircraft which has been gathered together by industrialist Marc Betrancourt, the family business was the first manufacturer of hydraulic actuating cylinders in the area from the fifties.

It appears that entrance to the museum can be by appointment (see official website above) to guarantee that it is opened up for you. My visit on a Sunday morning at 10:00 am was not by appoinment but after parking the car by the museum gate a man appeared from a guard post across the road and asked for ten euro, on paying this he opened the gate and I was free to roam around. The nearest building remained locked and peering through the windows I could see a Nord 1101 Noralpha. The aircraft are displayed/stored in very cramped conditions and photography is challenging in the hangars. As far as I can tell very little appears to have changed in the last two years or so apart from a Fouga CM170 Magister (459) which has been painted in 'Patrouille de France' colours and an MS.733 (F-BKOY c/n 44) which has left the site.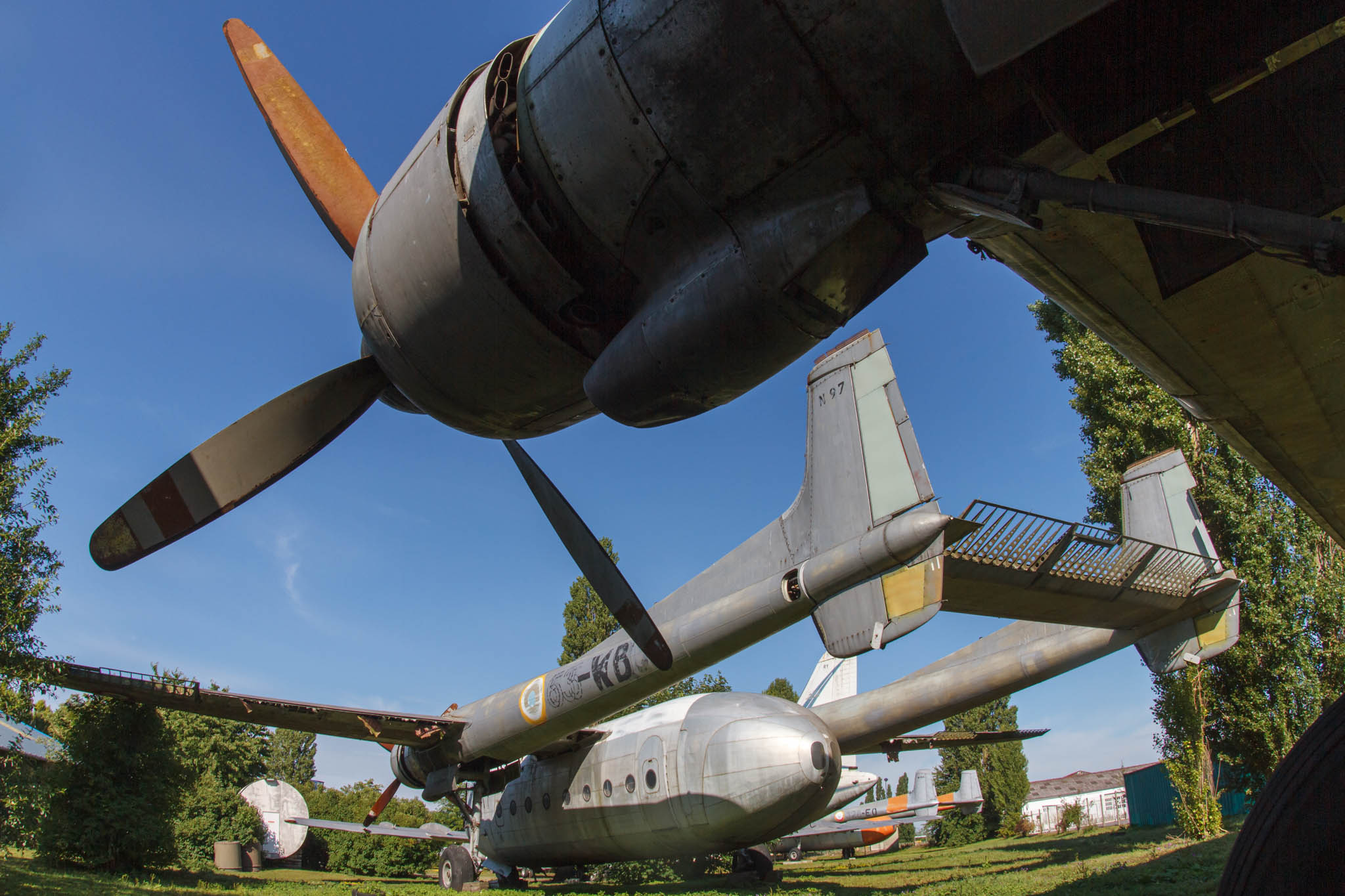 Nord N2501F Noratlas (97 '63-WB') showing signs of its former squadron code.
Left to right: Nord N2501F Noratlas (184 '328-EO' and 97 '63-WB').
Left to right: Nord N2501F Noratlas (54 '63-WX' and 97 '63-WB').
Left to right: Nord N2501F Noratlas (189 '36-FN') named 'Viombois'.
Left to right: Dassault MD312 Flamant (275 '316-KC') and Dassault MD311 Flamant (318 '319-DE' ex F-WZXA).
Left to right: Dassault Mirage 3E (449 and 515), Mirage F.1C (20 '12-ZN') and Mirage 3C (27 '3.10-LE').
Left to right: Dassault Super Mystere B2 (113 '12-YQ'), Dassault MD450 Ouragon (8) and Dassault Mirage 3RD (358 '128-TG').
Left to right: North American F-100D Super Sabre (42272 '11-EF'), Lockheed T-33A (35339 'XC') and Lockheed T-33AN (21255 '314-VH').
Left to right: Morane Saulnier MS733 Alcyon (F-BMQI c/n 116 and F-BLXT 'QA'), Sud Aviation H-34A Choctaw (SA59 '68-DK' and '59-DK') and Sud Aviation Alouette II (1070 '67-JL').
Left to right: Max Holste MH1521M Broussards (198 and F-GIFZ ex 315) and Nord N1203 Norecrin II (F-BBET c/n 334).
Left to right: Nord NC.856A Norvigie (108 F-SDYS ex ALAT and later AdlA in 1963 with GAALEA 312 at Salon and 26 believed to be F-YCZH when with the Aeronavale).
Models NC.840/841 and NC.850 to NC.860 were produced between 1946 and 1951 by Societe Nationale des Constructions Aeronautiques du Centre (SNCAC) and later du Nord (SNCAN). Trading as Aerocentre the design and the initial production was done by SNCAC at Bourges until 1949 when the NC.853 and NC.859 were produced SNCAN.
Nord N3400 (100 'FIA').
Left to right: de Havilland Vampire FB.52 (IB427) and Hawker Hunter F.58A (J-4107).
Left to right: Fouga CM170 Magisters (24 '3-KB' and 459) with Douglas C-47B Dakota (F-GEOA 2108979 'K-282') named 'Eightball II' and Republic F-84F Thunderstreak (FU-76 '11-RQ').
Left to right: Mikoyan-Gurevich MiG-21SPS (882), Fiat G-91R/3 (30+93) and Lockheed F-106G Starfighter (21+96) with a Mignet HM.14 Pou-de-Ciel in the foreground.