Hellenic Air Force - Elliniki Polemiki Aeroporia
Air Tactics Centre (Kentro Aeroporikis Taktikis – KEAT)
Andravida Air Base
November 2013
The Air Tactics Centre (Kentro Aeroporikis Taktikis, KEAT) is an independent wing of the Hellenic Air Force (HAF). Established in 1983 its mission was to provide advanced education via the already established Tactical Weapons School (Scholio Oplon Taktikis, SOT). It also has to coordinate between the Air Force, Army and Navy for testing and evaluation of new equipment and weapons prior to being issued to the squadrons. SOT now under the command of KEAT had been formed in 1975 to improve pilot training they share Andravida Air Base with 117 Combat Wing's two squadrons (338 and 339) which fly the McDonnell Douglas F-4E(AUP) Phantom IIs.



Normally once a year but sometimes twice, the SOT receives the best pilots from across all the HAF squadrons to attend its courses on air-to-air and air-to-ground tactics including flying in Composite Air Operations (COMAO) large formation packages and Electronic Warfare.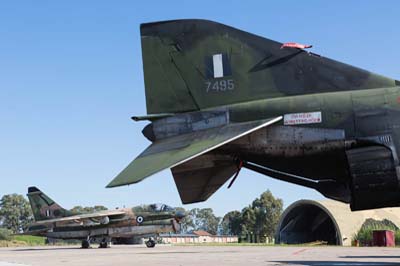 All fighter types in the HAF's inventory take part in the SOT courses. For the A-7 Corsair II it is presumed that this will be for the last time, the RF-4Es days may also be numbered as the type approaches it's inevitable out of service date.

Lt Col George Bontzios is the current SOT Commander; "The mission of the SOT is to provide the best training for our best professionals not just pilots, so they can become elite". An SOT course is designed to reflect current needs and thinking, no two courses are identical. Two directors are responsible for the setting up of each course, one director for tactics the other for training. Each SOT fighter aircraft course is held at Andravida and lasts up to four months the first part is theoretical and leads on to the flying course which lasts around ten weeks with pilots flying up to 20 sorties. During the course SOT aircraft will fly against 60 to 70 different aircraft from other wings. Months of planning go in to each course, it is carefully structured to reflect the knowledge of air warfare developed over many years utilising the experience of aircrews. This is not to say that new ideas cannot be considered, the courses are constantly evolving. "The training here is more realistic with more and varied assets which are used by experts. In the SOT you will fly four versus four or four versus eight. We have aircraft of every type and GBADs [Ground Base Air Defence] from Stinger to Patriot [ground to air missiles], it is very challenging for them", explained Lt Col Bontzios.

The SOT has around ten instructors permanently assigned to KEAT these pilots are selected by the Air Tactics Centre from those that have excelled at an SOT course previously. Almost every course discovers a potential SOT instructor. SOT instructors are either senior majors or senior captains and will have attended Red Flag exercises in the United States and the Tactical Leadership Program (TLP). Greece became a TLP full member in July 2009 after attending the courses for many years as a non-member nation.

Around 35 students are carefully selected for each course based on sound criteria. "We don't just want good pilots to attend we want good character, good teachers with good knowledge", Lt Col Bontzios revealed. For his opening address to the students on their first day he told them he had three objectives; everyone should finish in good health, be a good professional and thirdly they should be of sound character. Lt. Colonel Ioannis Kyrion the previous SOT Commander appointed in April 2010 also commented on the type of student they were looking for; "It's not just experience its being good at what they do, it's not having 2,000 hours, it's being a good pilot and officer. They must be good at imparting knowledge to others". Attending pilots have to be combat ready and at least be four-ship formation leaders they usually have the rank of captain or senior lieutenant.

As KEAT is not assigned its own aircraft, the students drawn from across all the frontline squadrons bring their own aircraft. At least one combat aircraft of each type is temporarily based at Andravida for the duration of the practical flying element of the course, that is; Mirage 2000 and 2000-5, F-4E and RF-4E Phantom, A-7E Corsair and F-16C/D Block 30, 50, 52+ and 52M Fighting Falcons. The assembled flight consists of between 18 and 20 aircraft. The SOT can call upon all part of the military that fulfil a role to enhance the quality of the training. For the autumn 2013 course GBAD students and operatives were invited to take part, ground troops and Special Forces were also utilised.

KEAT also run a separate course for helicopter pilots of the Hellenic Air Force, Navy and Army. Two weeks are put aside for theoretical training and two weeks practical training. Included are seven sorties for the helicopter pilots who are tasked against the fighter pilots.


F-16D Block 50 Fighting Falcon (083) assigned to the SOT when flying as part of a COMAO to protect an RF-4E Phantom. 'Sniper' is at the controls but exits the valley on the far side unfortunately for the camera.

Large formation COMAOs


A two week COMAO course element is used to prepare the pilots to become mission commanders to assist with planning and theoretical execution. A COMAO can consist of 16 to 20 or more aircraft and are typically used to mount a full scale attack on another squadron or wing. For COMAO mission planning there is not the latitude to work individually, flight safety is important to ensure there is aircraft de-confliction.

Lt Col Bontzios described the preparation for the COMAO flown the previous day where 16 SOT aircraft named 'blue air' were pitched against six Tanagra (114 Combat Wing) based Dassault Mirage 2000-5s named 'red air'. "The guys can brainstorm together and plan and execute whatever they want as long as it is safe and approved by the instructors. They can mix the formations, F-16 with RF-4, A-7 with RF-4 what ever they want". 'Blue air' was tasked to attack several ground based targets and low-level flying played a major part in the game plan. "It was a complex scenario fought over a large area with RV [rendezvous] points" explained Lt Col Bontzios. The SOT can reserve airspace as large as 80 by 100 miles [129 to 161km] with 'unlimited' altitudes (up to 50,000 feet [15,240m]) for their exercises. "They had to pass 'red air' over the sea and descend over the ground to fly at low-level to attack targets defended by 'red air', finally they bombed Andravida at the end of the mission". Force protection was flown by F-16C Block 30s with F-16C/D Block 52+s and F-4Es. A pair of A-7E Corsair IIs were used as bombers flying with additional F-4Es armed with Laser Guided Bombs and advanced F-16C/D Block 52Ms with a full range of weapons. A single reconnaissance RF-4E was utilised for Battle Damage Assessment (BDA) protected by an F-16D Block 52+ equipped with AIM9C Sidewinder heat-seeking missiles, Advanced Medium-Range Air-to-Air Missiles (AMRAAM version C7) and the IRIS-T air to air missile. The COMAO debriefings will last for many hours they are held on the following day and will start at 07:00 and can last until 19:00.



New Tactics


Lt Col Kyrion stated in 2010; "Our tactics are developed independently of NATO and according to our needs. What we have learnt elsewhere is adapted for our environment and our threats, which are not always the same as for other NATO members". Lt Col Kyrion added, "Our tactics are based on the capacity and capability of our aircraft. We also have to consider capabilities and tactics of our potential opponents".

While tactics can be learned at multi-nation exercises the HAF is keen to develop its own tactics to reflect its own needs, using feedback from the operational squadrons. Lt Col Kyrion stated; "We take different pilots from different aircraft with different habits and a different way of thinking. This is not a negative, we don't want to lose innovation or individual thought, we give them some room to express themselves, including the use of unconventional tactics". Missions are planned without too much interference from the school's instructors. They are encouraged to express themselves during mission planning however they must not break any flight safety rules. During the debriefing the instructors discuss the good and bad aspects of the sortie. "Sometimes in mission planning good ideas are put forward which can be incorporated in to future courses", added Lt Col Kyrion.

Lt Col Bontzios remembered back to when he attended the SOT course in 1999 and the SOT Commander said that they were all going to be challenged, some students were sweating and some were excited depending on the character of the pilot. "We always have both types".

Lt Col Kyrion naturally proud of the achievements and gains made during each course spoke; "After two to three months the students become an entity, they begin to talk with their eyes and understand each other extremely well. Common understanding and common protection is our goal. It is very impressive to observe these guys from their first flight to their last flight".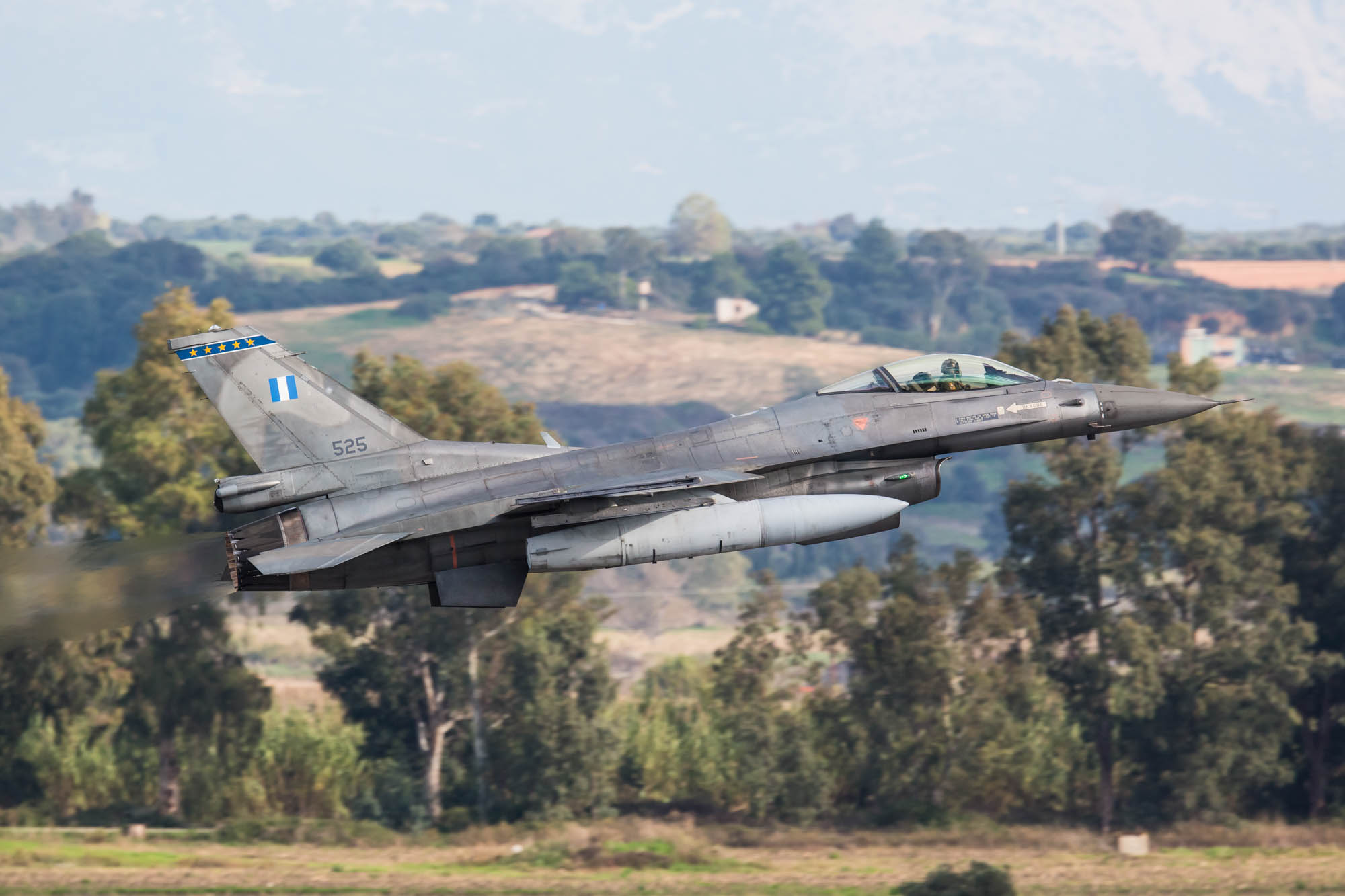 F-16C Block 52+ Fighting Falcon (525) of 343 Mira, 115 PM based at Soúda departing Andravida
Left to right: F-16D Block 52+ Fighting Falcon (606) from of 115 Combat Wing, 340 Squadron based at Soúda.

Left to right: F-16C Block 52M Fighting Falcons (001 and 014) from of 116 Combat Wing, 335 Squadron based at Araxos.
A-7E Corsair II (160543) of 116 Combat Wing, 336 Squadron based at Araxos.
Left to right: A-7E Corsair II (160543) arriving at Andravida to replace the A-7E which went tech' the day before when flying with the COMAO and returned to Araxos. A-7E Corsair II (160728) over-shooting after arriving with the replacement A-7E.
The second A-7E Corsair II (160556) and the only RF-4E Phantom II (7495) assigned to the SOT.
F-16D Block 50 Fighting Falcon (083) of 111 PM, 347 Mira based at Néa Anchialos.
Left to right: F-16D Block 50 Fighting Falcon (083) arriving at the SOT for the next days COMAO.
Left to right: F-16D Block 50 Fighting Falcon (083).

Left to right: F-16C Block 50 Fighting Falcon (056) of 111 PM, 341 Mira based at Néa Anchialos.
F-16C Block 52+ Fighting Falcon (525) of 343 Mira, 115 PM based at Soúda departing Andravida.