Swiss Air Force's Air Power Demonstration
Ebenfluh Firing Range, Axalp
October 11-12, 2006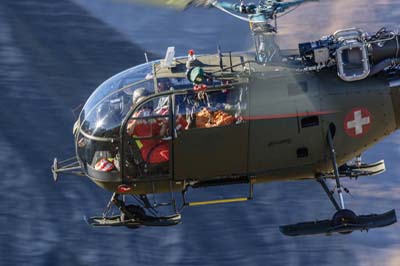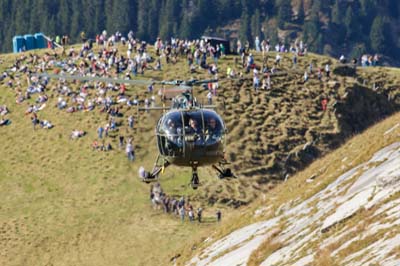 The Swiss Air Force's annual air power demonstration was notable this year for the participation of a foreign air force for the first time. French Air Force Mirage F.1s based at Reims-Champagne were on a squadron exchange at Payerne, French and Swiss Air Force pilots having the opportunity to pilot each others aircraft during the air power demonstration. Two Dassault Mirage F.1CR's flew sorties at extreme low-level through the valley to the delight of regular attendees of Axalp.



As usual the two day show was action packed, rewarding the many spectators each day who made the strenuous climb with spectacular flying and truly unique photo opportunities. This year, as was last year, an estimated that 2,000 attended the show on the Wednesday with around 1,000 on the second day.

Left and right: Aérospatiale SA.316B Alouette III (V-257) photographing us photographing them.
The F/A-18C Hornet (J-5010) solo display in high 'G' climb out of Axalphorn valley.
The surprise of the show were two French Air Force Mirage F.1CRs from Reims-Champagne on a squadron exchange at Payerne.
Left to right: Two images of both French Air Force Mirage F.1CRs (604 coded '33-CF' and 616 coded '33-CX').
At 14:00 the show opened with a Cougar helicopter demonstrating the RUAG Aerospace Integrated Self Protection System (ISSYS), by ejecting 128 flares.
Further helicopter displays followed with an Aérospatiale SA.316B Alouette III simulating a mountain rescue. High overhead a Pilatus PC-6 dropped a number of parachutists which landed behind 'Tschingel' an adjacent peak. Two Cougar's approached from the west to drop water on to the mountainside, as part of a fire-fighting demonstration.
Fifteen minutes into the show and the first fast jets appeared. Eight Meiringen based Northrop F-5E Tiger IIs in pairs attacked each of the three sets of targets flying in figure of eight manoeuvres.
Left to right: Rock mounted target being peppered by an F-5s two nose mounted Colt-Browning 20mm M39 cannon. Northrop F-5E Tiger II (J-3076) seconds after strafing the rock mounted target on the opposite side of the valley. The F-5Es (J-3097 and J-3069) also flew low and fast through the valley below us.
Thursdays F-5E display ended with a formation flypast north of the range and on towards Meiringen for another flypast and recovery.
The Payerne based F/A-18Cs and a two-seat D model some of which were flying from Meiringen, conducted air-to-ground strafing demonstrations and fast runs through the valley below, before joining up for a formation flyby.
Left to right: F/A-18Cs (J-5010, J-5020, J-5232 D model and J-5014).
Left to right: F/A-18Cs (J-5232 D model, J-5012, J-5010 and J-5014).
The F/A-18C Hornet solo display (J-5010).
The F/A-18C Hornet solo-display with it's high 'G' turns generated vapour effects and vortices to die for.
A four-ship formation of F/A-18C Hornets high over the valley at the end of their routine.
The Patrouille Suisse predictably closed the show performing close formation passes, their 20-minute display was flown against a backdrop of stunning scenery.
As their was virtually no wind, their smoke tended to linger in the valley making it difficult to get clear shots after the first pass.
Swiss Air Force Eurocopter AS.532UL Cougar did all the ferrying of VIPs in the middle part of the day and also at the end of the show. Agusta A109K2 (HB-XWH) arrived each day at around 11:00. It was held on standby as an air ambulance and crewed by para-medics.