QinetiQ's Russian Helicopters
'Project Curium'
Salisbury Plain Training Area (SPTA)
February 2010
During 2008 the United Kingdom Ministry of Defence (MOD) purchased two Mil Mi-17 'Hip' former Bulgarian Air Force (BuAF) helicopters. They were delivered later in the year to QinetiQ at Boscombe Down. Two Mi-17's (ex BuAF serials 402 and 403) were acquired through Helisota at Kaunas Air Base in Lithuania, who upgrded them with defensive aids and flight deck armour prior to their collection by a Royal Air Force Boeing C-17A Globemaster III, in August 2008.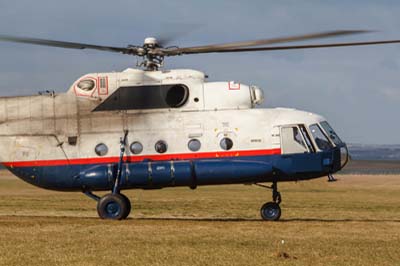 The Russian designed helicopters are being used to train pilots of the Afghan National Army Air Corps (ANAAC) and are flown on an almost daily basis from Boscombe Down as part of 'Project Curium'. British military pilots from a Special Duties Squadron under the Joint Helicopter Command (JHC) and supported by QinetiQ are conducting the training of ANAAC pilots around the air base and on the vast military Salisbury Plain Training Area (SPTA). The initial helicopter training has been on the Gazelle at nearby Netheravon Airfield Camp. The British instructor pilots were trained on the Mi-17 in the Ukraine. By the time the course finishes on March 31, 2010 18 pilots and nine flight engineers will have been trained since the program started in February 2008. Pilots to comlpete the course will achieve 45 hours on the Mi-17.

As these helicopters are marked 'Mi-8MTV-1' it implies they have now been upgraded to this standard. The Mi-8MTV-1 ('Hip-H') is the export version of the Mi-17V-1 which were built in Kazan, Russia from 1988 as a 24-seat multi-role transport helicopter. They are powered by two Klimov TV3-117VM turboshaft engines which have been improved for 'Hot and High' operations. The Mi-8MTV-1 has a pressurised cabin and is Radar equipped, unlike the civil version (Mi-8MTV), it has a port-side tail rotor as do all Mi-17s. It is thought these helicopters have also been fitted with larger fuel tanks, the Mi-8MTV typically can be fitted two internal tanks which increase fuel capacity by 1,900 litres.

All Mi-17's operated by British forces have been fitted with western radios and countermeasure systems, including Radar Warning Receivers (RWR). Additional general purpose machine gun (GPMG) armour has also been fitted to the cabin doors. The former BuAF Mi-17's now carrying RAF serials (ZB697 ex 402 and ZB698 ex 403) have been painted in Empire Test Pilot School (ETPS) 'raspberry ripple' paint scheme.

It is believed that another four Mi-8/Mi-17 helicopters owned by ANAAC have also been operated for some time now by British pilots from 7 Squadron, RAF special forces in Afghanistan. US Special Forces have also been operating the type in Afghanistan since 2002 and in more recent years so have the Polish Army Aviation (Lotnictwo Wojsk Ladowych - LWL) with the Mi-17V-1. In January three Czech Air force Mi-17ShMs were airlifted by an An-124 to Bagram air Base in Afghanistan before they are flown to Sharana Forward Operating Base to support coalition forces for at least a year.

On March 18, 2010, with all training courses now complete, a Russian An-124 arrived at Boscombe Down to collect the two Mi-8MTVs (ZB697 and ZB698) to transport them to Afghanistan. It is believed that they have been given to the Afghan Air Force.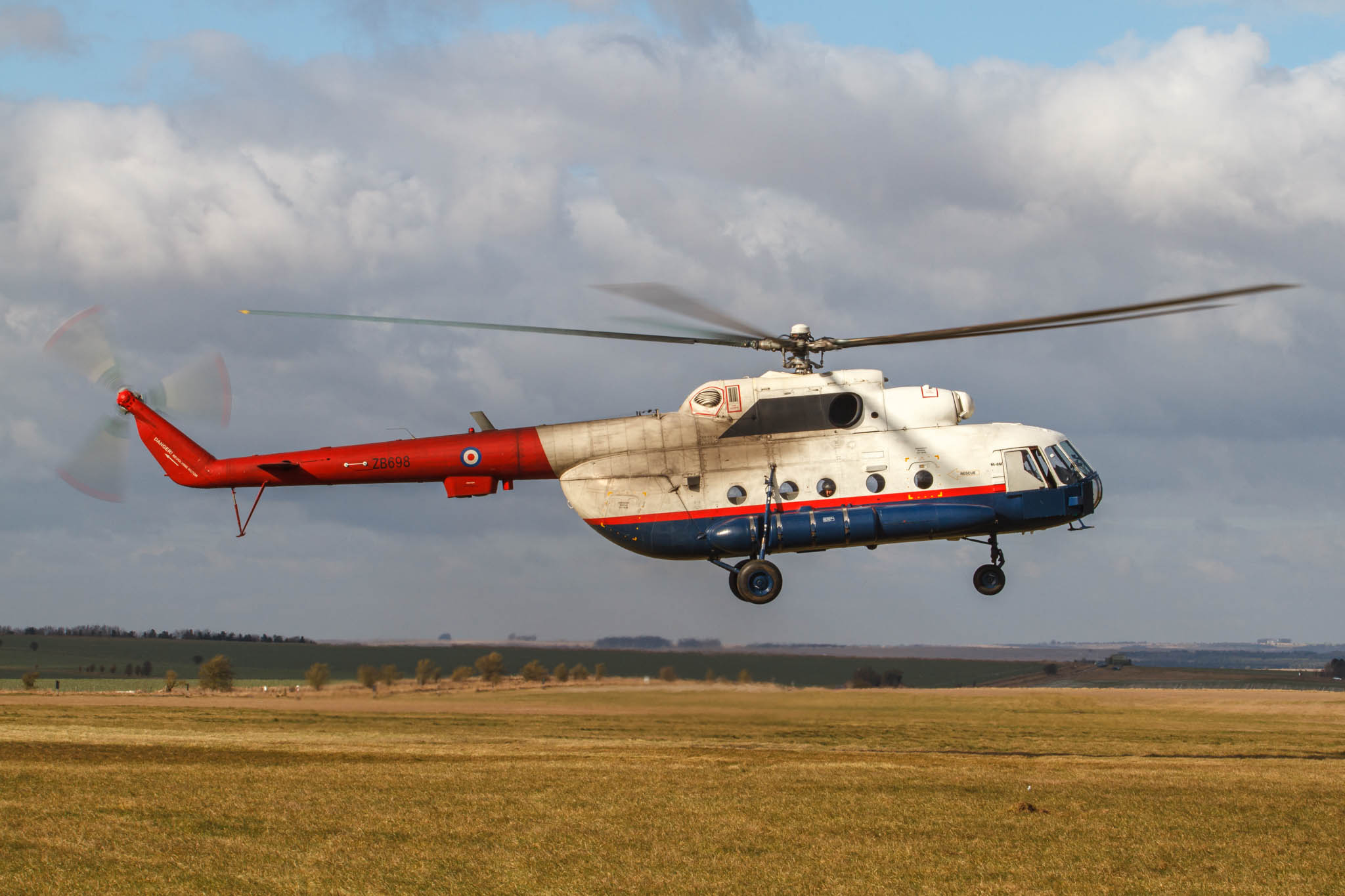 Mil Mi-8MTV-1 'Hip-H' (RAF serial ZB698 c/n 103M03).

Former Bulgarian Air Force Mi-17's are being flown by Afghan pilots trained by British military pilots over the Salisbury Plain Training Area (SPTA) in southern England. Operated by QinetiQ from Boscombe Down with MOD funded modifications including; western communication systems, countermeasures and pilot protection armour. Inscribed Mi-8MTV-1 behind the cockpit door this version of the 'Hip' is enhanced for 'Hot and High' operations a requirement for operations in Afghanistan.
On the day there were a number of sorties, including callsigns 'Cordon 128' and 'Cordon 123', to the landing strip for numerous practice approaches and landings.
Bulgarian Air Force Mi-17 (417) returning to Krumovo Air Base in June 2009 at the end of the first phase of the one day training exercise,
in preparation for the Forceval planned for later in the year.