Czech International Air Fest (CIAF 2006)
Brno
September 2-3, 2006
The Czech Air Force was formed in 1993 following the split of Czechoslovakia with Slovakia. Looking to the future the following year they joined the NATO Partnership for Peace Program. 13 years on Czech Air Force is now leaner and fitter having reduced it's bases from eleven in 1993 to the current four bases of Caslav, Kbely, Prerov and Namest nad Osavou. It's aging MiG fighters have been replaced with NATO standard ultra-modern aircraft such as the SAAB JAS39 Gripen. Other aircraft such as the Mil MI-24V Hind have been updated with NATO standard avionics. Participating in many NATO exercises each year the Czech Air Force is now a valuable member of NATO.



Its not surprising that the Czech Air Force is keen to show off its air power to the Czech people and also to the wider world by organising an airshow each year. Brno a former military base as evidenced by it's crumbling hardened air shelters is now a international airport, receiving regular flights from the UK and across Europe. The modest show allows good access to a varied static lineup and interesting range of fighter and transport aircraft. The display itself started off well as usual with a mass-flypast from the Czech Air Force, which consisted of; 3x Mil Mi-17/171, 3x Mi-24/35, 3x L-39ZA, 3x L-159 and 2x JAS39 Gripens. Working around departing airliners there were numerous solo displays as well as from the Frecce Tricolori and the Polish Iskra display teams. The Slovakia Air Force understandably was a major participant in the show.

Unfortunately from the Photographer's point of view the crowd is looking towards the south and the bright sun (on Saturday only). On Sunday I decided to approach the base from the south and found a position outside the base. The day was dull and most of the action too far away for the very best pictures to be taken.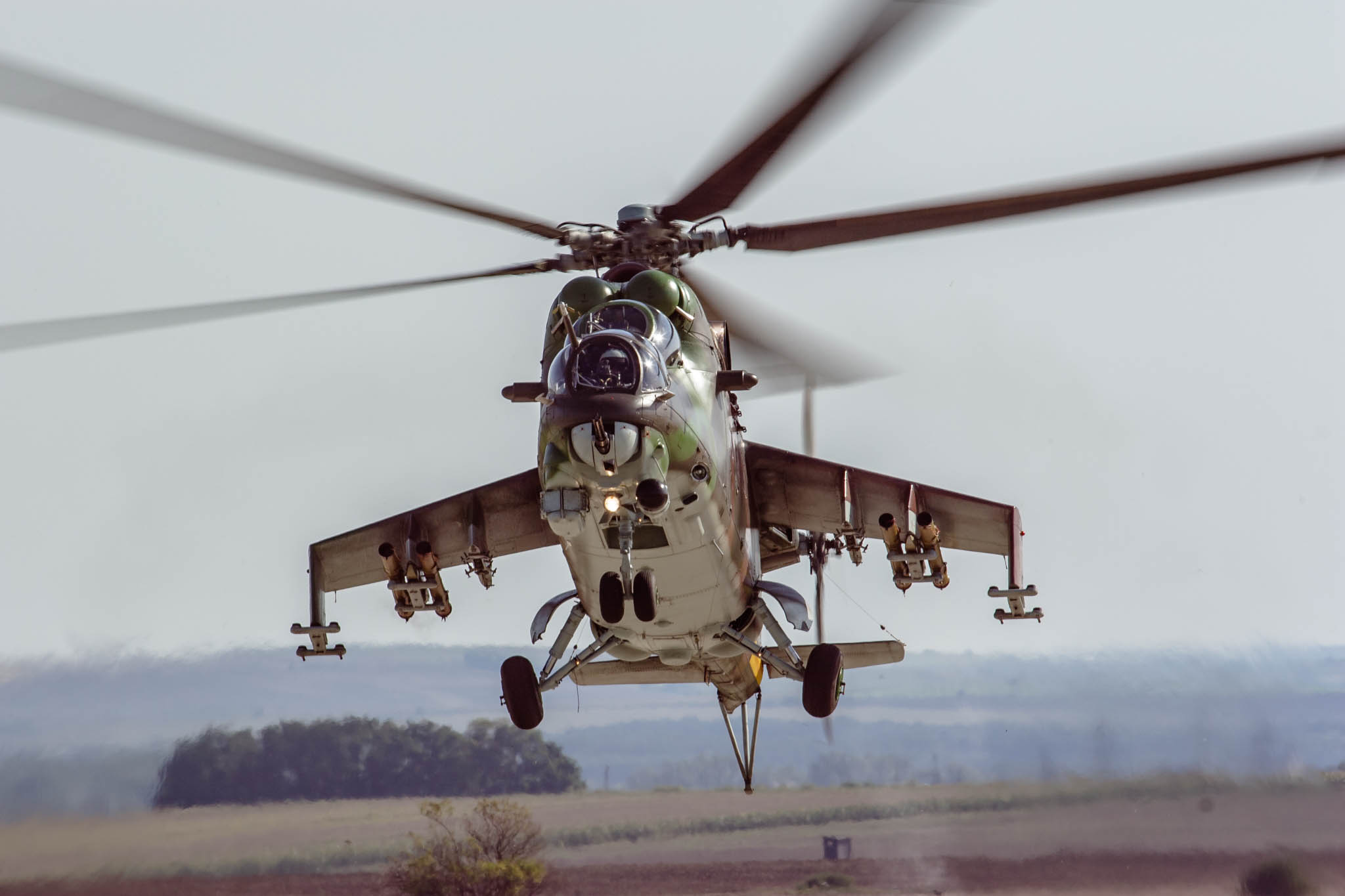 Slovak Air Force Mil Mi-24V (0833) approaches the crowd at the end of it's display.
Part of the mass Czech Air Force flypast at the start of the show.
Left to right: Mil Mi-17s (9825) and Mil Mi-24Vs (7357 and 3371).
Left to right: Slovak Air Force Mil Mi-24V (0833) during its excellent display.
Slovak Air Force MiG-29 (2123 'SL')
Left to right: Czech Police AB212SP (OK-BYR formally B-4071) performing numerous winching and water bombing activities.
Left to right: Czech Air Force Aero L-159B (6073) and Slovak Air Force Aero L-39ZA (1730).
Left to right: Czech Air Force Zlin 142C AF (0556), Austrian Air Force Pilatus PC-6 (3G-EE) and Swedish Air Force SAAB 105 Sk 60 of 'Team 60'.
Left to right: Polish Air Force TS-11 Iskra, ex Serbian Air Force G-2s (YU-YAF/23180 and YU-YAD/23187) in the static.
Left to right: Czech Air Force JAS39 Gripen (9236), French Air Force Mirage 2000N (314 '4-AX'), RAF Harrier GR.7 (ZG502 '73') of 800 NAS and RAF Tornado GR.4 (ZA591 '058') of 31 Squadron.