Jaguar Retirement
16(R) and 54(F) Squadrons are stood down
RAF Coltishall
March 11, 2005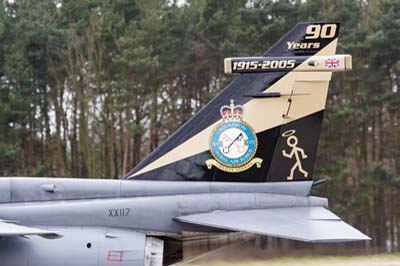 March 11, 2005 saw the standing down of two Jaguar squadrons (16R and 54F) and probably for ever, at RAF Coltishall. Prior to the standing down of these two squadrons, there were 42 Jaguars divided between the four squadrons, the remaining two are 6 and 41(F). 16(R) the OCU had 10 pilots, with the other three squadrons dividing up another 45 pilots. The Jaguar's main roles are; Offensive Air Support, Air Interdiction and Tactical Reconnaisance.



41(F) Squadron will cease flying in 2006, whilst 6 Squadron are due to leave RAF Coltishall in April 2006 for their new base at Coningsby, where they will then be assigned the 'fittest' Jaguars available, known as the 'Golden Fleet'. These will be the last Jaguars to be in operation, until their retirement in October 2007. 6 Squadron is then likely to become the third Typhoon squadron.A phased program of airfield closures will take place over the next seven years, as part of the Government's defence review first announced in July 2004. Whilst precise details are not yet known for the complete picture of closures, Coltishall's days are numbered, its closure will coincide with the Jaguar's final departure in April 2006. Coltishall currently has 1,500 servicemen and women employed.
Four Jaguars were flown as part of the closing ceremony on March 11, 2005. On the following day Coltishall hosted its own Families day. With many aircraft already in attendance from the previous day, Saturdays arrivals included a former RAF Hunter and Jet Provost and also a very smart looking P-51D Mustang. It was fitting that a specially marked 16(R) Squadron Jaguar (XX117 coded PA) led out a formation of another eight Jaguars from 41(F) Squadron for a mock airfield attack. The Jaguars approached the airfield in pairs at low-level from five different directions for a stunning display of air power. Later a diamond nine formation finished off the flying activities.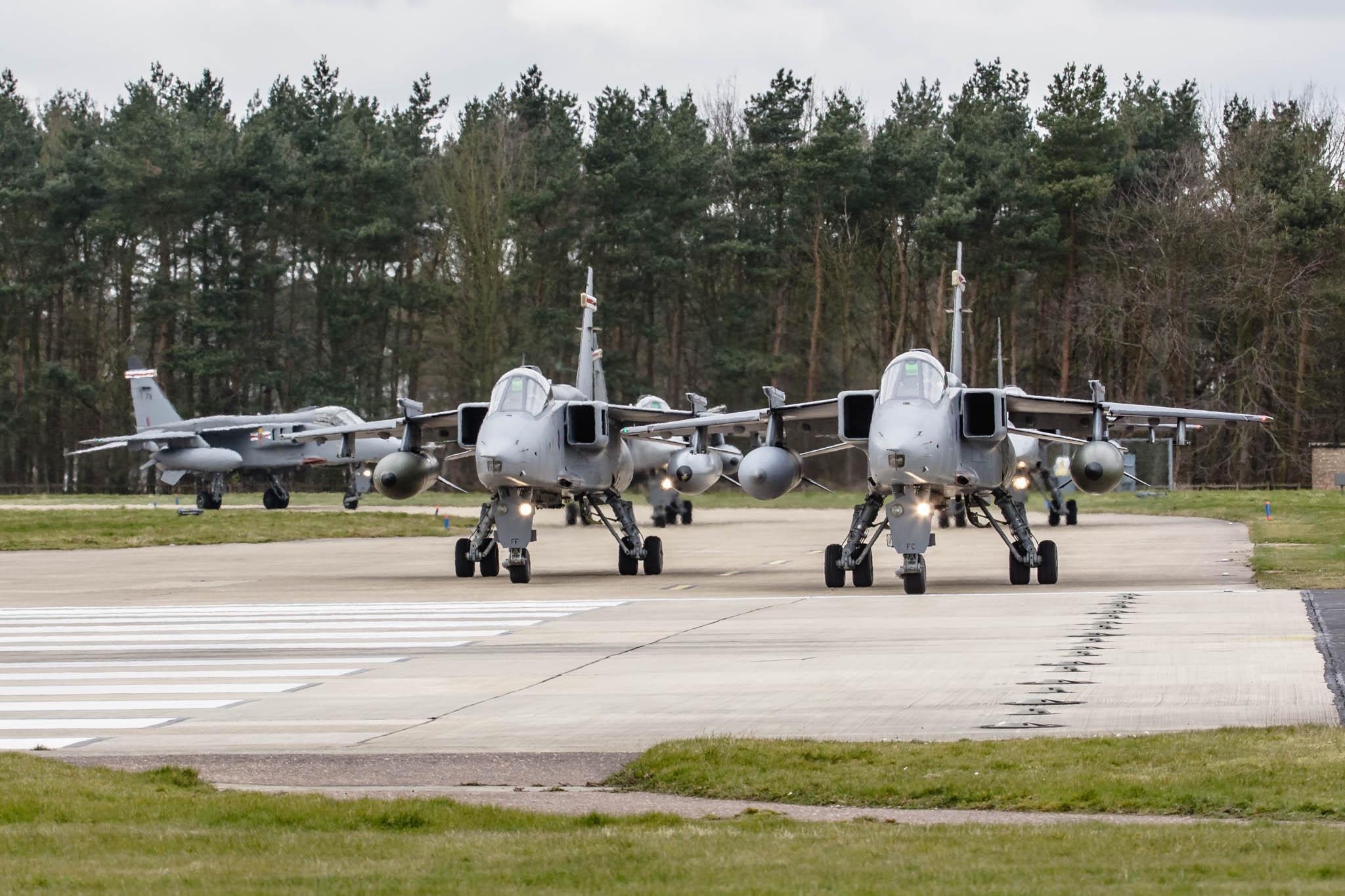 The 16(R) Squadron special marks Jaguar GR.3A (XX117 coded PA on nose wheel door) turning onto runway 22.
41(F) Squadron GR.3A Jaguars (XX752 'FC', XZ104 'FM' and XX835 'FY'), depart Coltishall prior to the airfield attack. The two-seat Jaguar T.4 (XX835 'FY') is typical of all T.4 departures in spraying out surplus fuel from the nozzle at the rear.
41(F) Squadron Jaguar GR.3A (XZ118 'FF') returning in gusting cross-winds. This is not so hairy as it looks, landing with one wing low for some aircraft types is the approved crosswind landing technique. It helps the pilot maintain the centreline, avoid sideways drifting and reduce side loads on the undercarriage legs. Where objects under the wings may strike the ground a crab technique is employed. (Thanks to 'Jorgo' for the technical information).
41(F) Squadron Jaguars (T.4 XX835 'FY', GR.3A XZ355 'FJ' and XZ107 'FH').
41(F) Squadron GR.3A Jaguars return (XZ104 'FM' and XZ106 'FR').
The 16(R) Squadron special marks Jaguar GR.3A (XX117) returns after leading the airfield attack. Jaguar GR.3A (XZ392) of 16(R) Squadron as seen throughout 2004 in its display markings.
Jaguar T.4 (XX847 'PY') of 16(R) Squadron, on a low-level flying training mission in the Lake District.
16(R) Squadron


In July 2000 16(R) Squadron was formed at Coltishall, moving down from Lossiemouth where it had operated as 226 OCU. 16(R) Squadron was tasked with similar operations as the other three squadrons, but additionally run the Jaguar Qualified Weapons Instructor (QWI) and Qualified Flying Instructor (QFI) courses. On March 11, 2005 16(R) Squadron was stood down. It was formed at St.Omer in France in 1915. The Jaguar Training Flight (JTF) will now be incorporated in 41(F) Squadron as 'C' Flight. The JTF courses are scheduled to finish in November 2005. The QWI courses are for Jaguar pilots with over 600 hours and have also completed frontline tours. The course lasts for six months including 80 hours of flying.
Jaguar GR.3A (XX720 'GB') of 54(F) Squadron.
54(F) Squadron


54(F) Squadron 'Black Cats' was also stood down on March 11, 2005. It was the first squadron to convert to the Jaguar back in 1974 at Lossiemouth and for the following 31 years maintained it's ground attack role. Its aircraft and most of the personnel and crew will be absorbed into 6 and 41 Squadrons. However with their almost unique experience as single seat fighter pilots, some pilots will be transferred across to the Typhoon.
6 Squadron special scheme Jaguar GR.3A (XX112) in company with 54(F) Squadron Jaguar.
6 Squadron will inherit some of the 54(F) Squadron jets, whilst the older Jaguars will be withdrawn from service.
54(F) Squadron arrived at Coltishall in August 1974, followed by 6 Squadron in November of that year. In April 1977 41(F) Squadron joined the other two squadrons and were assigned to the Supreme Allied Commander Europe (SACEUR) as the Strategic Reserve, later to become the Allied Command Europe Mobile Force. Jaguars have been deployed regularly to Norway and Denmark, as well as to Oman and Bahrain for the first Gulf War in 1990/91. After the conclusion of the war, Coltishall's Jaguars were deployed to Turkey to police the imposed no-fly zone over Iraq. In July 1993 Jaguars were deployed to Italy, in support of NATO missions over the former Yugoslavia in 1995. Later in 1997 they were again deployed to Italy, supporting the NATO Stabilisation Force (SFOR) in Bosnia.
Families Day display aircraft March 12, 2005.
Jet Provost T.4 G-BWGT, (ex XR679) was first to arrive for the families day on Saturday. It is owned by the 'Jet Provost Club' and is based at Sandtoft airfield in Yorkshire. P-51D-20NA Mustang (G-SIJJ / 44-72035) and inscribed 'Jumpin Jacques' flew across the airfield in a series of impressive attacks. The North Weald based warbird is owned by Peter Teichman. Positioned outside the airfield, I was ideally placed to get this exciting head on shot.
With three touch and goes on arrival and a display later in the day, Delta Jets Hunter T.7A (WV318) was very welcome. Kemble based Delta Jets, acquired this aircraft in 1996, following its RAF retirement in 1994. It was one of the last four Hunters in RAF service. It is painted in glossy 'Black Arrows' display team markings.