Concorde's fair well tour of UK airports
Birmingham International
October 20, 2003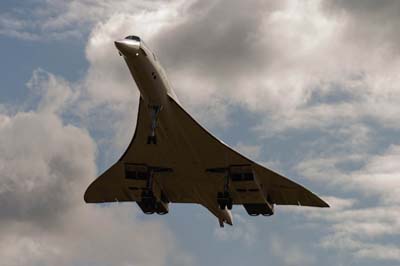 Concorde first flew nearly 35 years ago and has been flying passengers for more than 25 years, this week marks the end of an era of supersonic passenger transportation.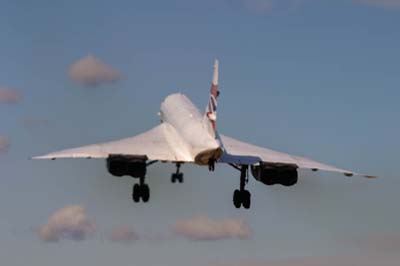 British Airways expected to fly in the final week in service of its supersonic Anglo-French Concorde a record 2000 passengers. One of BA's seven Concorde's began its farewell tour of honour of the British Isles on October 20, by landing at Birmingham. Later in the week, Manchester, Cardiff, Edinburgh and Belfast were also similarly visited.

Thousands gathered around the airport to see the arrival of Concorde landed at mid-day following an impressive overshoot. Many of the onlookers did not have cameras but carried children that were probably seeing Concorde for the first and last time. Others, like myself, just wanted to be there, to see Concorde for just one more time. Concorde flights had been taken for granted, but enthusiasts were shocked to hear the announcement that the sleek and totally unique aircraft was going to be retired.

I managed to get in position at the last minute. Traffic jams and limited parking around the threshold of runway 33 nearly made it impossible for me to get any picture at all. Luckily behind a petrol garage the owner had made available some waste land for parking. The Police who were not all in the spirit of things were arranging to have cars towed away from the side of the road. Just 50 yards from the centre line I waited for Concorde (G-BOAC) to complete the widest circuit of the airport following its initial fly past some minutes earlier. After it had touched down there was spontaneous applause from the hundreds gathered around me.
Captain Andrew Mills flew was at the controls for this final flight in to Birmingham, taxied Concorde to the old airport terminal. Concorde taxied around the airfield making sure that no one missed out on a souvenir photograph. Departure back to Heathrow followed four hours later. Again thousands gathered to see the final departure. The sun disappeared behind a cloud to the groan of the assembled press and serious photographers. With engines roaring, Concorde accelerated down the runway, rotating at probably 2/3 the length.
The ear shattering roar and the smoke will remain with me as the final image of Concorde's illustrious carrier. There was many a tear in the eyes as everyone made their way back home.