Aeropark Museum
East Midlands Airport, Nottingham
June 2011 and March 2020
This is a museum with an impressive list of exhibits but sadly when I visited in 2011 I came away somewhat disappointed with how I found them. Many if the aircraft on display are in various stages of decay.



I don't blame the unpaid volunteers who gallantly look after the small patch of land they have been given adjacent to the runway at Nottingham East Midlands (Castle Donnington) airport (EMA) which contains the large collection of fine aircraft. Indeed without their efforts I suspect many of these aircraft would be sold off for scrap. They have acquired a small hangar where some engines and other small exhibits are held. Restoration is being carried out on some of their aircraft which explains why some have a tarpaulin covering their cockpits. The income that is received from the visitors is obviously totally inefficient to pay for the refurbishment that many aircraft are in desperate need of. In these times of austerity I am not sure what the answer is; a spare hangar somewhere close would be a start, failing that public funds or even a generous donation to build a new hangar would go a long way to preserving some of the exhibits for future generations to enjoy.

What they have done here which is impressive, is constructed a grass bank along one side adjacent to the runway. Here photography of the EMA's traffic is made possible as it you are now above the airport's fence line. Additional income from the photographer's should be possible.

Nine years on in 2020 and an organised night shoot to raise funds and the museum has the same demands. There are some new exhibits and many of the aircraft have been re-painted at the very least, some with period markings.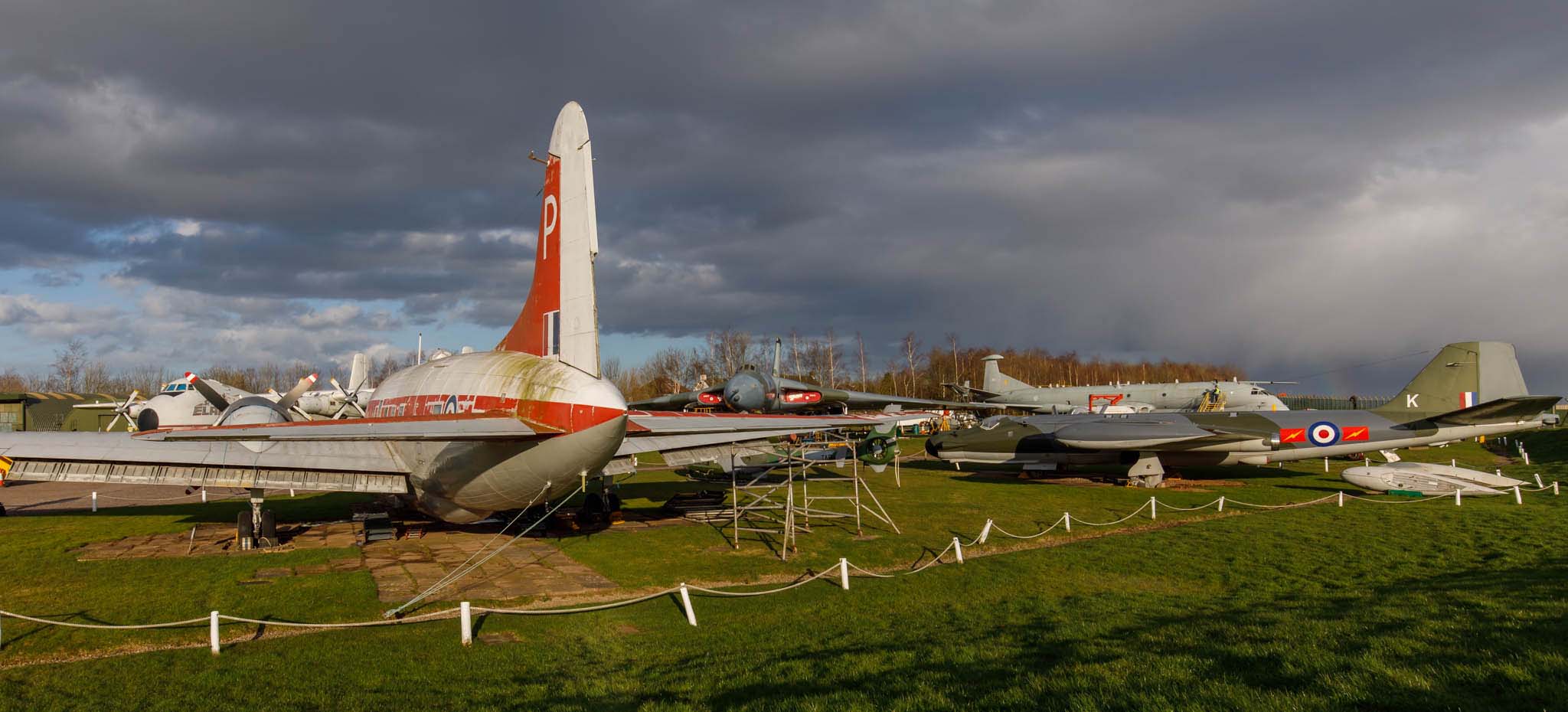 Left to right: de Havilland Vampire T.11s (XD534 with tail boom of XD382 and XD447) and Armstrong Whitworth Meteor TT.20 (WM224 'X').
Left to right: Hunting Jet Provost T.4 (XP568 '85').
Left to right: Hawker Hunter GA.11 (WV382 'VL-830').
Left to right: English Electric Canberra T.17 (WH740 'K').
Left to right: Avro Vulcan B.2 (XM575).
Left to right: Composite Hawker Hunter 'FR.10' ('XJ714').
Left to right: Hunter T.7 (XL569 '85').
Left to right: Blackburn Bucaneer S.2B (XV350).
Left to right: BAC Lightning F.53 (ZF588 'L').
Left to right: Percival P.56 Provost T.1 (WW442 'P-D').
Left to right: Westland Wessex HAS.1 (XS876 'PO 523'), Wessex HU.5 (XT480 'RG 468') and Wessex HC.2 (XT604).
Westland Lynx HAS.3GMS (XZ721).
Left to right: Westland Whirlwind series 3 (XG588), Westland Gazelle AH.1 (XX457 marked TAD001) and Westland Sea King HC.4 (ZD477 'E').
Left to right: Vickers Varsity T.1 (WL626 'P').
Left to right: Vickers Varsity T.1 (WL626 'P').
Left to right: Armstrong Whitworth Argosy (G-BEOZ).
Left to right: de Havilland Dove (G-ANUW) and Nimrod R.1 (XW664).