Yorkshire Air Museum
Nimrod Night Shoot, Elvington
October 16, 2010
The Yorkshire Air Museum (YAM) opened its gates once again for another evening and night photo shoot. The £25 donation was money well spent as four former cold war jets were illuminated by museum staff to give the photographers a unique opportunity for some unusual images.



The principal aircraft on show was the museum's most recent arrival a Hawker Siddeley Nimrod MR.2 (XV250) which flew in to Elvington on April 13, 2010 to be greeted by an estimated 2,000 spectators. The aircraft is still on RAF charge and is being kept in flying condition with regular public ground engine runs planned throughout the year. Joining the Museum's Buccaneers and Victor and described as 'Thunder Days' their aircraft are fired up and taxied to the runway for a fast run to the point of takeoff. Support for the aircraft valued at £400,000 is being provided by the Nimrod Integrated Project Team (IPT) from RAF Kinloss its former air base.
The Nimrod MR.2 was retired from RAF service on March 31, 2010 after over 40 years of service, it had three main roles; Anti-Submarine Warfare (ASW), Anti-Surface Unit Warfare (ASUW) and Search and Rescue (SAR).

Photographers were asked not to use flash and so upset their colleague's lengthy timed exposures and so a tripod was essential. It was possible to walk around the Nimrod and shots could be easily taken in front of the two Blackburn Buccaneers and English Electric Lightning.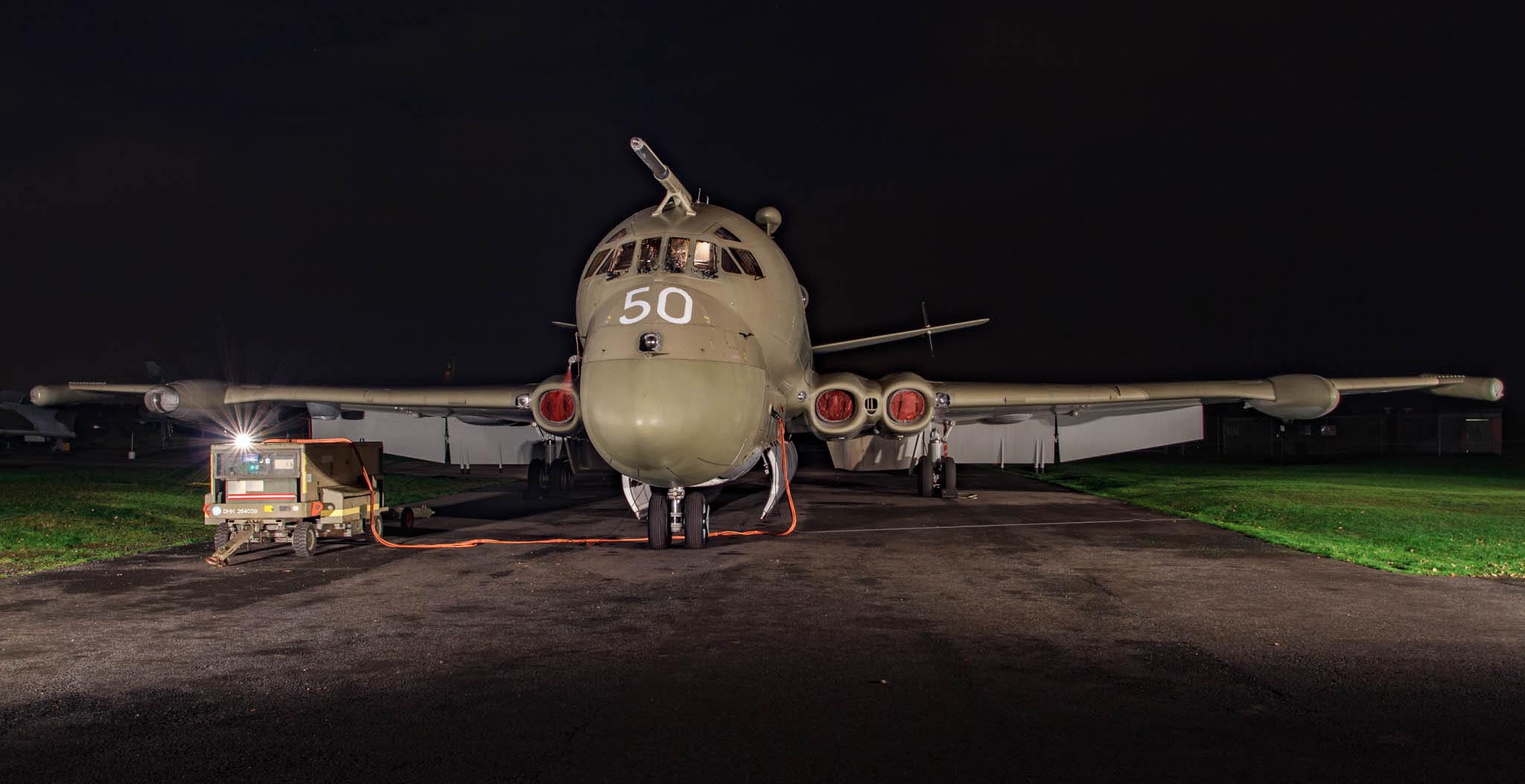 Nimrod MR.2 (XV250 '50').
Nimrod MR.2 (XV250 '50').
Nimrod MR.2 (XV250 '50').
Nimrod MR.2 (XV250 '50').
Left to right: Buccaneer S.2 (XN974) was the first production S.2 taking to the air for the first time in 1964. XN974 was initially used for trials at the Royal Aeronautical Establishment at Bedford, before sea trails on HMS Eagle and hot weather trials in the USA. Eventually it was taken in charge by the museum in 1991.
Buccaneer S.2B (XX901) it was deployed to the Falklands in 1983 and saw action over Beirut. In 1991 it flew 14 operational missions during Gulf War I when it was painted in its current pink sand scheme and 'Flying Mermaid' and 'Sky Pirates' nose art.
Buccaneer S.2B (XX901) with its Gulf War nose art.
English Electric Lightning F.6 (XS903) was built at Salmesbury and first flew in 1966. XS903 served with 5 and 11 Squadron at RAF Binbrook before being flown to Elvington for preservation in 1988.
Left to right: Dassault Mirage III (538 '3-QH').
Buccaneer S.2 (XN974).
Douglas DC-3 Dakota IV (G-AMYJ).
Left to right: Gloster Meteor NF.14 (WS788 'Z').
Lockheed Canadair CT-133 Silver Star (12417).
Gloster Javilin F(AW).9 (XH767).