Farnborough International
The Society of British Aerospace Companies (SBAC)
July 19-25, 2004
Amid rumours that Farnborough '04 will be the final show, the Society of British Aerospace Companies (SBAC) issued a statement, "Farnborough is and will remain one of the World's most important international air shows." Well we will wait and see what happens. Clearly as a show for spectators, it is a shadow of its former self. Coming straight from the Fairford show the weekend before, Farnborough is expensive, difficult to get into and offers far less for the photographer and enthusiast. Never the less, I went on the first Monday, Press Preview day, hoping for something special, I was to be disappointed. I suppose I should not have been surprised, that many (but not all) aircraft had displayed the previous week at Fairford. Fences closely surrounded all static aircraft, making decent photography very difficult. The 'display' started at 2:00 p.m. and lasted just two hours. It was suggested that the display would improve as the week progressed. The organisers were expecting however to top the 290,000 spectators visiting the last show in 2002.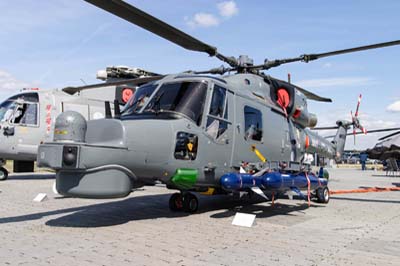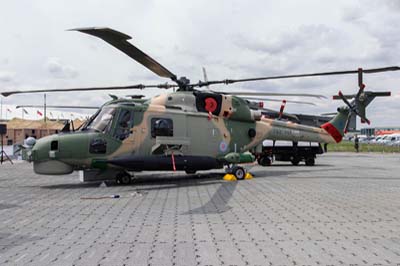 Left: The AgustaWestland Super Lynx 300 Mk.120 (762 / ZJ976, one of 16 bound for Royal Oman Air Force in its first public display. Right: The last of six Lynx Mk.100s for Malaysia Navy (M501-3 / ZJ906) accompanied it. The Super Lynx can hover at 10,000 feet and has a maximum speed of 174 mph.
The A340-600 Airbus (F-WWCA) with four Roll-Royce Trent engines and can carry between 380 and 475 passengers. There is more talk however on the new A380, with its twin decks from nose to tail, enabling it to carry around 550 passengers. The A380 should fly next year.
As with Fairford the F/A-18F Super Hornet (165917 of VFA-2 NE-101 US Navy) was the main attraction.
The Saab JAS 39 Gripen (39133) of F 7 Swedish Air Force.
The Lockheed Martin F-16C (91-420 / SP 52 FW) still displaying at Farnborough, 29 years after its debut at the Paris Air Show. It climbed vertically straight from take-off, with ¾ full internal fuel tanks, to demonstrate its still impressive thrust/weight ratio. Bland Smith, senior manager for flight operations at Lockheed Martin, flies the F-16 at between 300 and 375 knots most of the time, to keep the display tight and as close to the crowd as is possible.
The C.27J Spartan (MM.CSX.62127 Italian Air Force), developed jointly by Alenia Aeronautica and Lockheed Martin, is able to operate from short and unprepared strips. It has two Rolls Royce AE2100-D2 engines with Dowty six blade composite propellers. Five are due to be delivered to the Italian Air Force next year, with an option for seven more. Last year the Hellenic Air Force ordered 12 C-27Js.
The Aermacchi MB-339CD (MM55090 Italian Air Force)
Panavia Tornado IDS (MM7063 Italian Air Force) inscribed 'IT MLU 1st Upgrade' in RSV markings. This is the first of 18 Panavia Tornado IDS to receive a mid-life upgrade by Alenia Aeronautica. The initial upgrade configuration allows the modernised Tornado IDS to carry the 1,000lb Boeing GBU-31 GPS-guided JDAM and Raytheon Enhanced Paveway III GPS/laser-guided bombs with Mk84 and BLU-109 and also the Storm Shadow cruise missile. The Italian air force will receive 12 upgraded aircraft this year, with the remaining six to be delivered by mid-2005.