Flying Legends 2012
"The Greatest Warbird Show in Europe"
June 30, 2012
Gusty winds played their part in this year's Flying Legends held at the United Kingdom's if not Europe's warbird centre of excellence. The static line-up of aircraft which spectators gladly pay a premium to get a closer look were unusually parked facing away from the crowd line and towards the wind which was blowing from the south-west. The Fiesler Storch and the delicate World War I replicas were grounded. On the downside with the threat of showers many cockpits were covered during the period flight line walk was open.



To avoid a clash with the Olympics the date was brought forward which for some put it in competition with the air show at RAF Waddington. Numbers may have been a little lower than in previous years due to this, for the genuine lover of warbirds it was 'no contest' and 2012's 'Legends was a very enjoyable event with plenty of 'new' aircraft and paint scheme enhancements to see.

The warbird loving public don't wait till the afternoon to settle down and enjoy the show. Well before 7:00 a.m. when the gates open queues start to form at each gate. Getting a good position along the long crowd line means a lot, perhaps too much, to the regulars who set up camp with their fold-up chairs. The morning can be spent browsing through the numerous traders stalls. The flight line, for a small additional fee, is opened up to all who want a closer look at the aircraft and is only closed when the aircraft are being readied for flight before the start of the flying display.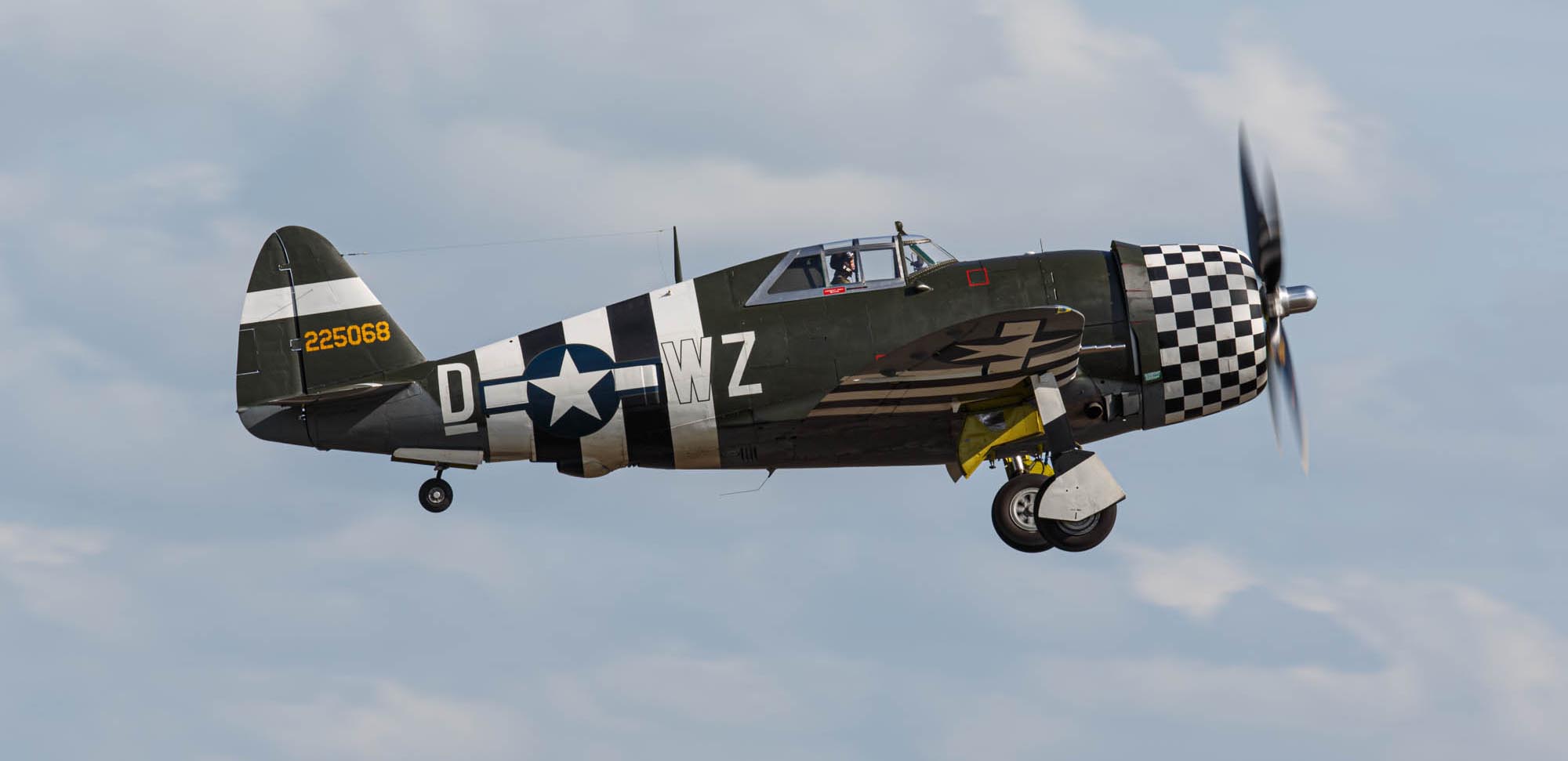 In the flying display for the first time was the Curtiss (Republic) P-47G-10-CU Thunderbolt ('225068 WZ-D' / G-CDVX) 'Snafu / War Eagle'. It was rolled out for the first time just before last years event by the Fighter Collection it is painted in the markings of 84th Fighter Squadron, 78th Fighter Group representing the time when the 84th were based at Duxford in 1944. The P-47 had originally arrived at Duxford as 'Little Demon' in 2006. It is one of the two remaining Curtis built P-47s in the world. It was for me the star of the show flying for the first time at Flying Legends it is the only Thunderbolt flying in Europe.

Flying Legends 2012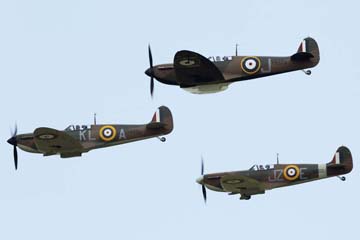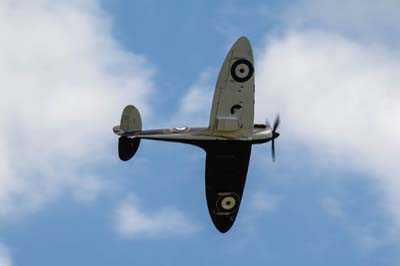 The flying display which always opens at 14:00 started with a formation of three Supermarine Spitfire Mk.Is and was dedicated to Grumman Bearcat pilot Howard Pardue who was recently killed in the United States. This was perhaps the first time such a formation had flown since the early days of the World War II. Spitfire Mk.1a (AR213 'JZ-E') was flown by Stephen Grey and unfortunately on Saturday its undercarriage failed to retract and its display ended prematurely.

Recently restored and appearing for the first time at Flying Legends was Spitfire Mk.I (X4650 'KL-A') and Spitfire Mk.1 (P9374 'J') completed the trio. X4650 first flew on October 23, 1940 but was written off after an accident within a few months of service. In 1976 it was recovered from the River Levan where it had been dumped 36 years earlier. Bought in 1990 by Peter Monk it began its long restoration, flying for the first time on March 9, 2012.
P9374 was also making its 'Legends debut after a long restoration which was completed in September 2011. It had been shot down over France in 1940 crash landing on the beach at Calais. In 1980 after a storm the wreckage resurfaced and it was recovered and placed into storage. In 2007 Historic Aircraft Limited (HAL) took on the rebuild at Duxford.
The trio were joined by another six Spitfires and two 'German' Buchon for a succession of flypasts and the show was off to a great start.

Lockheed P-38L/F-5G Lightning

(44-53254 / N25Y). 'The Flying Bulls' P-38 Lightning ceased active service from September 1945 and was initially civilian registered to Lilee Products Company in Chicago. J D Reed, an air racing enthusiast, based in Houston later took ownership and achieved 2nd place at the 1947 Miami Air Races and 2nd place at the Sohio-Race in Cleveland in the same year. Marvin 'Lefty' Gardner in 1963 flew the aircraft at the Reno National Championship Air Races with considerable success. Unfortunately in 2001 it was extensively damaged by fire. Eight years later, the P-38 had been restored to its former glory by The Flying Bulls team.
Appearing for the second time its display this year, without the Red Bulls Corsair which had technical problems, showed off the aircraft's elegantly lines more effectively with a wonderful solo display. It is truly a beautiful machine and a real crowd pleaser.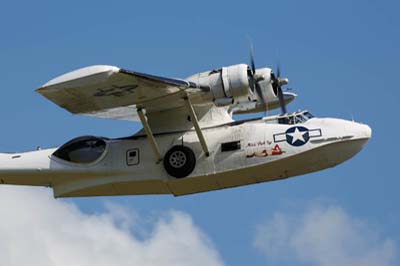 Consolidated PBY-5A Catalina ('433915' G-PBYA now with 'Miss Pick Up' nose art) was bought by Catalina Aircraft Ltd. in 2002 and is based at Duxford and operated by Plane Sailing. It was originally struck off charge from the military in Canada in 1961 after nearly 20 years with the RCAF. It was later converted to a water bomber and was registered as CF-NJF (later C-FNJF). It also operated with the Protection Civile (as F-ZBAY and F-ZBBD) in France, fighting fires during the French summers. By 1974, it had moved on Prince Albert, Saskatchewan with Norcanair for more water bombing duties. By the 1990s the water tanks had been removed and it was carrying passengers.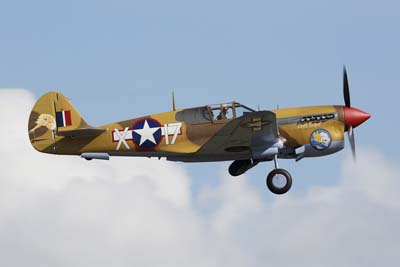 The Fighter Collection's Curtiss P-40 Warhawk (41-19841 / VH-PIV) named 'Lees hope', made its first flight in the UK on the Saturday before last years event. Built in 1942 41-19841 little is known of it's service history it was struck off charge in November 1943 and abandoned on the island of Espiritu Santo which is part of Vanatu in the Pacific. It was recovered in the 1970s and stored in Australia for sometime until restoration was carried out by Precision Aerospace Productions for TFC in the markings of USAAF's 85th Fighter Squadron as flown in Italy during 1944. For this years 'Legends it was sporting 'Lees hope' nose art and and a scantily dressed lady on the starboard rudder.
Show organisers, The Fighter Collection (TFC) staff headed by Stephen Grey with the Imperial War Museum (IWM) have worked out a formula of aerial choreography which has aircraft recovering to the airfield as the next display aircraft is ready to swoop across the airfield, the action flows as a continuous series of themed events.



2012 Flying Program 14:00 to 17:30


Supermarine Spitfires including 3x MK.1 formation, 2x Hispano Buchón and Lockheed P-38 Lightning of Red Bull solo
Vought F4U Corsair and Grumman F-8F Bearcat, Curtiss (Republic) P-47G Thunderbolt, Boeing B-17 Flying Fortress 'Sally-B'
Avro Lancaster B.1 Battle of Britain Memorial Flight with 2x Spitfire (Saturday only)
Junkers Ju-52 and 2x Bücker Bü131 Jungmann
Hawker Sea Fury
2x Curtiss P-40 Warhawks and Curtiss Hawk
2x Hawker Nimrod
Yakovlev Yak-3, Yak-9 and Yak-11
3x North American P-51 Mustangs
Westland Lysander
Sikorsky S-38, Consolidated PBY-5A Catalina
2x Boeing PT-17 Stearman Kaydets Breitling Wing Walkers
Douglas C-53D Skytrooper and 2x Boeing Staggerwing and Fairey Swordfish
Grumman F-8F Bearcat as the 'Joker'
Mass tak-off of most of the participating aircraft for the Balbo formation fly past finale with 21 aircraft this year.


The fascination of warbirds does not diminish over time, each year you would expect it to be getting harder to keep these aging aircraft flying. With the availability of original parts declines with the increased bureaucracy and cost of permits, licences and insurance it all conspires against the warbird owner to keep their aircraft in the air. However it appears the opposite is occurring, as every year Flying Legends without exception attracts show debutantes from around the world. Recent rebuilds and restorations defy logic that World War II warbirds will eventually be too weary to take to the air.
Flying legends 2013 (July 13 and 14) will once again feature in most of this years attendees of the show that guarentees and array of the world's finest surviving flyable warbirds.

See IWM Duxford for more details of future events and also the Fighter Collection website.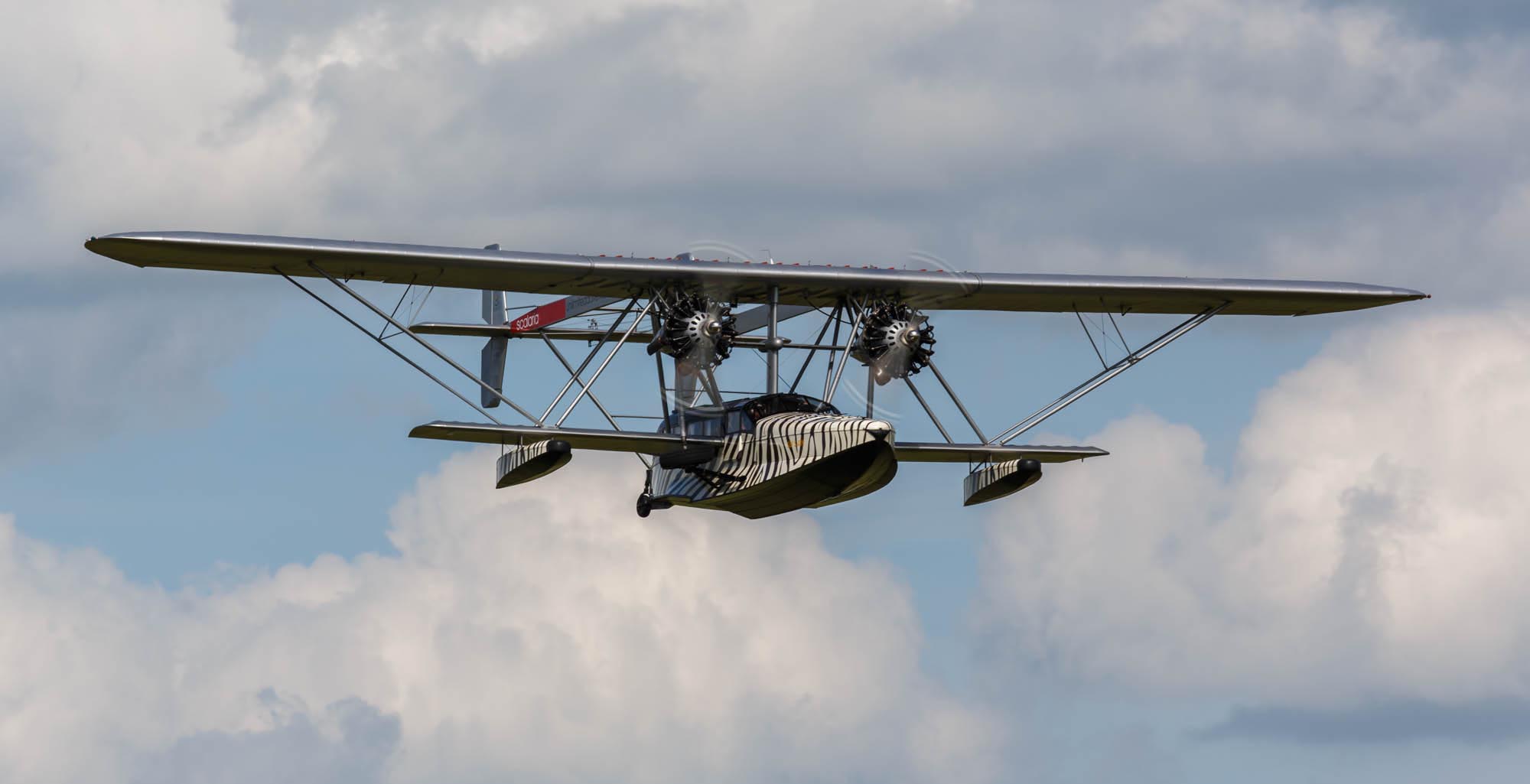 Tom Shrades Sikorsky S-38 (NC29V) 'Osa's Ark' making its debut at Flying Legends. An eight seat amphibious aircraft it was known as 'The Explorer's air yacht' of which 110 were built from 1928. This example is mostly a modern day replica however its wings and tail section were from an original S-38. The paint scheme applied is that of Osa and Martin Johnson's film making expedition to Africa from 1933 to 1934, their original aircraft was written off in Cuba ten years later.


Flying Legends 2012 - What was there?
Left to right: Supermarine Spitfire I (X4650 'KL-A') owned by Dan and Tom Friedkin.
Supermarine Spitfire XIX (PS890 'UM-E' / F-AZJS).

Left to right: Supermarine Spitfire LF.16E (TD248 'D' / G-OXVI ) of Historic Flying Limited.
Supermarine Spitfire FR.14E ('MV268 JE-J' really MV293 / G-SPIT) of The Fighter Collection.
Vickers-Supermarine Spitfire LF.5B (EP120 'AE-A' / G-LFVB) of The Fighter Collection.

Left to right: TF-51D-25 Mustang (44-84847 'CY-D' / NX251RJ) 'Miss Velma' of The Fighter Collection (TFC).
North American TF-51D Mustang (44-73871 'TF-871' / D-FTSI) owned by Meier Motors it appeared for first time at Flying Legends 2010.
North American P-51D Mustang ('44-13704 B7-H' really 44-73149 / G-BTCD) 'Ferocious Frankie' of the Old Flying Machine Company.
Left to right: Hispano HA-1112-M1L Buchon (C.4K-102 as'Yellow 10' / G-BWUE) of ARCo you can still see its original Spanish Air Force serial 'C.4K-102' painted on the port flap.
Bücker Bü131 Jungmann (G-BSAJ) owned by TFC Chief Pilot Pete Kynsey.
Left to right:
Grumman F-8F-2P Bearcat (121714 'B-201' / G-RUMM) of The Fighter Collection.
Vought FG-1D Corsair ('KD345 130' / 88297 / G-FGID) of The Fighter Collection.
Left to right:
Norwegian Douglas C-53D Skytrooper (42-68823 / 11750 / LN-WND now coded '73 Z' with an RAF roundel) of Foundation Dakota Norway. This members only foundation will fly 3,000 passengers per year another 1,600 members don't take up their option to fly each year. This rare C-53 is kept in prestine condition and is hand polished bare metal to protect the aircraft's skin.

Consolidated PBY-5A Catalina ('433915' G-PBYA now with 'Miss Pick Up' nose art).
Left to right:
Curtiss P-40 Warhawk (41-19841 'x1-7' / VH-PIV) now with 'Lees hope' nose art and and a scantily dressed lady on the starboard rudder, it is owned by The Fighter Collection.
Curtiss (Republic) P-47G-10-CU Thunderbolt (G-CDVX) 'Snafu'.
Curtis Hawk 75A-1 (No.82 'X8-81') it is the only flyable ex L'Armée de l'Air Hawk in existence also of The Fighter Collection.
Left to right: Two AeroSuperBatics Boeing PT-17 Stearman Kaydet (SE-BOG) and A-75N1 Stearman (N5057V) demonstrating wing walking sponsored by Breitling.
Beech YC-43 Traveler (N295BS) of the 'Duke of Brabant Air Force' based in Holland.
Left to right: Boeing B-17G Flying Fortress ('124485 DF-A' / 44-85784 / G-BEDF) 'Sally B' owned by Elly Sallingboe and operated by the B-17 Preservation based at Duxford.
Left to right: Yakovlev Yak-9UM (HB-RYA / 'Yellow 06').
Yakovlev Yak-3UA (0470107 / D-FJAK 'White 100') This is a new build aircraft built by Yakovlev at Orenburg in Russia from 1991 using the original plans but utilising an all metal construction with an Allison V-1710 engine. The original Yak-3s entered service as a short range interceptor fighter in 1944. 4,848 Yak-3s were built and they proved to be highly successful due to their impressive rate of role, climb and turn, it first appeared at Flying Legends in 2008.
Yakovlev Yak-11 ('Yellow 11') owned by Rob Davies.
Left to right: Hawker Nimrod 1 (S1581 '573' / G-BWWK) and Hawker Nimrod II (K3661 / G-BURZ). The Nimrod was a single-seat fighter, it first flew in 1930 and went in to service with the Fleet Air Arm. However by the start of the World War Two it had been relegated to training duties.
Westland Lysander Mk.3A (V9367 'MA-B' / G-AZWT) of the Shuttleworth Trust.
Fairy Swordfish II (LS326) of the Royal Navy Historic Flight.
Yakovlev Yak-3UA (0470107 / D-FJAK 'White 100')