Aeroseum
Göteborg - Säve Depot
Sweden
June 9, 2013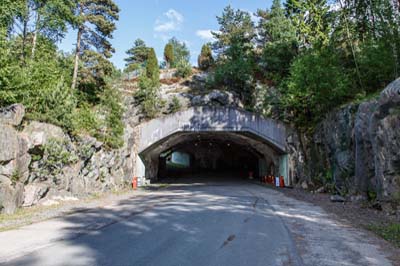 This is an extraordinary museum situated in a cavern complex carved into the rock. Built in the early 1950s for the Royal Swedish Air Force F9 Wing the rock shelters are nearly 30 metres below ground level. They are located at Säve Depot opposite to the current Göteborg City airport terminal at the site of the former military air base. Since 1999 the Aeroseum Foundation has been utilisiing the shelter for a large collection of mostly former Swedish Air Force fast jets and helicopters.

The museum is open Monday to Sunday 11:00 to 18:00, but please visit the official website (see above link) to confirm these times. My brief visit was during the Aero Show.
The museum hangar just inside the entrance
Outside the museum.
Left to right: By the entrance SAAB J35J Draken (35598 'FC-18') and ex F14 Wing Draken nose (35482 '14-?'). PZL-Swidnik (Mil) Mi-2 Hoplite ('12' ex ES-XAB c/n 547845102).
Underground.
Left to right: SAAB J29F Tunnan (29624 '9-P') and SAAB J35J Draken (35586 '10-62').
SAAB AJ37 Viggen (37094 '57') of F10 Wing.
Left to right: SAAB AJ37 Viggen (37094 '21-57') and SAAB J35F Drakens (35415 '20' and 35528 '00').
Left to right: SAAB J32E Lansen (32512 '03') and MBB Bolkow Bo-105 / Hkp9A (09218 '18' and 09221 '90').

Left to right: Agusta Bell AB.204 / Hkp3C (03310 '50') AB.204 (226) formally of the Dutch Navy, Marinen Aerospatiale Alouette II Hkp2 (02036 '36') and Aerospatiale Alouette III (SE-JEI).

Left to right: Agusta Bell AB204B / Hkp3B (03425 '16-95'), Agusta Bell AB206B Hkp6B (06051 '51') and Reims-Cessna F337G Super Skymaster (SE-GMM) of Kustbevakning (Swedish Coastguard).

Note:


These images were taken during a hasty visit to the museum during an air show.