Hallinportti Aviation Museum
Halli, Finland
September 21, 2023
A small collection of stored aircraft, packed into a small hangar built in the 1980s.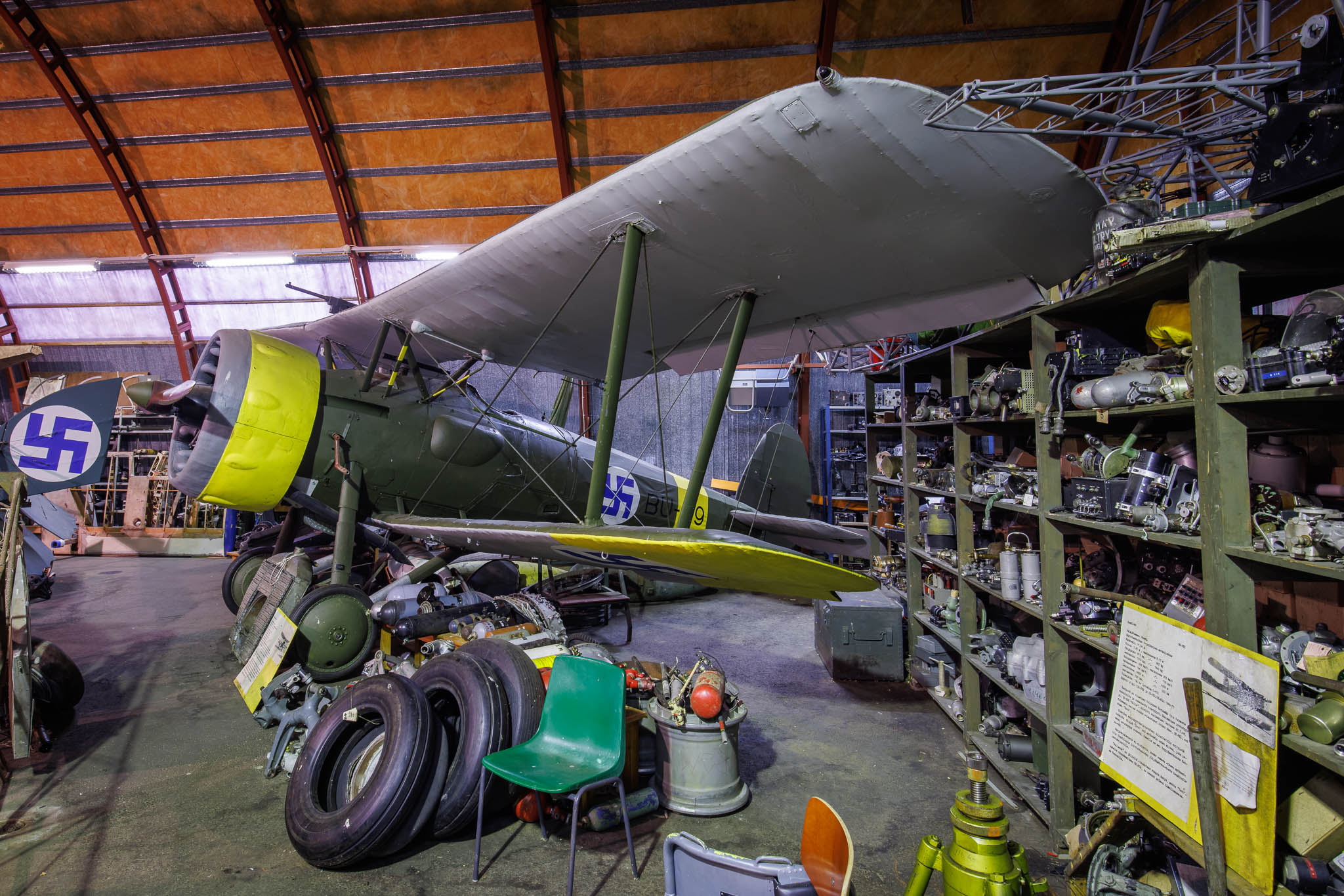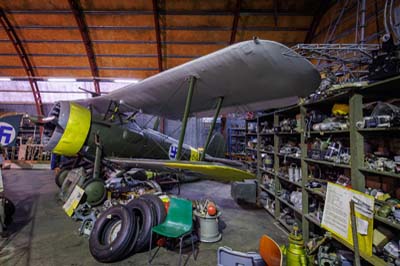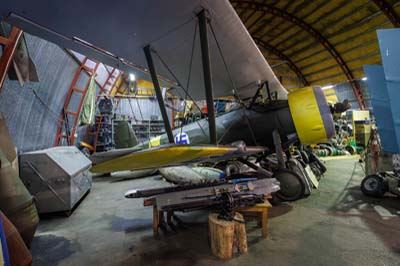 Left to right:

Bristol Bulldog IV

(BU-59). Designed by Bristol Aeroplane Company in the mid 1920s the Bulldog first flew in 1927. Over 400 were built mostly for the RAF, the first ten were delivered in 1929. The Bulldog never saw combat with the RAF and was withdrawn from service in 1937, it was replaced by the Gloster Gauntlet. The sole surviving Gauntlet (GT-400 registered OH-XGT) has been restored over seven years and 13,000 man hours to flying condition using an engine from a Pembroke in Finland since 1982.
17 Bulldogs (BU-59 to BU-75) were delivered in 1935 to the Finnish Air Force, the ten remaining aircraft saw combat during the Winter War (1939 to 1940) against the Soviet Union. They were operating in part from an ice-covered Lake Littoinen to protect of the city of Turku. A Bulldog shot down one Polikarpov I-16, the first ever aerial victory over Finland, and a Tupolev SB. One Bulldog was shot down in December 1939.
The very last mission of a Finnish Bulldog ended when BU-59 overturned during landing on February 22, 1944. BU-59 is one of only two Bristol Bulldogs that survive today, the other is at the RAF Museum at Hendon.
Left to right:

Rumpler 6B

(5A.1) ex Finnish Air Force. German floatplane designed and built by Rumpler Flugzeugwerke from 1916, 39 6B-1s were produced before the end of 1917 followed by 49 6B-2s delivered between October 1917 and January 1918. Only two examples were acquired from Germany in early 1918, the second remained in service until 1925 and is the only one in existence in the world.
Left to right:

Caudron G.3

(1E.18). A reconnaissance bi-plane built in France from May 1914, 12 examples were ordered by the Finnish Air Force and were in service from 1920 onwards.
Left to right:

Ilmailuvoimien D.27 Haukka II

(HA-41 c/n 2) ex Finnish Air Force. Finnish biplane fighters designed by Kurt Berger from 1927 and built by Valtion Lentokonetehdas (VL), the Finnish State Aircraft Factory. Only two survive today, the other is at the Päijät-Häme Aviation museum.
Left to right:

Aero A-11

(AE-47) ex Finnish Air Force biplane light bomber and reconnaissance aircraft built in Czechoslovakia after World War One. It remained in service until 1939. AE.47 is the sole survivor.


Cessna 165 Airmaster

(CE-1) from the late 1930s. Ex Finnish Air Force.
Left to right:

Mikoyan-Gurevich MiG-15UTI

(MU-1 '1'). Four of these two-seat jet trainers were acquired by the Finnish Air Force in the early 1960s.