Hellenic Air Force - Elliniki Polemiki Aeroporia
'Shaping an Air Force'
Greece
September 2010
Philip Stevens
reports: The Hellenic Air Force (HAF - Elliniki Polemiki Aeroporia EPA) continues to face many challenges in defending NATO's south-eastern flank and its air own space. In tough economic conditions the Greek Government is providing its military forces with the latest aircraft and equipment. With more aircraft to be delivered where and why has the money been spent and what is the Hellenic Air Force doing to maximise the potential of its assets?
F-16D Block 52+ Fighting Falcon from 110 Wing, 337 Squadron based at Lárissa.
Deployed to Tanagra it is working with Mirage 2000-5 of 114 Wing, 331 Squadron.
The Shape of Things to Come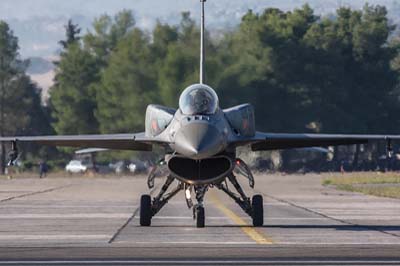 The HAF has been impressed by the capabilities of the Lockheed Martin (formally General Dynamics) F-16 Fighting Falcon ever since it decided to purchase the Block 30 variant in 1985. The latest Block 52+ and the more advanced Block 52M recently delivered are the most distinctive variants.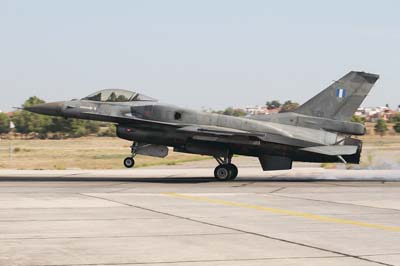 They can be fitted with Conformal Fuel Tanks (CFTs) when the mission dictates which can hold 450 gallons (more than 3,000 pounds) of additional fuel. CFTs replace the under-wing tanks leaving the inner wing store stations free for additional air-to-ground payload.

They now have the range to be able to cover Cyprus, which without air-to-air refuelling was not nearly as easy. CFTs have little effect on the F-16's performance with regard to agility and handling, pilots can still pull 9g with them fitted. The aircraft's Radar signature is also little affected. They are very fuel efficient when compared with conventional tanks carried under the wings. They produce less drag especially at higher air speeds, however there are some disadvantages at lower airspeeds and when you pass Mach 1. Captain Eftihidis Eftihios an F-16 Block 52+ pilot with 337 Squadron said "CFTs are good for long range missions with excellent performance for air-to-ground missions. I would use them for Combat Air Patrol (CAP) but not in a close dogfight as they can't be jettisoned" adding, "It's rare to have a close dogfight with modern weapons".

The two-seat F-16D Block 52+ adds a further distinction by the inclusion of a large dorsal spine packed with the latest state-of-the-art avionics, which were displaced by the inclusion of the second seat. The large dorsal spine of 30 cubic feet (9 cubic meters) capacity also houses chaff and flare dispensers.

A special textured light blue and grey camouflage paintwork known as 'Have Glass' reduces the aircraft's Radar cross signature by scattering and absorbing radiation. Capt Eftihios, "The difference between the older Block 30 and the latest Block 52s is noticeable with regard to the smaller radar signature the expected range of contact smaller, this is a big advantage for us". A downside to the unusual slightly rough finish of 'Have Glass', is that it is virtually impossible to clean without the risk of damaging it. Time will tell whether this can be overcome or these upwards of 40 million dollar aircraft will eventually take on a shabby appearance.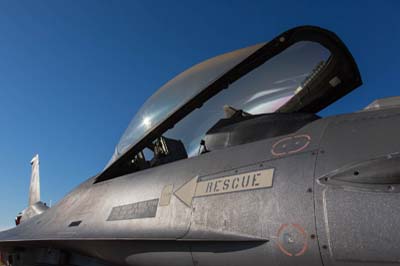 A special textured light blue and grey camouflage paintwork known as 'Have Glass' reduces the aircraft's Radar cross signature by scattering and absorbing radiation. A downside to the unusual slightly rough finish of 'Have Glass', is that it is virtually impossible to clean without the risk of damaging it.

The Block 52+ is equally adept in the air-to-air and air-to-ground strike roles. As an air superiority fighter it utilises the IRIS-T (Infra Red Search and Track) short range air-to-air missile and the AIM120C AMRAAM (Advanced Medium-Range Air-to-Air Missile) medium range air-to-air missile. Pilots have the JHMCS (Joint Helmet-Mounted Cueing System) available to them. Integrated into the helmet with the pilot's right eye, JHMCS enables the pilot to visually follow the target by moving his head a technique which requires getting used to. Vital information such as range, speed and height is graphically displayed directly on the pilot's visor, eliminating the need for the pilot to view cockpit instrumentation during air combat manoeuvres. Block 52+ pilots have full night vision capability using NVGs (night-vision goggles), qualification for which is achieved over a series of up to eight flights.

In the air-to-ground strike role it has an impressive array of modern weapons and equipment. For the air-to-ground role LANTIRN (Low Altitude Navigation and Targeting infrared for Night) pods are available to combine with GBU-31 JDAM (Joint Direct Attack Munitions), JSOW (Joint Stand-Off Weapon) and CBU-103/104/105 WCMD (Wind Corrected Munitions Dispenser). In the SEAD (Suppression of Enemy Air Defences) role the fit changes to AGM-88 HARM (High-speed Anti-Radiation Missile) missiles.
The Block 52+ includes a new colour multifunctional cockpit display, digital recording equipment to capture flight data for the entire sortie. "The system allows us to focus wherever we want without having to rewind one or more tapes. It records every detail of the flight and every communication. The system is one of the best things that came with these aircraft", reported Araxos based pilot Capt. Demetrios Papageorgiou. Its Northrop Grumman AN/APG-68 Version 9 Radar has a 30% improved detection range and can track multiple air-to-air targets.

The two-seat F-16D variant has a 'missionised' back-seat cockpit for complex missions involving multiple aircraft and the delivery of munitions independent of the pilot. The back-seat can be easily and quickly configured for either a Weapons System Operator (WSO) or for an instructor pilot. Unlike the HAF McDonnell Douglas F-4E(AUP) Phantom IIs which have WSO only positions in the back-seat. In all cases the HAF fly with co-pilots and not dedicated WSOs in the back-seat, the F-16Ds are flown with two combat-ready pilots. The back-seater operates multifunction displays and can change the sensor of interest independently of the pilot, a system that is suited to combat situations that impose a heavy workload on the pilot.



Disputed Air Space


On February 18, 1952 Greece and Turkey joined NATO and during the Cold War especially they were on the front line protecting Europe's southern flank. Despite working together within NATO, disputes over territory around the Aegean Sea continued to resurface. Matters became worse in 1974, when after a Greek military government backed coup, the Cypriot president Archbishop Makarios was deposed triggering Turkish forces to invade Cyprus. The country was then divided with a Turkish controlled area in the north and a Greek controlled area in the south.

In 1952 following an international agreement the Flight Information Region (FIR) for the Aegean was controlled by Greece. However after the 1974 invasion, Turkey chose not to register its military flights with the civilian FIR authorities, is deemed to be in violation of International air traffic regulations and considered a danger to civilian flights. Greece consequently considers these as transgressions of international air traffic regulations and routinely intercepts the Turkish military flights. Such interceptions have resulted in many incidents over the years. Notably on May 23, 2006 when two Turkish F-16s entered (when you do not have put down your flight plan, this is not called "entry" but 'violation') the FIR they were intercepted by two HAF F-16s. A mock dog fight ensued and tragically two jets collided resulting in the death of the Greek pilot. With both countries attempting to resolve all the disputed issues, a hotline was setup between both air force commands. Since 1998 both countries appear to be trying to settle their differences, particularly since Turkey has been trying to join the European Union.



Having to React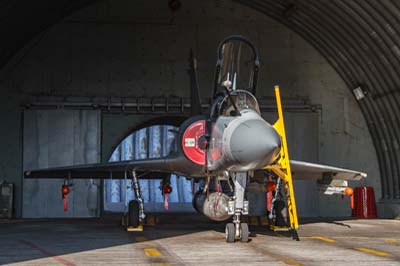 Due to the tensions in the region front line air bases keep a high state of readiness 24 hours a day. At Tanagra both based squadrons, the 331 flying the Dassault Mirage 2000-5 Mk.2 and 332 with the Mirage 2000EG, have two aircraft each on Quick Reaction Alert (QRA) duties at a five minute state of readiness. Three F-16 Squadrons on a rotational basis at any one time will have two aircraft each on QRA at a similar state of readiness 24 hours a day. Some aircraft are deployed to Forward Operating Bases (FOB) such as on Limnos in the north Aegean and Kasteli Air Base on Crete in the south. The costly commitment to QRA uses up resources and has no training value. Lt. Colonel Ioannis Kyrion, Fighter Weapons School Commander commenting on the use of resources is fully aware of the current situation. "We have to commit a lot of aircraft to QRA 24 hours a day, which is unlike other NATO members. Our readiness levels need to be very high." Adding, "It [QRA] does not offer any training value, training is based on briefings with all pilots, before and after the flight. As there is a lack of pre-flight briefings before QRA sorties between both adversaries, there is an increased level of danger which concerns all pilots."
Capt Eftihios did not want to talk about national politics but expressed his concerns over safety; "Without a common briefing you don't know what the other guy is going to do with his live missiles. It can't get any closer to a real situation", as I suggested, "It's very dangerous if you look at the accidents you will see that it is dangerous."



Keeping up with the Neighbours – HAF F-16 Procurement


From the beginning it was decided that there should be a balance of power to keep the status quo. So when Turkey in 1984 ordered their first batch of F-16s, the Greek Government followed by signing an agreement for their own F-16s. The purchase was made under the United States Foreign Military Sales (FMS) Program.
Lockheed Martin F-16C/D Fighting Falcon Wings/Squadrons of the Hellenic Air Force.

Lárissa Air Base 110 PM

346 Mira 'Jason'
(Disbanded)
F-16C/D Block 30 were delivered in November 1988 and October 1989 when 346 Mira were based at Néa Anchialos. In June 1997 the Block 30s were exchanged for F-16 Block 50 when 346 relocated to Lárissa to operate in the Air Defence and strike (air-to-ground) role. 346 Mira disbanded on September 2, 2011, its aircraft were transferred to 330 Mira at Néa Anchialos.
337 Mira 'Ghost'
F-16C/D Block 52+ were delivered from May 2006. They were declared fully operational November 2007 in the Air Defence and strike (air-to-ground) role.

Néa Anchialos 111 PM

330 Mira 'Thunder'
F-16C/D Block 30 were delivered in 1989 and 1990 and to 346 Squadron before they relocated to Lárissa in 1997. 330 Squadron operate in the Air Defence role. In September 2011 they received the former 346 Mira aircraft.
341 Mira 'Aces'
F-16C/D Block 50 were delivered from July 1997 to 1998 they specialise in the Air Defence and SEAD role.
347 Mira 'Perseus'
F-16C/D Block 50 were delivered July 1997 to 1998 they specialise in the Air Defence and strike (air-to-ground) role day and night their aircraft can be equipped with LANTIRN pods.

Soúda 115 PM

340 Mira 'Fox'
F-16C/D Block 52+ were delivered from June 2003 they became operational April 2004 in the Air Defence and strike (air-to-ground) role.
343 Mira 'Star'
F-16C/D Block 52+ were delivered from October 2004 they became operational in 2005 in the Air Defence and strike role and specialise in the SEAD role.
115 SMET
F-16 operational conversion unit. Individual pilot training at 115 SMET takes up to ten months, this includes around 40 hours on the simulator and 50 flights which equates to around 80 hours of actual flight training. The simulator has a 180 degree field of view and has all the features of the Block 52+ aircraft. 115 SMET borrows its aircraft from 340/343 Mira as and when required.

Araxos 116 PM

335 Mira 'Tiger'
F-16C/D Block 52M delivered from May 2009 to January 2010 they have a primary Air Defence and strike (air-to-ground) role with a secondary reconnaissance role.

Key:

PM = Pteriga Machis or Combat Wing, SMET = Sminos Metekpaidefsis ston Tipo, Mira = Squadron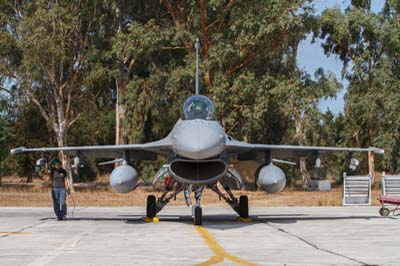 Peace Xenia I

, the initial batch of 40 F-16C/D Block 30 were delivered from January 1989 and completed in September 1990.
In 1993

Peace Xenia II

was an order for 32 F-16C and 8 F-16D Block 50 variants, the first four of which were delivered to Greece in July 1997.
In June 2000 the

Peace Xenia III

order was for 50 Block 52s with another 10 aircraft added a year later.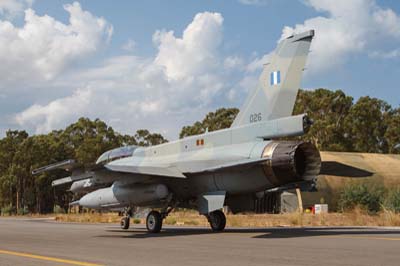 Peace Xenia IV

followed in 2005 this consisted of 20 F-16C Block 52Ms and 10 F-16D Block 52Ms. These aircraft were part of a much larger package which included; Link-16 data communication systems, JHMCS, LANTIRN targeting pods and IFF (Identification Friend or Foe) systems. Also included is the Litton AN/ALQ-187 ASPIS (Advanced Self-Protection Integrated Suite) Electronic Warfare System incorporating the Raytheon AN/ALQ-187 RF Jammer and the Northrop Grumman AN/ALR-93 RWR (Radar Warning Receiver) with the BAE Systems AN/ALE-47 Chaff and flare dispenser.
Link-16 provides a secure, jam-resistant, high-volume data exchange on a multi-node network. It provides pilots and ground based units with a greater situational awareness. It is ideal for large package missions and can be used in conjunction with HAF's new Embraer EMB-145H Erieye AEW (Airborne Early Warning) aircraft, which are equipped with the Ericsson active phased-array radar. The new Block 52Ms delivered to Araxos are currently the only F-16s to have Link-16 capability, but plans are to fit Link-16 to all other F-16 Block 50 and Block 52+ aircraft as soon as possible.
Due to the size and complexity of the Peace Xenia IV package some pilots received their initial training in the United Sates provided by Lockheed Martin with the 162nd Fighter Wing at Tucson, Arizona.
The munitions package with Peace Xenia IV includes; Lockheed Martin WCMD (Wind Corrected Munitions Dispenser), JDAM (Joint Direct Attack Munitions) which can be released 15 nautical miles (28 km) from the target and the Raytheon AGM-154C JSOW (Joint Stand-Off Weapon). The AGM-154C has a range of up to 70 miles (115km) and is guided by GPS or INS with Imaging Infra Red for the final part of flight. The Turkish air force had already been supplied this weapon.
Deliveries under Peace Xenia IV were made in 2009 and 2010, bringing the total procurement of F-16s to 170. Lt. General Ioannis Giagkos chief of the HAF General Staff accepted the first Peace Xenia IV Block 52M F-16 on March 19, 2009 at a ceremony at Lockheed Martin's facility at Fort Worth Texas, "I am grateful to everyone who contributed to the design and construction of this ultra-modern weapon system. With these new aircraft, the defence and deterrent force of the HAF will be significantly enhanced."


Lockheed Martin F-16C/D Fighting Falcon deliveries to Hellenic Air Force

FMS Program

Model

Variant

Number

Serials

Deliveries

Peace Xenia I

F-16C
Block 30
34
110-143
1989-1990
F-16D
Block 30
6
144-149
1989

Peace Xenia II

F-16C
Block 50
32
046-077
1997-1998
F-16D
Block 50
8
078-085
1997-1998

Peace Xenia III

F-16C
Block 52+
34
500-533
2002-2004
F-16D
Block 52+
16
600-615
2002-2004

Peace Xenia III


(Option)
F-16C
Block 52+
6
534-539
2004
F-16D
Block 52+
4
616-619
2004

Peace Xenia IV

F-16C
Block 52M
20
001-020
2009-2010
F-16D
Block 52M
10
021-030
2009-2010
The New Tiger Squadron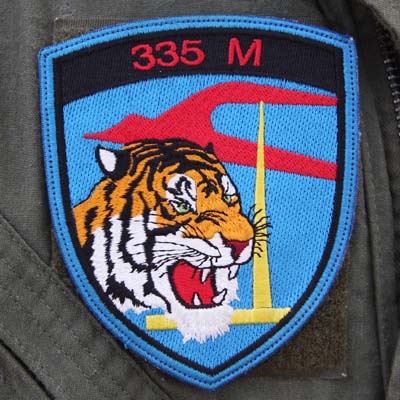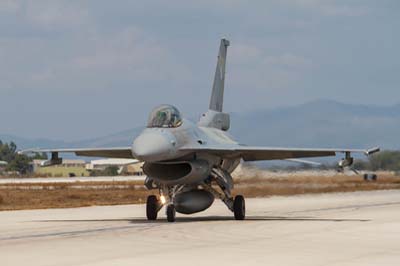 The first of the latest batch of F-16 Block 52M arrived at Araxos on May 22, 2009 for the 335 Squadron to replace the LTV A-7E Corsair, leaving just 336 Squadron to operate the aircraft for an expected further two years. The batch was completed when the last Block 52M (F-16D serial 030) arrived with three F-16C Block 52Ms on January 28, 2010. The infrastructure of Araxos had to be upgraded in time for the first delivery. The new facilities included two aircraft hangars, two squadron operations buildings and an engine maintenance building. A flight simulator resides in a building shared with the A-7 pilots of 336 Squadron.

Colonel Kostas Vouzios, the former commander of 116 CW was arrived in June 2008 to manage the move from the venerable A-7 to the most modern F-16s, he announced in 2010, "It is my job is to make sure the transition goes smoothly." Col. Vouzios oversaw the introduction of the first Block 50 F-16s when commander of 347 Squadron at Néa Anchialos, for the Peace Xenia II program, he has over 2,000 hours of flying time in the F-16. During the Peace Xenia III program when with HAF's Tactical Air Force command, he helped plan the creation of the first Block 52+ F-16 squadrons at Souda Bay on Crete.

Col Vouzios announced that 335 Squadron had passed its Operational Evaluation test in March 2010, the final phase of the OpEval included four Block 52Ms and an Erieye AEW aircraft using the Link-16 network. Ground attack scenarios using JSOW weapons delivered in November 2009 were included in the evaluation.
The next task for the 45 assigned pilots and their 30 aircraft is the expansion of the Squadron's capabilities to include a reconnaissance role. With the Goodrich DB-110 airborne reconnaissance system, a pilot day and night can capture images using its electro-optical sensors, transmitting images in real time to a ground based command centre. "We have to start our operational concept for the reconnaissance mission from scratch", reported Col Vouzios. "The manufacturer provides the data on how the system works, but the operational tactics are country-specific. We can't borrow from other users' experience, so we have a lot to accomplish with this advanced capability."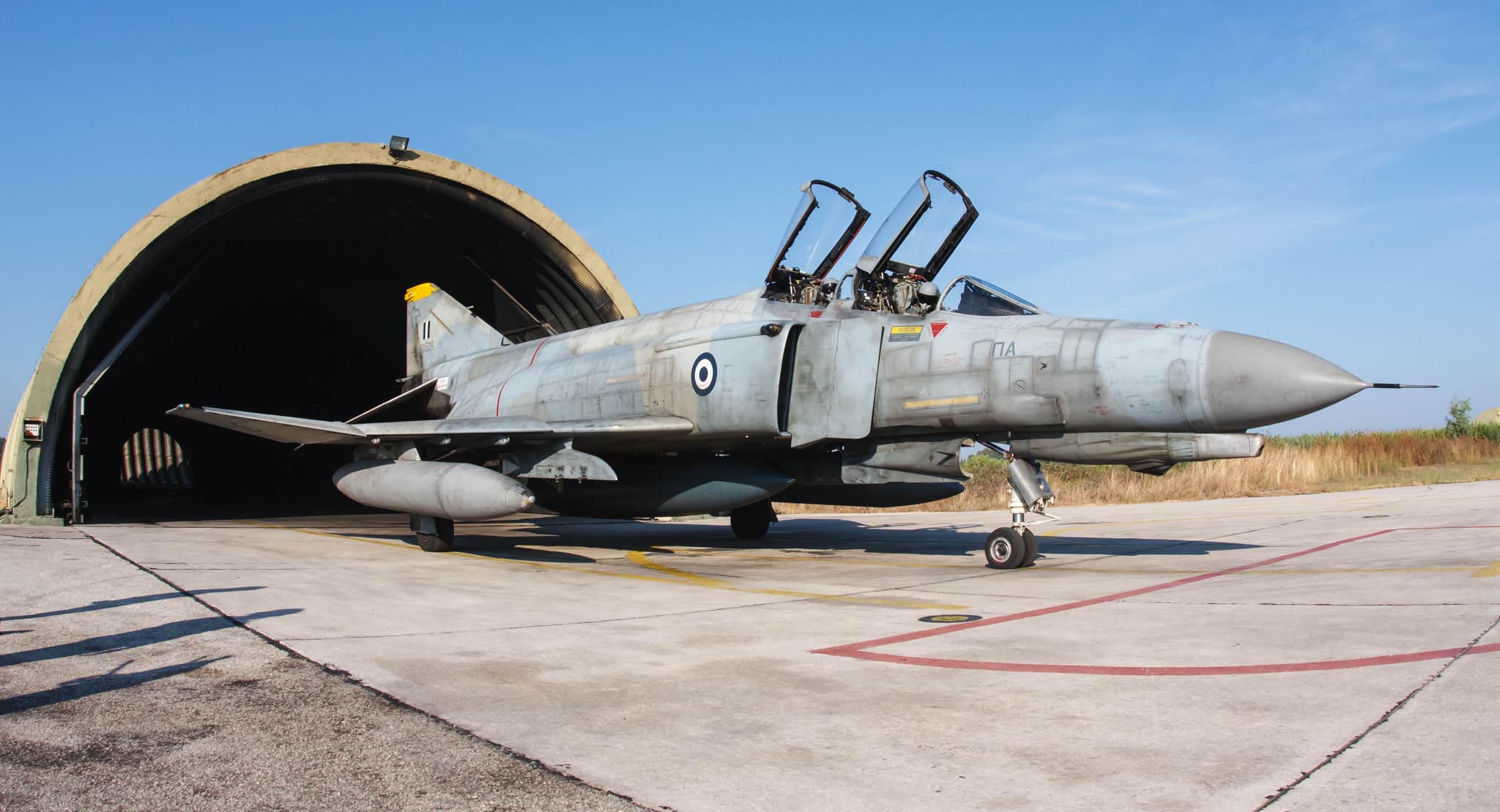 F-4E(AUP) Phantom II (01508) of 117 Wing, 338 Squadron (MPK) taxiing out of its Hardened Air Shelter (HAS) at Andravida.
New Tactics


The Air Tactics Centre (Kentro Aeroporikis Taktikis – KEAT) is an independent wing of the HAF established in 1983. Its mission is to provide advanced education via the already established Tactical Weapons School (Scholio Oplon Taktikis – SOT). It also has to coordinate between Air Force, Army and Navy for testing and evaluation of new equipment and weapons prior to being issued to the squadrons. SOT now under the command of the Wing was formed in 1975 to improve pilot training. KEAT share Andravida Air Base with 117 CW's two squadrons (338 and 339) of McDonnell Douglas F-4E Phantoms. The Wing is not as big as 117 CW in terms of personnel, as they support it with transportation, logistics, supplies and many other things.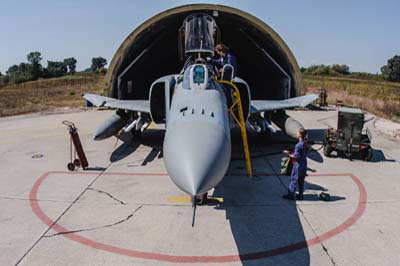 Normally once a year but sometimes twice, the SOT invites the best pilots from across all the Squadrons to attend its courses on air-to-air and air-to-ground tactics including Composite Air Operations (COMAO) packages and Electronic Warfare.

As KEAT is not assigned its own aircraft, students drawn from across all the frontline squadrons bring their own aircraft. At least one combat aircraft of each type is temporarily based at Andravida for the duration of the practical element of the course, that is; Mirage 2000 and 2000-5, F-4E and RF-4E Phantom, A-7E Corsair and F-16C/D Block 30, 50, 52+ and 52M Fighting Falcons. The created flight consists of between 18 and 20 aircraft. Attending pilots have to be combat ready and at least be four-ship formation leaders, they usually have the rank of captain or senior lieutenant.
KEAT also run a separate course for helicopter pilots of the Hellenic Air Force, Navy and Army. Two weeks are put aside for theoretical training and two weeks practical training. Included are seven sorties for the helicopter pilots who are tasked against the fighter pilots.

In April 2010 Colonel Andreas Kalantzis was appointed KEAT Commander where he had previously been an SOT instructor. After graduating from Hellenic Air Force Academy in 1983 he flew 1,600 hours on the Lockheed F-104G Starfighter at Araxos with 336 Squadron. Following six years from 1988 to 1994 with the SOT he returned to Araxos to convert to the A-7E Corsair which he flew over 1,000 hours before becoming 336 Squadron Operations Officer in 1998. In 2002 he became 336 Squadron Commander and two years later was transferred to HAF Academy leading to his appointment with the General Staff in Athens.

An SOT course is designed to reflect current needs and thinking, no two courses are identical. Two directors are responsible for the design of each course, one for tactics the other for training. The SOT has around ten instructors permanently assigned to KEAT, these pilots are selected by the Centre from those that have attended previously an SOT course. Almost every course discovers a potential KEAT instructor. Col Kalantzis said; "It's not just experience its being good at what they do, it's not having 2,000 hours, its being a good pilot and officer. They must be good at imparting knowledge to others".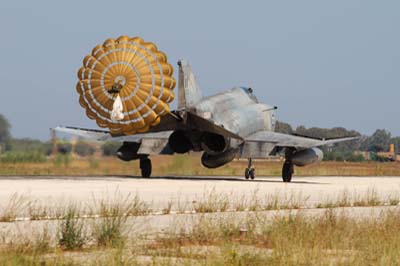 The instructors are either senior majors or senior captains and will have attended Red Flag exercises in the United States and the Tactical Leadership Program (TLP) hosted in Belgium and now in Spain. Greece became a TLP full member in July 2009 after attending the courses for many years as a non-member nation.

While tactics can be learned at multi-nation exercises the HAF is keen to develop its own tactics to reflect its own needs, using feedback from the operational squadrons. Lt. Colonel Ioannis Kyrion, SOT Commander stated; "Our tactics are developed independently of NATO and according to our needs. What we have learnt elsewhere is adapted for our environment and our threats, which are not always the same as for other NATO members". Lt Col Kyrion added, "Our tactics are based on the capacity and capability of our aircraft. We also have to consider capabilities and tactics of our potential opponents".

Each fighter aircraft course is held at Andravida and lasts around four months, the first part is theoretical leading on to a practical element. Months of planning go in to each course, it is carefully structured to reflect the knowledge of air warfare developed over many years utilising the experience of aircrews. This is not to say that new ideas cannot be considered, the courses are constantly evolving. Lt Col Kyrion stated; "We take different pilots from different aircraft with different habits and a different way of thinking. This is not a negative, we don't want to lose innovation or individual thought, we give them some room to express themselves, including the use of unconventional tactics". Missions are planned without too much interference from the school's instructors. They are encouraged to express themselves during mission planning however they must not break any flight safety rules. During the debriefing the instructors discuss the good and bad aspects of the sortie. "Sometimes in mission planning good ideas are put forward which can be incorporated in to future courses", added Lt Col Kyrion.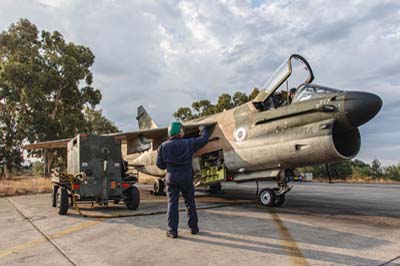 A two week COMAO course element is used to prepare the pilots to become mission commanders to assist in planning and theoretical execution. A COMAO can consist of 25 to 30 aircraft and are typically used to mount an attack on another Squadron or Wing. During the course SOT aircraft will fly against 60 to 70 aircraft from other Wings. For COMAO mission planning there is not the latitude to work individually, flight safety is important to ensure there is aircraft de-confliction.

Proof of the progress made by KEAT and SOT can be shown when the HAF achieved outstanding results at a challenging Red Flag exercise at Nellis AFB, Nevada in October 2008 which was their first and only participation in the exercise. 343 Squadron attended with F-16 Block 52+ Fighting Falcons, their pilots were credited with 18 'Kills' during air-to-air combat against highly trained USAF aggressors whilst only incurring three 'losses'. During another mission to protect a High Value Airborne Asset with just four aircraft pitted against twelve aggressors, they scored a eleven to nil victory, this was followed by a further seven 'kills' with only three losses.

Lt Col Kyrion is naturally proud of the achievements and gains made during each course. "After two to three months the students become an entity, they begin to talk with their eyes and understand each other extremely well". He added; "Common understanding and common protection is our goal. It is very impressive to observe these guys from their first flight to their last flight". The current Chief of the Hellenic Air Force, Hellenic Air Force General Staff Lieutenant General Vasileios Klokozas was a former KEAT Commander, Col Kalantzis laughed off the suggestion that he was in the right place for the ultimate job.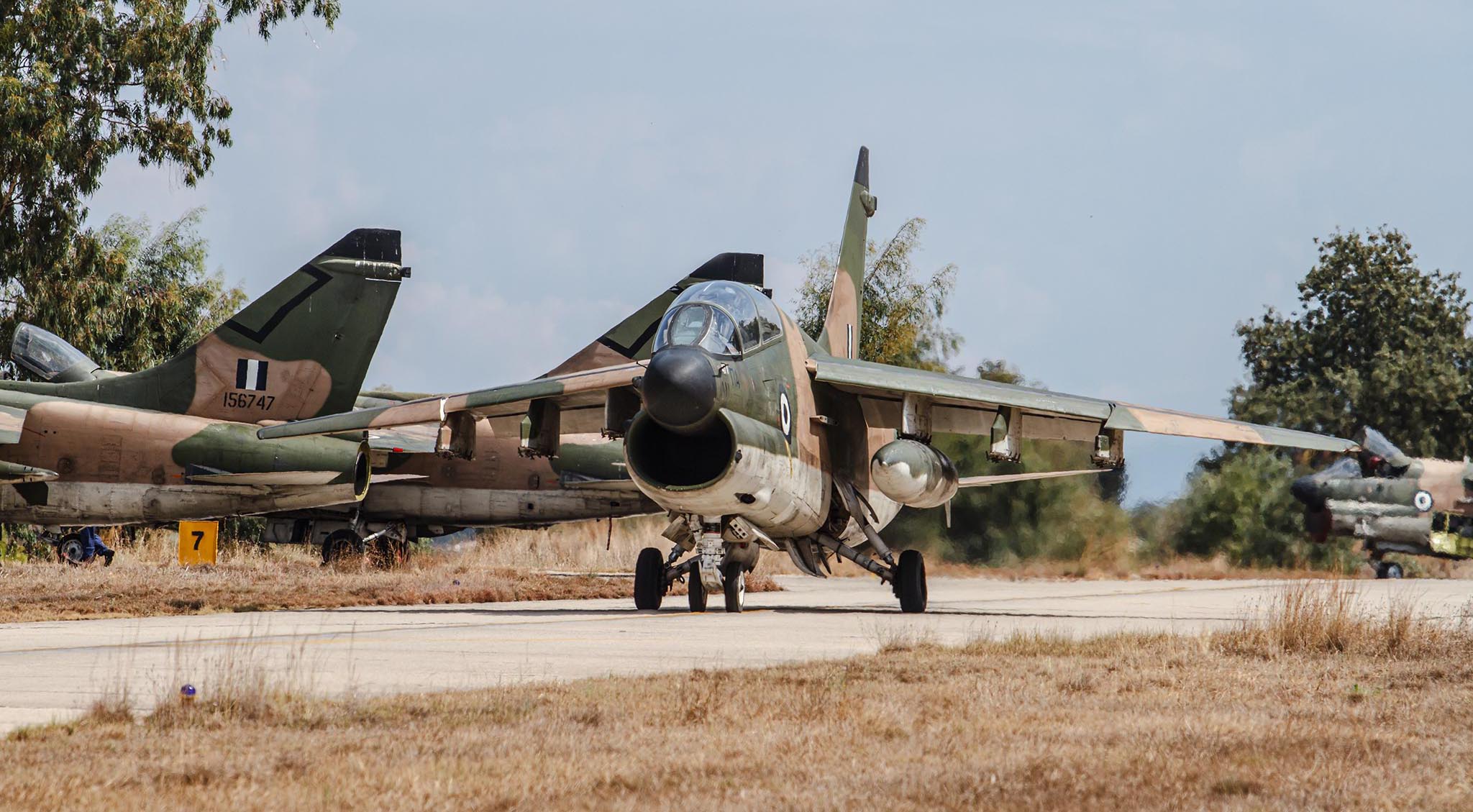 LTV TA-7C Corsair II (154477) of 116 Wing, 336 Squadron (MV) based at Araxos,
the TA-7C/A-7E Corsair II will continue to fly the for some years to come.
Aircraft types attending the Tactical Weapons School course.
Left to right: Lockheed Martin F-16C Block 52+ Fighting Falcon (502) and F-16D Block 52+ (606) both from 110 Wing, 337 'Fantasma' Squadron (Mira) based at Lárissa.
F-16C Block 52M (014) and F-16D Block 52M (030) both from 116 Wing, 335 'Tigreis' Squadron based at Araxos.
Left to right: F-16C Block 30 Fighting Falcon (110 the first F-16 delivered to HAF) from 111 Wing, 330 'Keravnos' Squadron based at Néa Ankhialos.
LTV A-7E Corsair II (160717) from 116 Wing, 336 'Olympos' Squadron (MV) based at Araxos.
New build McDonnell Douglas F-4E Phantoms were supplied under the FMS program 'Peace Icarus I' from 1974. 35 aircraft were selected for upgrade to F-4E(AUP) by DASA and Hellenic Aircraft Industries. The first AUP avionics upgrade (01523) first flew in 1999.
Left to right: F-4E(AUP) Phantom II (01512 and 71759) from 117 Wing, 338 'Ares' (yellow fin tip) and 339 'Aias' (blue fin tip) Interception Squadrons (MPK) based at Andravida.
Left to right: AMD Mirage 2000B-5 (505) and new build Mirage 2000-5 Mk.2 (555) both from 114 Wing, 331 'Aegeas' Squadron (MPK) based at Tanagra.
Mirage 2000BG (204) and Mirage 2000EG (220) both from 114 Wing, 332 'Geraki' Squadron (MPK) based at Tanagra.
Mirage 2000EG (220) from 114 Wing, 332 'Geraki' Squadron (MPK) seen departing at Tanagra.

Getting to know each other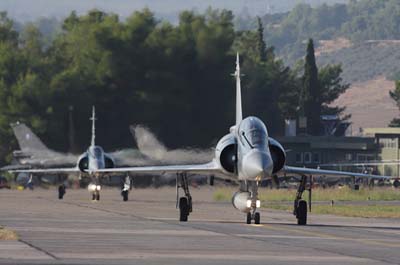 Routinely the frontline squadrons pitch themselves against each other in air-to-air battles to test their abilities and capabilities. During a week in September four F-16 Block 52+s from 337 Squadron based at Lárissa were deployed base at Tanagra, the home of 331 Squadron with their Mirage 2000-5 Mk.2s. Captain Eftihidis Eftihios a visiting F-16 Block 52+ pilot during day four of the Dissimilar Air Combat Training (DACT) exercise said; "Joint exercises are quite common for us. The purpose of this one is to learn from each other by exchanging views and experiences. We can see how another squadron operates and get some new and fresh ideas".
Captain Stamatis Konstantinos a Mirage 2000-5 pilot has flown many times against F-16s, "We need to know what each other's aircraft is capable of, for when we fly together and for when we fly against each other".
The three Lárissa based F-16C's deployed with a two-seat F-16D to give Mirage pilots an opportunity to experience flying the F-16. Capt Eftihios, "I had a Mirage 2000 pilot behind me this morning they did the same for me yesterday. You get a better picture of the aircraft's capabilities by flying it you can't read it all from a manual". Of the F-16Cs one was in a reduced weight configuration for optimum handling in one versus one (1 v 1) scenarios, another came with CFTs fitted and the other carried additional fuel in under wing drop-tanks. More can be learned from utilising the different configurations, both aircraft types have their own advantages which their respective pilots are trying to exploit. During the week the sorties build up from 1 v 1 to 2 v 2 formations.
While much has been said about the Block 52+s modern avionics the new and upgraded Mirage 2000-5 Mk.2 has a Thales multimode RDY-2 (Radar Doppler Multi-target) can simultaneously detect up to 24 targets and track the eight highest-priority threats and is more than a match for the latest F-16s, it is generally accepted that the Mirage 2000-5 is better than the F-16 in a straight dog fight.



Meeting the challenges of the 21st Century


The Hellenic Air Force is tasked to defend Greece's air space and play its part within NATO and clearly it is able to do this very effectively. Alongside other NATO Members Greece has made a valuable contribution to the reconstruction in Afghanistan with humanitarian aid. In January 2002 the Hellenic Armed Forces joined the International Security Assistance Force (ISAF) in Afghanistan. Recently in April 1, 2010 the Hellenic Air Force took over from Spain the administration of Kabul international airport in Afghanistan, which they had previously done for six months in 2006. Lockheed C-130 Hercules transports were made available to ferry supplies from the Middle East to Afghanistan.
Today they continue to face the challenges imposed by economic pressures imposed by the Greek Government. On meeting a number of officers and pilots I was impressed by their motivation and dedication. I am convinced that they will continue to play a major part within NATO.




I would like to thank the staff at the Hellenic Air Force Head Quarters and to all those on each air base who generously gave their time for interviews and guided tours to enable me produce this article.



Left to right:

Two Mirage 2000-5s of 331 Squadron taxi out with two deployed F-16 Block 52+ Fighting Falcons of 337 Squadron at Tanagra for 2 v 2 Dissimilar Air Combat Training (DACT).
Four F-16C/D Block 52+ Fighting Falcons of 337 Squadron are ready to go at Tanagra during the DACT deployment.
Crew of F-16D Block 52+ Fighting Falcon prepare for flight.
The F-16C/Ds flew sorties in three different fuel tank configurations (including CFTs) to provide increased training value, F-16C Block 52+ Fighting Falcon with centreline fuel tank taxis out for another sortie.
Two-seat F-16D Block 52+ Fighting Falcon (606) departs Tanagra with two under-wing fuel tanks.