Cold War Relics in Hungary
August 2005
Hungary a former member of the Warsaw Pact with a military alliance between all the Eastern Bloc countries, is now a member of NATO. More recently Hungary has become a member of the European Union. In the 'Cold War' years Hungary was operating MiG fast jets and Mil helicopters. But what has happened to those Soviet designed aircraft that were once aligned against NATO? Well they are still very much in evidence, if they are not in open store at one of the few remaining military bases or in some impressive museums, private collections. They can even be found at the side of the road.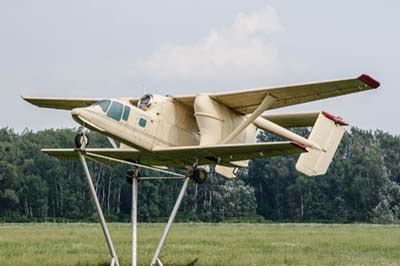 It does not take you long to notice that many of the Mikoyan Gurevich MiGs dotted around Hungary have very similar and false serials applied. These serials apparently represent significant dates in Hungarian history.


Left: Perhaps one of the oddest looking aircraft to be found at the side of the road. This is a PZL-Mielec M-15 Belphegor (ex CCCP15187) and is located between the town and museum on the outskirts of Szolnok. It was designed in Poland as a AN-2 replacement for agricultural type flying. It has a turbofan jet engine and the type first flew on May 30, 1973. Production ended in 1981 after 120 had been produced.
Pápa air base, now used for storing most of Hungary's recently retired fast jets, has number of these 'cold war' jets on display at it's gates.
Left to right: MiG-15UTI marked '1950' really 779, MiG-21F-13 marked '1976' really 806 and MiG-19PM marked '1975'.
At the side of the road.....
Left to right: Ka-26 marked 'PJ-HUN' at Szekesfehrvar, MiG-15UTI marked '501 really 202 found outside a petrol station at Solt and Lisunov Li-2P (Russian built DC-3) marked HA-LIP (ex MN504) at another petrol station this time at Bόcsa. It has been here since 1995. Finally MiG-15bis marked '1978' really 657 at the civil airfield at Jákábszallas.
Private collections have been around for a while, at the 'Roncs Ranch' their collection appears to be in decline. Some air frames have moved on possibly scrapped. The aircraft that remain are in need of some tender loving care if they are not to deteriorate further.
Left to right: MiG-19PM marked '1978' (really 36), tail less MiG-19PM marked '1975' (really 33), An-2M (HA-MHB just visible) and MiG-15UTI.
Left to right: Two images of MiG-15bis (981), a MiG-17PF and MiG-17PF marked '1975'.
Left to right: MiG-21PF-13 (0220) ex Czech Air Force, Yak-28 ex Soviet Air Force (796)1004 20 red, MiG-21U-400 (1320) and yet another MiG-17PF marked '1975'.
Left to right: MiG-15UTI marked '1975' (really 201), MiG-15UTI marked '1975', MiG-15UTI (771) and WSK SBLim-2 (Polish built MiG-15UTI) '1975'/011,
Szolnok air base is no longer a fast jet base, however scattered around this airfield some of them still remain. MiG-15bis marked '1975' parked by the Tower from where the second image was taken.