Air Zoo Aerospace & Science Museum
Kalamazoo, Michigan
July 27, 2023
Lockheed T-33B Shooting Star (138090 marked '31544') outside the entrance.
In 1977 the Air Zoo was founded by Preston 'Pete' Parrish and his wife Sue a former Women Airforce Service Pilot (WASP). The museum team is now headed by Troy Thrash (CEO) is very forward looking here. They have moved with the times to provide an aviation experience for the whole family. It might not be perfect for photographers, certainly in one building there are lots for young people which makes good, uncluttered photography difficult. Arriving early as always helps. Another hangar is quite the opposite and deliberately so. Aircraft are spread out as much as possible with virtually no clutter. Some aircraft are held outside and with no barriers, perfect for us photographers. Then there is the very special restoration hangar. Often the public are kept well away from these places. Here at the 'Air Zoo' the 90 restorers that work here doing a fantastic job are very keen to talk with visitors about their ongoing projects. They really enjoy what they do, and are nearly all volunteers. Clearly they come to talk about what they do and to of course do fantastic work on the aircraft they are restoring. I like it here!
If you think the unusual name 'Air Zoo' name is because the museum is at Kalamazoo, then you would be wrong!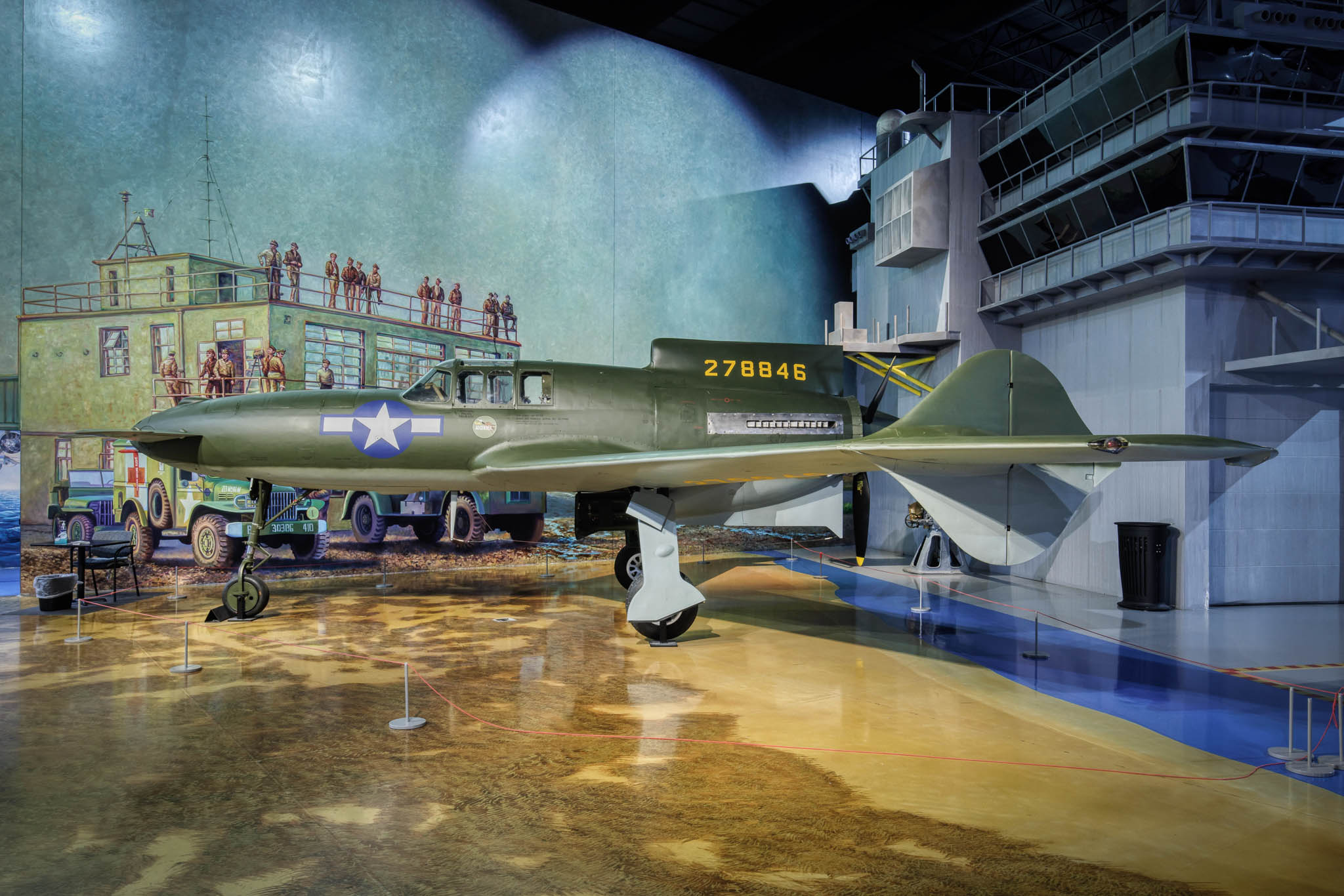 Left to right: Curtiss XP-55 Ascender (42-78846), it only has flown for 427 hours. Sent by the National Air and Space Museum from their Silver Hill facility to the Air Zoo in 2001 for restoration, completed it was unveiled in 2006.
Left to right: Sue Parrish's Curtiss P-40N Warhawk (44-7619 registered NL222SU) which she flew for many years at air shows.
Vought F-8J Crusader (150904 'AH-202') VF-162 US Navy.
Left to right: Bell TP-39Q Airacobra (44-3908 marked 'BW146 20' registered NX40A).
Vought (Goodyear) FG-1D Corsair (92509 '611' registered NX3PP).
Lockheed SR-71B Blackbird (61-7956 NASA 831).
North American SNJ-5C Texan (USAF 44-81219 USN 91005 '1' registered N333SU).
Left to right: North American SNJ-5C Texan (USAF 44-81219 USN 91005 '1' registered N333SU).
Vultee SNV-1/BT-13A (USAF 41-10886 USN 03022 marked 11676).
Fairchild (Howard) PT-23 Cornell (42-49268 '45' registered N52020). Crashed in May 1970 and restored at Air Zoo. Greg Ward (now head restorer) convinced Air Zoo co-founder Peter Parrish that he could restore this PT-23 to flying condition with the help of 14 other restorers. He achieved his objective at it was flown to Oshkosh and won a trophy.
Left to right: North American T-28A Trojan ((51-7700 '1' registered N100JE) ex Blue Angels.
Weaver Aircraft Company (WACO) CG-4A Hadrian (45-15965 marked '246574') a military troop and cargo carrying glider of World War Two.
Ryan PT-22 Recruit (41-20652 '652' registered N5481L).
Left to right: Timm N2T-1 Tutor (32622 '360' registered N66650).
Naval Aircraft Factory N3N-3 Yellow Peril (2951 '32' registered N9308Z).
Douglas SBD-3 Dauntless (06624 '41-S-13') crashed into Lake Michigan, September 19, 1943. It is one of many Dauntles' which crashed into the lake while training to land on paddlewheel carriers USS Wolverine (IX-64) and USS Sable (IX-81). These were US Navy training ships used to train naval aviators in carrier operations during World War Two.
Republic F-84F Thunderstreak (52-6486 registered N5046) 'Show me'.
Left to right: Lockheed S-3B Viking (160123 'NJ-732').
Left to right: Grumman OV-1D Mohawk (68-16993 registered N121AZ).
Left to right: McDonnell Douglas F-4E Phantom II (74-0658 'SJ').
Mikoyan Gurevich MiG-21PFMs 'Fishbed-F' (4107) ex Polish Air Force.
Max Holste MH.1521M Broussard (163 '13-TB' registered N163MH) it is a 1950s French six-seat utility monoplane designed by Max Holste to meet a French Army requirement. It had been wrecked after it hit a tree and broke a wing. It was donated to the Air Zoo and after many years of storage it was restored and put on display.
Grumman FM-2 Wildcat (57039) being restored for National Medal of Honor Museum and Institute in Arlington, Texas.
Left to right: Grumman FM-2 Wildcat (57039) being restored for National Medal of Honor Museum and Institute in Arlington, Texas. The hydraulics and the electricals won't be working, it's only the mechanical which will. The hand cranking of the undercarriage and the flaps, rudder and ailerons only will work.
Greg Ward, head of restoration he has been here for 30 years. He is showing the recovered rudder pedal and the re-manufactured pedal. He makes extra new components expecting to sell these to other restorers.
Fred shows me the instrument panel he has been working on and an image of how it looked when he started the restoration.
Left to right: Douglas SBD-1 Dauntless (1612). A US Navy scout plane and dive bomber built by Douglas Aircraft from 1940 to 1944. It is one of 38 Dauntless' in Lake Michigan, this one crashed during a training mission on November 23, 1942. It is the sole surviving example of an SBD-1. It was pulled out of Lake Michigan in 1994. The Flying Leatherneck Aviation Museum started the restoration in 2012, but when facility closed on March 28, 2021, the aircraft owner's the National Naval Aviation Museum (NNAM) moved it here on August 2, 2021. It is the fourth Dauntless that the Air Zoo restorers have been working on.
Left to right: North American F-86F Sabre (52-5143 marked '12852 FU-852' registered N25143) 'Darling Doty'.
WSK Lim-2 (1621 c/n 1B-01621 registered N621BM) ex Polish Air Force.
Grumman TF-9J Cougar (147283 '3J-542') VT-25.
Beech T-34B Mentor (140768 registered N76815).
Left to right: Grumman F-11A Tiger (141872 '5') Blue Angels.
New Standard D-25 (NC9756 '21').
Lockheed F-117A Nighthawk (85-0817).