Kemble Air Day 2005
June 19, 2005
Kemble is Undoubtedly the home of the Hawker Hunter.





Three Delta Jets Hunter T.7s (G-BXFI /WV372, G-FFOX / WV318 and G-BXKF / XL577) performed their combined debut flying display with a series of formation and solo fly-bys, to delight the crowds on this very hot day. XL577 is painted as the 92 Squadron's 'Blue Diamonds' display team from the early 1960s and is owned by Ronan Harvey himself. Later two of the Hunters were involved in an entertaining simulated FAC airfield attack to repel terrorists that had appeared to be gathering on the far side of the airfield.



The Hunter that stole the show with its amazing colour scheme was Delta Jets' 'Miss Demeanour' a Hunter F.58A (G-PSST / ex J-4104). This former Swiss Air Force single seat Hunter was restored in 1998 by Jet Heritage at Bournemouth for Jonathon Whaley, who is seen here putting it through it's paces during a solo-display.

Combined with a well spaced static, including a New Zealand C-130H and a Kemble based ex Chilean AF Puma, the flying display was interesting and varied. The stars of the show were the Hunters, long may they keep flying. Each year this show attracts attendance's of 20,000, I am sure they will be back for next years airshow in 2006.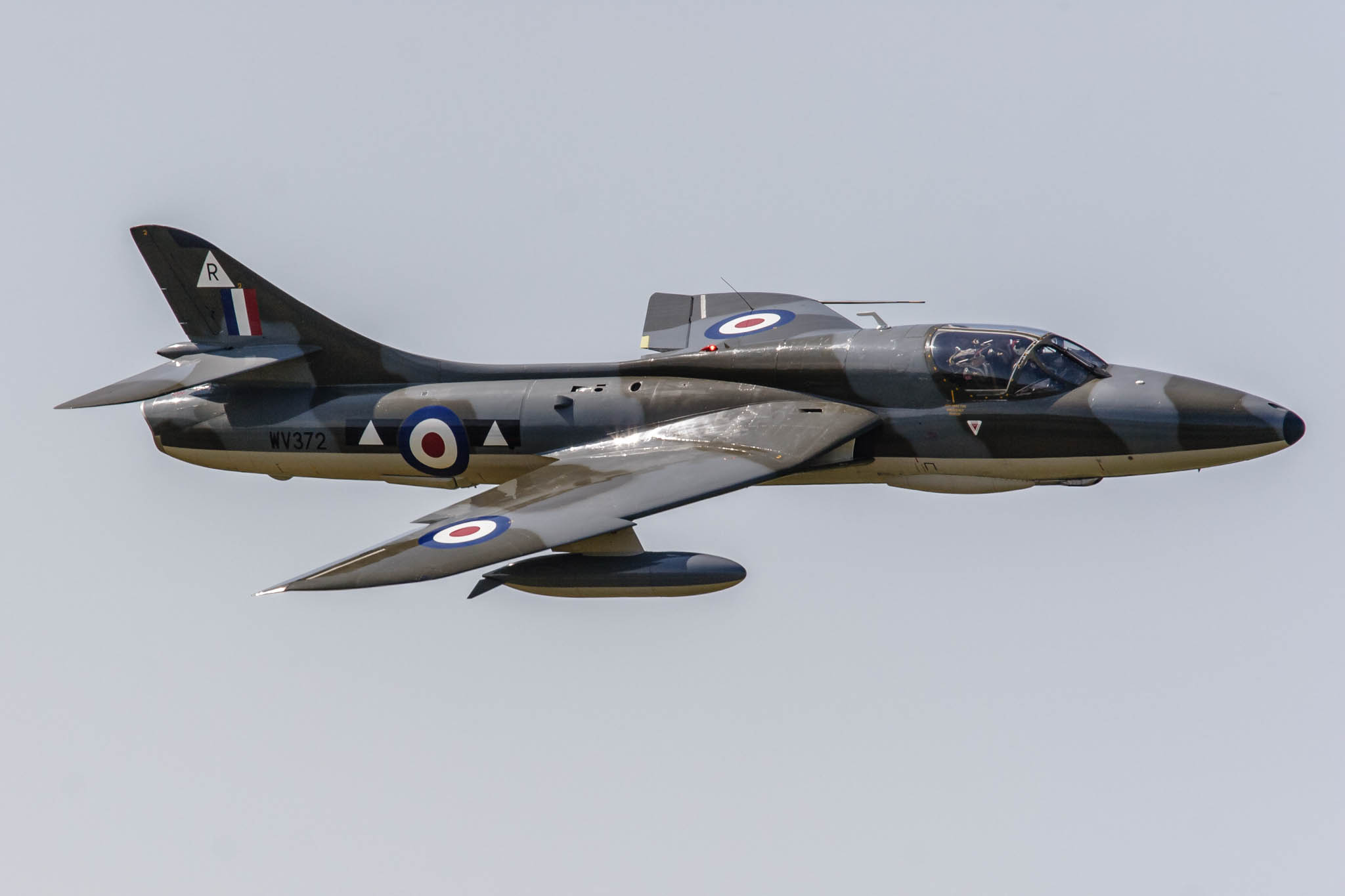 Fox One Group's Hunter T.7 (G-BXFI / WV372) painted as 'R' of 2 Squadron.
Three Delta Jets Hunter T.7s (G-BXFI / WV372, G-FFOX / WV318 and G-BXKF / XL577).
Left to right: Hunter T.7s G-FFOX / WV318, G-BXKF / XL577 and two of G-BXFI / WV372.
The extraordinary paint scheme of Delta Jets' 'Miss Demeanour' a Hunter F.58A (G-PSST/ex J-4104/ex XF947).
The RAF turned up in numbers, adding a modern blend of trainers, fast jets and a very welcome two pass appearance of a 216 Squadron Tristar from nearby Brize Norton. One of the first to display was a solo Hawk T.1 (XX295) from 208 Squadron based at RAF Valley. Later Tucano T.1 (ZF417) of 207 Squadron and also the 20 Squadron display Harrier GR.7 (ZD407) performed.
This year the RAF are performing a full Typhoon display for the first time. Last years display was impressive, but the display at Kemble really showed us what the Typhoon is capable of, almost within the confines of the airfield itself. Typhoon T.1 (ZJ807 'BF') of 29 Squadron returned to the flight line to join Typhoon T.1 ZJ809 'BH'.
The Battle of Britain Memorial Flight (BBMF) arrived with their DC-3 Dakota (ZA947) for a change with a Spitfire and Hurricane in close company, before moving into their individual display routines.
A unique and imaginative formation 41 Squadron's 2005 display Jaguar GR.3A (XZ103) in close formation with the black Hunter T.7, which breaks away for the Jaguar solo display.
It's not just Hunters that are maintained by Delta Jets, Jet Provost T.5A (XW422 registered G-BWEB) painted in a Boscombe Down ETPS scheme, it had been a 'Poacher' from RAF Cranwell.
C-130J Hercules (ZH872) returns after the accurate para-drop by the RAF's Red Devils.
Two images of AD-4NA Skyraider (126922 'AK-402' / G-RADR ex G-RAID) owned by Kennet Aviation and the RNHF's Sea Fury (VR930) also flying from Kemble.