Bulgarian Museum of Aviation (Muzej na Aviatsyata i VVS)
Krumovo, Plovdiv
Bulgaria
June 2009
Formed in 1991, the Bulgarian Museum of Aviation at Krumovo near Plovdiv comprises the largest collection of former Bulgaria Air Force (Bulgarski Voennovazdyshini Sili - BVVS) aircraft. A large modern building houses various exhibits and is used for administration. In its care there are around 70 aircraft, mostly former 'Cold War' military jets, there are a number of very interesting and rare exhibits that go back to World War Two. Sadly, virtually all aircraft are on display outside and so are subject to the weather and many show an urgent need of care and attention. It is a pity that the Bulgarian Government cannot find more funds to preserve Bulgaria's aviation heritage. However, there are a group of volunteers that give up their spare time to help with restoration and some exhibits are currently being giving a much-needed facelift.



In a very brief visit I was able to photograph the whole collection right at the end of the day and little beyond the official closing time (hours 08:00 to 16:00 Monday to Friday), for which I was very thankful. Some of the images below were actually taken on the adjoining Krumovo air force base, where some former exhibits are now on display.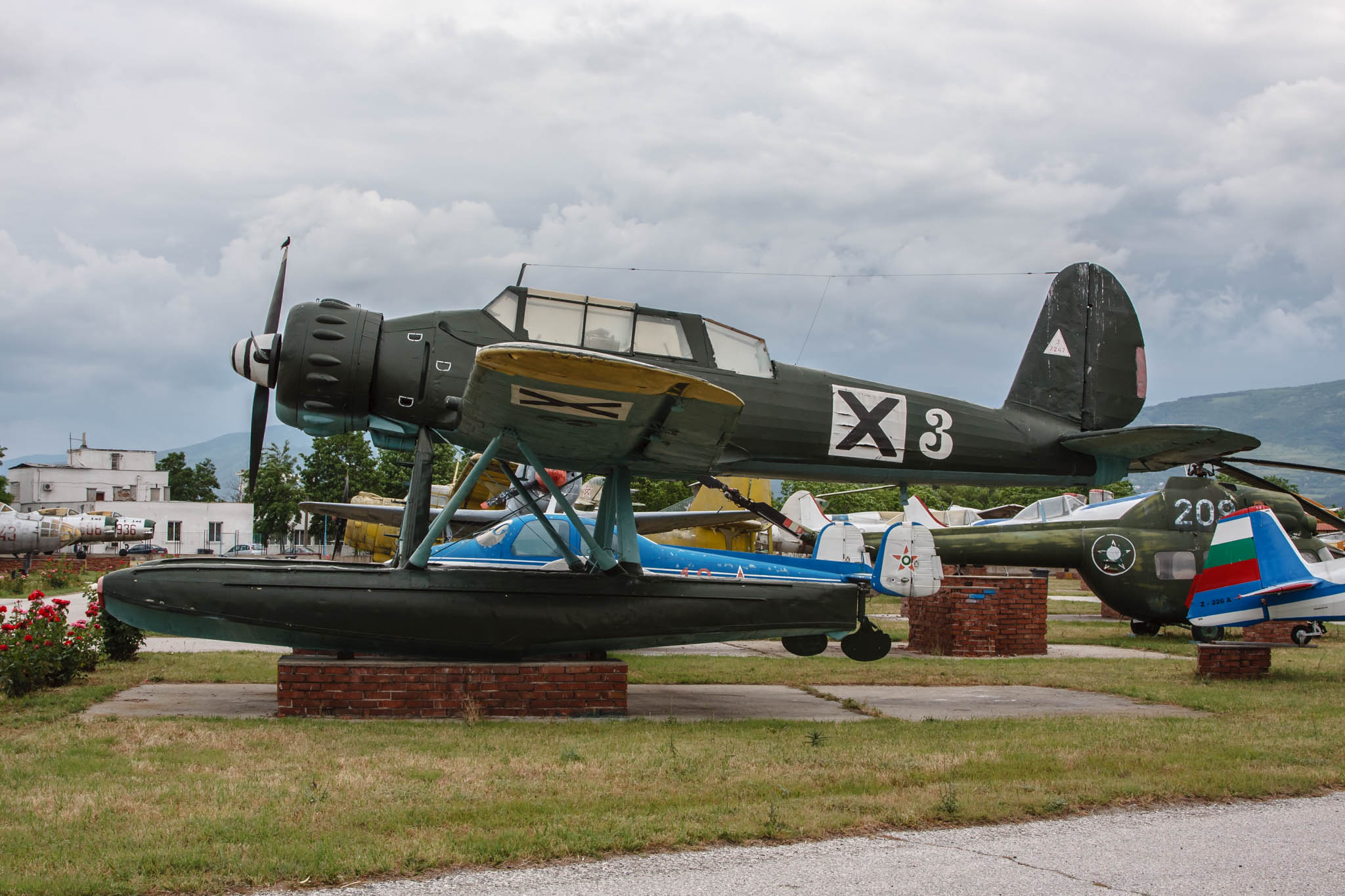 A very rare Arado Ar196 A3 'Akula' or shark (3 c/n 0219) formally flown by the Bulgarian Air Force, the only other two complete examples that exist are on display in the US.
It is 1 of 12 given to the Bulgaria at the start of World War Two by the Germans. Designed as a reconnaissance floatplane to be catapulted from ships, there were 593 built from 1938 to 1944.

Left to right: Ilyushin IL-2 M3 'Stormovic' (425) which is currently being restored. A Tupolev Tu-2 (27), Yakovlev Yak-9U (27) which has been more recently restored and a Yakovlev Yak-11 (55) looking a little worse for wear.
Bulgaria enters the jet age with the Yakovlev Yak-23 (23 and 45) are both on display.
Left to right: Mikoyan Gurevich MiG-15UTI (202 c/n 612781), MiG-17F (71) and two unmarked MiG-15bis which were dumped around the back of the museum.
Left to right: Mikoyan Gurevich MiG-17PFs (21 and 22), Lim-5R (MiG-17F) (150) and PZL-Mielec Lim-5R (30).
Left to right: Mikoyan Gurevich MiG-19S's (030 and 882) and MiG-19PM (936).
Left to right: Mikoyan Gurevich MiG-21F-13 (501), MiG-21PF (20) in a special scheme and MiG-21US (05).
Left to right: Mikoyan Gurevich MiG-21MFs (613 and 52) and MiG-21PFM (62).
Left to right: Mikoyan Gurevich MiG-23BNs (50 and 79), MiG-23UB (021) and MiG-23MF (670), MiG-23MLA (390) was also on display.
Left to right: Sukhoi Su-22UM3K (206) and Su-22M4 (818),



Helicopters



Left to right: Mil Mi-1 (LZ-5017),
Mil Mi-1 (12),
Mil (PZL Swidnik) Mi-2 (209),
Unknown helicopter.
Left to right: Mil Mi-4As (51) which is has been moved a few meters from the museum to the gate of the air base, (52 and 53) on display and (54) which is dumped around the back of the museum.
Left to right: Mil Mi-14BT (812)
Mil Mi-24D Hind (101)
Mil Mi-8T (302)
Kamov Ka-26 (LZ-6018)



Trainers and Transports
Left to right: Antonov An-2 (025),
Ilyushin IL-14T (97)
Antonov An-14 Pchelka (110),
Let L-410 UVP (062).
Left to right: Yakovlev Yak-52 (02) and Yak-50 (LZ-501) was also on show.
Let 200D Morava (10) is one of two the other was '20',
PZL-Mielec PZL-101A Gawron (LZ-130),
Zlin Z-326A (LZ-011).