de l'Amicale Jean-Baptiste Salis Air Meeting
Cerny airfield - La Ferté-Alais
May 26-27, 2007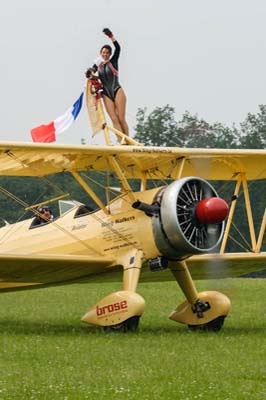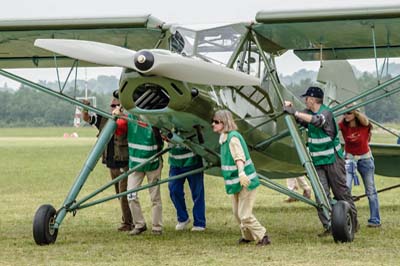 The Association Jean-Baptiste Salis (AJBS) held its 35th air meeting at the tree lined Cerny airfield at La Ferté-Alais. The disappointing weather on both days did noting to dampen the enthusiasm of the thousands spectators that lined the full length of the grass landing strip.



For the start of the event, the weather was not best suited for flying for such old and delicate aircraft, as the elevated airfield on its plateau was shrouded in swirling cloud. A number of aircraft were unable to display, but did the next best thing and taxied up and down the length of the airfield. The grey lifeless skies did not offer much to the numerous photographers along the length of the crowd-line.

Situated 30 miles (50Km) south of Paris, the airfield of La Ferté-Alais was built upon a plateau by one of France's most famous aviators, Jean-Baptiste Salis. Each year the show consists of a few solo displays combined with a number of multiple aircraft demonstrations in aviation themes.

For a more complete history of Jean-Baptiste Salis his son Jean and their aircraft please visit their excellent website.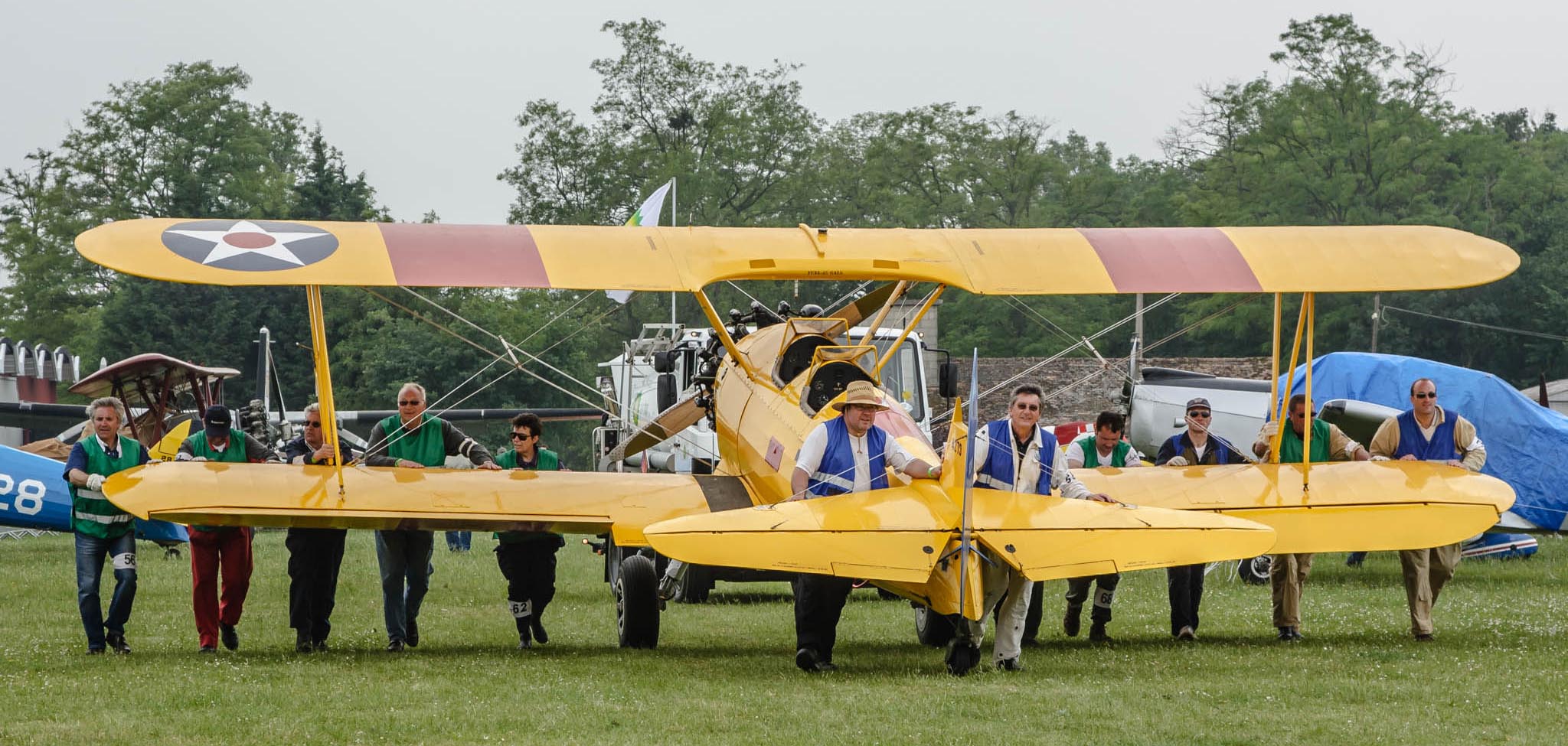 La Ferté-Alais based Boeing PT-13 Cadet (PT-17 Stearman) F-AZMZ
Left to right: Morane-Saulnier MS.317s (F-BCNL/6527 and F-BGUV/297). The MS.301 first flew in 1931 and from 1960 40 MS.315s were upgraded to MS.317 for the French Navy.
Left to right: Stampe-Vertongen SV.4As (F-GKEB c/n 618 and F-BCXD c/n 438).
Left to right: Nord 3202 (F-AZIY No.15), designed as a basic trainer for the ALAT to replace the Stampe-Vertongen SV.4 it first flew in 1957. 'ZIY' has been with AJBS since 1979, where it was stored until its restoration from 1989 to completion in 1994, ex Swedish Air Force (Sk.15A Fv5020) Klemm KL35D (F-AZTK) built in 1940 and MS.502 Criquet (F-AZCP) which is based at La Ferté-Alais.

Left to right: Royal Aircraft Factory SE.5 Replica's (C1096 '3' and F-AZCY/A8898) which were built for a french movie.
Left to right: Morane-Saulnier MS.138 (F-AZAJ '5') and Morane-Saulnier type A1 (F-AZAP/1567 '7') it was re-built from an original in 1947 by AJBS.
Left to right: Focke-Wulf Fw-44J Stieglitz (F-AZMJ), Bücker Bü131 Jungmann (F-AZTT), Former Swiss Air Force Bücker Bü133c Jungmeister (F-AZBS / U-69) and Boeing Stearman PT-17 (F-AZMZ) painted in German markings for a film.

The World War Two and the Battle of Britain
Left to right: Curtis H-75-C1 Hawk (No.82 'X8-81') and Messerschmitt Bf-108 B1 'Taifun' (D-ESBH 'ES+BH').
Left to right: Messerschmitt Bf 109 (D-FMBB 'FM+BB')
Spitfire Mk.5 (EP120 'AE-A' also G-LFVB) from the Fighter Collection at Duxford.
Hurricane XIIB (BD707 'AE-C' also G-HURR formally RCAF 5589) from the Real Aircraft Company. Sadly G-HURR crashed killing the pilot, Brian Brown on September 15, 2007 during a Battle of Britain display at Shoreham.
North American P-51D Mustang (F-AZSB / 411622 'G4-C') 'Nooky Booky IV' which is based at La Ferté-Alais after arriving in France in 1998.
Left to right: Ex French and later Gabon Air Force Douglas AD-4N Skyraider (F-AZDP / 124143 'RM-205'), it was bought by AJBS in 1984. Grumman F-8F Bearcat (G-RUMM / 121714 'B-201') and Curtis P-40M Kittyhawk (G-KITT) based at Duxford takes-off through the impressive pyrotechnic display.

In the mid-1970s La Ferté-Alais was responsible for recovering and restoring a number of AT-6 Texans,
many of then return each year for the show.
Left to right: North American AT-6 Texans (F-AZRD/51-14906 'RD', F-AZBQ/51-15237 'OH' and F-AZBE/43-12127 'TA-127').
Left to right: North American T-28 Fennec/Trojans (T-28S F-AZKG No.82 with AJBS, T-28C F-AZHN/140547 'IF-28' and T-28 F-AZHR/517749).

The Photography
La Ferté-Alais welcomes visitors all year round; the Pentecost show is the main activity of the year when most of the extensive collection is flown. Accessed by a now widened winding road to the top of the L'Ardenet plateau, the airfield is a place of beauty.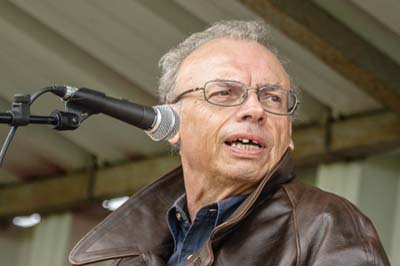 It is still surrounded by vast wooded areas and it's wide grass runway is roughly east to west. The runway long crowd line is positioned close to the action on the south side. With the sun behind you and the close proximity of the aircraft, photography is very good. The display aircraft are mostly positioned south side at the eastern end by the hangars and museum in a series of well-spaced rows. The clever bit here is that spectators are free to roam up avenues in between the aircraft rows to get those close in shots. Even the aircraft parked across the other side of the access way to the runway are within easy reach of small telephoto lenses.
The flying is close but can appear a little tame at times, as many of the classic aircraft are not all high performance warbirds. This is what I like however, being able to photograph mostly French civilian and ex military aircraft in their element, flying from one of the most attractive grass airfields there is.

I found that a 100-400mm zoom lens more than adequate for the flying shots. As 99% of the action involves propellers it is important to keep the shutter speeds low 1/60th to 1/125th is what I used for this show. I have added my settings to some of the image captions for guidance. You must be prepared to bin quite a few shots using these slow shutter speeds as it is difficult to pan perfectly (well for me it is!) each time. The resulting blurred background emphasizes speed very nicely.
Last year I noted that running down the length of the crowd line there was a red and white tape a meter high which obstructed shots of the aircraft. I am pleased to report that for this year it had been reduced to just a few inches high, well done to the orgainsers. (left); The very eloquent french commentator who speaks in a flying poetry.

For most of the show I was using my Canon EOS 20D and EF 100-400mm f4/5.6 L IS lens.