Exercise Iron Hand 16-3
RAF Lakenheath
April-May 2016
95FS F-22A Raptors lining up at the last chance, before taiing out for an afternoon sortie.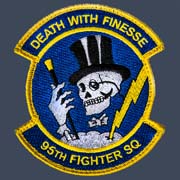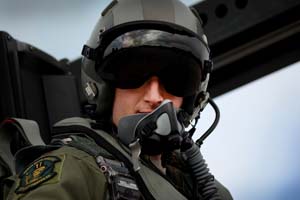 For 95FS assistant director of operations Major Michael "Deep" Frye and F-22 instructor pilot RAF Lakenheath is very familiar as he was previously based here flying the F-15C Eagle with the 493rd Fighter Squadron from 2008 to 2011 before converting to the F-22 in 2012.

95 Fighter Squadron's 'Rapid Raptor' deployment to Europe



For many the Lockheed-Martin/Boeing F-22A Raptor has slipped from the front page since it became fully operational in 2005, this is not surprising with the attention the Lockheed-Martin/Boeing F-35A/B/C Lightning II has been given with its cost over-runs and long development phase.



The USAFs 95th Fighter Squadron (FS) has done everything it can to put the fifth generation multi-role Raptor back in to the news, with a four week deployment to RAF Lakenheath in Suffolk, United Kingdom which ended on May 6th. RAF Lakenheath is the home of the 48th Fighter Wing (FW) which is assigned Boeing F-15E Strike Eagles from the 492nd and 494thFS and F-15C Eagles from the 493rdFS.

Twelve F-22A Raptors arrived in three flights of four without prior announcement as a capability demonstration of the Global Response Force (GRF) which can be tasked by the U.S. Secretary of Defense to respond to crisis situations known as 'Rapid Raptor'. The GRF provides an array of tailorable and rapidly deployable forces which can respond quickly to a range of worldwide contingencies. This F-22 deployment was designed to test the GRF capability and the Rapid Raptor concept to quickly deploy America's only combat proven 5th generation fighter on a moment's notice anywhere in the world. Following the nine hour transit across the Atlantic and twelve air to air refuelling (AAR) operations the clean F-22s arrived at RAF Lakenheath. Just a few hours later the jets were flying sorties with the F-15Es further demonstrating the capability of the Rapid Raptor concept.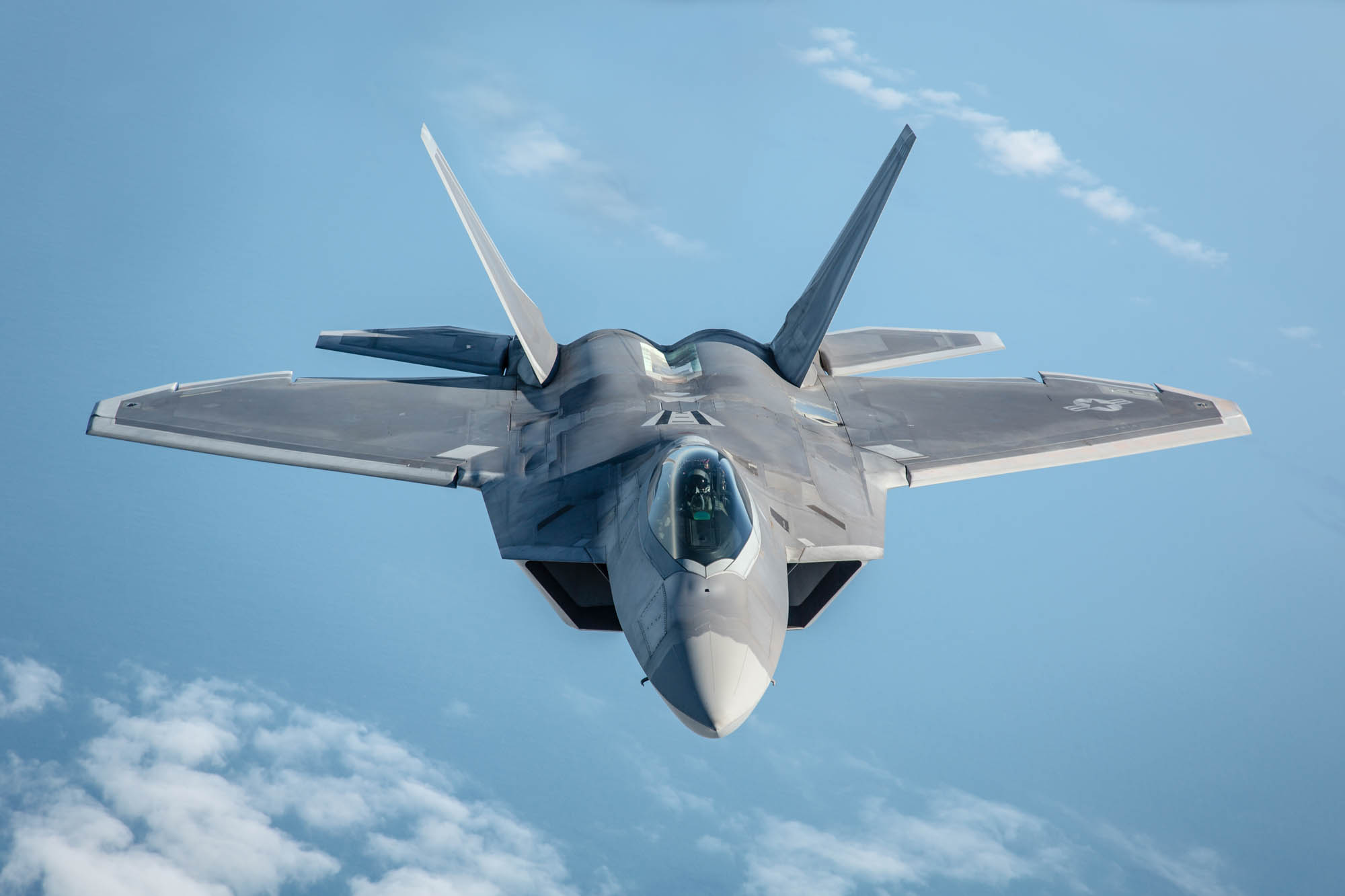 Cruising over the North Sea. Most air combat missions during Exercise Iron Hand were flown within the assigned military training areas over the North Sea which is a short flying time from RAF Lakenheath. This F-22 has just received its fuel and is about to return to the air battle with F-15E Strike Eagles of 494FS.
Largest F-22 deployment to Europe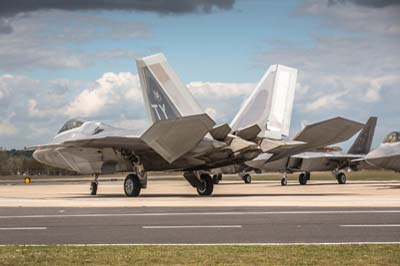 Supercruise increases the jet's speed and range over current fighters use fuel-consuming afterburner to operate at supersonic speeds. The F-22's Pratt and Whitney F119-PW-100 turbofan engines with afterburners produce more thrust than any other current fighter engine and includes two-dimensional thrust vectoring nozzles.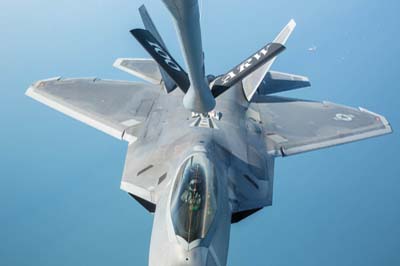 Depending on aircraft configuration and route flown across the Atlantic, the F-22 requires around a dozen AARs, although this number is not required, all fighter aircraft will increase the number of AARs during transatlantic flights in order to stay topped up in case they need to divert due to weather or mechanical problems. The 100 ARW with their KC-135R air refuelling tankers based at RAF Mildenhall were available each day to top up the F-15s and F-22s.

With twelve F-22s and 220 airmen this was the largest F-22 deployment to Europe to date. Exercise Iron Hand 16-3 encompassed most of the missions flown. These missions consisted of flying against multiple advanced air-to-air and surface-to-air threats and included F-22s dropping simulated ordnance.

The training did not only involve aircraft from the 48FW but also assets of the Royal Air Force with sorties flown with and against Eurofighter Typhoons based at RAF Coningsby and air to ground attacks on RAF Spadeadam situated in northern England and Europe's first electronic warfare tactics range. Here aircrews can practise manoeuvres and tactics against a variety of sophisticated threats and targets that they could face in contemporary warfare.

Most days were marked by early departures of between two and eight Raptors intermingled with mass launches of the Lakenheath based 48th Fighter Wing's Boeing F-15E Strike Eagles from the 492nd and 494thFS and F-15C Eagles from the 493rdFS. Waves of departures continued in to the afternoon and early evening. Some of the planned 16 sorties per day lasted just 30 minutes others would last around two hours and would include AAR provided by Boeing KC-135R Stratotankers from the 100ARW based at nearby RAF Mildenhall.

The 48FW's pilots benefitted greatly from the missions flown with the 95FS, as the sorties were varied the missions could be described as standard says 95FS assistant director of operations Major Michael "Deep" Frye and F-22 instructor pilot. Each mission played to each fighter's strengths while avoiding potential weaknesses. Maj Frye however was able to describe an example of an Offensive Counter-Air focused training mission; "The F-15Cs integrated with F-22s to gain air dominance against an advanced air-to-air fighter threat, allowing the F-15Es to roam freely across the battlespace and further integrate with F-22s to find, fix, target, track, engage and assess both medium and long-range Surface-to-Air Missile (SAM) sites in a contested Integrated Air Defense System (IADS) environment".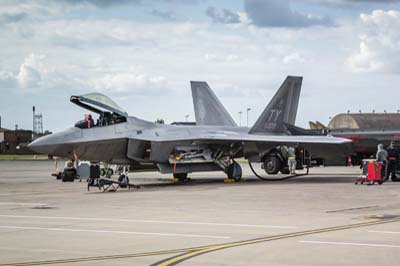 The F-22A Raptor combines stealth, super cruise, agility, situational awarenessand integrated avionics, coupled with improved supportability, it can perform both air-to-air and air-to-ground missions. For air-to-air the Raptor carries six AIM-120 AMRAAMs and two AIM-9 Sidewinders in closed weapons bays so not to impact on its stealthy characteristics. For air-to-ground operations it will typically carry two 1,000 pound GBU-32 Joint Direct Attack Munitions (JDAM) internally and also carry two AIM-120s and two AIM-9s.

"Testing our interoperability"


Maj Frye also spoke of their missions with the RAF's Typhoons and Panavia Tornado GR.4s; "Having just successfully completed Exercise Red Flag at Nellis Air Force Base in Nevada by integrating with RAF Typhoons, we looked forward to again testing our interoperability and mission planning processes. We flew a variety of Offensive and Defensive Counter-Air missions with the Typhoons and GR4 Tornados, relying on them in differing capacities as dictated by the tactical scenario. Each time we test our current tactics, training and procedures (TTPs) we walk away with newer and better lessons learned that only serve to increase our joint lethality in future engagements".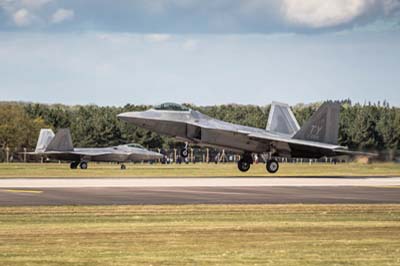 F-22A Raptor about to touch down. The F-22A Raptor was declared operational in December 2005. 187 examples were built between 1996 and 2011 with suggestions that the production line closed in 2012 may be re-opened. The 95FS was reactivated in 2014 at Tyndall AFB.

1st Lt. Jolly Foss, 95th Fighter Squadron F-22 Raptor pilot spoke of the large scale flying ecercises flown, "We had some long sorties, where you send anywhere between 10-12 jets on the blue side against 10 aircraft on the red side, tactical sorties, where we look into destroying targets on the groundand strictly defensive counter air, which is keeping the enemy from approaching that line."



Lessons learned


Maj Frye described the lessons learned during the deployment; "While flying the F-22 is no different here than anywhere else in the world, the uniqueness of fighter integration with our NATO allies is what provides the greatest training value", adding "The crosstalk that happens across multi-national MDSs (Mission Designation Series) throughout the brief, executionand debrief provides the bulk of the lessons learned which are invaluable to our future coalition operations".

The F-22s were not confined to the UK during the deployment, as a further demonstration of the commitment to NATO and to maximise training opportunities a pair of F-22s forward deployed from the UK to their NATO partners in Romania and Lithuania each pair supported by a 100ARW KC-135R air refuelling tanker. Additionally on April 20 along with two Boeing B-52H Stratofortress flying directly from their home base of Minot AFB North Dakota, four F-22s participated in a flypast to commemorate the 100th Anniversary of the Lafayette Escadrille in Paris, France.

The Raptor pilots of the 95FS clearly succeeded in demonstrating 'Rapid Raptor' deployment to Europe with the largest Raptor force so far to ultimately challenge the skills of airmen flying less sophisticated aircraft to the best of their ability.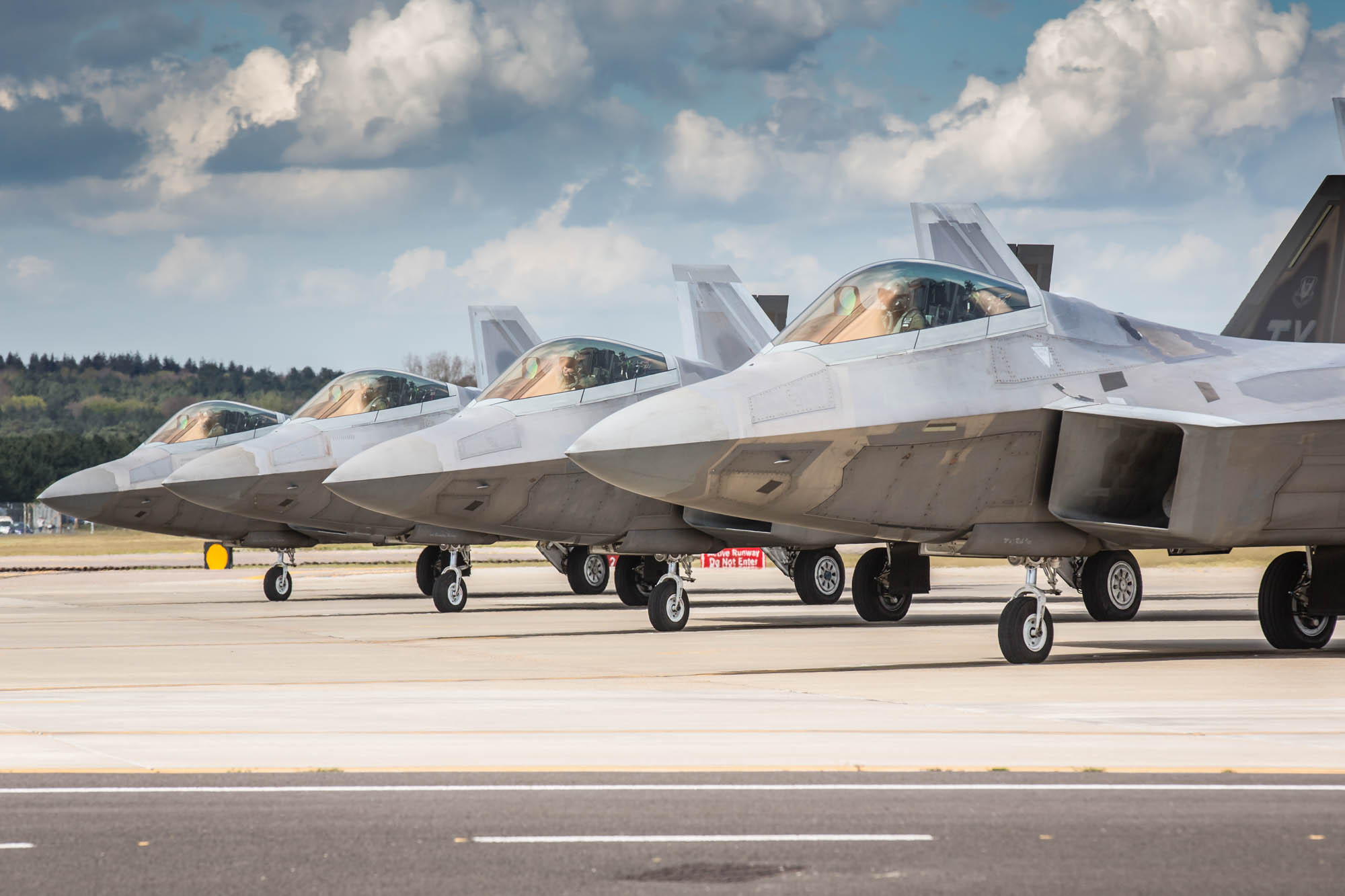 Low-observable or stealth technologies utilising radar absorbent materials (RAM) enables the Raptor to pass undetected by radar through enemy airspace.
In a previous deployment it was reported that F-22s over Syria flew at 60,000 feet apparently undetected by forces on the ground and in the air below them.
F-22A Raptors (04-4072, 04-4080 and 05-4017 all coded 'TY') of 95FS returning at the end of their mission.
F-22A Raptors (04-4081, 05-4095 '95th FS' and ??? all coded 'TY') of 95FS departing on the next mission.
F-22A Raptors (04-4081 and 05-4095 '95th FS' both coded 'TY') of 95FS returning just before sunset.
F-22A Raptors (05-4101 and 05-4106 both coded 'TY') of 95FS.
F-22A Raptors (04-4094, 0??? and 05-4107 all coded 'TY') of 95FS returning mid-morning.
F-22A Raptors (05-4095 '95th FS', 05-4084, ??? and 05-4106 all coded 'TY') of 95FS returning mid-morning.
F-22A Raptors (05-4094, 05-4091 and 05-4107 all coded 'TY') of 95FS at the start of their mission.
F-22A Raptors (04-4072, 05-4094 and 04-4072 all coded 'TY') of 95FS.
F-22A Raptors (05-4091, 05-4107 and 05-4106 all coded 'TY') of 95FS.
F-22A Raptor (05-4106 'TY') of 95FS with three others line up at last chance, but they have already had their final checks.
F-22A Raptors (05-4106 'TY' and 05-4095 '95th FS') of 95FS.
F-22A Raptors (05-4095 '95th FS' and 05-4084 both coded 'TY') of 95FS.
F-22A Raptors (05-4084 and 05-4080 both coded 'TY') of 95FS.
F-22A Raptors (05-4106, 05-4095 '95th FS' 05-4084 and 05-4094 all coded 'TY') of 95FS.
F-22A Raptors (04-4084, 05-4095 '95th FS' 05-4084 and 05-4106 all coded 'TY') of 95FS.