Low-level Flying
Forces TV - 'Fast Jets Long Lenses'
February 3-4, 2015
My shot of Tornado GR.4 (ZA553 '045') as presented by Forces TV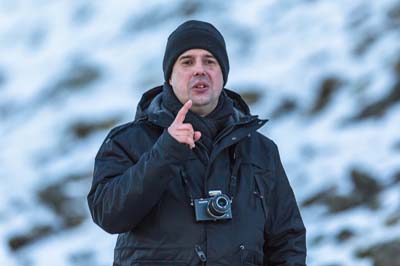 Will Inglis Forces TV presenter in full flow talking to camera on the hillside.
In February 2015 Will Inglis a presenter for Forces TV invited me to take part in a program on low-level flying photography called, 'Fast Jets and Long Lenses'. Initially it was to be twelve minutes long but could be extended to a commercial half hour if they had enough material he told me over the phone.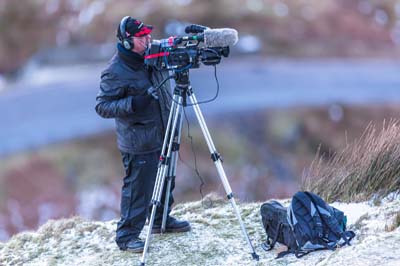 Barry Welch with is camera focussed down the valley waiting for the next pass.

Forces TV broadcasts in the UK on cable and satellite (Virgin channel 244 and Sky channel 264) principally about and for the British armed forces past and present it is also for their families and relatives and of course for anyone else who has an interest in the military. Forces TV are part of the British Forces Broadcasting Service (BFBS) who broadcast to UK military forces across the world, they have been doing so since World War Two starting with radio for the troops abroad and later by satellite television. Forces TV is a news channel with added documentary content.

Will covers many different areas recently he has sailed in a nuclear submarine to test firing dummy cruise missiles under the Irish Sea, travelled to Afghanistan to cover the conflict many times and followed the Lee Rigby trial. He can present programs on manufacturing and technology during factory visits. He can operate TV cameras and edit the footage. He says; "All the time I am out on a shoot I am thinking about how it is going to look when it is finished".

'Fast Jets Long Lenses' was a week's project so on a very cold day in February we met as agreed in a car park on the Mach' Loop just as the sun was coming up, Barry Welch his cameraman was with him. We all had our equipment to carry and just before we began our assent Barry asked if he could film us walking away from the camera. Setting up the tripod and camera took some time. We were already later than I would have been normally in starting the climb so I was beginning to get anxious that we might miss an early pass. With that piece complete we got to the second shelf of the Bwlch, Barry had struggled with the weight of his tripod and bag. Off and on Will prepared some talks to camera and interviewed me and others he found on the hillside. It was not until 11:30 did we get the first passes of the day, a pair of Tornado GR.4s which came around twice. The morale across the hillside picked up considerably,

Barry very much enjoyed having some fast jets to film after the long wait. It was now Will started to work on a piece to camera, rehearsing it out loud before he spoke directly to the camera. After several takes he was happy. The first piece was about how sometimes you have to wait hours before seeing anything and he was hoping something would appear quite soon! Immediately after he was happy with that piece he was off again saying we had just had our first passes. I was asked to do a pretend panning sequence. I was now learning how these pieces are put together for the camera. Will was able to rehearse each piece whereas I had to answer his questions with no prior warning or second chance. Perhaps that is a little unfair, I was told to keep talking and they would cut out the bits they did not like. Good editing to produce extremely short clips is the secret to a good piece once you have all the material you need.
Left to right: Some of the fantastic passes filmed and photographed during the first day.
We were now getting a regular flow of passes, a C-130K Hercules followed by six Hawk T.2s and finally another Tornado GR.4 as the sun faded filled up the rest of the afternoon.
Will had asked me to join him and Barry at the Royal Ship a hotel and pub in Dolgellau so we could construct a piece where we summed up the day over a pint (my only reward for my days work). It took a while to get the camera and lighting up and running by the bar and start the filming. After an hour or so we were done with filming and I could enjoy my pint and to talk about how he does his work. The pub filming contributed around ten seconds to the finished edited film. During our chat I was to find out that eight minutes of talking to camera equates to around 500 words of script, as Will said, "Speaking for most people is at around three words a second on average, so a 20 second news item would require 60 words which if covered by a newspaper would be five times that". He also explained that you can convey the same amount of information in a film clip that is in a newspaper article with much less words, by how you present it, the much shorter film script is there to hold the pictures together.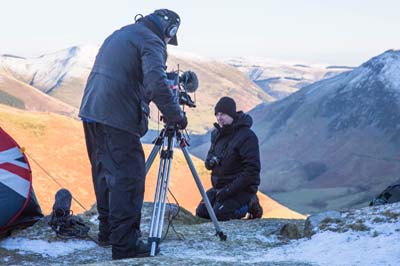 Will with the valley entrance in the background is talking about the long wait for an aircraft to fly up our valley.

Earlier when we had arrived position on the mountainside Will had whipped out a compact camera which I thought was just for a joke, but knew he wanted to be filmed using this camera. To be honest as I was expecting that 'Fast Jets Long Lenses would be a very serious documentary I was surprised by the introduction of this camera. Will explained in the pub his presenting technique, "I will use my hopelessly inappropriate pocket camera while the experienced photographer tells me what I should be using, to get over a quite complicated concept".

Will also spoke of the editing, explaining that an aircraft flying through a valley can take in TV filming terms a long time so he will make a series of jump cuts. "To make the cut the footage has to be relevant and hold attention and be interesting, much will fall by the wayside because it has to be entertaining", he said.

So why do a piece on low flying photography? He told me he had been hankering to do a piece on low-level photographers for a while. He had seen some images on Facebook taken by an Army photographer who put his pictures on Facebook after he had tried it for the first time and had fallen in love with it. Will told me that he thought the pictures were awesome and decided to 'sell' the project to his managers to get it approved. There is a lot of resource involved including his time the cameraman Barry's time for the two days in the hills and time up at Warton plus the travelling and accommodation expenses. What got the project really going was footage he had by a BAE System photographer taken from the backseat of a Typhoon flying low through the Mach' Loop which was combined with his own 'flight' around the Mach' Loop in the simulator (which Will did around the 'Loop' in 2 minutes 29 seconds by going supersonic).

The next day was spent on Cad' East to get a different perspective and once again there was a good selection of passes including a contribution from Lakenheath's F-15E Strike Eagles.

From my perspective after being warned that the media might embarrass the photographers and the pilots I was at first a little wary. So after its first broadcast I was relieved more than anything that it went down so well with all my fellow photographers. I had had to trust Forces TV to do a serious piece and they had not let me down. When Will had whipped out his pocket camera I could not believe it! I did speak to him beforehand and a lot during the day and evening about our creditability and reputation and despite that funny moment in the end I felt he did a great job. It was definitely an interesting experience for me and I know Will enjoyed doing the piece, he wrote later; "There is nothing more awe inspiring than a fast jet screaming past beneath your feet, to spend time on the Mach Loop with some of the best photographers out there was an incredible privilege."