Low-Level Flying Photography
Photographic Logs for 2005
(For all these shots, I used my new Canon EOS 20D and a Canon EF 100-400mm f4/f5.6 L IS lens
or a Canon EF 300mm f2.8 L with and without a x1.4 extender).
Looking back to June 8 for one of my favourite images of the year.
Boscombe Down's Tornado GR.1 (ZA326). It has since been retired.
DSLR x1.6 sensor + Canon EF 300mm f2.8L lens 1/800 f5.6 ISO 200 with with the x1.4 extender.
Tuesday December 7, 2005

. To finish up the year I ventured out on this crisp sunny day. The count for the day was 2 Hawks, 2 Grob Tutors, 6 Tucano, a Jaguar and a Dominie. Unfortunately by swapping from the east side to the west side at 12:00 I missed the Jaguar and two Tucano's, which passed right over my head at the bottom of the valley. The day ended at 15:00 with the sun slipping behind the hills leaving the valley in relative darkness.
The best pass of the day was the Dominie T.1 (XS737 'K') of 55(R) Squadron which is part of 3 FTS based at Cranwell) which approached quite high, but as Dominies travel so slowly, I was able to scramble up the hill a little and was lucky to catch it as it passed in front of the high peak in front. DSLR x1.6 sensor + Canon EF 300mm f2.8 1/500 f5.6-f7.1 ISO 200 -2/3 exposure compensation.
Left to right: 100 Squadron Hawk T.1 (XX289 'CO'); Grob Tutor (G-BYWJ) of Liverpool UAS based at RAF Woodvale, seen just flirting with the hill tops; Tucano (ZF204) of 207(R) Squadron and another Tucano (ZF348) void of squadron marks.
Thursday October 27, 2005

. Really nice sunny Autumn day in the Lake District, but no aircraft! Wales was busy though.
Wednesday October 5, 2005

. Arrived after bike ride and a stiff climb to a remote location in Cumbria, to find it quite dull with mist and thick cloud. Did not have to wait long till my first movement, a rare two seat Harrier T.10 which slipped by at 10 a.m. Then nothing for five hours! The weather having improved, the action began. Two Tucanos, four Tornado GR.4s (three in two minutes), a Tornado F.3 and finally in a really nice light, my second Harrier T.10.
Left to right: Harrier T.10 (ZH659 '107') of 20(R) Squadron, Tornado GR.4 (ZD720 'TA') from 15(R) Squadron flying high through valley and Tornado F.3 (ZG755 'DL') of 11(F) Squadron.
Left to right: Tornado GR.4 (ZA459 'F') 'MacRoberts Reply' in special 90th Anniversary markings of 15(R) Squadron, GR.4 (ZA557 'TJ') of 15(R) Squadron again, but flying with GR.4 (ZD709 'FA') in 31 Squadron markings but currently operating with 15(R) Squadron.
Left to right: Harrier T.10 (ZH664 '112') of 20(R) Squadron with the patchy light changing as it went by. DSLR x1.6 sensor + Canon EF 300mm f2.8 L 1/640 f4, exposure compensation -1/3, ISO 200.
Friday September 16, 2005

. (2 Tornados, 3 Hawks, 2 Tucano's, 4 Grob Tutors (2 low), 2 Harriers and a Police Islander). A varied collection of aircraft today. The two Tornados from 31 Squadron, flying a minute apart, were the highlight of the day. Two images of each, Tornado GR.4 (ZA550 'DD') and GR.4A (ZA370 'DB').
Left to right: Tucano T.1 (ZF377), Grob Tutor (G-BYXX) of the Liverpool UAS based at RAF Woodvale and Northumbrian Police Authority BN-2B-20 Islander (G-NESU) 'North East Air Support Unit' which appeared to be flying a photo-sortie with a Rockwell Commander. Note: the Grob is heavily cropped as they are so small and I was only using my 300mm lens today.
Left to right: Three 'flavours' of Hawk. Royal Navy Hawk T.1 (XX231), 208(R) Squadron (XX245) and a 100 Squadron Hawk T.1 (XX188 'CF'). A nice end to the day were two Harrier GR.7As. The first (shown) in 1 Squadron colours (ZD437 '49A') and another which hugged the far side of the valley and was a little too far away for a good image.
Tuesday September 6, 2005

. (15 Hawks, 2 Tucano and a Harrier around twice). I wanted to try a new location today. From a weekend recce earlier in the year it looked liked it could offer good head-on bottom shots, as the aircraft approached and turned down the steep sided valley. After a 30 minute climb, though soaking wet bracken I was in position. In the 2 1/2 hours before the sun came around too far, I got three movements. The first two were surprisingly high, the third, a Royal Hawk, was at the right height but a little too far away. 300mm x 1.4 extender and x 1.6 digi aspect ratio was not enough to fill the frame when even side on. I later moved further up the valley to a more favoured location.
Left to right: Royal Navy Hawk T.1 (XX231), Tucano T.1 (ZF343), 100 Squadron Hawk T.1 (XX299 'CH') and another 100 Squadron Hawk (four in the day).
F-15s were around all day, nine in all, but the three that dropped in to the valley did not fly low enough for 'low-level photography', so it just looked liked a Hawk/Tucano day when I packed up and made my way down to the car at 17:15. Then around the corner came a 3 Squadron Harrier. But I did not get any decent shots, after scrambling to get my camera out in time and in the dull conditions. Thankfully it came around four minutes later and this really nice image was shot as it flew through the only sunny patch in the valley at 17:25. I later found out that Cottesmore were night flying this week, which would explain it's late appearance. Three other GR.9As minutes later flew down another valley.
Left to right: RAF Valley Hawks and the Harrier GR.7 (ZD379 '27') of 3 Squadron.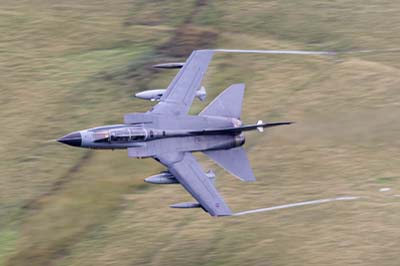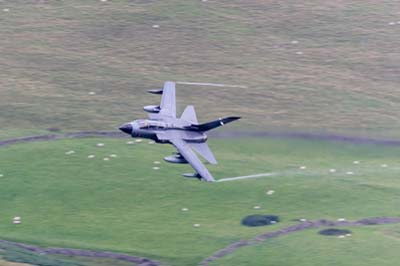 Monday August 1, 2005

. 'Mad Monday' and not really living up to expectations today, possibly due to a local NOTAM, the Scottish based aircraft were not easy to track down. Ended up driving east for an hour to try and find a better location. This move paid off with the 617 Squadron GR.4 (ZA556 coded 'AJ-C') from RAF Lossiemouth flashing up the valley at 16:03.
Just as I was about to go at 17:12 two 111 Squadron Tornado F.3s (ZE962 'XC' and ZE158 'HG') from RAF Leuchars appeared and made the day!
Wednesday June 22, 2005

. Weather was poor to start with, so did not make climb until 11:00 am. The first of four movements was at 14:41 a Tornado F.3 (ZE254 'UD') of 25 Squadron from RAF Leeming, which came through again 17 minutes later. At 15:38 a Tornado GR.4 (ZA611) of the FJ&W OCU made a pass followed by a 208 Squadron Hawk at 16:45. A slow day, but the sun came through the very low cloud to give some nice shots.
Last three images: Tornado GR.4 (ZA611) of the FJ&W OCU based at RAF Coningsby.
Wednesday June 8, 2005

. I decided during the long drive home to return the next day to try a new location and what a good decision that was. The morning was slow, just a 11 Squadron Tornado F.3 (ZE342 'DZ'). Later five Tucano's flew through, ZF144 and ZF406 are shown.
First image details; DSLR x1.6 sensor + Canon EF 300mm f2.8 L + x1.4 extender (420mm) 1/1000 f4.5, exposure compensation -1/2, ISO 200.
Hawk T.1 (XX239) of 19(R) Squadron. 41 Squadron Jaguars were out in force, prior to the Polish AF exchange arriving the next day. First a Jaguar T.4 (XX150/FY) and later three GR.3s (inc. 'FG') which all flew through high, unfortunately. Harrier GR.7 (ZD438 '50') of 4 Squadron from Cottesmore, was just one of three, the other two flew high and wide.
ETPS at Boscombe Down's Tornado GR.1 (ZA326) was the highlight of the day.
F-15E Strike Eagle (00-3001 'LN') first of a pair of Strike Eagles of 494FS, 48FW based at RAF Lakenheath.
F-15E Strike Eagle (91-0314 'LN'), the second Eagle passing through a couple of minutes later. The first image demonstrating the power of the Canon 300mm f2.8L and x1.4 extender.
Tuesday June 7, 2005

, Just one day in a busy week in the Lakes, ending on Friday with low-flying Polish Air Force SU-22s on exchange at Coltishall and flying with Jaguars, sadly I was back home by then. Tuesday was a good day for Tornado F.3s, I had three in total all from 11 Squadron. The two that did not get away were ZH553 'DY' and later ZE942 'DF'. The other F.3 was so close to the first that there was not time to capture a shot.
There are always the trainers out, here Tucano T.1 (ZF409) and two images (XX289 'CO' and XX247 'CM') of the six 100 Squadron Hawks to pass by. What was unusual was the RAF Puma (ZA936) which 'slid' down the side of the valley opposite me.
The star of the day was the very new Typhoon F.2 (ZJ914) test flying out of BAE Systems Warton. Middle images details - DSLR x1.6 sensor + Canon EF 100-400mm L IS (250mm) 1/1000 f6.7, exposure compensation -1, ISO 200.
Again out of BAE Systems Warton was the Harrier GR.9 (ZD320) prototype which made two passes in the day. The second pass ended in a sudden climb out of low-level right in front of my position, as you can see in the third image.
Finally to end a superb day was the Jaguar GR.3 (XZ394 'FG') of 41 Squadron. As with the Harrier above I was trying out my new Canon 300mm f2.8 L lens, the Jaguar is so sharp, so I could not decide which image to use, so in the end here are both of them!
Wednesday May 11, 2005

, Every year 4 FTS at RAF Valley hold their Prince of Wales Trophy. This is a low-level navigational exercise for the Qualified Flying Instructors (QFI's). Around 60-70 Hawks take off and fly a set course in five minute intervals. Unfortunately most of the pilots elected to fly at around 1,500 feet above my chosen location in mid Wales, so low-level photography was limited.



Monday April 24, 2005

, Perfect weather up in the Lakes and no aircraft! Found out later that a civilian helicopter was flying at low-level, carrying materials up the valleys for repairing the footpaths damaged during the winter. This activity occurs in the spring every year, but should be NOTAM'd so that low-flying is diverted away from the area.