Belgian 1st 'Stingers' Squadron deploy to RAF Marham
April 2016
F-16AM Fighting Falcon (FA-132) of 1 Squadron Belgian Air Component based at Florennes.
Belgian F-16 work up for the Middle East




In April 2016 six F-16AM Fighting Falcons of the 1st Squadron 'Stingers' of the Belgian Air Component (BAC) deployed to RAF Marham, hosted by IX(B) Squadron who fly Panavia Tornado GR.4s. The BAC is the air arm of the Belgian Armed Forces with 1st Squadron operating from Florennes air base. The Belgian military aviation was founded in 1909 and is one of the world's first air services. The 'Stingers' were working up for a one year deployment starting in the July to Jordan to fly missions with coalition forces including RAF Tornados against ISIS.



Major Stephane Casteleyn the 'Stingers' Squadron Commander in an exclusive interview spoke to me of their missions in the United Kingdom; "The main focus of the deployment which was to fly CAS (combat air support) and tactical air reconnaissance missions which were mostly done at medium altitude which for us is above 10,000 feet."

Throughout the deployment four to six waves of pairs flew each day, half in the morning and half in the afternoon. Usually, two or three aircraft were dedicated for CAS training. Two other aircraft flew dedicated recce' missions in order to train their pilots with the ISR (intelligence, surveillanceand reconnaissance) mode of their Sniper Podsand keep their imagery analysts at the high standard required for live operations.



An end to low flying


Around 15 years ago the BAC was tasked away from low altitude flying which is now only considered to be an auxiliary skill. In those days the Belgian Air Force had dedicated F-16 squadrons flying either air to ground or air defence missions. "If you were in an air to ground squadron you would fly many hours at low altitude. Today multi-role is the way to go, threats have evolved so that is the reason why we don't fly regularly at low altitude anymore", says Maj Casteleyn.

Belgium has only one low flying area, it is located in the Ardennes region in the south-eastern corner of the mostly flat country. Here they can fly down to 250 feet AGL, but this is not ideal says Maj Casteleyn, "It is relatively flat, there are no real valleys to fly in, it is very congested with a lot of housing so there can be complaints". When low flying training was a requirement they frequently deployed to Morocco for two weeks of intensive low flying to keep the pilots proficient. Today Belgian pilots are flying between 150 and 180 hours per calendar year. With a multi-role mission they have to fly so many hours in air defence, surface attack and combat air support, "Although we keep track of the low flying we do, a minimum requirement for low flying has not been set", says Maj Casteleyn.



Flying the Mach' Loop


On the second flying day of the UK deployment two pairs of Belgian F-16s appeared in the Mach' Loop at low-level to some surprise. The first pair were flying above the hilltops but the second pair late in the day flew low through the valleys. Maj Casteleyn explained why his jets 'flew the Loop'.

"We still want to keep some low altitude flying proficiency because even though our operations are mostly at medium altitudes there are occasions when we might have to do a 'show of force' in Afghanistan for example, where you overfly your opponent at low altitude that can be down to 250 feetand this requires some skill. Another reason why we still try to keep some low flying training is that it is still good training for the pilot. It requires some basic skills to fly the aircraft, to have good task management training, it is essential to keep a minimum of knowledge and expertise in the air force in case for whatever reason we need to revert back to low altitude operations at least we retain a basic knowledge of low flying".



"Our fears"


Maj Casteleyn admitted, "At this time we are not proficient at low flying but we keep a very basic level of training. This is why when we were at RAF Marham and had the opportunity after we had flown one hour of CAS we flew to LFA 7, which was really good training for our younger pilots". The Belgian pilots were cleared to fly down to 500 feet AGL in the UKLFS for which they are very grateful. They wanted to give their younger pilots in particular who did not have a lot of low altitude flying training some experience of mountain valley flying. "Cleared down to 500 feet it is not really flying at low altitude tactically but is good enough for us to practice the skills and keep some basic expertise, you can do step down training if you need to", said Maj Casteleyn. Continuing he said, "We still have a number of older more experienced pilots in the Squadron which have flown a lot of low altitude training, many are 1,000 and 2,000 hour pilots. Our fear is that we will lose our low altitude expertise as it is not something we regularly train on it will slowly be lost. We won't have the pilots able to brief the mission correctly to the junior pilots", adding, "On the rare occasions for one day we fly to Scotland where it is hilly, it is good training for our young pilots".

There were a number of photographers in the Mach' Loop, the Belgian pilots were very grateful for the images we sent to them, "What you gave us back is just brilliant, hundreds beautiful pictures! Thank you so much. Hope to meet you again...And STING ON!"

There was a rumour emanating from IX(B) Squadron that the Belgian F-16s were hoping to do some low-level missions at low-level if time allowed. What was not expected was the appearance of the F-22A Raptor towards the end of the same day. I told Maj Casteleyn how pleased I was to see his F-16s come around the corner and he replied "even though the F-22 stole the show?"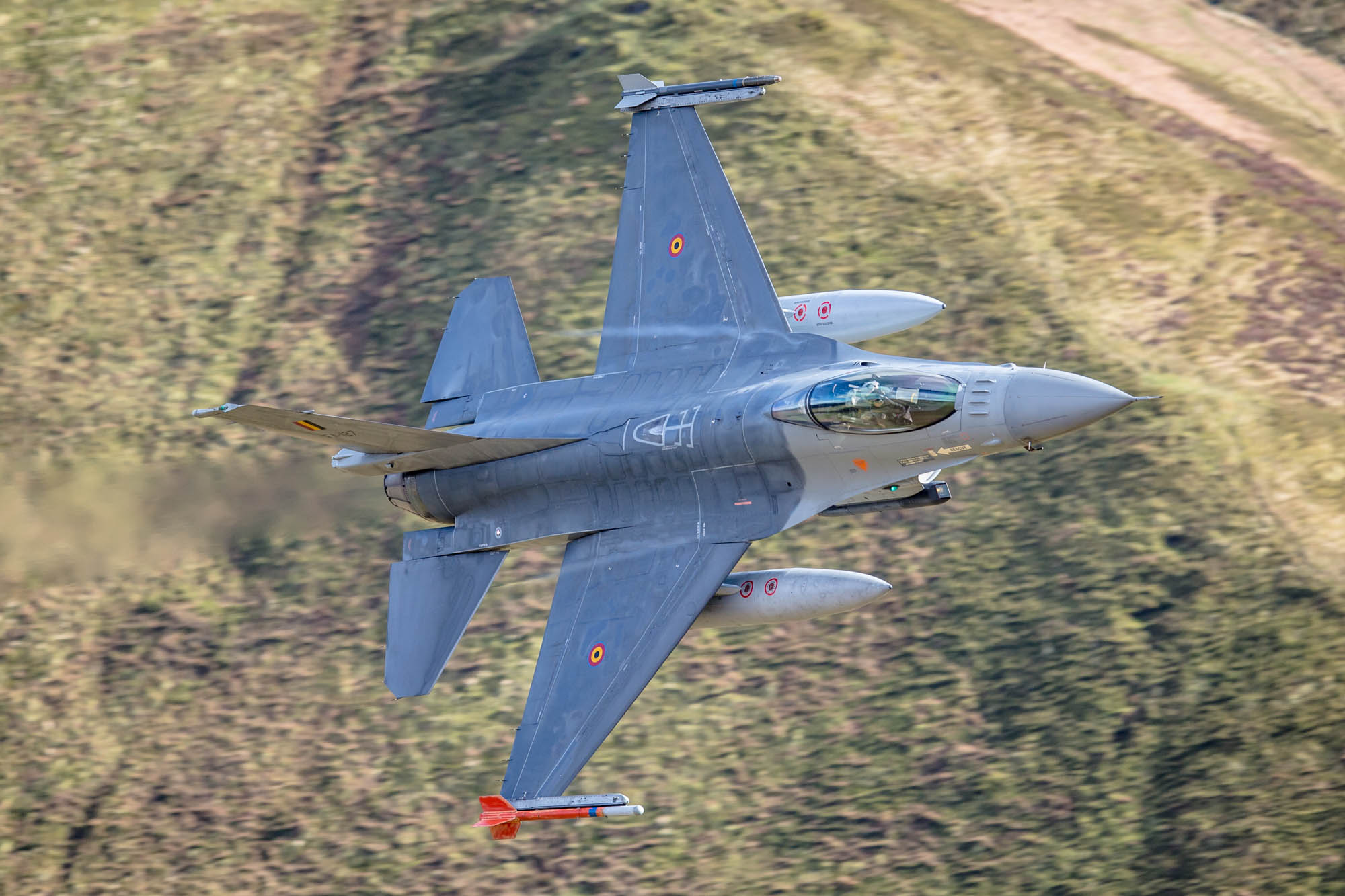 F-16AM Fighting Falcon (FA-127) of 1 Squadron Belgian Air Component based at Florennes.