Meeting de l'air
Base aérienne 116 Luxeuil-les-Baines, France
June 27-18, 2015
Mirage 2000N (335 '125-CI') and one half of the 'Ramex Delta' display team making its way back to the flight line. These Mirage 2000Ns used to be based here until they were transferred to Istres and so were quite at home at Luxeuil, so much so that they retired to the HASs on the far side each evening evading the photgraphers after their display.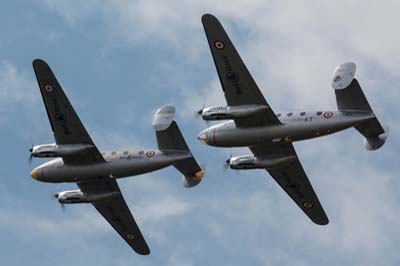 My favourites the MD311/312 Flamant pair lumbering around the sky in close formation, it was a flying display in slow motion.

The view from the crowd line.




Base aérienne 116 Luxeuil-les-Baines hosted a Meeting de l'air over sunny hot weekend in June. A large local population surged through the open gates expecting a flying treat and were not to be disappointed. Starting at 10:00 and ending at 18:00 the estimated 40,000 people over the two days clearly enjoyed some spectacular flying organised by the 'Fondation des Oeuvres Sociales de l'air' who also were responsible for the shows at Solenzara and Tours this year.



The flying program was nicely varied to include veteran aircraft prop' such as a; T-6 Texan, Skyraider, Bronco, Stearman, Spitfire, Morane 406 and Sea Fury. Three MD311/312 Flamant (two fling one static) were my favourite ex-military aircraft now restored and kept flying through volunteers and generous sponsorship. A Dutch Hunter and Swiss Vampire added some noise and jet power to the show.
A fast rope display by French Special Forces flying in a Eurocopter EC725 Caracal was good entertainment and performed not too far away from my camera, however for many spectators it was behind a line of revetments most of the time.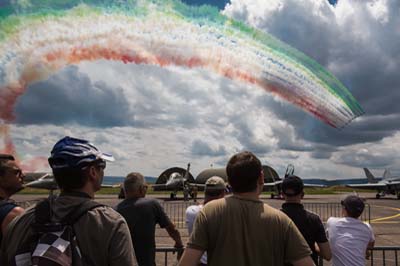 The Freece Tricolori with their ten MB339s were one of three national display teams enjoyed by everyone.

Many came to see a jet display team flying in tight formation with streams of smoke. At Luxeuil the enthusiastic crowds were treated to not just their national display team, the Patrouille de France flying Alpha Jets, but also the Italian Air Force team, the Frecce Tricolori flying MB339s and also the RAFs Red Arrows in Hawks. The Red Arrows were painted in new colours on the tail and curiously two or three of the Freece Tricolori's aircraft also had a new design of tail colours. All three teams performed superbly, each with their own finely tuned routines.
To complement the jet powered display teams were the very powerful fast jets flying their own style of aerobatics manoeuvres, such as the Swiss Air Force's solo F-18 Hornet and the stars of the show in my eye's the pair of Mirage 2000N's of 'Ramex Delta' based at Istres in the south of France, which just pipped the awesome solo display of the Rafale from Saint-Dizier for top spot.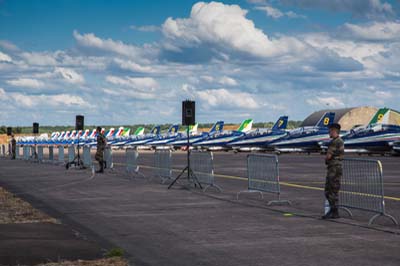 Guards and two lines of fences made it impossible to shoot the display aircraft.

The Luxeuil based pair of Mirage 2000-5s performed well delivering an excellent display which included close flying, solo passes and more interestingly a mock interception of a slow moving aircraft in the form of an Epsilon.
It was disappointing but I suppose usual for bases with hardened aircraft shelters (HASs) everywhere, that very few of the based Mirage 2000-5s were on display. Yes you could sit in one and have your picture taken and two were flying, but it would have been nice to see a line-up of these pale blue air superiority fighters as was typical in days gone by.
The static display was impressive with many fast jets and some helicopters; Polish Su-22s, MiG-29s, Mi-24, USAF A-10s and German Tornados to name the most memorable.



A photographers point of view.


From the photographers perspective the event was frustrating and at times very disappointing. Very little thought at all was given to the many photographers who wanted to get some great pictures of the flying action. Firstly through no fault at all of the organisers, the sun was in your face all day and the runway was so far away it was out of sight and in nearly all places hidden behind revetments and HASs. A spotter's enclosure had been constructed at one end in a location that would prevent you from getting any decent photographs at all and where nothing could ever pass close by.

The long crowd line was protected from the aircraft by armed guards and two parallel lines of fences. This meant that nearly all the display aircraft that were parked close to and directly in front of the spectators could not be photographed at all without the second fence four meters away being in the picture. Why was this second fence needed I have to ask? The serious photographers however gathered at the other end of the ramp to get the only shots possible from the crowd line of moving aircraft, which was far from ideal. There appeared to be no advantage at all in having a media pass apart from the welcome on the first morning.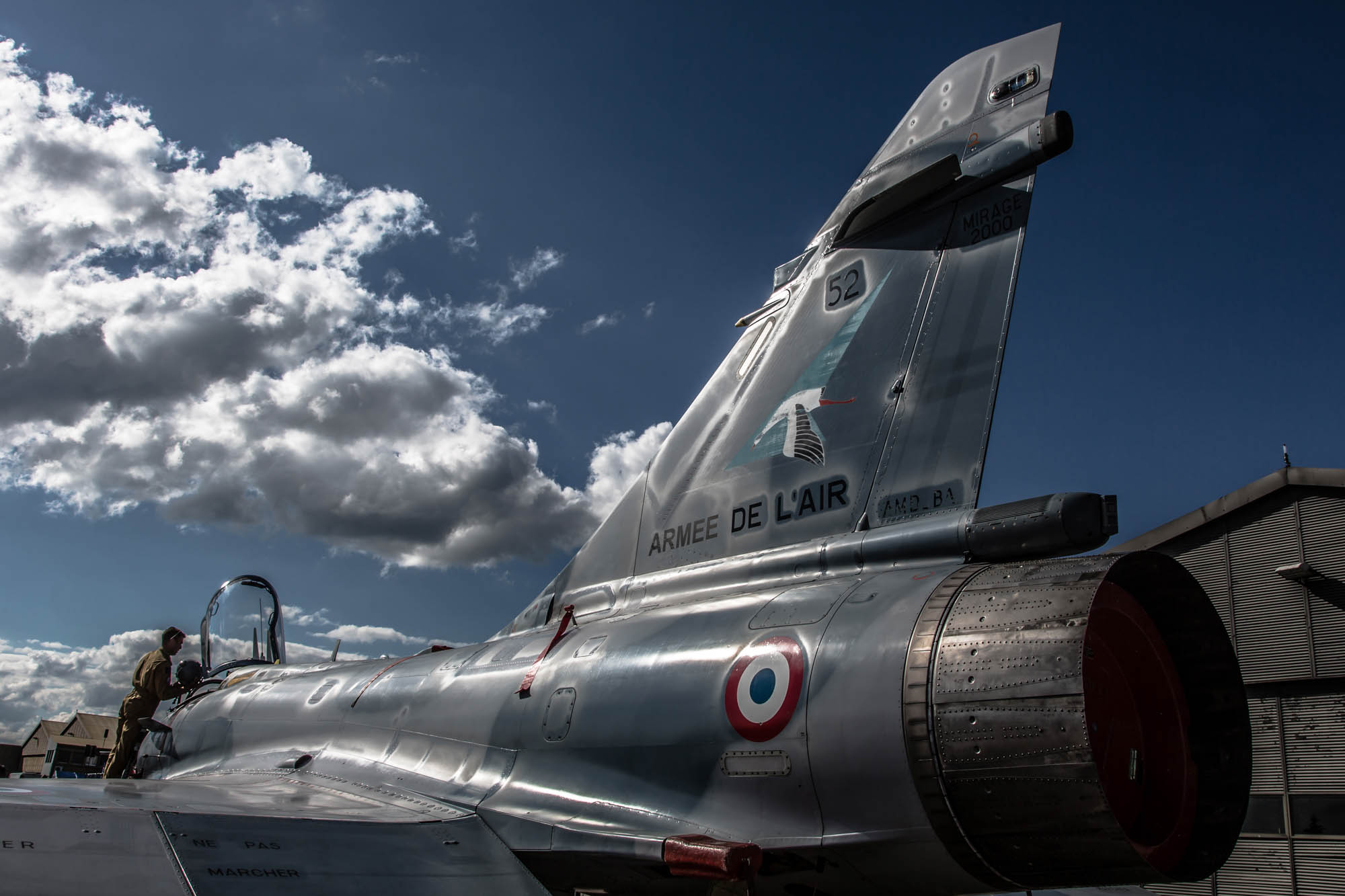 BA116 Luxeuil based Mirage 2000C-5 (52 '116-EH') used by pilots fund raising photographs from the cockpit.
Left to right: Ramex Delta Mirage 2000Ns' (335 '125-CI' and 354 '125-BJ').
Left to right: Holland based Hunter F.6A (G-KAXF painted as 'N-294').
Left to right: North American T-6G Texan ('12' registered F-AZCM previously MM53802),
Morane-Saulnier D-3801 MS.406 C1 (J-143 registered HB-RCF),
Hawker Sea Fury FB.11 (WH589 'NW-115' registered F-AZXJ).
Fast rope display by French Special Forces flying in a Eurocopter EC725 Caracal (2626 'SD').
Left to right: Eurocopter EC725 Caracal (2626 'SD'),
Boeing PT-17 Kaydet (A-75/N1 Stearman) NS2-3 (F-HDVD).
Left to right: North American Rockwell OV-10 Bronco (55454 registered F-AZKM)
Left to right: Dassault MD.312 Flamant (158 registered F-AZGE) and MD.311 Flamant (260 '316-KT' registered F-AZKT).
Luxeuil based Mirage 2000C-5s in a close formation rivalling the Ramex Delta team of Mirage 2000Ns.
Left to right: Mirage 2000C-5s (58 '116-EL' and 66 '116-EO').
Left to right: The TB-30 Epsilon from Cognac which was used in the slow mover interception demonstration by the Mirage 2000C-5s.
Douglas AD-4N Skyraider (125716 '22-DG' registered F-AZFN), DH.100 Vampire FB.6 (J-1197 registered HB-RVN) and McDonnell Douglas F/A-18C Hornet (J-5020) of the Swiss Air Force.
Left to right: The green and white Rafale C (119 '113-IX') which has thrilled crowds during this years display season.
The Freece Tricolori with the patriotic red, white and green smoke of the Italian flag.....plus orange?
Left to right: A trademark tight formation from the Freece Tricolori.
Left to right: The Freece Tricolori showing the new and old tail colours, with one jet oddly number '55'.
Left to right: The Red Arrows they only had time for one display and their weekend involved displays at several locations back in England.
Left to right: The Red Arrows new tail markings for this season's flying displays.
Left to right: The Patrouille de France same old markings for them.
Left to right: Patrouille de France Alpha Jets returning to the display aircraft ramp.