Polish Air Force - Siły Powietrzne Rzeczypospolitej Polskiej
Malbork Air Base
(22 Baza Lotnicza)
October 2009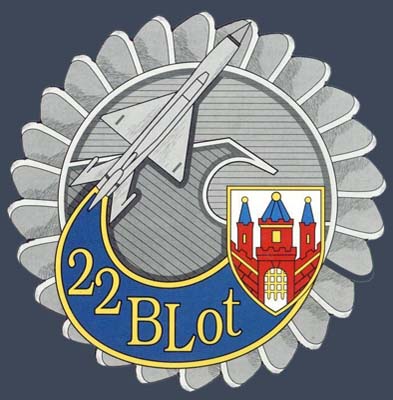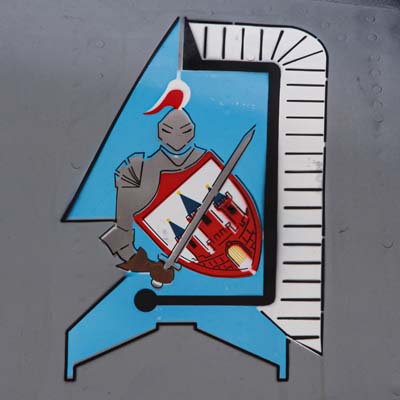 Malbork Air Base designated 22nd Air Base (22 Baza Lotnicza – 22 BLot) is situated in northern Poland and is the home of the 41st Tactical Air Squadron (41 Eskadra Lotnictwa Taktycznego – 41 elt).



From the Cold War days of 1952 till 2001 the unit was known as Pułk Lotnictwa Myśliwskiego (41 PLM) and were operating the MiG-21. By 1999 when Poland joined NATO the organisation of the military had to adapt to meet the new challenges. In 2001, when the 41.elt was first established at Malbork, the 41st Fighter Regiment was divided into two units, the 22nd Air Base and the 41st Tactical Air Squadron who now fly the Mikoyan-Gurevich MiG-29 'Fulcrum'.
22 BLot are tasked to; ensure aircraft flights are safe, maintain the command and control system, support and to make 41 elt training safe. Additionally they are required to enhance and sustain combat readiness and mission capability for 41 elt, while ensuring host nation support for allied forces. Second line maintenance at 150 and 300 hours is done on base.
41 elt are tasked with Offensive and Defensive Counter Air (OCA, DCA), air-to-ground and air surveillance and reconnaissance duties. They also have to fulfil the role of NATO Air Policing and provide Quick Reaction Alert (QRA). Maj Artur Kalko Deputy Base Commander at Malbork with 900 hours on the MiG-29, said that there is a minimum requirement to fly 40-50 hours per year but most pilots fly upwards of 100 hours. Every month they conduct 'Fruit Fly' training with AWACS missions.

The MiG-29 'Fulcrum' enters service with the Polish Air Force
The MiG-29A was designed in the 1970s and was equipped with two Klimov RD-33 engines that give it a maximum speed of Mach 2.25 and a maximum range of 1,300 miles (2,100km). It has retractable intake screens and strengthened landing gear to give the Fulcrum a rough-field capability, allowing it to operate from roads or unprepared airstrips.
The first 12 MiG-29 Fulcrum-A (nine MiG-29 single-seat and three MiG-29UB two-seat trainers) were delivered to Poland between 1989 and 1990. These aircraft were based at Mińsk Mazowiecki and initially flown by the 1st Fighter Aviation Regiment before they became the 1st Tactical Squadron (1 elt) in 2001. Ten more aircraft (nine MiG-29 and one MiG-29UB) were acquired from the Czech Republic in 1995.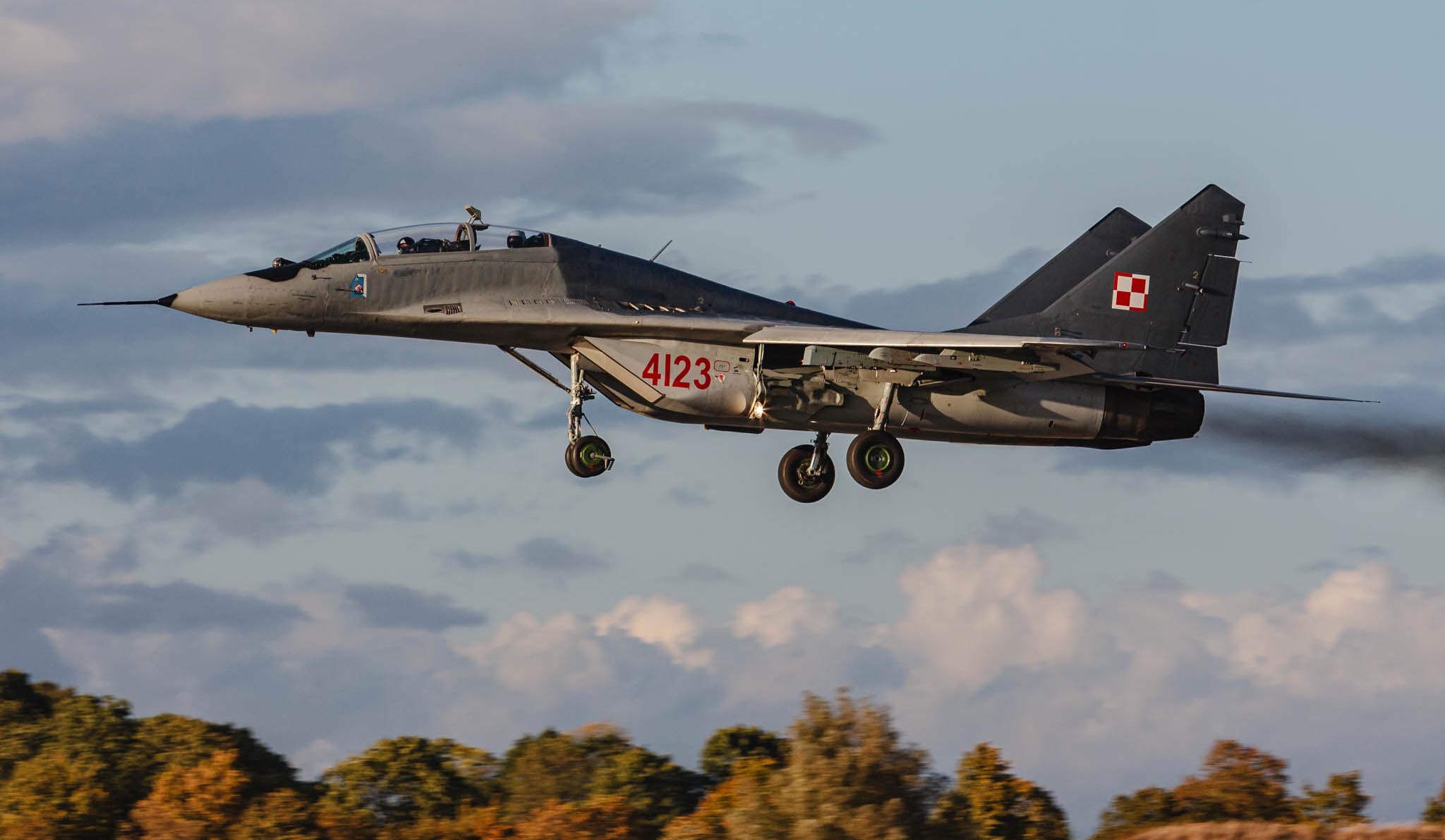 Two-seat Mikoyan-Gurevich MiG-29GT 'Fulcrum' (4123).
The one Euro deal


The German Democratic Republic (East Germany) bought 24 MiG-29's (20 MiG-29 and four MiG-29UB), which entered service between 1988 and 1989. Following the fall of the Berlin Wall in November 1989 and subsequent reunification of Germany in October 1990 the Luftstreitkräfte der NVA MiG-29/UB were integrated into the Luftwaffe and were upgraded by Daimler-Chrysler Aerospace (now EADS) for NATO compatibility and designated MiG-29G 'Germany' and MiG-29GT 'Germany Trainer'. The upgrades were a result of the German/Russian joint venture named MAPS (MiG Aircraft Product Support GmbH) which ran from 1991 to 1995. The MAPS upgrade included; a new VHF/UHF radio, an emergency radio, TACAN navigational equipment and an Identification Friend or Foe and Selective Identification Facility (IFF/SIF) transponder. Western-standard cockpit instrumentation utilising imperial rather than metric measurement systems along with cockpit labelling and a ÄKRAN control and warning system display were also converted to English. Finally the jets were equipped with anti-collision lights and painted camouflage grey.
Later between 1996 and 2000, seven of the MiG-29G's were further upgraded to carry two under-wing fuel tanks, each holding 1,150 litres and increasing its range by over 1,000nm (1,850km) which effectively doubled its endurance. A GPS satellite navigation system was also integrated into the avionics suite at this time.
Up to 2003 Luftwaffe pilots had flown 30,000 hours in the MiG-29 with the loss of one aircraft due to pilot error. The remaining 22 aircraft were deemed to be surplus to requirements and a deal of just one euro per aircraft was agreed with the Polish Air Force in September 2003. By August 2004 all the aircraft had been transferred to Poland. 14 (ten MiG-29G and four MiG-29GT) of the former Luftwaffe aircraft were prepared for service with the remaining eight airframes being put aside for spares recovery.

The MiG-29 at Malbork
At Malbork on December 19, 2003 41 elt retired their MiG-21bis in readiness to re-equip with the ex-Luftwaffe MiG-29G/GT Fulcrums. These aircraft had received avionics upgrades to bring them in line with the MiG-29's at Minsk Mazowiecki with Rockwell Collins ANV-241MMR VOR/ILS and AN/ARN-153 TACAN navigation and communications plus GPS receivers and manual VHF/UHF radios. They now had an integrated GPS, TACAN and INS (Instrument Navigation System). They additionally had a major overhaul to extend their airframe hours giving them a technical life of 40 years or 4,000 hours.
The first four MiG-29's entered service at Malbork on June 7, 2005 and were initially utilised for crew conversion training before the squadron became fully operational.



Summary of Polish Air Force MiG-29's


Nine MiG-29 Fulcrum-A and three MiG-29UB Fulcrum-B delivered from Russia between July 1989 and October 1990 to 1 elt at Minsk Mazowiecki.
Nine MiG-29 Fulcrum-A and one MiG-29UB Fulcrum-B ex Czech Republic delivered from December 1995 to January 1996 to 1 elt at Minsk Mazowiecki.
18 MiG-29G Fulcrum-A and four MiG-29GT Fulcrum-B ex German delivered between September 2003 to August 2004 to 41 elt at Malbork. Eight were used for spares recovery and one of the MiG-29GT's was retired in 2008.
Later some aircraft from Minsk Mazowiecki were transferred to Malbork to even out the numbers. Currently Poland has 32 active MiG-29s (26 MiG-29A/G and six MiG-29UB/GT) which are expected to serve till 2028 with further overhauls, upgrades and life extensions.

The MiG-29 despite its limitations still packs a punch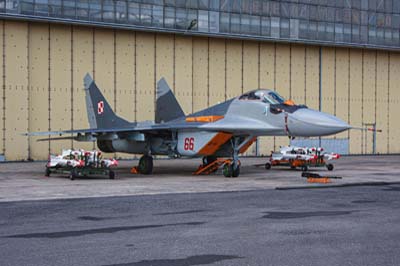 The Polish MiG-29's despite the upgrades still have the recognised disadvantages of out-dated avionics and radar necessitating a high pilot workload. It also has a short-range and no air to air refuelling capability, with typical sorties of 45 minutes it does not leave much time for take-off, interception, air combat and recovery. However extensive USAF evaluation with the Luftwaffe MiG-29's in the 1990's concluded it was more than a match for the F-15 Eagle.
The Polish MiG-29's utilise and range of Russian built weaponry. The Vympel R-73 (NATO codename AA-11 Archer) is an all-aspect, short-range air-to-air missile. It has a cooled infrared homing and can intercept targets at altitudes up to 68,000 feet (20km) at target speeds of 1,500 mph (2,500km/h). It is capable of being locked on to a target using a Helmet-Mounted Sight (HMS) at angles of up to 75 degrees to the side. The Vympel R-60 (NATO codename AA-8 Aphid) a short-range air-to-air missile.
The Vympel R-27 (NATO codename AA-10 Alamo-A) medium-range air-to-air missile, it can intercept targets with a speed of up to 2,200 mph (3,500km/h) at altitudes up to 90,000 feet (27km).
The MiG-29 also has a 30mm GSh-30-1 single barrel cannon capable of firing 150 rounds at a range 3,900 feet (1,200m).

Above left: Single-seat MiG-29 'Fulcrum-A' (66) was delivered to the Polish Air Force in July 1989.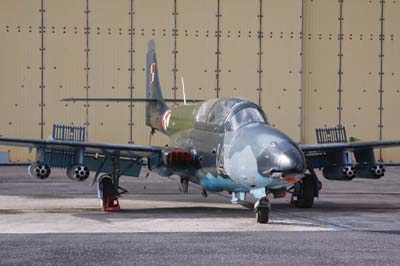 PZL-Mielec TS-11 Iskra
Designed in Poland first flew in 1960, 50 of the 423 TS-11's delivered between 1964 and 1987 remain in service. The TS-11 is flown by MiG-29 pilots to stay current in the air-to-ground role utilising inert bombs. It's out-dated avionics are no-longer adequate for pilot training and they are expected to be retired by 2012. A replacement advanced trainer has yet to be decided.

Right: TS-11bis DF Iskra (1411).
Left to right: TS-11 (1920) and TS-11bis DF Iskra (1411).
Left to right: Two-seat MiG-29GT 'Fulcrum' (4105 ex 29+24) was delivered to the Polish Air Force in July 2003.
Left to right: MiG-29GT 'Fulcrum' (4105).
Two-seat MiG-29GT 'Fulcrum' (4123).
Left to right: Two-seat MiG-29GT 'Fulcrum' (4123 ex 29+25) was delivered to the Polish Air Force in August 2004.
Left to right: MiG-29GT 'Fulcrum' (4123).
Left to right: MiG-29GT 'Fulcrum' (4123).
Single-seat MiG-29 Fulcrum' (77).
Left to right: Single-seat MiG-29 'Fulcrum' (77 ex Czech 7702) was delivered to the Polish Air Force in December 1995.
Single-seat MiG-29G 'Fulcrum' (4120)
Left to right: Single-seat MiG-29G 'Fulcrum' (4120 ex 29+18) was delivered to the Polish Air Force in August 2004.
Left to right: MiG-29G 'Fulcrum' (4120).