MAPS Air Museum
Akron-Canton, Ohio
July 20, 2023
The hangar has almost been cleared of aicraft to make room for a fund raising event, it is full of tables and chairs for military show for memorabilia and patches.
Formed in 1990 the museum is run by the Military Aviation Preservation Society and is situated on the west side of the Akron-Canton Regional Airport. Executive Director Kim David Kovesci, a former A-7 Corsair crew chief on the USS Saratoga took over running the museum 12 years ago when visitation he says was only 6,200 people per year. Before Covid in 2020 visitation had reached 42,000, last year they hosted 2,300 children from 21 local schools. They are self funding with no funding from the government or the state, but do get grants from school kid associated foundations. On the day of my visit they were preparing the aircraft hangar for a military show for memorabilia and patches. They also rent out the hangar for weddings and other organisations. When Kovesci arrived the volunteer membership was 350 now it is 800, and they give us 58,000 volunteer hours worth $1.3 million of payroll. "95% of us are veterans of all the services, including former pilots and maintenance workers." says Kovesci, adding, "We have two generals."
Using the funds they have raised they have restored the second floor of their hangar, giving them a classroom, kitchen and banquet hall and additional museum space. "We compressed that ten year project into six years by doing it all ourselves.", says a proud Kovesci.
This is a museum that is well run and is expanding, there are plans for a multi-million dollar hangar. They do not just collect aircraft and put them on display, there is a very active team of skilled restorers working in their own restoration hangar. One major project is a Goodyear [Vought] FG-1D Corsair that is being restored. Now fully restored by MAPS volunteers is the sole-surviving 1950s GA-22A Drake now on display since 2013.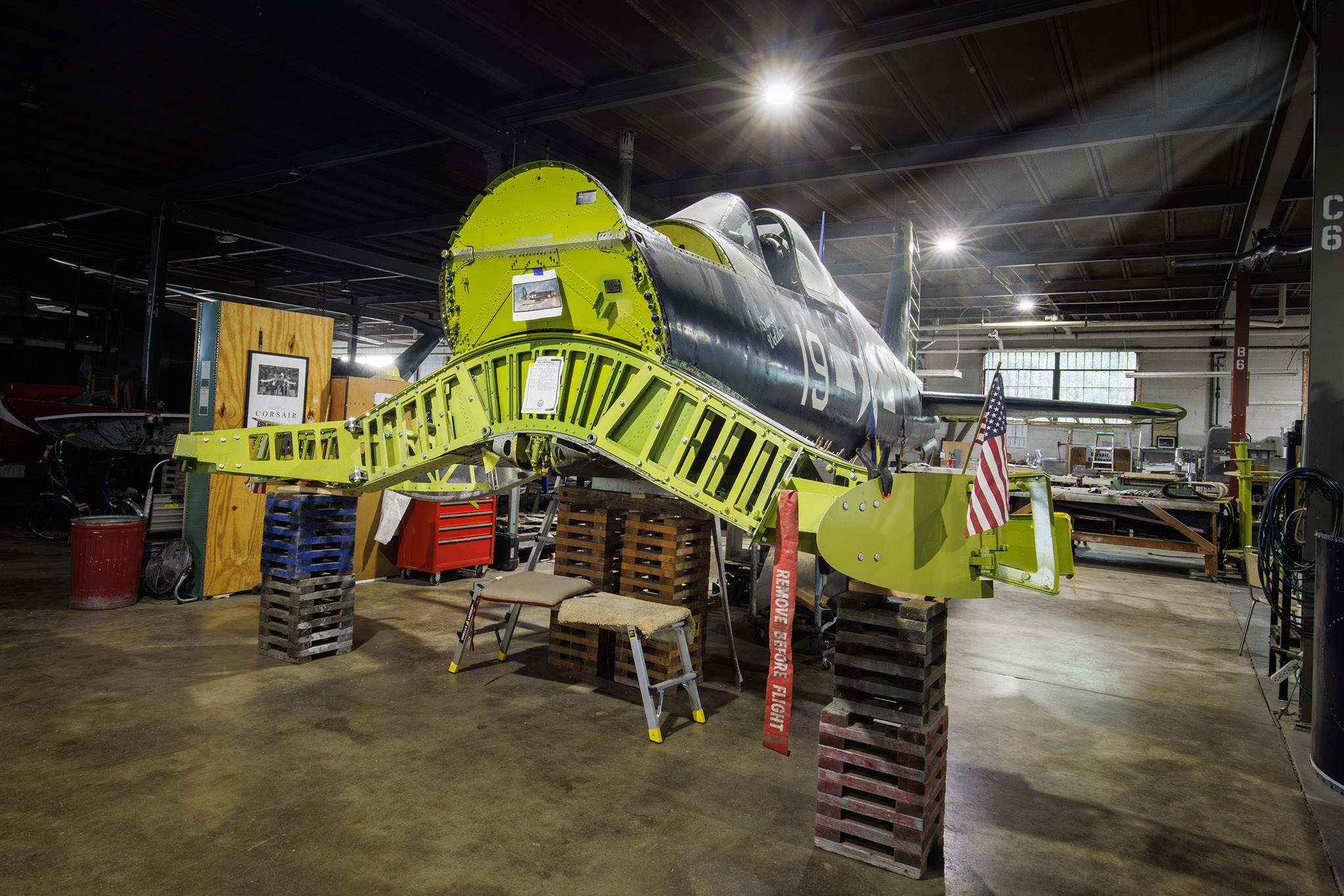 Left to right:

Goodyear [Vought] FG-1D Corsair

(76671 '19'). MAPS were excited when they secured this Goodyear-built Corsair for their museum, even though it was incomplete. This FGD-1D had been on display at Goodyear's 'World of Rubber' museum in Akron for over 50 years up to the museum's closure in 2009. Goodyear built the aircraft towards the end of 1944 delivering it to the US Navy at Naval Air Station Columbus on January 27, 1945. It was assigned to Fighter-Bomber Squadron (VBF-92) at NAS Groton, Connecticut and later was used for Carrier Qualifications Landings (CQL) on the escort carrier USS Croatan (CVE 25). During CQL operations the aircraft sustained substantial damage in February 1945 and struck off charge three months later. In 1948 the cockpit section was moved to the Goodyear museum.
MAPS restorers have rebuilt an entire rear fuselage. They are using the original FGD-1 drawings to reconstruct the I-beam section for the wings and engine mount. Originally specified in aluminium they have used steel to bolster the more fragile fuselage centre section. As this restoration is for static display only, a steel I-beam was built to give the load bearing section extra strength as it will be supporting the landing gear, engine, gas tank, and wings. The team are still looking for original Corsair parts including two struts to complete their work.
MAPS have named their FGD-1 'Sweet Velda'. Velda was an actual 'Rosie the riveter' in World War Two, she was actually asked to personally drill some holes in the restored airframe, as she may have done nearly 80 years ago when she could have worked on this very aircraft in the Goodyear factory. Sadly she passed a couple of months later.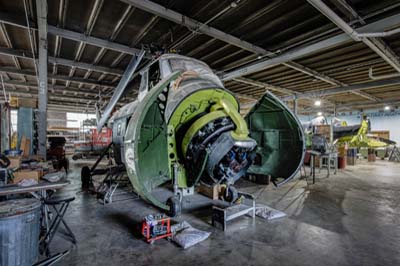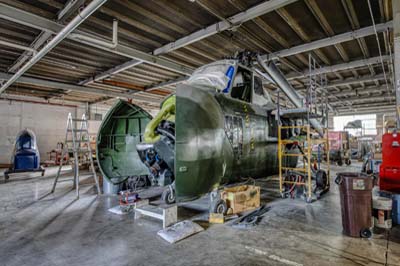 Left to right: Sikorsky UH-19D Chickasaw (54-1412 registered N4945). Struck off charge in May 1967, moved to Kent State University and then to Walter Soplata, Newbury, Ohio in 1977. Acquired by MAPS in May 2018.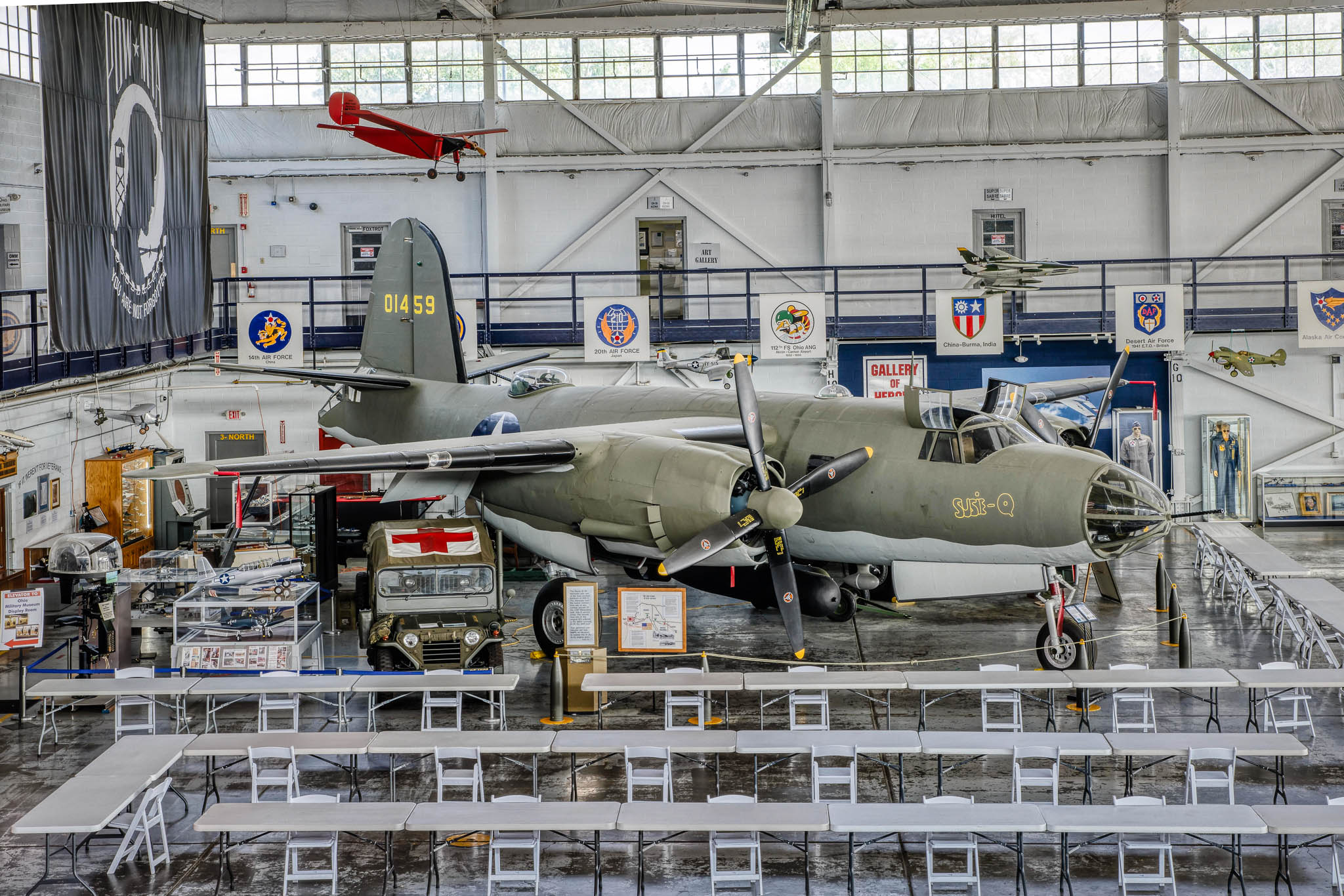 Left to right:

Martin B-26 Marauder

(40-1459 registered N4299K) 'Charly's Jewel'. Built at the Glenn L Martin Company factory in Baltimore, Maryland and delivered to the US Army Air Force on June 30, 1941. In January 1942 it was assigned to the 77th Bombardment Squadron, 4th Air Force at Elmendorf Field, Alaska. During its flight on January 16, 1942, en route to Alaska, it crashed near Smith River, British Columbia, Canada. The crew were rescued and the aircraft abandoned. A salvage team later removed the engines, landing gear and radio equipment. It was not until September 1971 did the Military Aircraft Restoration Corporation (MARC), Chino, California recovered the airframe.
MAPS Air Museum received the B-26 from MARC on indefinite loan in August 1994. Following more than 14,000 hours of restoration it was ready for display. The aircraft hangar has been cleared of most aircraft ready for the military show for memorabilia and patches.
Left to right: Fairchild PT-19A Cornell (43-31365 '25' registered N51798). Built by Aeronca at Middleton, Ohio and delivered to the USAAF Training Command in December 1942.
Goodyear GA-22A Drake (N5516M). From a 1940s series (the GA-1 first flew in 1944) of light amphibious aircraft, fully restored by MAPS volunteers it is the sole-surviving GA-22A Drake of the 19 in the series built. The sole GA-22A first flew in 1953 and was used for demonstrations the United States until 1965. Donated by Goodyear in 1966 it stored at the EAA Air Venture Museum until 2010 when it was moved to MAPS for restoration which was completed in 2013.
Vultee BT-13A Valiant (41-21271 '71').
Ryan L-17B Navion (N91173 marked '48-1075 WA NG').
Left to right: Douglas A-26C Invader (43-22602 registered N9990Z).
Left to right: Beech UC-45J/SNB-5 Expeditor (USAF 43-33316, US Army 67103 '103' registered N200KU) Akron. With David Tallichet and Military Aircraft Restoration Corporation (MARC) at Anaheim, California in 1984 following an accident in 1973. Ransferred to MAPS in 1990.
Left to right: Douglas C-47B Dakota (45-0928 'D8-Z' registered N54599) 'Ruptured Duck' ex Royal Moroccan Air Force as CNA-LE.
North American T-28A Trojan (51-3565 marked '15-3565 2P-222' registered N8522Z) ex Royal Moroccan Air Force. It was built by North American Aviation in Dallas, Texas in August 1952.
Left to right: Republic F-84F Thunderstreak (52-6524).
North American F-86L Sabre (53-0658 marked '24123 FU-123').
Left to right: North American F-86A Sabre (48-0263 'FU-263').
Lockheed T-33A Shooting Star (53-5250).
Left to right: North American QF-100D Super Sabre (56-3081 'VP').
Left to right: Convair F-102A Delta Dagger (56-0986 'PE') ex 68 FIS.
Cessna T-37B Tweets (60-0188 'ST' and 54-2732 marked '06375 IY').
Left to right: McDonnell F-101F Voodoo (57-0342 marked '57-0276') Texas ANG.
Republic F-105B Thunderchief (57-5820 'HI').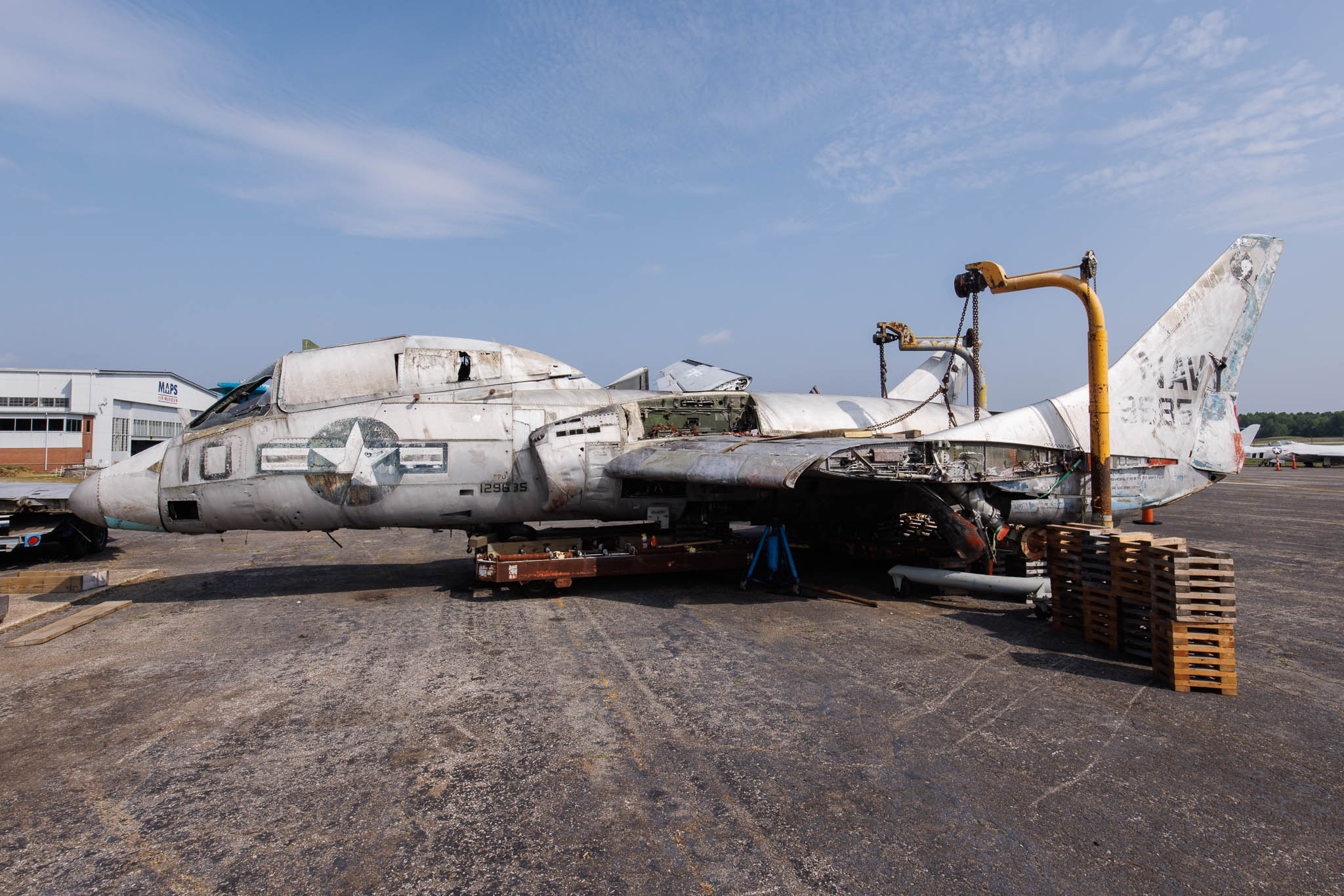 Left to right:

Vought F7U-3 Cutlass

(129685 '10'). In June 1945 Chance Vought proposed the Cutlass for the US Navy's competition for a carrier-capable day fighter. Unfortunately the aircraft suffered greatly from technical and handling issues mostly due insufficient engine-thrust. Over 25% of all Cutlasses built were destroyed in accidents in which four test pilots and 21 US Navy pilots were killed.
This Cutlass which is to be restored started its service life with VF-81 at NAS Oceana on November 1, 1954 and then to VA-66 in July 1955 also at Oceana. In 1956 it was with the OAMP (Operations, Administration, Maintenance, Procurements) at Norfolk, Virginia and then to VA-12 at Cecil Field, Florida. Struck off charge in 1962 Walter Soplata a private collector acquired the aircraft. It was not until after his death that his large collection of aircraft were offered for sale. In November 2021 MAPS Air Museum took delivery of the very rare Cutlass.
Left to right: Grumman US-2A Tracker (136464 '7D-464' registered N4225F).
Left to right: Douglas A-4A Skyhawk (139947 '6') Blue Angels.
Left to right: Grumman F-11A Tiger (141783 'AF-210').
Left to right: Grumman RF-9J Cougar (144402 'AP-962') ex VFP-62.
Grumman EA-6B Prowler (163047 'CY-05') ex VMAQ-2.
Left to right: LTV A-7E Corsair (159268 'AC-401') ex VA-105.
Left to right: McDonnell Douglas F-4S Phantom II (155764 'DB-02') ex VMFA-235.
Grumman F-14B Tomcat (162694 'AC-115') ex VF-32.
Left to right: Aero L-29 Delfin (2828 registered N29SV) ex Czech Air Force.
WSK Lim-6bis 'Fresco' (419 c/n 1J0419) Ex Polish Air Force, painted in Chinese colours.
Left to right: WSK SBLim-2 (212) ex Polish Air Force.
Mikoyan MiG-21F-13 (0301 marked '5063') ex Czech Air Force, painted in Vietnam scheme.