13 Squadron's 90th Anniversary
RAF Marham
June 4, 2005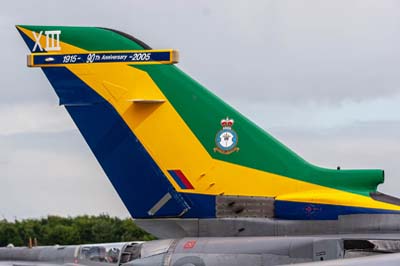 RAF Marham, the home of four squadrons of Tornado GR.4/GR.4A, hosted yet another squadron anniversary, this time that of 13 Squadron. Marham is used to squadron anniversaries, with 2(AC) Squadron holding theirs in April 2002 and 9(B) Squadron holding theirs in September 2004. The weather was showery and often very dull. With flying starting at 11:30 and going on to 16:00 there was plenty to stop the spirits for becoming too damp!
The following day was billed as a spotter's photography day, to raise money for charity. Consequently a number of Tornados were present from Lossiemouth (GR.4s) and Leeming (F.3). For added interest each aircraft was kitted up with various pieces of armament including Brimstone anti-tank missile, Storm Shadow stand-off missile and the RAPTOR Reconnaissance pod. Several of the specially marked 90th Anniversary scheme Tornados were on view from 12 Squadron (ZA543 'FF') inscribed 'Leads the Field', 9 Squadron's GR.4 (ZA585 'AH') and of course 13 Squadron's own GR.4A (ZA401 'XIII').
13 Squadron's own specially marked GR.4A (ZA401 'XIII') leads in the airfield attack formation at the end of the show.
There were quite a few aircraft from current non-Tornado squadrons as well as well as aircraft from by-gone times. Displaying with gusto were Meteor NF.11 (WM167 registered G-LOSM) and former Swiss Air Force (ex U-1215) DH115 Vampire T.55 ('XJ771' registered G-HELV) which was particularly impressive, piloted by Mark Hooten (above left). The locally based (Hardwick, Norfolk) North American AT-6D Texan (42-84555 coded 'EP-H' registered G-ELMH), inscribed 'Fools Rush In' gave an impressive display (above right). Other note worthy displays were from Spitfire Mk.19 and P-51D Mustang. Static aircraft included the soon to be retired Canberra PR.9, a VC-10, Tornado F.3 and F-15E Strike Eagle and a Chinook which departed as soon as flying for the day had finished.
Left to right: 15 Squadron Tornado GR.4 solo display, 2 Squadron Tornado GR.4 (ZA373 'H') in airfield attack and Chinook (ZH891).
It was the day of the Tornado, the flying action starting with a 15(R) Squadron GR.4 (coded 'TI') from Lossiemouth which flew a solo display. This was followed by a four-ship airfield attack by 13 Squadron and finishing with a 'finger 4' formation fly-by with a break and landing. Whether planned for the photographers or not, it was good to see the four Tornados lead by the specially marked 13 Squadron machine taxi right up to the crowd line and park, ready for Sundays photo-call.



Tornados on show:
9 Squadron Special marked 90th Anniversary Tornado GR.4A (ZA585 'AH') with two images of 12 Squadron's 90th Anniversary Tornado GR.4 (ZA543 'FF') inscribed 'Leads the Field'.
Finally unmarked GR.4 (ZD811) complete with Storm Shadow stand-off missiles.
Two images of 13 Squadron Tornado GR.4A (ZG705 'J'), 2 Squadron GR.4A (ZA373 'H)' and 31 Squadron GR.4 (ZA553 'DI') with Brimstone anti-tank missiles.
More images of 13 Squadron's GR.4A (ZA401 'XIII')
13 Squadron has operated the Tornado for the last 15 years since reforming at RAF Honington in 2001. Since then its aircraft have been upgraded from the GR.1A to the Strike Attack GR.4 version and later to the Strike Attack/Reconnaissance GR.4A version, which they received in March 1998. The GR.4A carries an internally mounted Sideways Looking infrared system and the Linescan infrared system, replacing the nose mounted 27mm cannon. The Tornado is expected to continue in service until 2018.



A special thanks to 13 Squadron for the invitation - Philip Stevens