Swiss Air Force Base, Meiringen - Unterbach
Axalp week
October 8-10, 2003
A report based on a frustrating few days in Switzerland for Axalp 2003, which provided unexpected opportunities at near by Swiss Air Force base - Meiringen.
A pair of F-5E Tiger IIs (J-3008 with Fliegerstaffel 19 badge on nose with J-3060) depart from Meiringen.
The narrow steep sided valley provides the perfect back drop for aviation photography.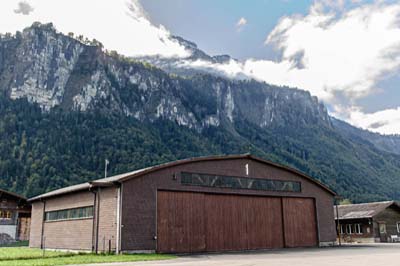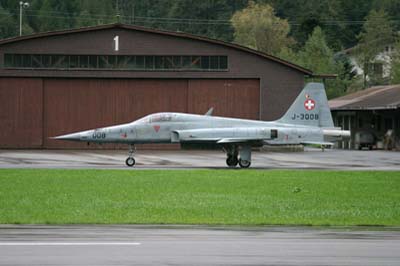 The forecast the week before and local predictions for the Axalp Demo were not good. Web-sites predicted thick cloud and heavy snow for the scheduled show days of Wednesday and Thursday October 8 and 9. Every year the Swiss Air Force hold a public display of their air-to-ground capabilities at the shooting range high up in the mountains above Meiringen near Brienze and Interlaken. Arriving at Axalp village beneath Axalphorn (elevation 2,321m) and the Ebenfluh shooting range very early (it was dark) on the Wednesday, I found very little activity.

Eventually people arrived all with the news that the show had been cancelled for the day, due to deep snow and the risk of avalanches. I went back down only to find hours later that the sky had cleared and an aerial practise was taking place. It was too late to make another ascent. Thursday's weather was thick cloud but with added heavy drizzle, flying was suspended on the range. Rumour had it that a decision on Friday at 8:00 am would be made, regarding a public display at the range. My flight from Zurich prevented me from making the climb to the range again and so the intended trip was a complete waste of time!

Left and right: Two shots of wooden 'hangar 1' by the road barrier at the centre of the airfield. It was later to be converted to a glass fronted museum hangar.
Left to right: F-5E Tiger IIs departing from Meiringen (J-3005, J-3008 with J-3060, J-3077 and J-3041).
But...................
All was not lost, Meiringen Swiss Air Force base in true Swiss Air Force style, was active in all weathers. Meiringen is home to a dozen or so F-5E Tiger IIs of Fliegergeschwader 13, Fliegerstaffel 8.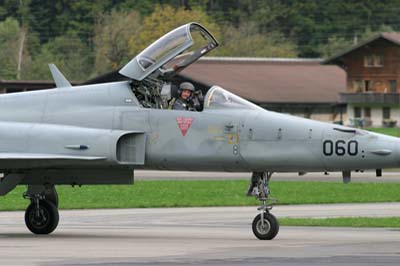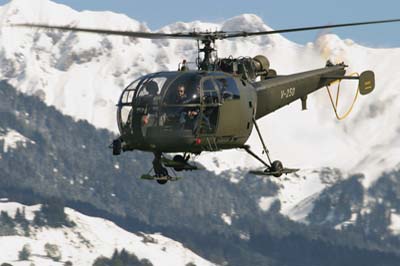 The only hazard in the grass areas was left by the local cows, the previous weekend! At the end of the day and the only official voices heard, came a booming announcement from the control tower in both the local German and English, stating that; flying had finished for the day and that they would see us tomorrow.
I saw a heard of cows marched across the airfield along the public road, right in the middle of the action, I guess an arriving F-5 would have been told to hold until the farmer had completed this lengthy exercise. Two horses similarly were ridden across on another occasion, the young jockeys choosing to wait for the recently landed F-5s to taxi back before heading for the far side.

What a wonderful few days of photography. All those that were there, were treated to excellent photography and much appreciated Swiss hospitality. A great many thanks go to all involved.
At 8:30 one misty morning the airfield was woken up, (barriers coming down, beeps and flashing lights) by the arrival of a pair of visiting orange Pilatus PC-7s Turbo Trainers from Instrumentenflugstaffel 14 (IFlSt 14).
Left to right: Pilatus PC-7s (A-940 and A-907).
On two of the days there were a constant stream of Alouette III flights between nearby Interlaken and the Axalp Range. On the Friday a AS.332M-1 Super Puma (TH89) from LuftTransportAbteilung 6, also took up military personnel and observers.
Left to right: Alouette III (V-250) and AS.332M-1 Super Puma (T-321).
Locally built Pilatus PC-6 Turbo Porters from LuftTransportAbteilung 6, demonstrated their superb STOL capabilities by landing and turning well before the centre point.
Left to right: PC-6 Turbo Porter (V-633) turns onto to the taxiway to the main ramp for a brief visit before departing.
On the wettest day, spray from the wheels and jet's exhaust added additional atmosphere to the shots. The F-5s took off in pairs, in groups of fours and even in eight's for three of four sorties a day. When wet they were more cautious and took off one at a time. Late afternoon when the sun was shielded by cloud I went to the opposite side to a long a track running parallel to the runway.
Left to right: F-5E Tiger IIs (J-3092, J-3014 x2 and J-3008).
Left to right: F-5Es (J3014 x3 and J-3060).
Left to right: F-5E pairs (J-3008 and J-3060 x2, J3014 & J-3041, J-3092 and J-3079)
The nose gear has been extended lifting the nose by 3 degrees for the take-off decreasing the rotation point by 50%.
Left to right: F-5Es (J3092 x2 with a Fliegerstaffel 11 badge on both sides of the nose, J-3008 and J-3077).