F/A-18 Hornets deploy to Meiringen's underground caverns
Swiss Air Force Base, Meiringen - Unterbach
September 3, 2004
Swiss Air Force air base Meiringen-Unterbach is the home of Fliegergeschwader 13, Fliegerstaffel (FlSt or Air Squadron) 8 which operate the Northrop F-5E Tiger II. Additionally there are regular deployments by FlSt 11 from Payerne with their McDonnell-Douglas F/A-18Cs and two-seat Ds. During exercises and in wartime Fliegergeschwader (Air Wing) 11 at Payerne deploys FlSt 11 to Meiringen and Fl.St. 18 to Sion in the south. Escadrille d'aviation 17 with F/A-18C/Ds remain at Payerne.



Meiringen in typical Swiss style has underground hangars or caverns carved into the rock below Axalphorn mountain. During my brief visit F/A-18Cs and two-seat Ds taxied directly out of these cavern complexes, which are actually off the airfield as such. Barriers block a public road, just seconds before the Hornets taxi out onto the airfield proper. Immediately after landing the procedure is reversed, as they taxi straight back into their protected rock homes.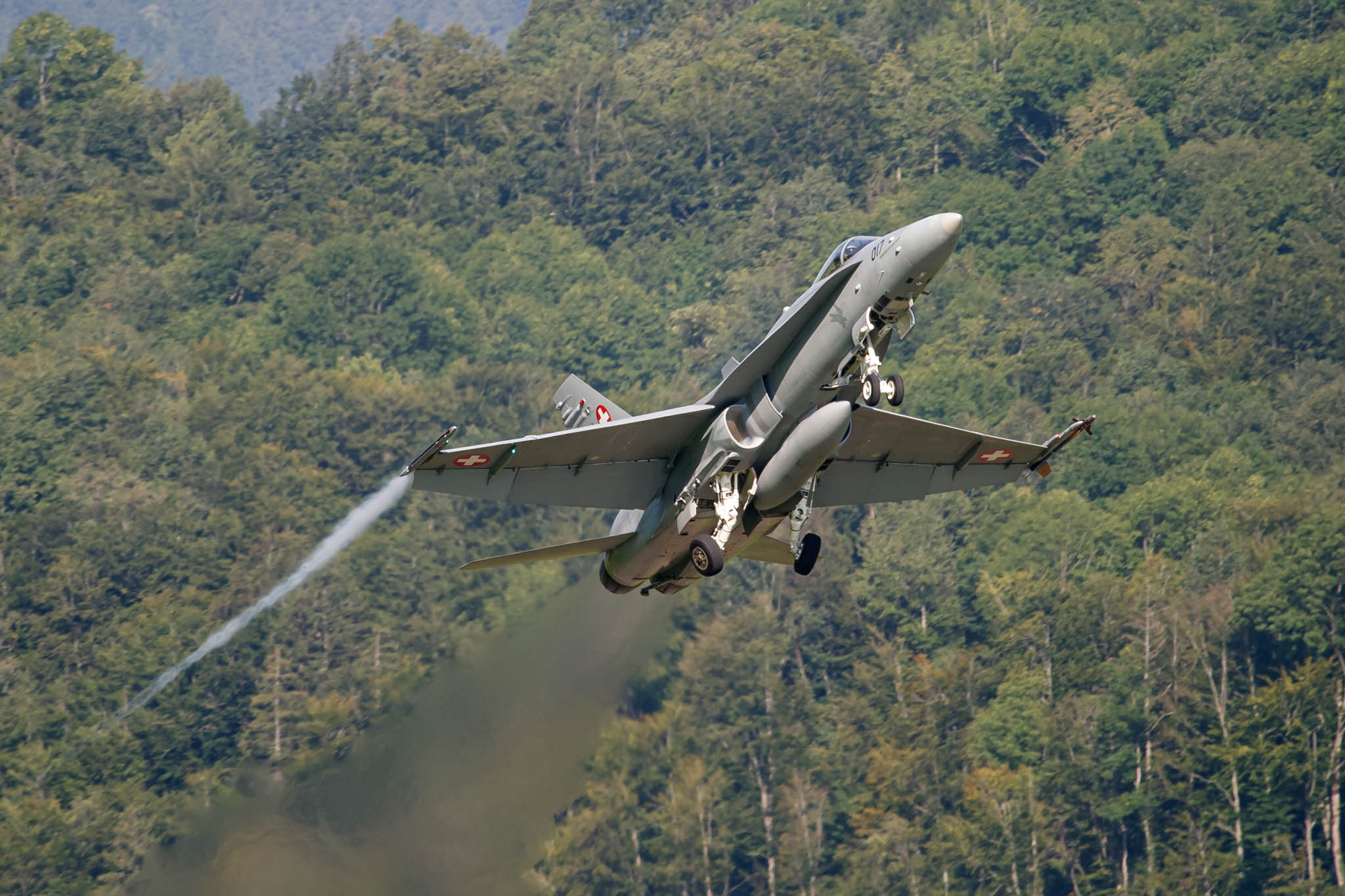 McDonnell-Douglas F/A-18C (J-5017) climbs out of Meiringen.
Left to right: Two-seat F/A-18D Hornet (J-5238) on its way to the end of the runway. The final image is of F/A-18D (J-5234) as passes between the electric gates and disappears into the cavern area.
The F/A-18 Hornet (F/A-18D J-5238 and F/A-18Cs J-5017 and J-5010) as it rolls out over the public road which crosses the centre of the airfield.
F/A-18D J-5238 and F/A-18C J-5017 returning after a typical 45 minute sortie. The third shot looks like it is landing in a farm yard, such is the close proximity of the farming community at Meiringen.