Air-Britain Classic Fly-In
North Weald
June 21-22 2008
The Air-Britain Fly-In is organised by aviation enthusiasts for aviation enthusiasts, pilots and photographers alike. Its an event where you can meet like-minded people and enjoy civilian aircraft of character in a relaxed atmosphere. This year's event was the 29th and as such is proof that the Air-Britain fly-in formula is a successful one.



Air-Britain with currently over 4,000 members has been around since 1948 and to commemorate its 60th anniversary this year invited owners of aircraft built 60 years ago. As 2008 is also the 60th anniversary of the first flight of the Piper Vagabond/Clipper and the 75th anniversary of the SV4 Stampe, Air-Britain invited owners of the two wonderful vintage aircraft.
The 'Squadron' were once again hosts at North Weald together with the Light Aircraft Association (LAA).This year's show was the 8th successive to be held at North Weald and Phil Kemp of Air-Britain and Fly-In Director was very keen to thank the 'Squadron', saying that without their much valued help the event could not take place.

Air-Britain by way of encouragement were able to offer pilots no landing or take-off fees throughout the weekend along with vouchers for food. Enthusiasts arriving by road were very reasonably charged £5 per car and £5 per person, under 18s were allowed in free. Apart from the aircraft there were stands run by aviation vendors and exhibitors and an 'aeroboot' sale. The Airfield Museum was also available for inspection.
The Air-Britain team had worked very hard to organise this event for everyone. Unfortunately the only thing that let them down this year was the weather. Saturday's forecast was for rain and a general gloom. While the poor weather put off many pilots and visitors some veteran or classic aircraft still made it to the airfield from as far a field as Switzerland, France and Belgium. Sunday despite the fine bright weather suffered even more with gusting winds of between 30 and 35 knots. The winds sadly ended any chance of an influx of the anticipated veteran aircraft. Many aircraft had left the previous day perhaps due to the forecast of strong winds.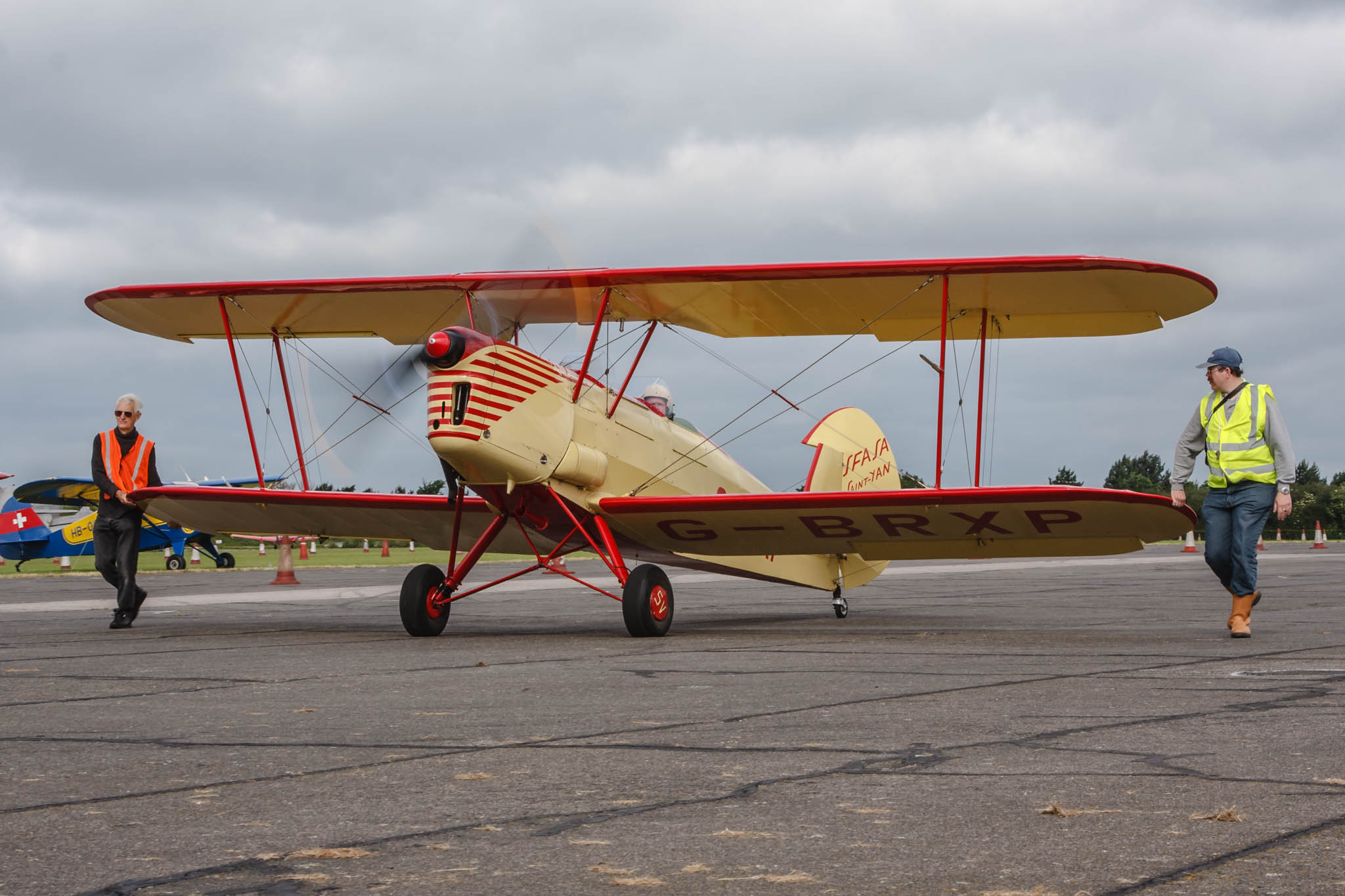 SV-4B Stampe (G-BRXP) being escorted by to Air-Britain stewards due to the high winds on Sunday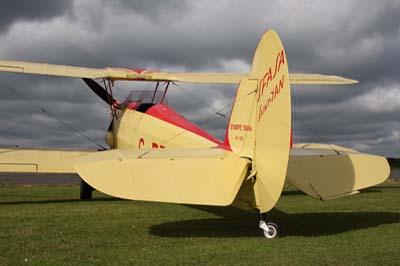 The pilot of SV-4B Stampe (G-BRXP) was determined to enjoy the Saturday evening and chose to escape North Weald's weather and return to Canterbury at 09:00 on Sunday. His Stampe first flew in 1948 and consequently was very well received. The 60 year old Stampe was in fact a prize winner, the grateful but modest owner suggesting however that there weren't too many competing aircraft. Four Stampes, two each from France and Belgium had already set off for home the day before.

Piper PA-16 Clipper (HB-OOF) flew from its home base in Geneva and stayed the weekend. The PA-16 is an extended version of the PA-15 Vagabond both types taking to the air for the first time in 1947. This particular aircraft was built in 1949 and named 'Blue Angle'.

While the numbers were down there were plenty of aircraft to photograph and perhaps having a little more time for each subject gave you the chance to get some more interesting angles. Air-Britain should be congratulated for staging such events that are clearly appreciated by all those that attend each year.
Left to right: Piper PA-16 Clipper (HB-OOF), Piper PA-16 Clipper (G-BBUG) was built in 1949 and arrived from Ireland.
Other aircraft that had rallied to Air-Britain's call were Erco 415CD Ercoupe (OO-PUS) which was registered in Belgium in 1947. This Ercoupe has been recently restored, taking to the air in 2006 in a new silver/grey with dark blue lines scheme. It had previously been flying in a less attractive scheme of pale blue with white lines. Engineering and Research Corporation (ERCO) started building the Ercoupe just before World War Two and went on sale in the United States in 1940. Many were exported to Belgium after the war.
Auster J/1N Alpha (G-TENT ex TW513/G-AKJU) was one of 20 or so expected to arrive from the Auster meeting at Sywell. This aircraft following military service with the A&AEE joined the civil register in 1947 following its first flight in 1945.
North Weald has attracted a large number of soviet built aircraft including;
Left to right: Yakovlev Yak-3 (D-FJAK '100'). Based in Bremgarten in Germany it is flying from North Weald for just a few weeks leading to its debut at the Flying Legends show at Duxford in July. Yakovlev Yak-12M (HA-HUB) and Yakovlev Yak-18T (HA-YAF). The Yak-12A first flew in 1947 and the Yak-18 a year earlier.
North Weald was built in 1916 and played a key role in the Battle of Britain in 1940 with hurricanes and later two squadrons of Spitfires. The RAF withdrew form the airfield in 1964 but was not sold off until 1979. It is now the home of a number of interesting groups which maintain and display veteran aircraft.
Left to right: Douglas DC-4 (N31356 '44-42914') was originally delivered to North West Airlines in 1946 eventually ending up in open store at Avra Valley in Arizona. In 2002 it was ferried via Iceland to North Weald by Aces High for a film on the Berlin Airlift. Douglas DC-4s (N44914 '56498') was also flown to North Weald in 2002 by Aces High.
Left to right: de Havilland DH-115 Vampire T.11 (G-VTII / WZ507 '74') and Beech D18S Expeditor (N96240 ex G-AYAH) which still resides in a corner of the airfield.