Palm Springs Air Museum
Palm Springs, California
March 2019
Grumman A-6E Intruder (154162 'AJ-500') outside the museum, it could only be Palm Springs
Colonel Earl Williams, 100 today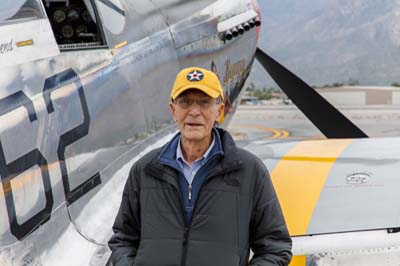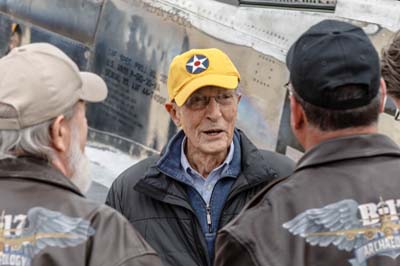 March 10 and Col Williams a World War Two veteran has decided he want to fly in a P-51D Mustang. This is because the P-51 is one of the few World War Two aircraft he has not flown in. He was stationed at March Field from 1940 to 1941 as an assistant crew chief.
On December 7, 1941 he was aboard a B-17 Flying Fortress flying into Pearl Harbor, Hawaii, with the 38th Reconnaissance Wing of the Army Air Corps on his way to the Philippines. His B-17 was the lead aircraft when they came under attack by Japanese planes which were strafing the bombers. They managed to limp in to Hickam Field before breaking in two on the runway. Several of the crew had been hit including Williams, who had a head wound. Looking back, he realised they were the first aircraft to be shot down by the Japanese. Once recovered he was sent to New Guinea and flew 55 reconnaissance missions before he was called back to the United States. Williams spent the rest of the war training crew chiefs. He stayed in the air force, retiring as a colonel in 1969.
Left to right: North American P-51D-30NA Mustang (44-74908 '62' registered NL151BP) named 'Bunny'
Left to right: P-51D-30NA Mustang (44-74908 '62' registered NL151BP) can be booked for a one hour lfight for less than $2,000. Unfortunately on this occaision it developed a fault when it taxied out and returned a disappointed Col Williams.
Douglas C-47B Skytrain (44-76423 '3X-S' registered N60154) named 'What's Up Doc?'
Left to right: Also for hire from the museum; Douglas C-47B Skytrain (44-76423 '3X-S' registered N60154) named 'What's Up Doc?' and North American SNJ-4 Texan ('44' registered N75964).
Left to right: General Dynamics F-16N Fighting Falcon (163277 '40') US Navy,
McDonnell Douglas F/A-18A Hornet (162403 'NG-210'),
Douglas TA-4J Skyhawk (154649 '01') US Navy,
PZL Lim-5P (1617 painted '3020') ex Polish Air Force.
Left to right: Grumman A-6E Intruder (154162 'AJ-500') US Navy CVW-8.
Mikoyan-Gurevich MiG-15bis ('16'), ex Chinese Navy.
Lockheed T-33B Shooting Star (51-4033 registered NX6633D).

Left to right: McDonnell Douglas F-4S Phantom (153851 'NF-101'),
Grumman F-14A Tomcat (160898 'AJ-101'),
Lockheed F-104G Starfighter (D-8244 painted as '57-0913 FG-913').
Left to right: Grumman EA-6B Prowler (163030 'AJ-504'),
Grumman F-9F-2 Panther (123516 'MU')
General Motors F-84F Thunderstreak (51-9531 painted as '26675 FG-675'),
Mikoyan-Gurevich MiG-21F-13 (1112) Czechoslovakia Air Force.
Left to right: Lockheed PV-2 Harpoon (37211 registered N7273C),
Grumman TBM-3U Avenger (53785, JR456 registered NL7075C),
Douglas SBD-5 Dauntless (36176 'B-25 registered N36176').
Left to right: Sikorsky UH-34J Seahorse (154895 'YL-75'),
Cessna O-2 Skymaster (67-21331),
Grumman C-1A Trader (146048 '16' registered N7171M),
North American T-28B Trojan (138203 registered N372C).
Left to right: Republic F-105D Thunderchief (61-0108 'RU'),
Convair QF-106B Delta Dart (57-2509) under restoration,
Consolidated PBY-5A Catalina (48426 registered N31235).
Grumman F7F-3 Tigercat (80412 registered N207F).
Left to right: Grumman G-58B Gulfhawk (N700A) this is a civilian Bear Cat.
Vought FG-1D Corsair (92629 'S-301' registered N62290),
Grumman F-6F-5 Hellcat (94473 painted '58644 36'),
Grumman F-4F Wildcat (55627 registered N47201) US Navy.
Left to right: Republic P-47D Thunderbolt (45-49205 painted '228473 2Z-P' registered N47RP),
Douglas A-26C Invader (44-35721 'BP' registered N9425Z),
North American SNJ-6 Texan (49-3402 '2-P-7'registered N85JR).
Left to right: Ercoupe 415-C (N3394H),
Supermarine Spitfire FR.14C (NH904 'W2-P' registered NX114BP),
Boeing B-17G Flying Fortress (44-85778 registered N3509G).
Left to right: Curtiss-Wright TP-40N Warhark (44-7084 registered N999CD),
North American F-100D Super Sabre (55-2888 registered N2011U),
Convair F-102A Delta Dagger (56-1432 painted as '61188'),
Bell AH-1G Cobra (67-15574).