'Air 04' - The Three Anniversaries in One Air Display
Payerne Air Base, Switzerland
September 4-5, 2004
75,000 people over the two days attended one of the biggest and best air displays ever seen in Switzerland. 150 aircraft from eleven nations celebrated the Swiss Air Forces 90th anniversary. Also, in this unique year this was not the only anniversary, the Patrouille Suisse was founded 40 years before back in 1964.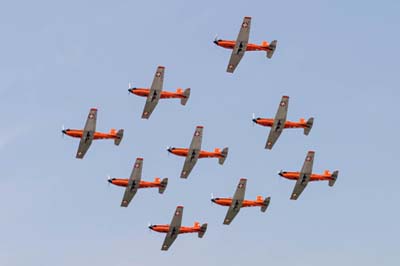 Whilst not all displays were of modern military jets, the lunchtime model aircraft display was just as impressive. These 'jet powered' models were over 2m in length and models including an F-14, F-18 and a SR-71 flew just like the real thing, requiring 100m of runway for their take-off and landings.

Yes, there were queues to get in, but that was only to be expected with such a large event being staged. Overall though there was very little to complain about, there was something for everyone. As for the serious photographers, special elevated areas were made available for them. As the images below testify, the whole event was a photographic feast. So when is the next anniversary, if it's the 100th then that will be worth waiting for.

Switzerland's own Pilatus PC-7 trainer was marking its 15th anniversary with an impressive nine ship display.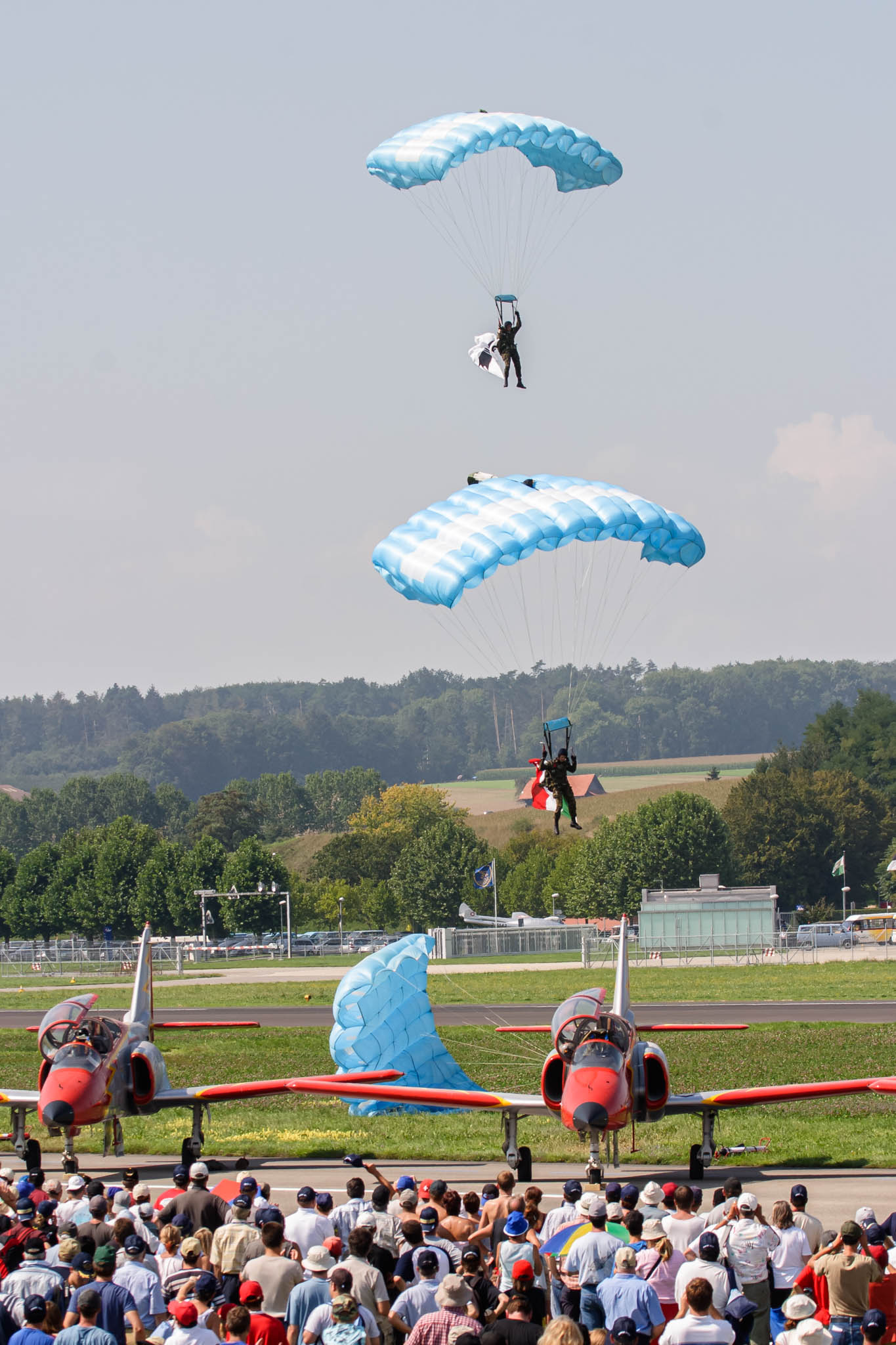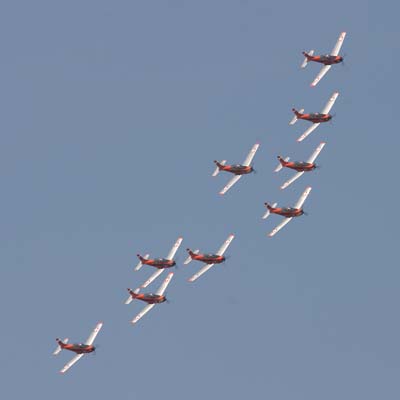 The organisers of the show, stated that the event should not be looked at as a series of demonstrations by pilots. The aim of the show was to demonstrate to the population of Switzerland and its guests, the tools and valuable know-how essential for ensuring Switzerland's sovereignty in the air.

Both days were blessed with glorious sunny and very hot temperatures. The organisers must not only be congratulated for providing such a wealth of interesting aircraft and spectacular displays, but also for the 120,000 sandwiches and 600,000 drinks which kept the spectators going. The varied display ran from 09:00 to 17:00 and comprised of 25 aerial displays.



A special thankyou must go to Colonel GS Ian Logan, Director of Air 04 Payerne and to Didier Vallon who helped coordinate the event.
The Patrouille Suisse in their F-5E Tiger IIs and resplendent in special '1964-2004 40 years' markings, flew their 2004 routine, involving 6, 5, 4 and solo displays, but with a little extra, on this special occasion. A spectacular flare display concluded their show, as part of the final cloud burst.
C-121C Super Constellation (N73544 ex 54-0156) now operated by SCFA/Breitling. There are very few airworthy Constellations today, this particular one was brought over from the United States earlier this year and is now based in Switzerland. Its sound and its undoubted elegance, as it made a series of fly-bys and a touch and go before departing back to Geneva, was one of the highlights of the show.
The Swiss Air Force were naturally keen to show off their most potent aircraft the F/A-18C Hornet (J-5006) from Fliegergeschwader 11 and based at Payerne. The appreciative spectators were treated to an impressive display which combined fast fly-bys and high 'G' turns, with slow rolls with under carriage down.
Fouga CM.170 Magister (MT-48) of 1 Wing, Belgian Air Force. KC-135FR Stratotanker (471/93-CB) of French Air Force simulated air to air refuelling with a Swiss F/A-18C and a French Mirage 2000C. AS.532UL Cougar (T-342) of Swiss Air Force performed a solo display, whilst many other Alpnach based Super Pumas/Cougars were involved in ferrying VIP's to the show from Bern. The Americans provided their West Coast Demo team, for a lively display in a 48 FW/493 FS F-15C Eagle (86-0159 'LN').
The Swedish Air Force sent two of its multi-role JA39 Gripens, here 39148 shows off its capabilities.
The common sight of an F-16 'hanging' on its afterburners (or reheat) with accompanying smoke pods, this time its a Belgian Air Force F-16AM. The Swiss were keen to show off its latest advanced trainer the Pilatus PC-21 (HB-HZB). Earlier models from this indigenous company included the P2, P3, PC-6, PC-7 and PC-9. No top air display is complete without a French Air Force Mirage 2000C (27/5-OZ) being put through its paces. The not so common display of a French Air Force Rafael (301) finished off the solo demonstrations for the day.
With the F/A-18F Super Hornet making a UK debut at this years RIAT display at Fairford, it was nice to see another example, this time from VFA-103 of US Navy (166613 AA-104).
The German Air Force provided two examples of their Eurofighter (Typhoon), with this one (30+10) demonstrating some of this aircraft's abilities in the air, whilst the spare aircraft was locked away for the weekend. A plastic replica however, was made available for close inspection by the public.
The static aircraft were numerous, the Hellenic Air Force (339 Mira) F-4E Phantom II (71760) being one of the most interesting. A fine collection of aircraft belonging to the new Payerne Aero Museum, represented 75 years of the Swiss Air Force, ranging from a Dewoitine D-26 to Vampires, Venoms, Mirage and Hunters. The abundance of display teams included the Red Arrows (see above), Frecce Tricolori, Patrulla Aguila, Swedish Team 60 and Patrouille Suisse.
The imaginative finale to the show, involing five of Europe's premier display teams performing a series of joint fly-bys, described in the air show program as the 'Patrouille des patrouilles'.