Royal International Air Tattoo
Fairford
July 17-18, 2010
Philip Stevens reports: 155,000 people were thrilled during the weekend of the 2010 Royal International Air Tattoo at RAF Fairford. Organisers had attracted 246 aircraft from 17 nations, for most there was only one aircraft which air show fans wanted to see and that was the USAF Lockheed Martin F-22A Raptor. The world's most potent air superiority fighter was piloted by Major Dave 'Zeke' Skalicky, his thrust-vectoring, high G, after-burning display was truly breath-taking.
F-22A Raptor (06-4126 'AK') of the Raptor demonstration Team.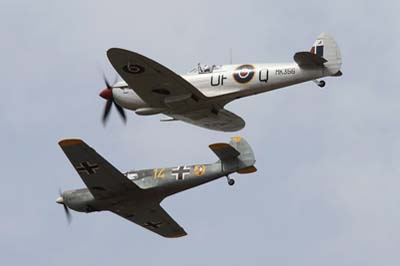 The action-packed eight hour flying display was not all about one aircraft, a multi-national flypast of veteran World War Two warbirds was to commemorate the 70th anniversary of the Battle of Britain. The twelve strong mixed formation comprised of Spitfires, Hurricanes and three Messerschmitt types (Bf109, Hispano HA-1112 and Nord 1002/Me108 Taifun). The relatively sedate three-ship formation passes and heart-warming sounds of the 70 year old piston engines, contrasted well with the high-powered fast-jet displays that roared around the Gloucestershire skies.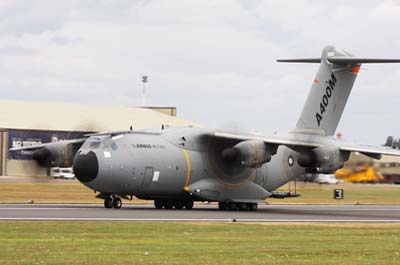 The Royal Air Force's future transport the Airbus A400M was making its first UK public appearance and gave a very impressive flying routine, this contrasted with the jet-powered C-17A Globemaster III from Altus AFB.
It was not just a day for the fighters, three of the world's most famous bombers all were flown; the Battle of Britain Memorial Flight's (BBMF) Lancaster, The Vulcan To The Sky Trust's Vulcan and a USAF's B-52H Stratofortress.
Three RIAT regular performing displays teams, the Patrouille Suisse, Patrouille de France and the Red Arrows commanded the attention of the appreciative crowd. A close formation display team with smoke will always keep the party going and are a fitting way to close the show.
Despite being stretched more than any other time since the Battle of Britain the RAF was able to demonstrate the contrasting performances of the Typhoon, Tornado, Harrier and Hawk.
It is remarkable that with miltary budget cuts and extensive operational commitments the organisers were able to put on such a large show with continuous flying throughout the day. Air Tattoo Chief Executive Tim Prince said: "We were delighted to welcome large crowds on both days and I'm very proud of the Air Tattoo team for putting on another world-class event. The support we receive from the RAF, the USAF, sponsors and air forces across the world is incredible and it is important that we recognise that fact. Without their help and support, there would be no Air Tattoo!"
This year the top award, the King Hussein Memorial Sword, for the Best Overall Flying Demonstration was awarded to Major Skalicky, flying the F-22 Raptor of the Raptor Demo Team, US Air Combat Command. The Friends of the Royal International Air Tattoo (FRIAT) members similarly gave their vote for the 'As the Crow Flies' Trophy to Major Skalicky.

Patroille de France Alpha Jets.
Since the first show at North Weald 1971, there has been to 39 Air Tattoos, to become the International Air Tattoo (at Greenham Common and Boscombe Down) and progressing to the RIAT (at Cottesmore and Fairford). Despite the handful of star performer's which never fail to make the event each year, much of the flying is very predictable. The air forces of the world are always well represented in the huge static display. It's a pity that some of these seldom seen aircraft are not able to fly during the weekend. For those who want to make RIAT a six day event and pay nearly £200 and see each aircraft arrive and depart, the weekenders only see the usual flying demonstrations. This year the Romanian MiG-21 LanceR was billed to fly, sadly this did not materialise, hopefully this and other aircraft seldom seen in our skies will be able to fly for everyone.


The main flying display participants at RIAT 2010
Left to right: Airbus A400M (EC-402) demonstrator of Airbus Military.
Left to right: C-17A Globemaster III (00-0172) from Altus AFB.
Left to right: Peter Vacher's Hurricane I (R4118 'UP-W' / G-HUPW) with Messerschmitt Bf.109G-4 (D-FWME 'Red 7') of EADS and making its first UK appearance.
Hispano HA1112-M1L Buchón (G-BWUE 'Yellow 10') with Spitfire ('QV-I') and Spitfire LF.5B (BM597 'JH-C' / G-MKVB) of Historic Aircraft Collection (HAC.
Hispano HA1112-M1L Buchón (G-BWUE 'Yellow 10').
The Fast Jet Solo Displays
F-22A Raptor (06-4126 'AK') of the Raptor demonstration Team.
F-22A Raptor (06-4126 'AK') of the Raptor demonstration Team.
Left to right: Typhoon T.1 (ZJ810 'BI') of 29(R) Squadron
Boeing F/A-18F Super Hornet (166923) Boeing/United States Navy.
Mirage 2000B (528 '115-KS') of EC.02.005
Left to right: General Dynamics F-16AM Fighting Falcon (FA-110) of 349 Squadron, Belgian Air Componenent.
F-16AM Fighting Falcon (J-015) of 323 Squadron Royal Netherlands Air Force.
Harrier GR.9 (ZG858) of 4(R) Squadron.
Left to right: Alpha Jet Es of the Patroille de France of Armée de l'Air, Hawk T.1s of the Red Arrows and F-5E Tiger IIs of the Patrouille Swisse.
Left to right: Patroille de France of Armée de l'Air.
Hawk T.1 (XX263) in special 2010 4 FTS 50 years scheme.
Left to right: Hawk T.1 (XX338) 19(R) Squadron 95th Anniversary 1915-2010 scheme.
Tucano T.1 (ZJ317 'QJ-F') of 1 FTS in 66 Squadron markings.
MC-130P Combat Shadow (66-0220) of 67th SOS, 352nd SOG.
Alpha Jet E (E51 '705-AD') of EAC 00.314 Armée de l'Air.
Left to right: Tornado GR.4As (ZD895 '115' and ZA459 'F').
Left to right: Boeing B-52H Stratofortress (61-0039 'MT') of 69th BS/5th BW.
The Vulcan Operating Company's Avro Vulcan B2 (XH558/G-VLCN) which displayed at Fairford last year for the first time since 1991.