RAF Shawbury
February 2011
Defence Helicopter Flying School (DHFS)




RAF Shawbury is the home of the Defence Helicopter Flying School (DHFS), the Central Flying School (Helicopter) Squadron and the Central Air Traffic Control School. Intense low-level helicopter activity is conducted in and around the air base within its own low-flying area (LFA 9). The area which was increased in 2007 by around 80%, encompasses Tern Hill and Chetwynd, the Nesscliffe Training Area and occasionally at Sleap and Cosford.



Shawbury was first used for flying training in 1917. It was not until 1976 that it became a base for basic and advanced helicopter training with No 2 Flying Training School. In April 1997 the Defence Helicopter Flying School was formed here to provide training for helicopter pilots of all three of the UK's armed services. Currently the Eurocopter (AS350BB) Squirrel HT.1 is operated by 660 Squadron Army Air Corps and 705 Royal Naval Air Squadron for single engine training.
660 and 705 Squadrons combine single-engine advanced training element of basic helicopter flying training for all three services which encompasses instrument flying, navigation, night flying and search and rescue procedures. DHFS graduates are streamed towards Merlin, Commando Sea King and Lynx training squadrons.
The Bell (412EP) Griffin HT.1 by 60 Squadron RAF for multi engine training. The Multi Engine Advanced Rotary Wing course teaches students instrument flying, tactical formation flying, transporting underslung loads (USL) and to fly at night using night-vision goggles (NVG). FB Heliservices provide 40% of the flying instructors.
The DHFS Search and Rescue Training Unit (SARTU) have helicopters detached from here to RAF Valley.



RAF Aircraft Storage Flight


A large number of aircraft are held in store at Shawbury by the RAF Aircraft Storage flight which is managed by FB Heliservices Ltd on behalf of the Ministry of Defence. These helicopters and fixed wing aircraft may be used as a spares source to keep other in service aircraft flying. Other surplus aircraft are rotated through Shawbury, such as the Tucano to even out the fleet's flying hours.



Assault Glider Trust


Shawbury is home to the Assault Glider Trust which has built a non-flying replica of a World War Two Airspeed Horsa Mk.1 glider for museum display using a few authentic parts and the original plans. A CG-4A Waco Assault Glider is on long-term load from the Silent Wings Museum in Texas it arrived in 2005. The Museum has collaborated with the Assault Glider Trust with the construction of the Horsa.
Douglas C-47A Dakota (KG651 ex G-AMHJ) was presented by Air Atlantique in 2003 to the Assault Glider Trust, it was built in 1944 for the US Army Air Force but transferred to the RAF.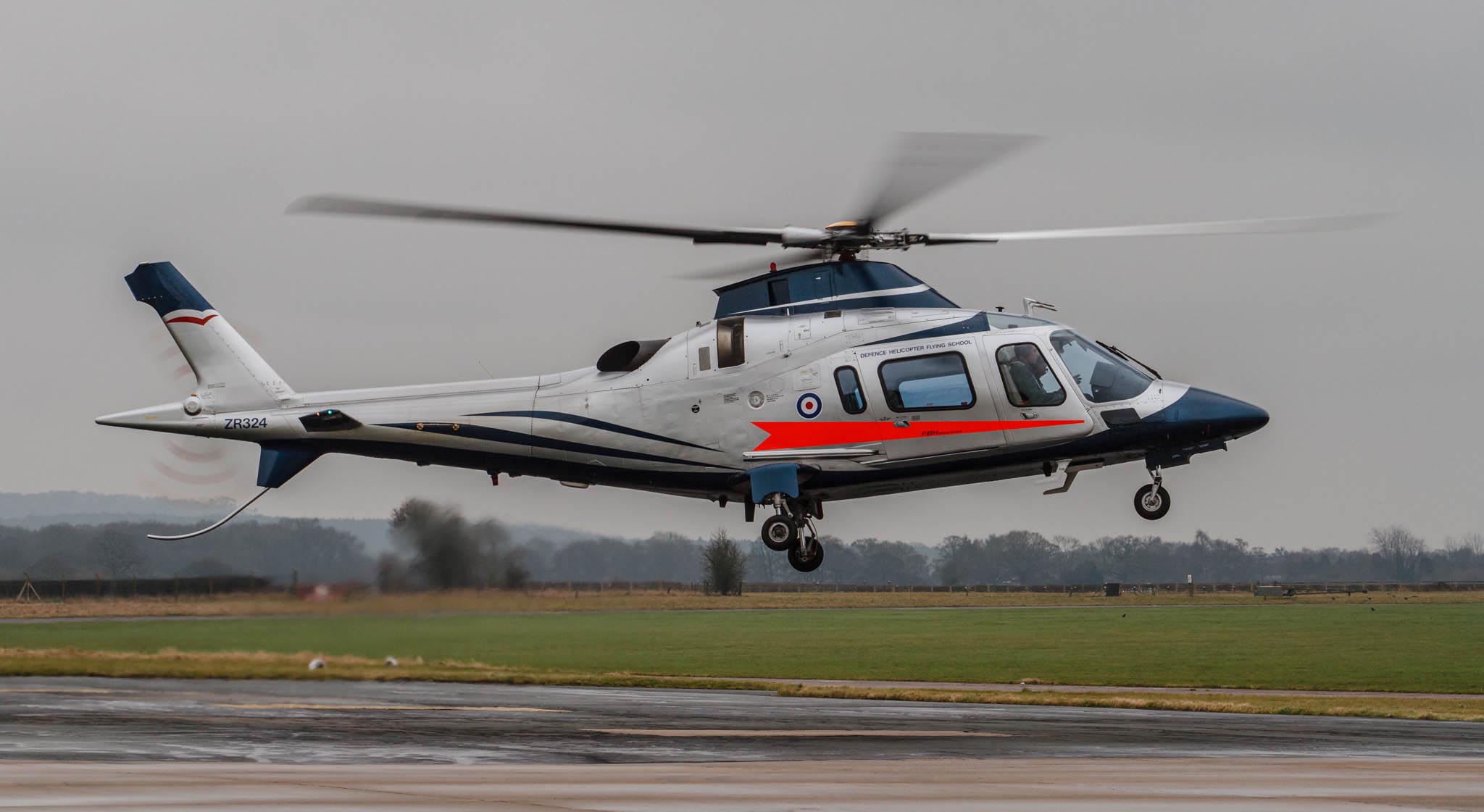 Agusta A.109E Power Elite (ZR324) operated by FB Heliservices on behalf of Defence Helicopter Flying School
Left to right: Squirrel HT.1s (ZJ274 '74', G-CEYO / (ZK200) '00' and G-DOIT / (ZK199) '99').
Left to right: A.109E Power Elites (ZR325 and ZR324), Hawk T.1 (XX284 'CA'), Jetstream T.3 (ZE440 '78').
RAF Aircraft Storage flight
Left to right: Hawk T.1s (XX175, XX161, XX325 and XX235).
Left to right: Hawk T.1s (XX309, XX350, XX325 and XX200). XX350 has red wheel rims which denotes that they are for ground use only and so don't need to be maintained for flight.
Left to right: Tucano T.1s (ZF446, ZF161 and ZF211).
Left to right: Tucano T.1s (ZF318, ZF380 and ZF414).
Left to right: Tornado F.3s (ZE165 'GE', ZE204 'FC' and ZH553 'RT') formally of 43, 25 and 56(R) Squadrons.
Left to right: Former BAE Systems Tornado GR.4 (ZD708 'GR4') and Tornado GR.4 (ZA563) in 9(B) markings, both were transported to Leeming on September 4, 2012 for RTP (scrapping). Britten-Norman BN-2T Islander AL.1 (ZG993).
Left to right: Westland (SA-341B) Gazelle AH.1 (XX460) in a BATUS scheme applied since April 2009. Line of 13 Gazelle AH.1s.
Left to right: EH-101 Merlin HM.1s (ZH823 and ZH822). Fire training area Wessex HU.5 (9123M / XT773 '822 CU'), it is about to be pushed over and burnt. A replacement Dominie was transported in from Cranwell a few days later.
Left to right: CG-4A Waco Hadrian Assault Glider ('241079' replica),
Douglas C-47A Dakota (KG651 formally G-AMHJ),
Airspeed Horsa Mk.1 ('LH291' replica)