Shuttleworth Trust
Dawn photo-shoot
Old Warden
March 19, 2016

The Shuttleworth Trust conceived the idea that instead of the more usual and popular night-shoot that an early morning dawn shoot would raise much needed money for the aircraft collection. I imagined what the images would look like as the sun came up over this unique airfield and quickly signed up for the shoot along with around 60 other photographers. The instructions were to arrive at 05:00 for a breakfast of sausage or bacon rolls and coffee. At 05:35 after a safety briefing we were lead towards the aircraft which had been towed out to the airfield over the previous hour. It was still quite dark and at least one floodlight remained on. I was first out there and got two shots off before and for no reason I could understand, the lights were switched off and taken away.



Now as feared I realised it was going to be difficult to get any more really nice images. The problem being that weather was as overcast as you can imagine, with thick cloud without a hit of a dawn sunrise. None of the images taken at this time were of any value as there was so little light to work with. I eventually wandered off to go around the hangars, which was rewarding as there was very few people about and I could get some nice clean images. When I emerged at 06:30 it was quite noticeable how much brighter it was, even though it was still very dull and the thick cloud was lifeless through the view finder.

The organisers worked very hard to put on a potentially great event, period props including veteran cars and a motorbike were used to great effect. One young lady dressed up and posed for images and another chap worked a smoke or mist generator but this struggled to work really well.

The plan for a dawn shoot with mist unfortunately was flawed as anything other than just a few clouds would spoil the sunrise and without lights and a night-shoot you do not have any light to work with. Even when it is overcast night-shoots work very well using low powered floodlights. For this dawn shoot you would have needed to have started shooting at 04:00 with the lights on to have come away with any great shots and that would not have appealed to many photographers at all. So I recommend next time to stick to the night-shoot format and not be reliant on the weather and there is always a good chance of a nice sunset.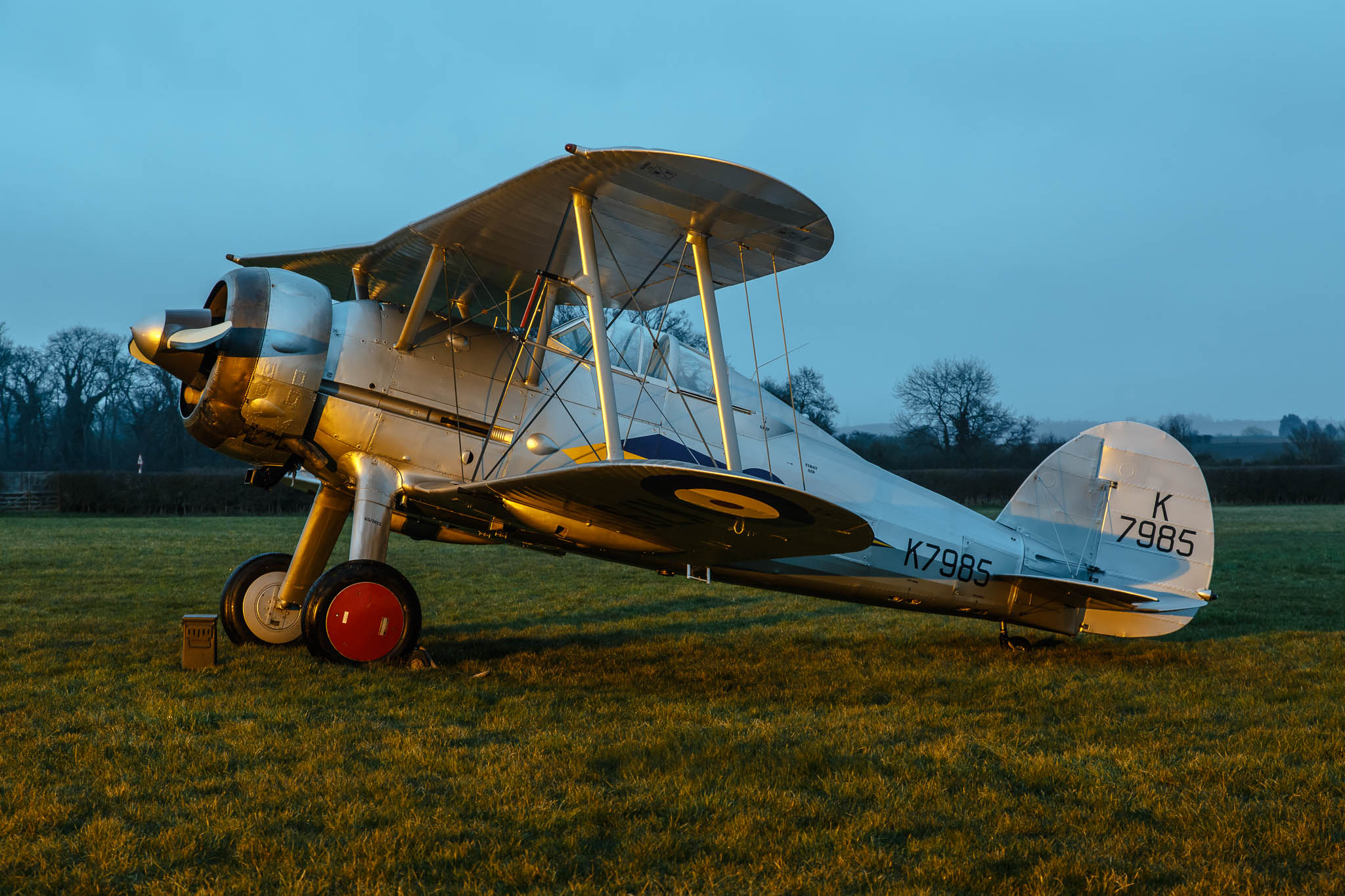 My first image of Gloster Gladiator Mk.1 ('K7985' really L8032 / G-AMRK) under floodlights.
Left to right: Gloster Gladiator Mk.1 ('K7985' really L8032 / G-AMRK). The Gladiator was the last biplane fighter when it entered service with the RAF in 1937, unfortunately it was no match for the technologically more advanced German aircraft at the start for World War Two.
Left to right: Gloster Gladiator Mk.1 ('K7985' really L8032 registered G-AMRK).
Royal Aircraft Factory SE.5a (F904 registered G-EBIA) the second image taken just before the floodlights went off.
Left to right: Royal Aircraft Factory SE.5a (F904 registered G-EBIA) from 1918.

Left to right: Avro 504K (H5199 registered G-ADEV painted as 'E3273') The prototype flew first in1913 by 1918 over 8,000 aircraft had been produced for operations with the Royal Flying Corps, the Admiralty and the RAE at Farnborough, the type was not withdrawn from serivce until 1934.
Bristol F.2B Fighter (D8096 registered G-AEPH).
Left to right: Bristol F.2B Fighter (D8096 registered G-AEPH) Built by the Bristol Aeroplane Company, the prototype F.2A made its first flight in September 1916. After some modifications the F.2B went into production. It carried a pilot and observer, both of which were armed with a machine gun. Its maximum speed was 113mph (182km/h). Eventually 5,329 examples were delivered till 1926, some serving until 1932.
Left to right: Sopwith Pup (9917 registered G-EBKY).
Left to right: Parnall Elf (G-AAIN) is a British two seat light touring aircraft of the 1920s, the only survivor of the three built.
Left to right: Avro Nineteen Anson (G-AHKX) under maintenance. First test flown in November 1946 it was then delivered to Smiths Instruments at Staverton.
Left to right: de Havilland DH.51 (G-EBIR) named Miss Kenya as it was the first aircraft to fly in Kenya. It was the third example built and dates back to 1924.
Blackburn B2 (G-AEBJ) it is owned by BAE Systems and is the last airworthy example it dates back to 1932.
Left to right:

Polikarpov Po2

(white 28) from 1944.


Avro 621 Tutor

(K3215 registered G-AHSA painted as 'K3241') built in 1933 it is the sole survivor.


de Havilland DH.82 Tiger Moth

(K2585 registered G-ANKT).