Slovak International Air Display (SIAD 2004)
'East becomes West'
Bratislava, Slovakia,
June 12-13, 2004
After touching down at almost mid-night at the M. R. Stefanik Airport in Bratislava, we taxied past a somewhat unusual flight line for an international airport. It consisted of most of Europe's major display teams, with other hardware ranging from F-16s to SU-27s and MiG 29s. The reason being that tomorrow was scheduled to be the start of what was an impressive two day (June 12-13) event, known as the Slovak International Air Display or 'SIAD 2004'.



SIAD 2004 is the 8th such event that has taken place since 1992, when it was known as the Czecho-Slovak International Air Festival, prior to the amicable split with the Czech Republic, in time for SIAD '93. The series of air displays were promoted by the Prime Minister of the Slovak Republic as part of its bid to become part of NATO. The hard work paid off when the NATO Secretary formally invited the Slovak Republic to join NATO on March 2, 2004, along with six other nations which all accepted. The other six were; Bulgaria, Estonia, Latvia, Lithuania, Romania and Slovenia. NATO now comprises of 26 nations and is still negotiating with other nations to join in the future. Further moves towards western Europe, were culminated by Slovakia joining the European Union just last month, this years air display was a clear celebration for the Slovak people.

I was back next day and issued with Press pass number 1, which was an indication as to my eagerness to get early accreditation. The show was scheduled to start at 10:00 a.m. and to the second we were greeted with a formation flypast of the Slovak Air Force. The flypast was lead by 3 MiG 29As which had taken off earlier from Stefanik Airport, followed by a Mi-8, 3 Mi-171s, 3 Mi-24s, 3 L-410s and 3 L-39s which all recovered to Malacky air base some 50 Kms to the North of Bratislava.
On my way to the static aircraft display and after passing Mil Mi-8s and Mi-171s of the Bratislava-Ivanka based Slovak Police Force the first and largest aircraft was clearly visible was the Ukrainian Air Force IL-76, which was in support of its two Sukhoi SU-27 'Flankers'. In excellent sunny conditions I studied the rest of varied static display aircraft. This was clearly where East met West. The unusual line up included military aircraft from; Slovakia (MiG 29UB, L-410FG, Mi-2, Mi-8, Mi-171, Mi-24, L-159), Hungary (Mi-24V), Latvia (L-410UVP), Poland (An-26), Serbia and Montenegro (An-26, NJ-22, G-4 Super Galeb) representing its 'Eastern' neighbours.
The 6½ hour display was unusual in that it was punctuated with frequent arrival of civilian traffic for the international terminal. I certainly don't think this detracted anything from the show, Slovak (OM-) and Ukrainian airliners are not seen that often by air show regulars from the UK and Holland. It was again unusual to see an F-16, for example, taxiing past a Ukrainian airliner.
Above: The Belgian and Dutch Air Force's F-16 solo display team.
The Slovak Air Force (1 Stíhacia Letka from Sliac) treated us to a mock dog-fight between 2 of their MiG 29As, complete with flares. This, although a tame representation of aerial combat, never-the-less offered tremendous photographic opportunities and excitement.
The Czech Air Force pilot in a PZL-Swidnik W-3A Sokol (Falcon) gave a really entertaining demonstration of a helicopter's extreme manoeuvrability. Manufactured in Poland the W-3A Sokol is a medium-light, twin engine, multi-purpose helicopter. It has 14 seats (including 2 pilot seats). The aircraft demonstrated was delivered to the Czech Air Force as a SAR version in 1996 and is with 233 Helicopter Squadron now based at Prerov. A Slovak Mi-24 'Hind' also included as part of its demonstration, several releases of flares to good effect.
Further Helicopter demonstrations included a large blue and white Mil Mi-171 operated by the Slovak Police service (Letecke Útvar Ministerstva Vnútra). It appeared to have a broad range of roles, as demonstrated by a lengthy display of water bombing and the collecting of crew for rope dangling duties. The Slovak Mi-171s have upgraded flight and navigation equipment, right-hand door, ramp and hoist winch. The Mi-171 is the export version of Mi-8AMT based on the original Mil Mi-8 'Hip' developed in the early 1960s. The Mi-171 was launched by Russia at the Paris air show in 1989. The Mi-171 (and Mi-17), is easily recognised because it has the tail rotor on the starboard side, instead of the port side.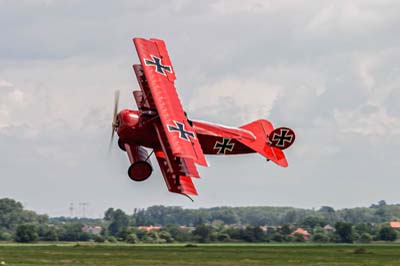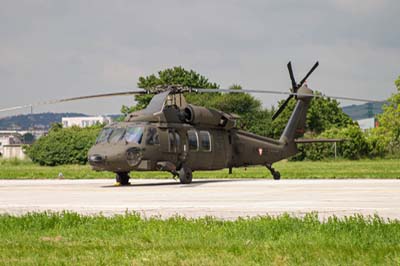 The Czech's own 'Flying Circus' came up with an entertaining display of replica World War I aircraft. This included German dressed soldiers shooting at British and German fighters, explosions and the apparent destruction of a plane on the ground. The eventual winner of this marvellous brand of entertainment appeared to be von Richthofen in his bright red Triplane. The local crowd loved it.

The 'West' contributed, Harriers, A-10s, F-4F, Alpha Jets (Portuguese Air Force) and a Gripen which also flew, amongst others. An Austrian Air Force S-70 Black Hawk was nearby basking in the sun. The static was separated out nicely making photography easier whilst an interested public were free to chat to obliging pilots and crew nearby.
The organisers clearly wanted to entertain, most of Europe's premier display teams were in attendance, one notable exception being the Red Arrows who were unavailable as they were performing at RAF Cosford that weekend. The Patrouille Suisse appeared first in their six F-5Es followed later in the day by the Patrouille de France in their Alpha Jets. Here it was an opportunity to photograph the cross over, which I am sure caused the spectators to gasp as they appeared to pass so close to each other. Shooting in digital I increased the ISO setting to 400 giving me a shutter speed of 4000th second. At this speed the two directional movement of the two jets is just about frozen. You have to follow one jet whilst keeping your other eye open for the other to come into view, great sport!
The Frecce Tricolori, formed in 1961 with F-86s, carried the day however, in their ten (nine plus solo) MB-339PANs, which they have been flying since 1982. Unlike for the French there was never a dull moment. The Frecce's tight and low turns away from the constantly changing formations always gave you something to follow. The Frecce pumped out so much white smoke in the light breeze, that it hung over the airfield as an impenetrable cloud, shielding the aircraft from the photographers. Following a brief shower mid afternoon and very dark clouds the sun shone perfectly whilst the Frecce completed their display. This gave me the two shots of the day, not for the subject but for the special lighting conditions. The Frecce Tricolori literally translated as 'three coloured arrows' are with the 313 Gruppo, 2 Stormo as the Italian Air Forces aerobatic training squadron. They are based at Rivolto Air Force Base near Udine in north eastern Italy. The Frecce have committed to 26 events for 2004, SIAD was their tenth event so far this year.
What many were waiting for was the Ukrainian Air Force SU-27 Flanker, resplendent in two tone splintered blue scheme. It dominated the flight line, with its size and elegant lines. The SU-27 is similar in size and mission to the F-15, in being a long-range air superiority fighter. It is equipped with an analog fly-by-wire control system, a pulse-Doppler radar and can carry up to ten air-to-air missiles for a potent look-down and shoot-down capability. Taxiing past the crowd and during its display, fantastic photo opportunities were presented. It was just two years ago in the Ukraine, when one of their SU-27s clipped the ground with its left wing, as it failed to come out of a rolling dive. The resulting crash killed 66 and injured a similar number. Today spectator safety was paramount, which was reflected in the SU-27s muted manoeuvres.
The seven Polish PZL-Mielec TS-11 Iskra team struggled to follow the other display teams for interest and excitement. The RAF offered the GR.4 Tornado and Hawk for the display. The Hawk showed off its brand new 30th Anniversary special scheme, which had been only unveiled three days earlier at RAF Valley.
Left to right: Slovakian Air Force Mil Mi-24V Hind (0786), Mil Mi-171 (B-1770 and B-1730).
Left to right: Slovakian Air Force Let L-410FG (1521), Serbian Air Force SOKO J-2 Orao (25531) and SOKO G4 Super Galeb (23691) and Czech Republic Air Force Aero L-159 (375).
Photography Note:


The sun's position was fine all day with the close proximity of the active runway and taxiway in between and only 50 meters away, photography was ideal. The only area perhaps for improvement was the positioning of the active flight line. This was some distance away and could not be seen from the crowd line. It was also impossible to get close to it, unless you left the show, a minor gripe, that should not detract from what was a very enjoyable show. I did not see any food for sale but there again I was not looking, the show was so gripping. Later that evening I made up for the lack of sustenance with one of the best meals I have ever had. Wild boar in cranberry and plumb sauce and spinach. The old town Bratislava is such a wonderful place to be in the evening and the beer......Everyone in Slovakia is very friendly.
To give you just one indication of this, when I picked up my hire car late Friday, I asked the charming girl if she could point me in the direction of the Radisson Hotel (5 star hotel at Travel Lodge prices). Better than that she said if I followed, she would lead the way to the hotel's door. Special thanks to Milan (Slovak AF) who helped put things together for me. I hope I can come and visit you again and soon.