Exercise 'Spring Flag 2007'
Decimomannu Air Base
Sardinia
May 7-27, 2007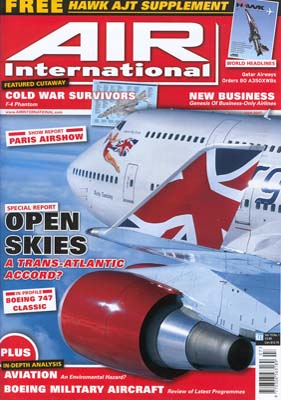 Philip Stevens for Air International reports: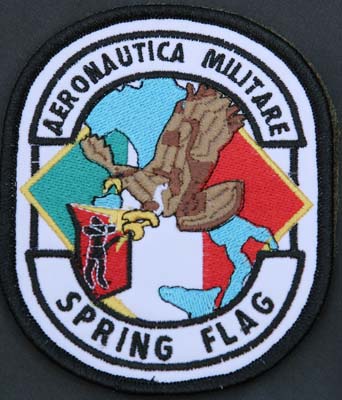 'Italy heads multi-national force over dispute between Zaraland and Etnaland'


Under Italian leadership, over 50 fighter aircraft from four NATO members deployed to Decimomannu air base, under a United Nations mandate to provide 'Peace Support Operations' over a simulated conflict between two countries. This is the scenario for the Italian Air Force's main annual exercise; 'Spring Flag' the objective being to train personnel to prepare for complex or Composite Air Operations (COMAO) and Tactical Air Support Maritime Operations (TASMO).



'Spring Flag' is a multi-national day and night exercise run by the Italian Air Force (Aeronautica Militare Italiana or AMI), but also involves the Italian Navy (Marina Militare Italiana or MMI) and Italian Army (Aviazione Dell' Esercito or AVES). Additionally a number of foreign air forces are invited each year. The exercise is organised by the Operative Command of the AMI with the participation of both the Logistic Command and the Air Squadron Command.

The first 'Spring Flag' was held in 2003 and each year since, with the exception of the scheduled 2005 event, which was cancelled to cut costs. 'Spring Flag 2007' (SF07) started on May 7 with the arrival of aircraft at the AMI air base of Decimomannu on Sardinia. Adding to a full range of Italian forces were fighter aircraft from Turkey, Hungary and Germany. Turkey were flying six Lockheed Martin F-16C/Ds and Hungary had four Saab JAS-39 EBS HU Gripen, both countries were here for the first time. Germany attended with six McDonnell Douglas F-4F Phantoms. A large number of temporary units had already been assembled before the exercise began. These included a mobile fuel depot, mobile weapons depot, mobile chemical laboratory, mobile control tower and a special shelter for command and logistical control. Also, a large number of tents had been erected for the nearly 1,000 strong attending Italian personnel, while foreign guests with typical Italian hospitality were housed in the air base's main buildings.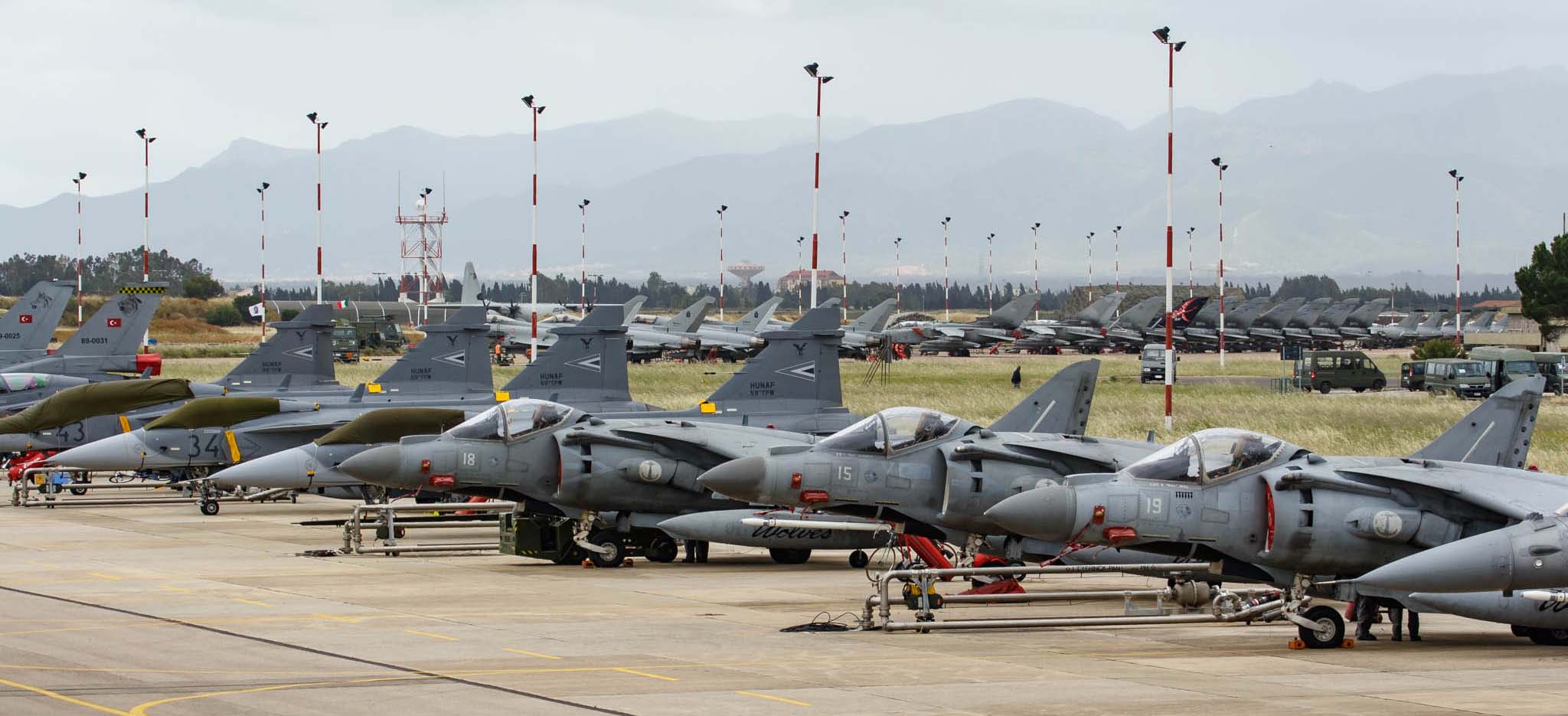 Some of 'Spring Flags' participants. May 17, a grey and windy afternoon on the ramp, the afternoon's flying has been cancelled due to the sea state, which would make the rescue of pilots following an ejection too hazardous. Two AMI F-16s crashed in the sea during last years 'Spring Flag', both pilots were rescued.
A challenging scenario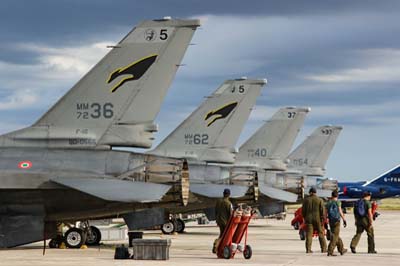 The exercise scenario for SF07 involved two fictitious countries named 'Zaraland' (Corsica) and 'Etnaland' (Sicily) embroiled in a conflict over oilfields following disputed elections. Under a UN mandate a multi-national force is assembled and sent to a Dispersed Operating Base (DOB) in the neutral country known as 'Nuraghia' (Sardinia).

Two command and control units were set up at Alghero and Decimomannu to coordinate air operations, as would be done in real times of crisis. With all forces briefed and in position the event 'hots up' at the start of the second week, with an evacuation of non-enlisted personnel. The package for the evacuation consisted of a Lockheed C-130J Hercules of the 46° Air Brigade based at Pisa with Alpine Parachute Rangers of the 4° Regiment from Bolzano and a Agusta-Boeing CH-47 Chinook from Viterbo, with a team from the 'Fucilieri dell'Aria' (Special Forces) of 16° Stormo (Wing). The C-130J was escorted by friendly 'blue force' Italian and Turkish air defence aircraft.

As the 'crisis' escalated, the Italian Navy including the aircraft carrier Giuseppe Garibaldi with its McDonnell Douglas-British Aerospace AV-8B Harriers came under threat, resulting in attacks by German Air Force F-4F Phantoms. With frequent aerial battles throughout the second week, enemy 'red air' F-16 pilots were pitching their skills against the latest addition to the AMI's aerial force, the Eurofighter EF2000 Typhoons of 4° Stormo based at Grosetto. Major Andrea Argieri an AMI Typhoon pilot with 200 hours who frequently trains on Basic Fighter Manoeuvres (BFM) and Dissimilar Air Combat Training (DACT) with AMI F-16ADFs, said that 'Spring Flag' gives you the chance to fly against unfamiliar opponents, such as the Hungarian Defence Force's (Magyar Légierö) Gripen.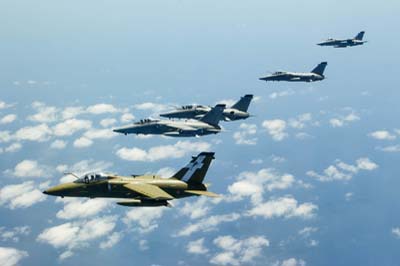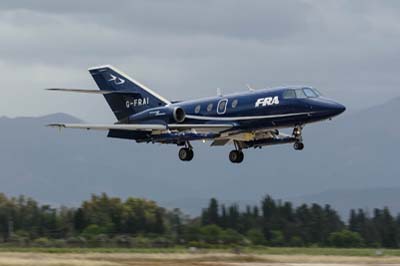 At the end of the second week a force of Panavia PA200 Tornado IDS from 6° and 36° Stormo with Alenia-Aermacchi-EMBRAER AMX from 32° and 51° Stormo made their way south for a simulated attack on Trapani Air Base. For this strike, air-to-air refuelling (AAR) was provided by a Royal Air Force VC-10 C.1K which was operating out of Cagliari-Elmas. The 101 Squadron VC-10 was tasked with four AAR sorties during their week long stay (click for report).

Other supporting aircraft involved, included a French Air Force Boeing E-3F AWACS flying from its base at Avord and an AMI Boeing 707-373C air refuelling tanker of 14° Stormo from Pratica di Mare. Electronic counter measures (ECM) were provided by two Dassault Falcon 20EWs, which were operated by FR Aviation from Decimo'. The final week of the exercise concluded with night flying operations.

4° Stormo Typhoon pilots fly against Hungarian Gripen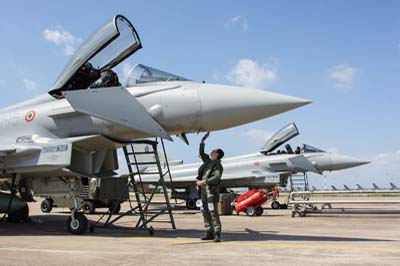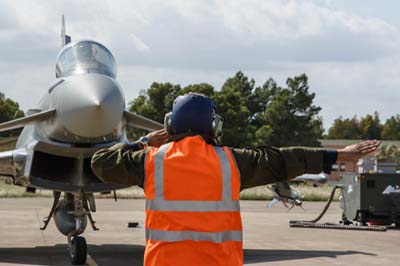 An exclusive interview with Major Andrea Argieri an EF2000 Typhoon pilot with 200 hours experience, who has also flown the Lockheed/Aeritalia F-104S/ASA Starfighter at Cervia (1,000 hours) and General Dynamics F-16A/B Fighting Falcon 'Viper' at Trapani (800 hours). He is currently with 9° Gruppo of 4° Stormo and is based at Grosetto where 18 to 22 Typhoon's have now been delivered.
Major Andrea Argieri explained that the Typhoon's superior thrust to weight ratio over the F-16A Fighting Falcon gives him an advantage along with it's superior radar, fully integrated colour displays with multiple sensors. "Where the F-104 Starfighter's cockpit was designed for flying, the Typhoon's is designed for flying missions. Streamlined and optimised information processing is now the key factor in aerial combat." Major Argieri frequently trains on Basic Fighter Manoeuvres (BFM) mostly many-against-many (4v4) and less frequently 1v1s and 2v2s. The 'Spring Flag' exercise at Decimomannu gives you the chance to fly against unfamiliar opponents such as the Hungarian Defence Force's recently acquired Saab JAS-39 EBS HU Gripen.

Major Argieri who is among others responsible for writing the tactics manual, said that 70-80% of it was written for when the aircraft first arrived in March 2005. "Although complete the manual is still evolving as computer software is upgraded."

9° Gruppo of 4° Stormo started Quick Reaction Alert (QRA) duties from December 15, 2005 and were evaluated by NATO in March 2006. Pilots are combat ready sharing Italian QRA responsibilities with F-16As based at Cervia (5° Stormo) and Trapani (37° Stormo).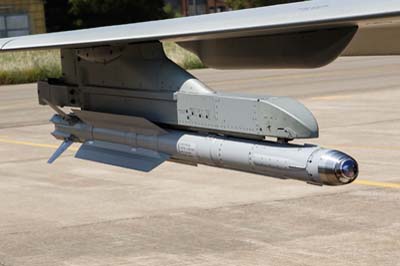 Fully cleared weapons are 'Beyond Visual Range' (BVR) missiles, the BGT/SAAB/Alenia-Marconi IRIS-T (Infra Red Imaging System - Tail/Thrust Vector Control) with the Typhoon's BK27mm Mauser cannon. The IRIS-T infrared missile is based on the less capable AIM-9 missile, but retains complete interoperability with it. It is expected that in two months time the Typhoon will have air-to-ground capability.

In May the pilot with the most hours on Typhoon at 4° Stormo had 380 hours. Air to air combat training is the main activity as air defence is the backbone of Typhoon's immediate role. The Typhoon will eventually replace the leased F-16s, which are expected to be withdrawn by 2010, the final decision has yet to be made however.
A 4° Stormo Typhoon is checked by pilot and prepared by groundcrew for its next sortie.
Left to right: EF2000 Typhoons (MM7275 '4-11' and MM7282 '4-15') taxi out for the next Spring Flag mission.

Who was at Spring Flag 2007?
Turkish Air Force F-16C Fighting Falcons (89-0031) are last to return after a 'red air' bombing sortie.
Making their 'Spring Flag' debut, the Turkish Air Force's Mighty 141 Filo 'Wolves' Fighter Squadron based at Akinci attended with six F-16C/D Block 40 (one two-seat and five single-seat) aircraft and 13 pilots. Two additional pilots participated in support roles at the Exercise Planning Cell and Deployable Air Operation Centre. Their multi-role missions included simulated bombing sorties.
Left to right: F-16C Fighting Falcons (89-0031, 89-0026 x2).
Four Gripen and five pilots with support staff were at 'Spring Flag'. They were tasked with Beyond Visual Range (BVR) Opposing Forces (OPFOR) operations or 'red air' during the exercise. As with the Turkish contingent they were attending 'Spring Flag' for the first time.
The first five of 14 JAS39 EBS HU Gripen were handed over to what is now called the Hungarian Home Defence Force, on March 30, 2006. Three more were delivered later in 2006, with the remaining six due by December 2007. Their first exercise was with French Navy Rafale Ms at the Gripen's home base of Kecskemét in October 2006.
Left to right: JAS39 EBS HU Gripen (42 and 43).
The first of 175 F-4F Phantom II were delivered in 1973 to the West German Air Force (later German Air Force). 110 of them were subject to the 'ICE' (Improved Combat Effectiveness) upgrade program which ran from 1983 to 1995. Modifications included the APG-65 radar, the ability to fire the AIM-120 AMRAAM and a new GPS navigation suite. Six F-4Fs attended 'Spring Flag', one mission included attacks on Italian Navy shipping combined with the Hungarian Gripen.
Left to right: German Air Force F-4F Phantom II (37+48, 38+58 and 38+44) of JG-71 'Richthofen' based at Wittmundhafen.
Left to right: German Air Force F-4F Phantom II (37+65, 37+17 and 37+48) of JG-71 'Richthofen' based at Wittmundhafen.

Three AV-8Bs operated from Decimo' away from their mother-ship and the Italian Navy flagship the Giuseppe Garibaldi (551) aircraft carrier. The Italian Navy AV-8B Harrier II is equipped with APG-65 air-to-air and air-to-surface radar, FLIR and advanced avionics including the ANVIS 9 NVG gives the aircraft full day and night mission capability. They can be armed with air-to-air missiles (AIM120 AMRAAM and AIM 9L) and also Laser Guided Bombs (LGB).
Left to right: AV-8B with Rafael Litening targeting pod. AV-8Bs (MM7221 'I-15' and MM7224 'I-19') departing Decimo' before they return 70 minutes later.
6° Stormo from Ghedi and 36° Stormo from Gioia del Colle arrived with six Tornado IDS (Interdictor/Strike) aircraft, ten pilots and navigators and 40 technicians. Throughout SF07 the Tornados were flying Combined Air Operations (COMAO). Tornado IDS of 6° Stormo complete with a Thomson TRT-Defence CLDP (Convertible Laser Designator Pod) including day and night reconnaissance and target identification.
Left to right: Pair of Tornado IDS (MM7065 '36-43' and MM7033 '36-47') from 156° Gruppo of 36° Stormo over Mediterranean.
154° Gruppo of 6° Stormo Tornado IDS (MM7061 '6-14' and MM70?? '6-06') complete with CLDP taxi out for their final daylight mission of the exercise.
50° Stormo from Piacenza were operating six Tornado ECR (Electronic Combat/Reconnaissance) using nine pilots and navigators and were employed in the Suppression of Enemy Defence (SEAD) role, simulating attacks with the Raytheon AGM-88 High Speed Anti-Radiation Missiles (HARM).
Left to right: AMI Tornado ECR (MM7047 '50-43' MM7068 '50-46' and MM7021 '50-01') with 'shark mouth' markings of 155° Gruppo of 50° Stormo.
Raytheon AGM-88 High Speed Anti-Radiation Missiles (HARM).
Three AMI F-16 ADFs from 5° Stormo at Cervia with five pilots and 35 technicians attended SF07. With five F-16 ADF from 37° Stormo at Trapani (Sicily) they were tasked with various missions including fleet protection (from Hungarian Gripen and German F-4Fs) and one of helicopter protection. The AMI in 2001 signed an agreement to lease 34 F-16A/B to fill the gap between the retirement of the F-104 Starfighter and the ex RAF Tornado ADV's with the introduction of the Typhoon.
Left to right: AMI F-16 ADFs (MM7240 and MM7254) of 37° Stormo and 5° Stormo F-16 ADFs (MM7262).
This is the second year 4° Stormo have attended the exercise, last year they flew from their home base of Grosetto. At least six Typhoons were at SF07 and pilots were keen to test their developing tactics using the new and evolving manual and to improving their Standard Operative Procedures.
Left to right: 4° Stormo EF2000 Typhoon's (MM7277 '4-1' and MM7275 '4-11').
51° Stormo from Istrana and 32° Stormo from Amendola deployed four each of the AMX multi-role aircraft. They flew combined sorties during the exercise.
Left to right: Departing AMX (MM7133 '51-32', MM7143 '51-21', MM7146 '51-25' and MM7131 '51-11') from 132° Gruppo of 51° Stormo.
Three pairs of AMI AMX from 51° and 32° Stormo meet up with RAF VC-10 for air to air refuelling.
Left to right: AMX (MM7146 '51-25' with MM7133 '51-32') from 132° Gruppo of 51° Stormo and two-seat AMX-T (MM55040 '32-52') from 101° Gruppo of 32° Stormo leads out another sortie.
Left to right: AMX special ('32-01') from 13° Gruppo of 32° Stormo is joined by five more AMX/AMX-T during air to air refuelling with RAF VC-10, following the simulated attack on Trapani. (

click

for report)
Two seat AMX-T (MM55040 '32-52') from 101° Gruppo of 32° Stormo.
Visiting VIP's arrive in Piaggio P.180 Avanti (MM62214).