In Action
3 Flying Training School
55(Reserve) Squadron - RAF Cranwell
How it was before the retirement of the Dominie on January 20, 2011.

55(Reserve) Squadron is part of 3 Flying Training School (FTS) and operate the Dominie T.1. The squadron is tasked with training around 150 students each year to become Weapons Systems Officers (WSO) or Weapons Systems Operators (WSOp). Most graduates join Tornado equipped squadrons the remainder move to Air Transport (C-130), Maritime (Nimrod), Air Refuelling (VC-10, Tristar) or ISTAR battlefield support on the Sentinel R.1.

D Flight is responsible for training pilots to fly the Dominie, principally for landings and take-offs from RAF Cranwell. E Flight provides student WSO's with navigational training. Students on the Basic Dominie Module (BDM) with 55(R) have progressed from flying the Tutor at Cranwell and the Tucano at Linton. On completion of the BDM students are streamed to fast jets and transfer to F Flight or stay with E Flight for Air Transport or Maritime based navigational courses.

Students will have five flights as 'Nav One' which means you are in the back of the Dominie with the curtains closed. These flights of usually around two hours are at medium level 14,000 feet (4,267m) to 24,500 feet (7,468m), their aim is to teach radar navigational techniques. Students will also fly as 'Nav Two' alongside the pilot carrying out safety duties and normal operating procedures.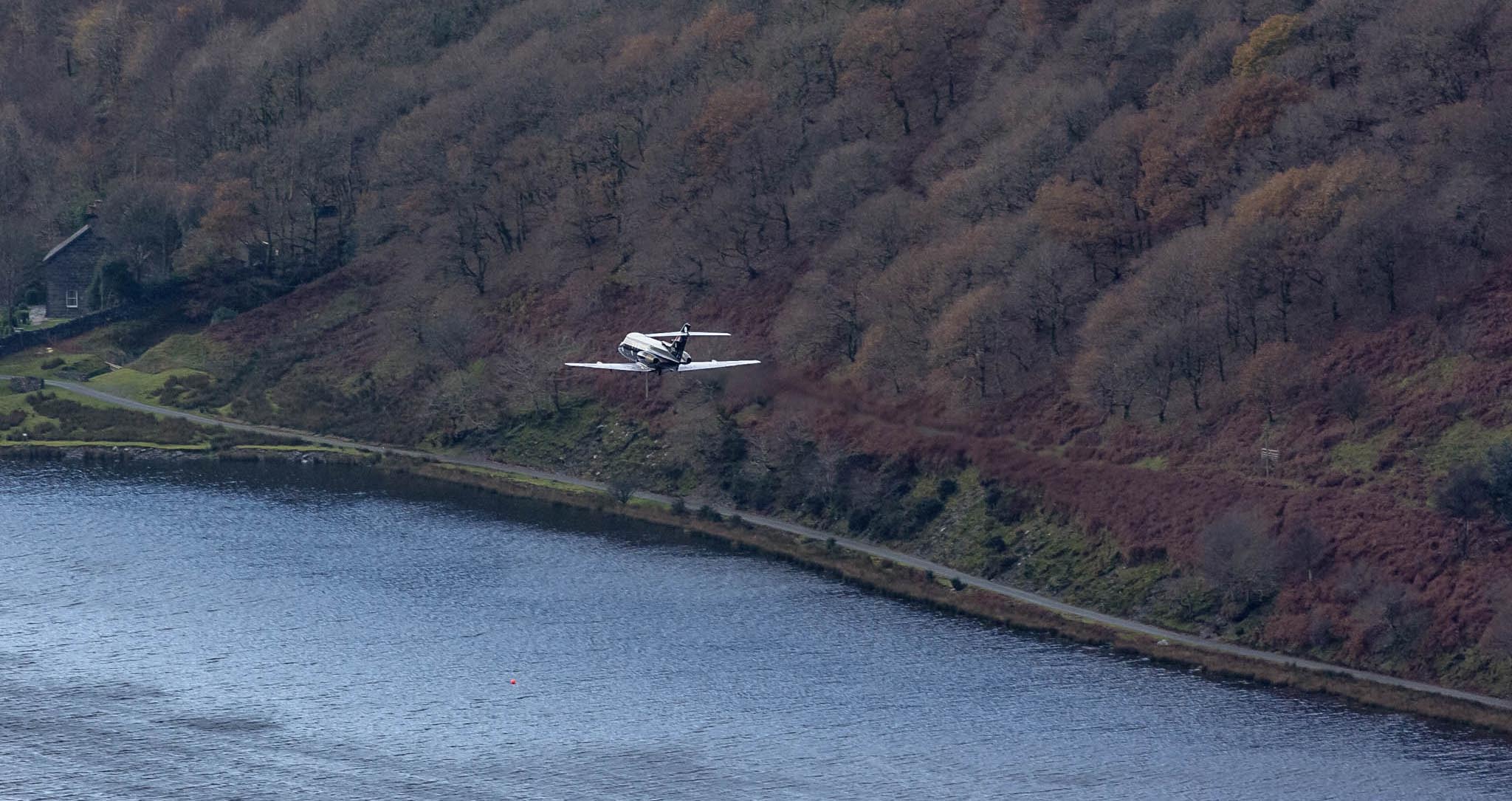 Dominie T.1 (XS712 'A') on a low-level navigational training sortie through Wales in November 2007.
Students that are streamed on to the Advanced Fast Jet Dominie Module (AFJDM) with F Flight, will now fly 13 sorties as 'Nav One' and as many 'Nav Two' flights as they can get on. These two hour sorties transit out at medium level, descending to low-level over the sea, which is easier and safer. The low-level part of the sortie will last around 1 hour 20 minutes. Again as 'Nav One', with the aircraft flying at 250 feet and at a speed of 210 knots, students have to navigate with the curtains drawn. The task for each sortie is to hit three targets on time with a tolerance of plus or minus ten seconds.
On completion of the AFJDM students move to the Navigational Training Unit at 100 Squadron based at RAF Leeming for 35 hours on the Hawk. Successful students will join 15(R) Squadron at Lossiemouth and the Tornado GR.4 or 56(R) at Leuchars on the Tornado F.3.
Dominie T.1 (XS737 'K') at 210 knots and 250 feet while on a AFJDM sortie.
Note the drawn curtains on the first side window behind the pilot for the 'Nav One' position.
Dominie T.1 (XS731 'J') using callsign 'Cranwell 96' which was pilot training (2 pob) through Wales at 250 feet. After passing through the Lichfield corridor and heading west it went on to the Brecon area before returning through the Lichfield corridor and requesting a pratice diversion (PD) and Radar approach to Waddington with an over-shoot, before returning to Cranwell. October 16, 2008.
Dominie T.1 (XS728 'E') at low-level through the Mach' Loop in July 2006.
Dominie T.1 (XS737 'K') at low-level through the Lake District in December 2005.

Left to right: Dominie T.1 (XS709 'M') at the end of the final line-up when the Dominie retired on January 20, 2011. Dominie T.1 XS737 'K' taking its place in the line. Dominie T.1 (XS731 'J') taxiing out at Cranwell January 20, 2011.

Dominie T.1 (XS739 'F') returning to the ramp at Cranwell in January 2011.
Left to right: Late evening approach at RAF Coningsby in November 2006. Dominie T.1 (XS709 'M') during a 'touch-and-go' at Leeming in February 2008.