In Action
56(Reserve) Squadron - RAF Leuchars
Disbanded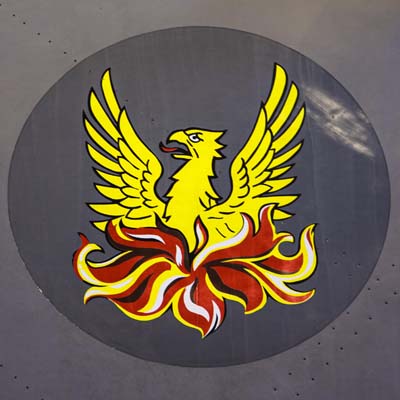 56(R) Squadron receives pilots fresh from 4 Fighter Training School at RAF Valley, to enter the Operational Conversion Unit course. Students spend the first six weeks at RAF Coningsby in lectures on the F.3s systems with time on the simulators. Moving to RAF Leuchars, pilots fly the first of 44 sorties, WSO's require just 34 sorties. For the pilots the first 15 sorties are used to teach them how to fly the F.3, 12 are flown 'dual' with a Qualified Flying Instructor (QFI), before the student goes solo with an instructor navigator in the back-seat. Students during this phase will fly in close and tactical formations, initially during the day before moving on to night sorties. Air-to-air refuelling is introduced before the start of next phase of the course which includes target interception and the firing of air-to-air missiles.

Instruction on Basic Fighter Manoeuvres (BFM) follow, involving interceptions and one versus one engagements down to 250 feet (76m). Defensive scenarios are now introduced, teaching student how to avoid being shot down themselves. Eventually two v one practice intercepts are flown, to further challenge the WSO's before they move onto to two v two scenarios. Combat sorties at this stage are flown at medium and at low-level, initially over the sea, before two sorties are flown over land. The final and most difficult part of the course involves tactical formations (leader and wingman) flying against multiple threats. The final check sortie involves flying a Combat Air Patrol (CAP) against other types of aircraft such as Hawks and Typhoons.

Following graduation pilots and WSO's are transferred to one of four front-line F.3 Squadrons for further training; including electronic warfare, air-to-ground strafing, air-to-air gunnery and intercepts against slow moving targets. Pilots will progress to large four-ship formation flying before being declared combat ready and able to fly Quick Reaction Alert (QRA) sorties.

Plans are in place, but are subject to constant review, to withdraw the Tornado F.3 in 2009, as the Typhoon takes over. 56(R) disbanded in April 2008 with its aircraft and operations taken over by 43(F) Squadron.

Tornado F.3 (ZE786 'TF') over North Sea (AARA 5) in March 2008.
Left to right: Tornado F.3 (ZE786 'TF') callsign 'Blacksmith' over North Sea in March 2008.
Tornado F.3 (ZE736 'WB') is shown in stunning action at RIAT Fairford in July 2005.
Tornado F.3


The first Tornado F.3 entered service at RAF Coningsby with 229 (OCU) in July 1986. Eventually a further six Squadrons (5, 11, 23, 25, 43 and 111) entered service with the RAF. Today following the introduction of the Typhoon, just four squadrons remain operational. Currently 25(F) Squadron is based at Leeming in Yorkshire, with 56(R), 43(F) and 111(F) at Leuchars in Scotland.
The Tornado F.3 since its introduction over 20 years ago has been fitted with the Joint Tactical Information Distribution System (JTIDS). JTIDS or 'Link 16' which is now a very valuable tools for pilots. JTIDS is a data-link that provides the pilot with a situational report of what other pilots and surveillance aircraft like the E-3D are seeing. JTIDS makes it easier to recognise friendly planes more easily, enabling them to focus on 'bandit' aircraft more quickly. JTIDS is a multi-service and multi-national system. It is resistant to jamming and its data encryption makes it secure.
The more recently fitted Foxhunter Pulse Doppler radar provides a long-range detection capability, targets moving in any direction in relation to the F.3 can be monitored. The Weapons Systems Operator (WSO) monitors all Beyond Visual Range (BVR) targets, utilising the AIM-120 Advanced Medium Range Air-to-Air Missiles (AMRAAM). The AIM-120 can simultaneously track four BVR targets, using data that initially could have been provided via JTIDS and before its own radar takes over. For short range targets the Advanced Short-Range Air-to-Air Missile (ASRAAM) is available, that superseded the AIM-9L Sidewinder air-to-air missile.
Left to right: The Tornado F-3 (ZE812 'XR') from 56(R) Squadron based at RAF Leuchars gave a typical display, which included a zoom climb to 10,000 feet. Flt Lts Tim Freeman and Neil Crawley winning the Steedman Display Sword award, RIAT Fairford in July 2004.
Tornado F.3 (ZE736 'WB') at RIAT Fairford in July 2005.
Left to right: Tornado F.3 (ZG772 'WJ') in Firebird 2005 display season special markings in July 2005.
Left to right: Tornado F.3s callsign 'Macho 21' (ZE157 'TY') during Ex Swift Panther in May 2006.
Left to right: Tornado F.3s callsign 'Macho 21' (ZE157 'TY' and ZG755 'GL') operating with a 43(F) Squadron painted F.3 coded in May 2006. Tornado F.3 (ZE889 'XH') in June 2004 at Duxford.
Tornado F.3 (ZE839 'AR') at the 1993 Mildenhall Air Fete.
Left to right: Tornado F.3 (ZE839 'AR') at RAF Valley air show in July 1993.
Tornado F.3s (ZE839 'AR' and ZE836 'AS') at RAF Finningley Battle of Britain air show in July 1993.

Left to right: Tornado F.3 (ZE732 'AS') at Mildenhall Air Fete in May 1995.