Exercise 'Thracian Spring 2010'
Plovdiv - Krumovo Air Base (24.VAB)
Bulgaria
April 22-28, 2010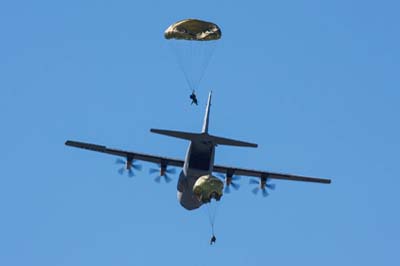 Philip Stevens reports on Thracian Spring 2010 where on the final day the two NATO forces swapped equipment.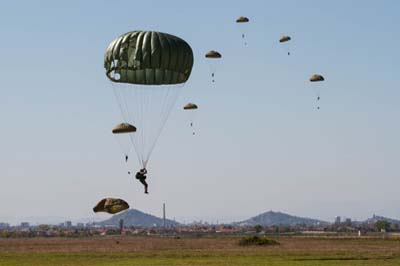 The fourth annual joint United States and Bulgarian military training exercise 'Thracian Spring' took place in Bulgaria from April 22 to April 28. For Thracian Spring 2010 two Lockheed C-130J Hercules of the 37th Airlift Squadron (AS), 86th Airlift Wing (AW) based at Ramstein, were deployed to Bulgarian Air Base Plovdiv-Krumovo. 81 US airmen were joined by US Army soldiers also based in Germany.

The aim of the exercise was to enhance tactical skills, to improve interoperability between NATO allies and to build long-lasting relationships. "We are here to build partnerships while working with our Bulgarian counterparts as we exchange airlift and airdrop tactics and ideas," said Lt. Col Matthew Wehner, the 37th AS deployed commander. "It provides a bridge and common language for future NATO contingency operations when full interoperability is paramount", we were told.

Essentially, Thracian Spring provides the Bulgarian forces with the opportunity to train their paratroopers, while USAFE pilots can complete their night operational training requirements. "We are able to assist the Bulgarians with training and maintaining their jump requirements during the day and fulfil our night time training requirements during the night, a task which is difficult to complete in Germany due to the reduced hours of darkness."
Joint training exercises such as these, ensure forces are prepared properly for joint operations such as in Kosovo, Kabul, Kandahar and Bosnia. The training provided here is not only vitally important to success downrange, it's also a "good time," said Bulgarian Army Lt. Col. Petko Petkov, the 68th Special Forces chief of Combat Training.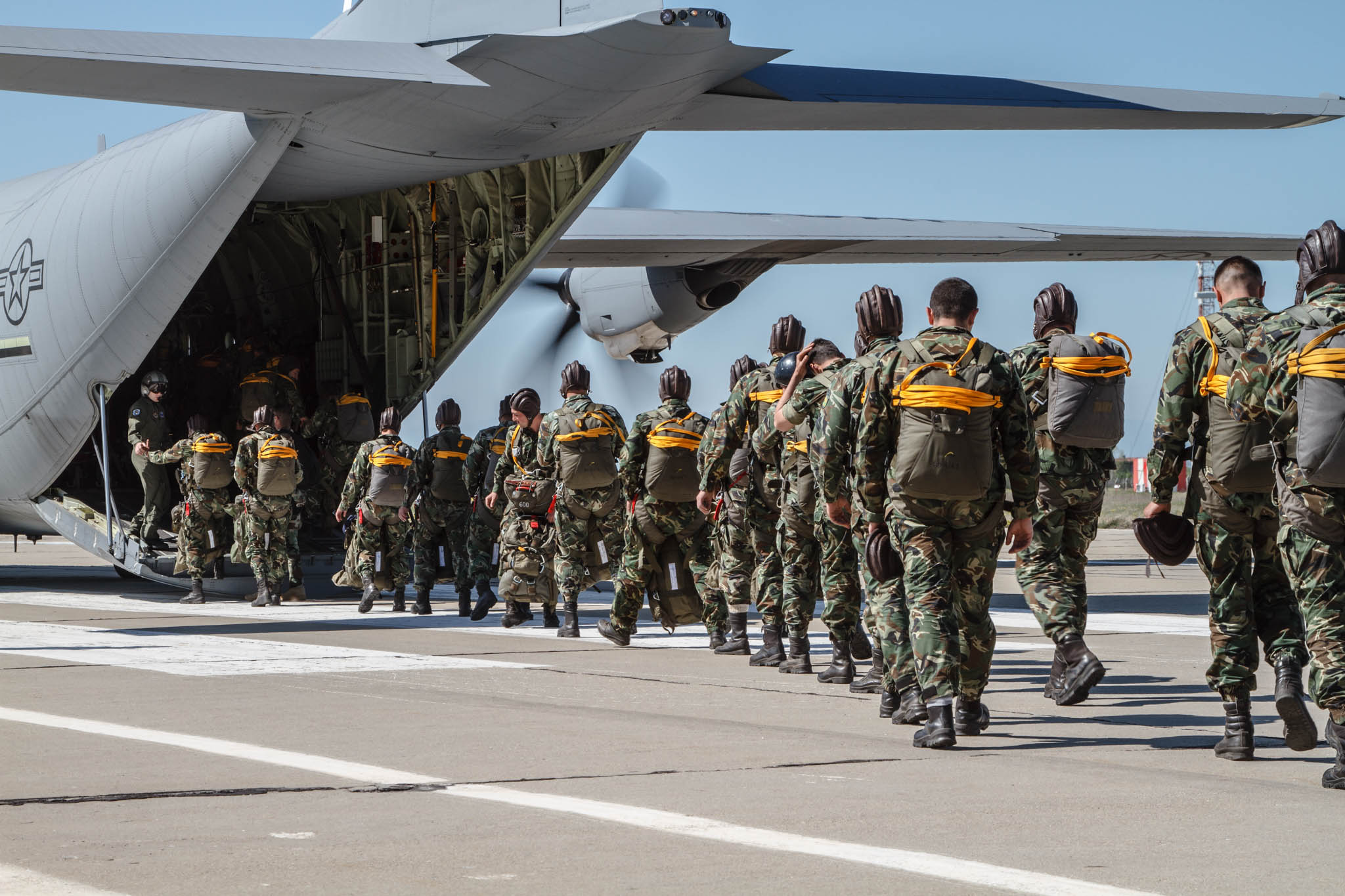 Bulgarian Army 68th Special Forces paratroopers embark on one of the USAFE C-130Js

Three different sorties were flown; low-level paratrooper jumps, High Altitude Low Opening (HALO) or freefall paratrooper jumps and night time flight training. The exercise was originally planned to be five days longer but ash from Icelandic volcano Eyjafjallajokull had grounded virtually all flights across Europe and caused a delay to the deployment. Despite the loss of training days, 16 sorties were completed, 37th AS crews and 435th Security Forces Squadron and US Army jumpmasters, trained 360 Bulgarian paratroopers on the correct way to jump from a C-130 Hercules. 513 static line and 400 HALO jumps were completed over the shortened five day exercise.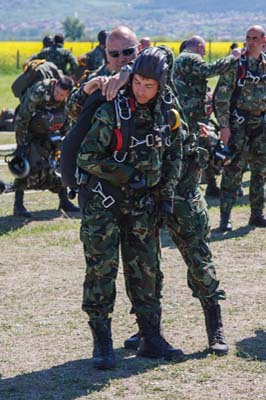 The compressed training schedule did not prevent pre-planned goals from being achieved, we were told. The greatest benefit for both the Bulgarian and U.S. forces was the ability to work and learn on how each country performs their respective missions. Both forces exchanged professional and personal experiences as they trained side-by-side. According to many of the jumpers from both the U.S. and Bulgarian side, jumping is universal and once one earns his or her wings they become part of the jump family no matter the nationality or gender. On the last day around 30 Bulgarians jumped with an American parachute and 15 U.S. paratroopers with a Bulgarian parachute. All jumpers involved received the opposite countries jump wings.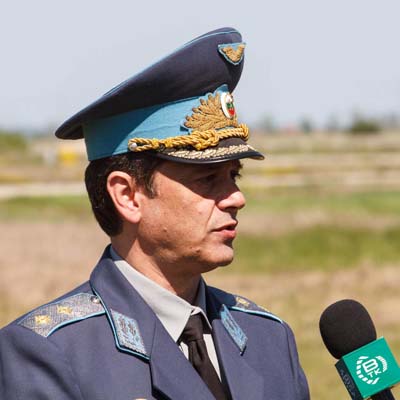 Left: Major-General Konstantin Popov, Chief of Staff, Bulgarian Air Force with Bulgarian Defence Minister Anyu Angelov were keen to affirm Bulgaria's commitment to NATO to the media during the exercise.

In 2005 Popov was appointed Chief of Staff at Joint Force Training Centre, following Brigadier-General Simeon Simeonov who at that time was appointed Chief of Staff of the Bulgarian Air Force. At the start of 2010 Popov again followed Simeonov when he was appointed Chief of Staff, Bulgarian Air Force.
Popov graduated from the Air Academy in Dolna Mitropolia and also from the Command and Staff College "G.S. Rakovski", Sofia, in 1992, before going to the Air War College, USA, in 2001.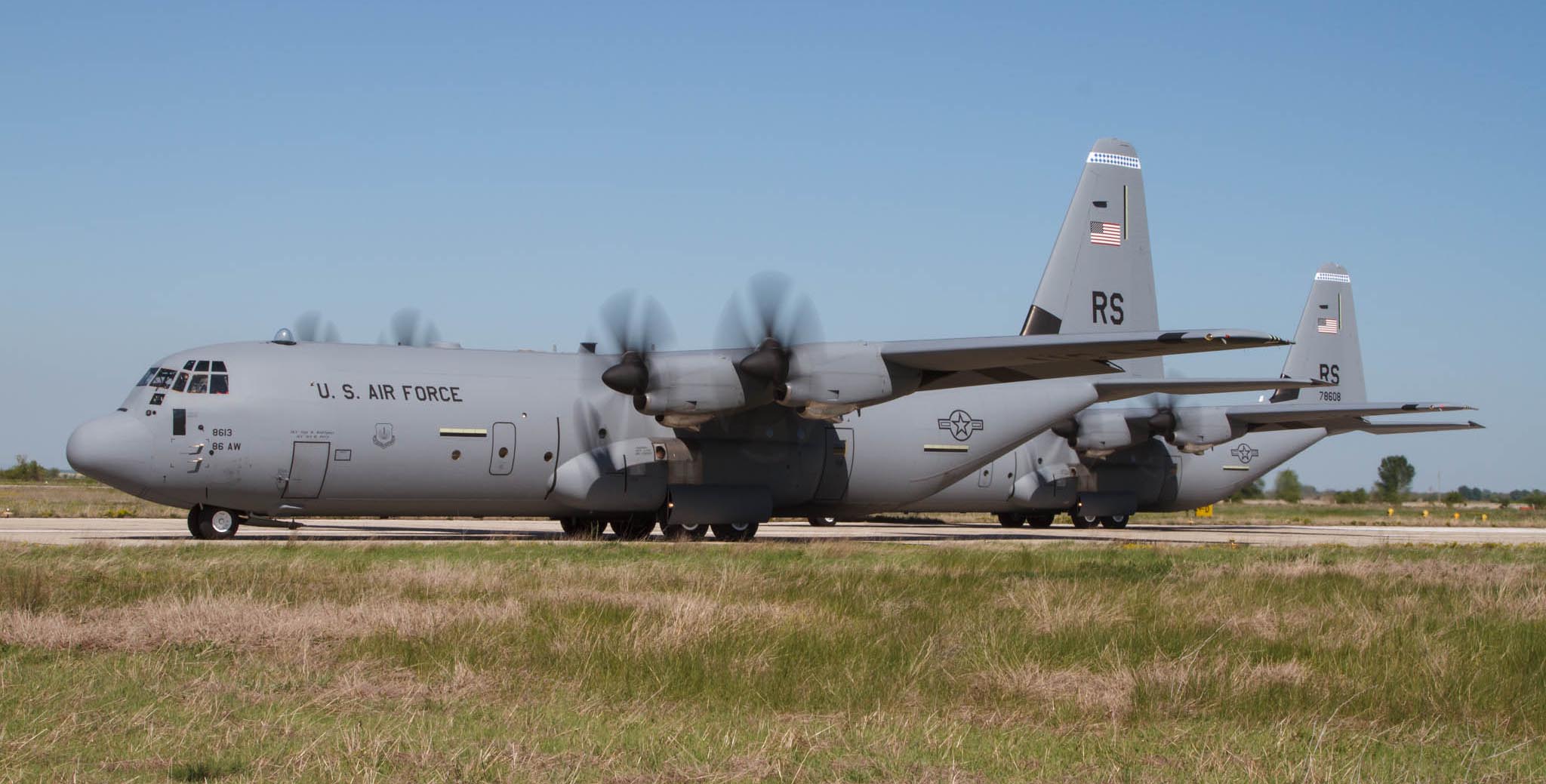 The 37th AS have received four new C-130J's in 2010 adding to the ten delivered during 2009, replacing the older C-130E's. The new aircraft are the longer C-130J-30 version is capable of flying higher, further and faster than earlier C-130 models, while carrying a greater payload.
Above: The two Lockheed C-130J Hercules (07-8613 and 07-8608) of 37th AS, 86th AW based at Ramstein at Thracian Spring 2010.

Left to right: C-130J Hercules (07-8613 and 07-8608) of 37th AS, 86th AW.
68th Special Forces, Bulgarian Army with US Army paratroopers make their way to one of the two C-130Js

Left to right: Around ten paratroopers on each low-level pass jumped from each C-130J over Krumovo airfield.