Finnish Air Force Museum
(Suomen Ilmavoimamuseo)
Tikkakoski, Jyväskylä, Finland
September 20, 2023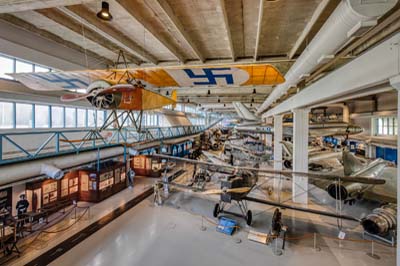 The museum from one of the upper walkways.

The Finnish Air Force Museum was opened in 1979, currently it is housed in a former precast concrete factory closed in the 1970s and subsequently acquired by the Ministry of Defence in 1983. The MoD are only responsible for the upkeep of the building and do not charge for any rent, electricity, or water. The museum itself has to fund everything else itself. Lieutenant Colonel (Ret'd) Kai Mecklin, a former Air Force navigator, since 1999 has been the Finnish Air Force Museum Director and manages the running of the museum.



He approves of the policies proposed by Professor of Museology Janne Vilkuna, who for 30 years had set the standards for aircraft restoration and preservation. "We want to tell the story of the Air Force had not the story of technical developments. We want to show the history of the Finnish Air Force in the wars, the aircraft in the Frontier not as new. That's the way to fulfil the air force history with bits of aircraft engines. Give the picture of the history of Air Force with the material in the museum used and not about giving a nice view of excellently restored aircraft." The policy they follow is to not over restore the aircraft in their care, by repainting for example, but to preserve them in the condition they were given to the museum. They certainly don't believe in changing the markings of any of their aircraft. "Our job is to tell the true history of each aircraft instead of making any fakes. We never change the original identity of an aircraft." said Kai Mecklin.

He looks to employ true aviation enthusiasts, like himself. He manages a team of four full-time professional aircraft restorers who he encourages to attend university to obtain a degree in museology. Unusually, he does not utilise volunteers for aircraft restoration at the museum. He says volunteers prefer to work at weekends and in the evenings, which makes them impossible to properly supervise. His professionals will then spend all their time preparing work for them to do, he says.

His restoration team started work on a VL Myrsky II in 2013 as a collaboration between an Aviation History Society and the Finnish Aviation Museum. It is the museum's largest restoration project to date, as they did not have a complete example but had to use a combination of three airframes and some remanufactured parts. The museum's restoration department is not generally open to the public but is located in an adjacent work area.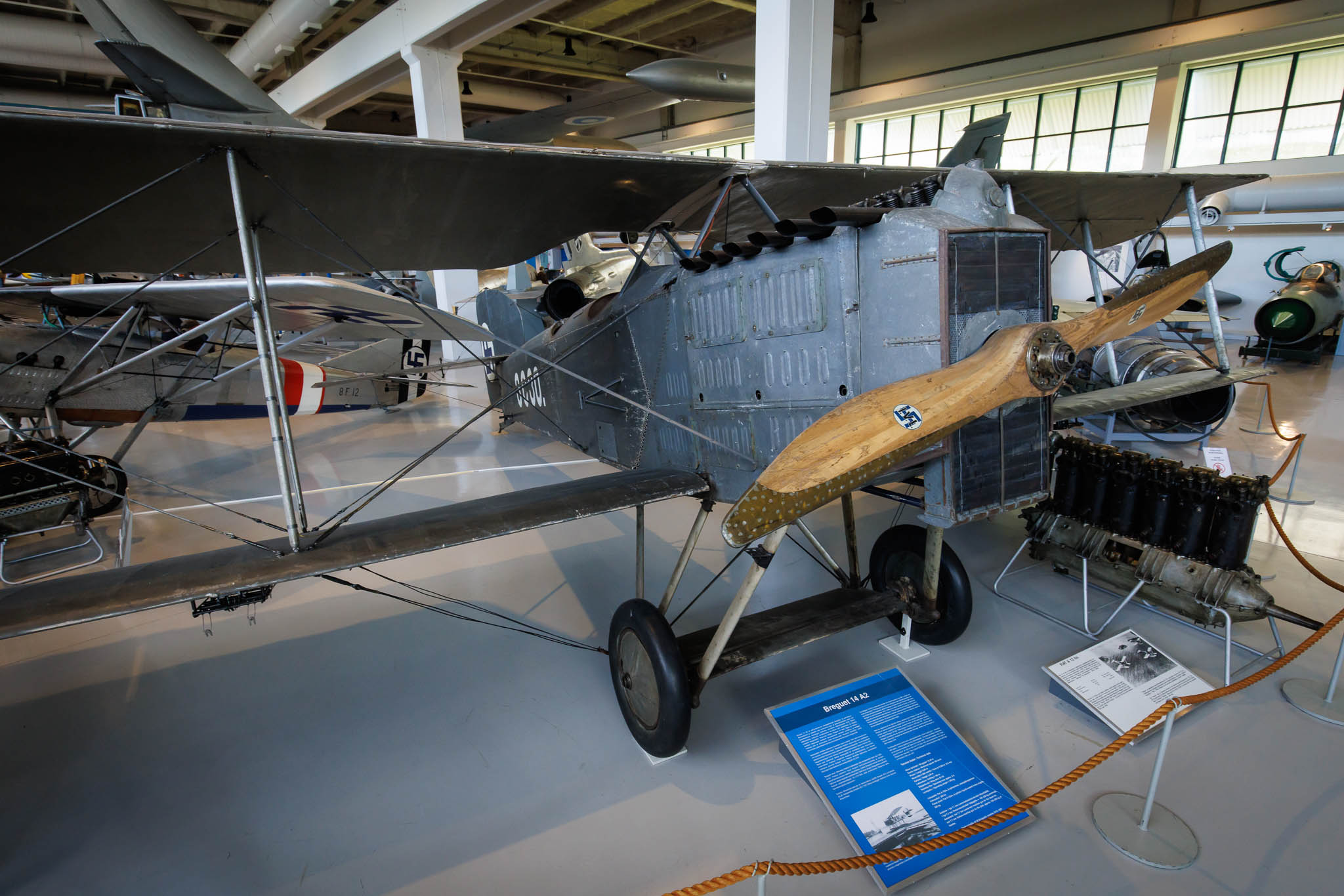 Left to right:

Bréguet 14 A2

(3C.30). French designed as a two-seat reconnaissance and bomber. It was manufactured using a significant proportion of light alloys, unusual for the time. Its first flight was made in 1916 when flown by Louis Bréguet who found it to be fast and agile. The Finnish Air Force acquired 30 examples between 1919 and 1921. On October 25, 1919, it flew the air force's first bombing raid on a Bolshevik held airfield near Petrograd. The Br.14s were mainly based at Utti throughout the 1920s. Three were equipped with floats for maritime operations between 1922 and 1924. The museum's example flew the types final flight in 1927. The only other surviving Br.14 of the 8,000 built is with the Musée de l'air et de l'espace, Paris.
The restoration of the museum's aircraft began in 2000 and took over nine years to complete. Most of the visible structure of the fuselage and fabric upholstery is original dating back to its final major maintenance in 1926. Cables and wooden parts of the airframe had to be renewed.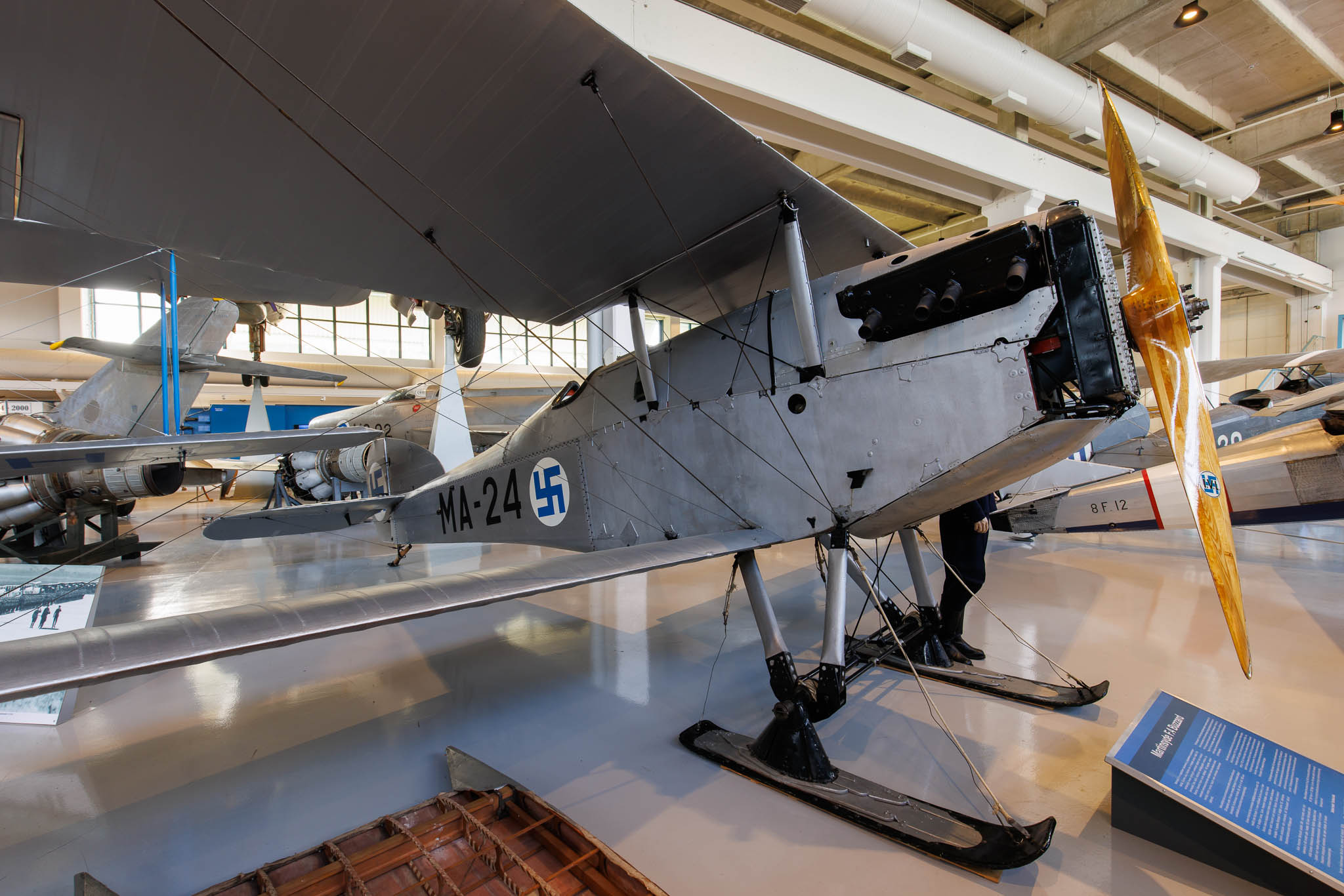 Left to right:

Martinsyde F.4 Buzzard

(D4326 later MA-24). British built as a private venture, it flew for the first time in June 1918 and proved to be superior to almost all its contemporaries. It was easy to fly, highly manoeuvrable and one of the fastest aircraft developed during World War One. The RAF immediately ordered 1,450 aircraft. Unfortunately due to a shortage of the 300 hp Hispano-Suiza 8 engines, very few could be delivered before the end of the war. Following the Armistice, Martinsydes were instructed to only deliver part built aircraft and just 330 were completed. Only 57 saw service in the RAF despite its impressive performance which continued until the mid 1920s. The Martinsydes were exported to; Spain, Ireland, Portugal, Latvia, and the Soviet Union.
Following the bankruptcy of Martinsyde in 1922, surplus aircraft were acquired by the Aircraft Disposal Company (Airdisco) which continued to develop and sell the F.4. In the Spring of 1923 the Finnish Air Force evaluated the Martinsyde against the Gourdou-Leseurre B.2 and the Fokker D.10, They regretted choosing the B.2 and ordered 14 Martinsydes in 1927 to replace the B.2. The Martinsydes operated from Utti before their transfer to the Kauhava Aviation School in 1930 for pilot training. It was the first aircraft in the Finnish Air Force to exceed 124 mph (200 km/h) in level flight.
MA-24 was withdrawn from service in 1934 having accumulated 492 flight hours on 1,320 flights. A very rare aircraft not only is it the only F.4 Buzzard, its the only surviving Martinsyde aircraft.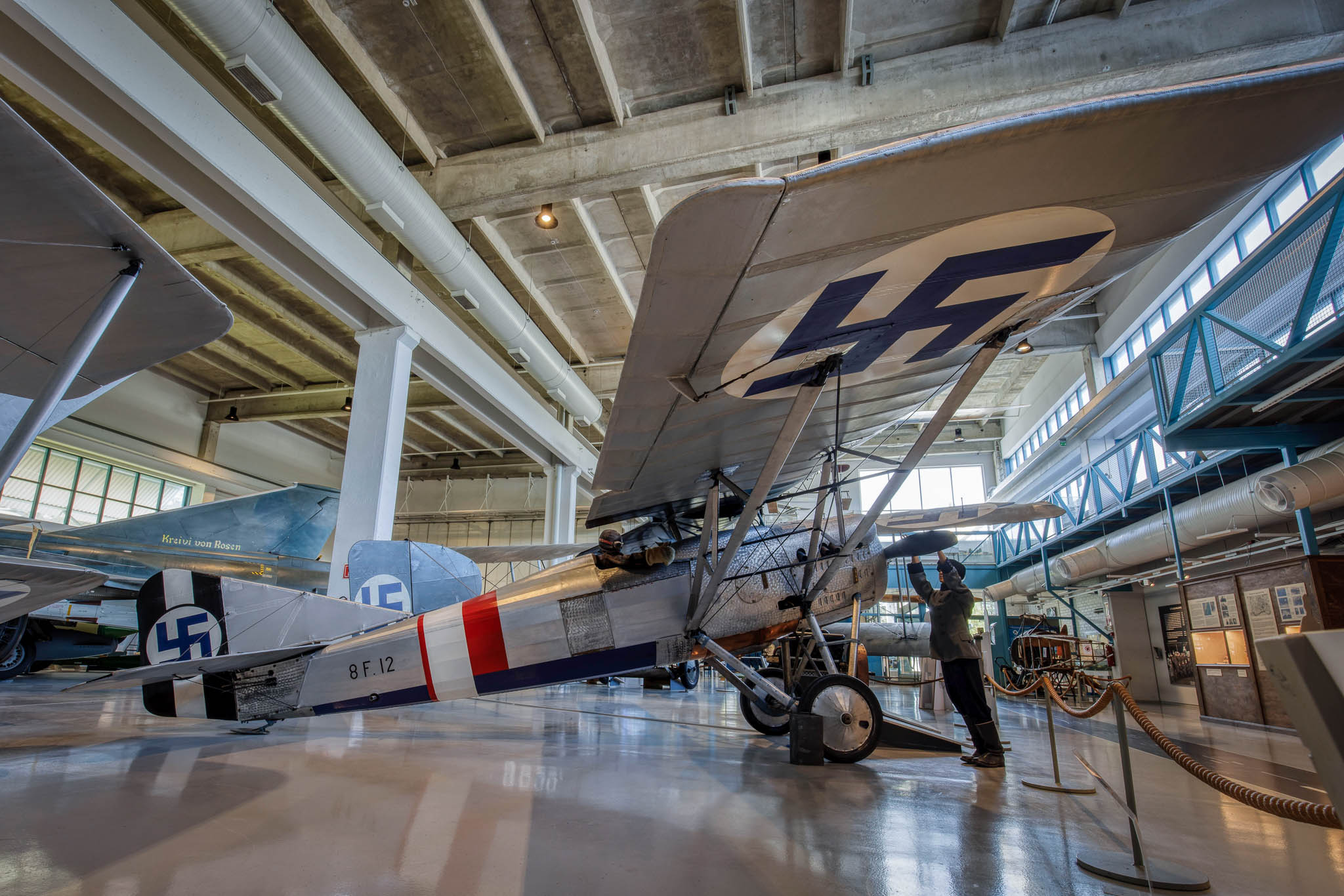 Left to right:

Gordou-Leseurre B.3

(8F.12 later GL-12). Designed by Charles Gourdou and Jean Leseurre in 1918. In 1923 the Finnish Air Force acquired one example for evaluation against the Martinsyde B.4 and Fokker D.10. Despite its inferior performance against the Martinsyde it was selected, due to its cheaper purchase and operating costs. 18 B.3s were ordered and formed a squadron at Utti. The aircraft were found to be susceptible to corrosion and fatigue, some were withdrawn in 1928, the remaining aircraft continued in service until 1931. It is the only surviving example in the World. It was restored at Tikkakoski between 1968 and 1970 and set in motion aircraft restoration in Finland.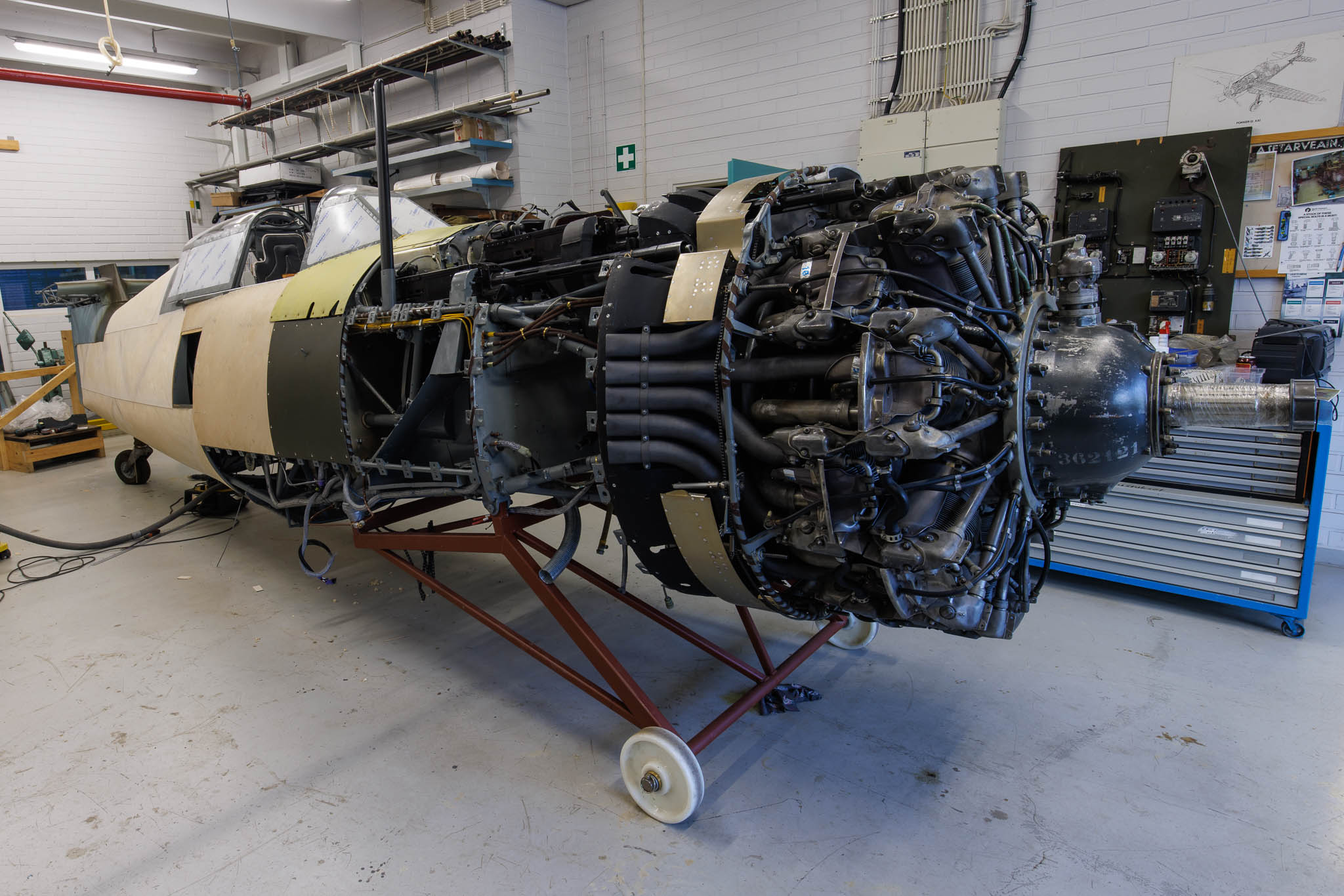 Left to right:

Valtion Lentokonetehdas (VL) Myrsky II

(Composite MY-9 and MY-14) It was originally fitted with an American Pratt & Whitney R-1830 Twin Wasp air-cooled radial engine. The engine they have for the restoration is from a Douglas DC-3 which is basically the same. The Myrsky will not be restored to engine running condition. They have an original retractable tail wheel, but many of the mechanical parts were missing so had to be remanufactured. Some of the panels can be opened to show the underlying construction and wiring. The mechanical controls will be restored so they respond to movements of the stick and levers. The restoration includes electric motors and wiring for landing and navigation lights. It will be spray painted at another site when their work is complete.
The plywood is glued on to wooden formers and stapled to keep it in position, it is not possible to use clamps. The staples are removed with pliers (see above) as soon as the glue has dried two hours later. As it is never going to fly again, there is no need to have the plywood panelling as robust as it was originally. Moulds had to be produced to fabricate the cockpit plexiglass. Dating back to 1941, the construction of the Myrsky comprised of a wooden wing, a steel tube fuselage with wooden formers and plywood skinning. The aircraft's restorers, working with plywood and sheet metal, admitted the skills they were using to restore the over 80 year old aircraft had to be acquired along the way.
The original manufacturer's drawings survived in the home of a former VL State Aircraft Factory employee who rescued them when they had been thrown out for disposal, he donated them to the museum in 1997. The engine cowling has been made from scratch using the drawings and is a very intricate piece of metal work.
Highly skilled volunteer aircraft restorers with the Aviation Museum Society at Vantaa are working on the wings of the Myrsky. The undercarriage had to be remanufactured, the cost of which was covered by Patria the project's sponsors.
Left to right:

De Havilland DH.60X Fox Moth

(MO-105 registered OH-EJA) named 'Juure' ex Finnish Air Force.
Left to right:

Brewster B.239 Buffalo

(BW-372) ex Finnish Air Force. In service from 1941 to 1945, 44 Finnish Buffalos claimed 477 Soviet Air Force warplanes destroyed, with the combat loss of just 19 Buffalos. One of those losses was BW-372, it was found in 1998 in Russian Karelia. On June 26, 1942 had made a forced landing into a lake on enemy territory.
BW-372 was somehow acquired by the US Navy Aviation Museum in Pensacola, who then lent it to the Finnish Air Force Museum in 2008. It is the sole survivor of its type, an export version of the F2A-1. "It's preserved in the condition it was when lifted from the lake in 1996, because in our opinion it is the most significant time for that aircraft. All the bullet holes and all the damage done in the water are preserved.", says museum director, Kai Mecklin.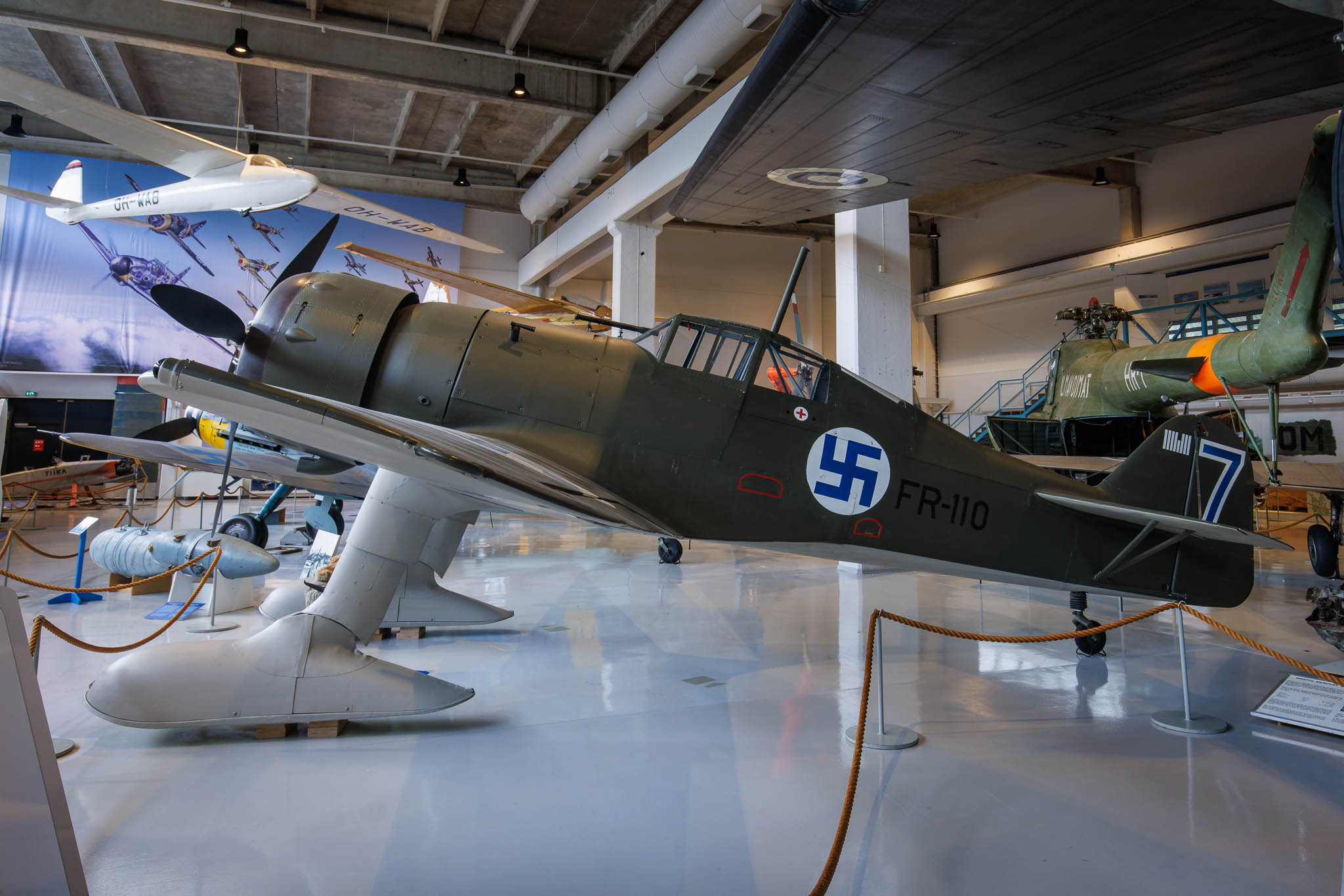 Left to right:

Fokker D.XXI

(FR-110) ex Finnish Air Force.
In 1975 parts of the aicraft was found in a junk yard near Jämsä, Finland. It was discovered that it was FR-110 flown by Viktor Pöytsia in the winter war. After display in the Central Finland Aviation Museum, the Karelian Aviation Guild agreed in 1984 with the Museum to carry out the restoration work. Other Fokker wreckage including the propellor had been found by divers in Lake Saimaa in 1979 of the plane flown by Danish volunteer Lieutenant Friz Rasmussen who lost is life after an aerial battle against the Soviets on February 2, 1940. Divers in 1986 from Satakunta Aviation located another Fokker wreck (FR-137) in Orivesi's Haukkalamme, where it had crashed in 1941. Salvaged parts included the tail fuselage, engine mount and the area between the firewall and parts of the cockpit. The restoration of FR-110 using parts from the other two aicraft became the biggest project undertaken by Luonetjärvi at Häme Aviation with the Finnish Air Force Museum at Tikkakoski. The wings were completely rebuilt by Plastmoudilu Kaarnakoski in Lahti.
Left to right:

Focke Wulf Fw.44J

(SZ-4 registered OH-SZO) ex Finnish Air Force.
Left to right:

Messerschmitt Bf.109G-6

(MT-507 and '0 yellow') ex Finnish Air Force.
Left to right:

Valtion Lentokonetehdas (VL) Pyorremyrsky

(PM-1) ex Finnish Air Force.
Left to right:

SAAB S-91D Safir

(SF-2) ex Finnish Air Force.
Left to right:

Valtion Lentokonetehdas (VL) Vihuri II

(VH-18) ex Finnish Air Force.
Left to right:

Hawker Hurricane Mk.I

(HC-452 '5' previously RAF N2394). After decommissioning, the plane had been stripped of its engine and easily removable equipment, including its weapons and gauges. Conservation was carried out between 2010 and 2013. It is one of the oldest and most original Hurricanes preserved in its original condition. The roundel was damaged by vandals in the 1950s and so had to be repaired and repainted.
Left to right:

Bristol Blenheim IV

(BL-200) ex Finnish Air Force.
Left to right:

De Havilland Vampire T.55

(VT-8) ex Finnish Air Force.
Left to right:

Folland Gnat F.1

(GN-104) ex Finnish Air Force.
Left to right:

Folland Gnat F.1

(GN-101) ex Finnish Air Force.


Fouga CM-170 Magister R

(FM-45 'A') ex Finnish Air Force.
Left to right:

Mikoyan-Gurevich MiG-15UTI

(MU-4 '4') ex Finnish Air Force.
Left to right:

Mikoyan-Gurevich MiG-21F-13

(MG-92) ex Finnish Air Force.


Mikoyan-Gurevich MiG-21bis

(MG-138) ex Finnish Air Force.
Left to right:

Mikoyan-Gurevich MiG-21UM

(MK-126) ex Finnish Air Force.
Left to right:

Mil Mi-1

(OH-HRC) ex Finnish Border Guard.


Mil Mi-4

(HR-1) ex Finnish Air Force.
Left to right:

Mil Mi-8T

(HS-1) ex Finnish Air Force.
Left to right:

Ilyushin Il-28R

(NH-4) ex Finnish Air Force.
Left to right:

Saab Sk35CS Draken

(DK-270) ex Finnish Air Force and ex Swedish Air Force.
Left to right:

Saab J35XS Draken

(DK-223) ex Finnish Air Force.
Left to right:

Douglas C-47A Dakota

(DO-4) ex Finnish Air Force.


Thulin D

(F3) fuselage, ex Finnish Air Force. Possibly only the engine is original.
The

Tiira

is a Finnish home-made airplane completed in 1973 anf lown for just 70 hours.