Tactical Leadership Program (TLP
Out of Region Deployed Flying Course 2008-1
RAF Kinloss
January 14 to February 8, 2008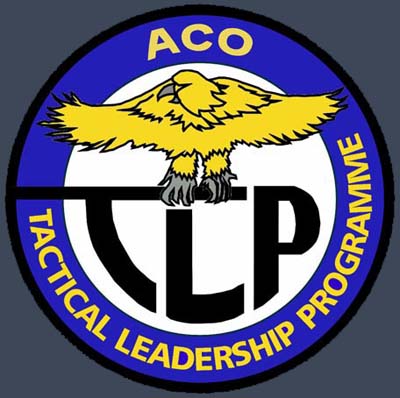 The Allied Command Operations (ACO) Tactical Leadership Program (TLP) has been designed to improve the tactical capabilities of the member nations. TLP members originally signed a Memorandum of Understanding (MOU) in 1978 with an aim to develop tactics, techniques and procedures to enhance multi-national air operations.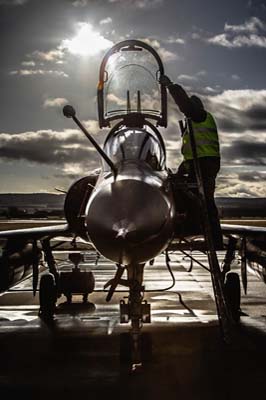 Colonel J Steyaert Commandant TLP (Belgian Air Force) the new Commandant TLP from January 2, 2008 at Kinloss said; "TLP is a unique organisation in the world. We try to prepare aircrew for coalition warfare. Pilots have to deal with tactical problems, taking into account the capabilities of all the other nations."

Lt Col Paul T. Matier, Chief of the Flying Branch (TLP) explained that planning is paramount. A scheduling meeting is held every August with MOU and non-MOU nations, to decide who takes part in the following year's six courses. "We try to balance each class with a mix of aircraft with air-to-ground, air-to-air, Suppression of Enemy Air Defence (SEAD) and reconnaissance capabilities with the 'Red Air' fighters."



TLP deploys to RAF Kinloss


Each year six courses are planned, one of which is held away from the TLP home base Florennes in Belgium. This year the Out of Region (OOR) deployed flying course was held at RAF Kinloss in the north of Scotland. Col Steyaert explained; "We can't do everything we would like to do at Florennes due to airspace restrictions and the lack of a night flying capability. The deployed course allows for one week of night flying."
Interested MOU nations will bid for the OOR course, Ministry of Defence's offer of RAF Kinloss, with its Air Warfare Centre and the firing range at RAF Spadeadam a short flying distance away, made selection for this year very easy. RAF Spadeadam is the only facility in Europe where aircrews can practise manoeuvres and tactics against a variety of threats and targets that are faced in contemporary warfare. Whilst Spadeadam is generally used on each TLP course, while based at Kinloss its close proximity negates the need for air-to-air refuelling (AAR).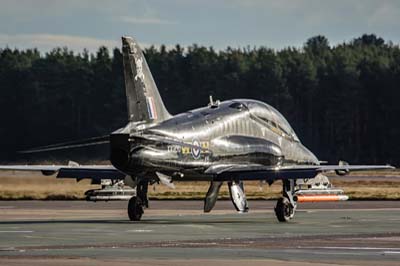 Only one day on the course required AAR when two USAF and one French Boeing KC-135 Stratotankers were utilised.
Students on the course are very experienced pilots, on average around 33% have been to war. On this course three of the four Italian pilots had attended the TLP before, they came with more experience and so provided a greater input into the class. The participants are required to have pairs lead, be combat ready and qualified to fly at 500 feet (152m) Minimum Separation Distance (MSD) for the low-level sorties. They must also be judged capable of leading multi-aircraft and multi-national packages.
Air Defence participants should be Dissimilar Combat Training (DACT) qualified, AAR qualified and qualified for night flying with a minimum of 500 hours on the aircraft type or role.
For course 2008-1, 25 student aircrew were trained utilising 18 aircraft from Holland, France, Italy, Belgium and the United Kingdom. Additional aircraft for the opposing 'Red Air' missions were provided by two Belgian, two Italian F-16 Fighting Falcons and two RAF Hawks from 100 Squadron at Leeming.

Following a two-day academic course, which started on January 14, the flying-phase began and ran until February 8. It combined 50 seminar hours with 60 hours flight briefing and debriefing with at least 15 tactical missions being flown. The mission complexity increases as the course progresses, pilots are worked very hard, the twelve-hour days are very demanding.
Col Matier was on-hand to enthusiastically describe operations at Kinloss. "We try to simulate a potential crisis, making it as close as possible to real situation. This course offers a unique opportunity to fly in big formations or Combined Air Operations (COMAO) at night. We try to stay on cutting-edge of tactics related to COMAO."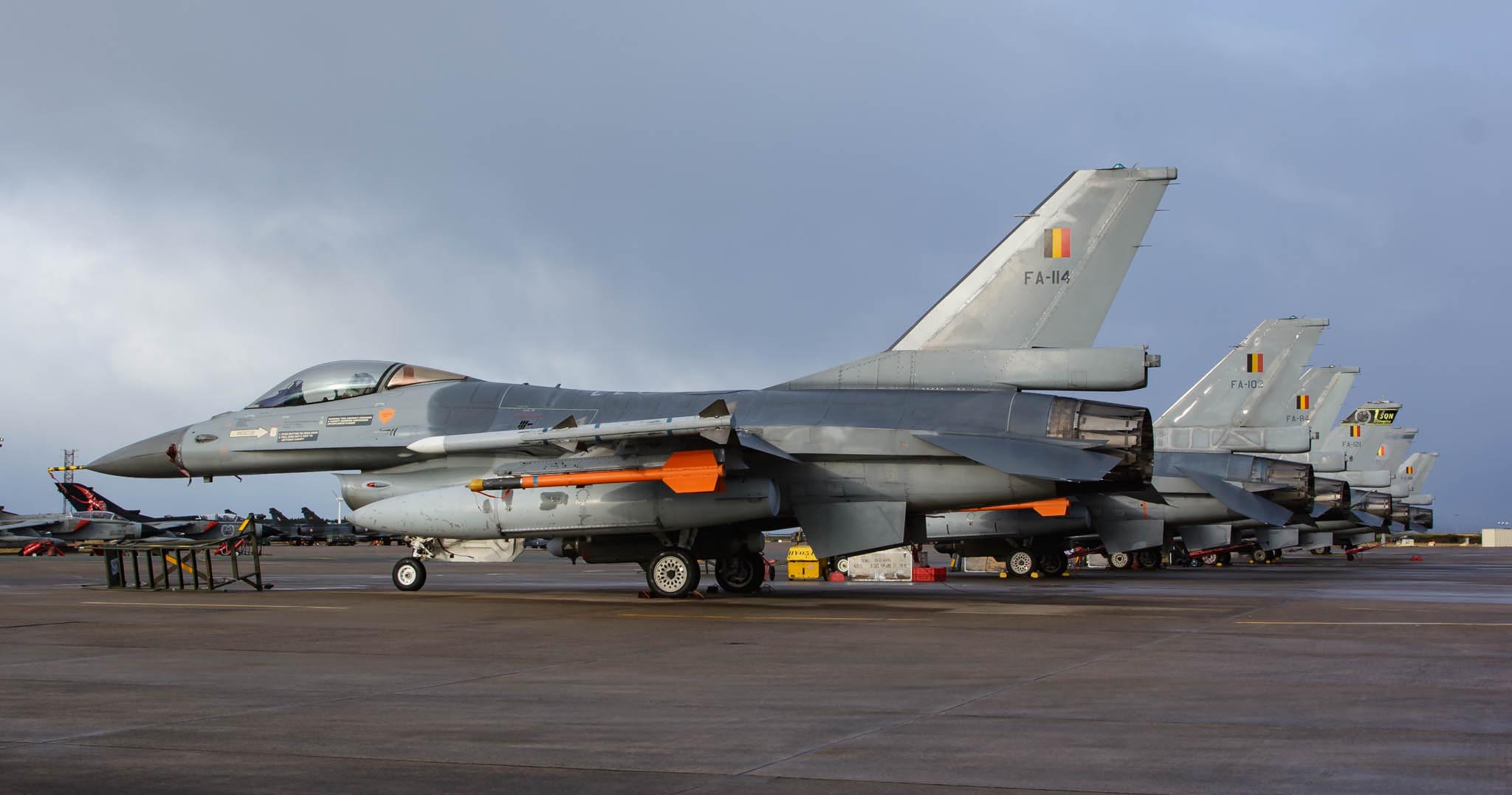 Belgian Air Force General Dynamics F-16AM Fighting Falcons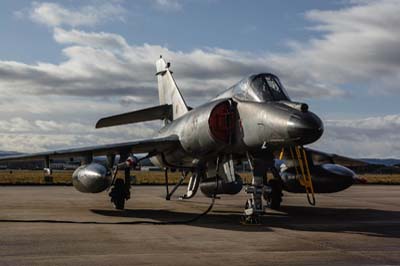 Mission planning, a puzzle to solve


Mission scenarios can change mid-course based on how well the students are doing and on the weather, "We are not locked into anything." For the days missions 'Red Air' are told by the TLP staff what they would like them to do and the students of 'Blue Air' are briefed with an objective for the mission. "You then let them go out there and solve the puzzle, the student's solution is different every time", added Col Matier.

TLP staff will spend a day coming up with a scenario for the following day. They look at the airspace available and the weather, to find best place to fly and to match it up with the proposed mission. The 'threat feedback' mission for example was flown against the firing range at Spadeadam and their surface-to-air missile simulators. The mission is built around the airspace to produce the TLP Tasking Order (TTO) which essentially mirrors an Air Tasking Order (ATO) used in live situations. The TTO is the key to the puzzle and is given to the students to solve just four hours before take-off.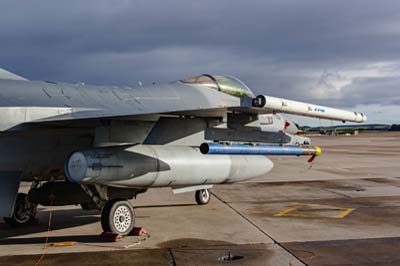 Students are briefed on the weather and given an intelligence scenario before they go to the planning room. There they digest the problem, develop a coherent solution, brief the solution and complete mission planning. A PC based mission planning system call Falcon View is used.
TLP staff will teach the academics of mission planning and monitor the students during the course. Some suggestions are given at the beginning but no help is given towards the end. Each mission gets progressively harder as more 'Red Air' are introduced and are made more capable. External assets were utilised throughout the course including, air refuelling tankers, AWACS and a Nimrod. Forward air Controllers (FAC) on the ground will call in the strikes.

One of the most important aspects of TLP courses is the 'Autonomous Air Combat Manoeuvring Instrumentation' (AACMI) system. Aircraft are fitted with an Airborne Instrumentation Sub-system (AIS) Pod, which is essentially an electronic pod (based on the AIM 9 air-to-air missile) which transmits a package of information regarding the flight of the aircraft, such as altitude, speed, heading, G and angle of attack. All these data are received on the ground for analysis. It is possible to follow air-to-air combat in real time very accurately within 15 feet (4.6m) and when the flight has ended the data is used extensively during debriefing. Students finish at 19:30 each night.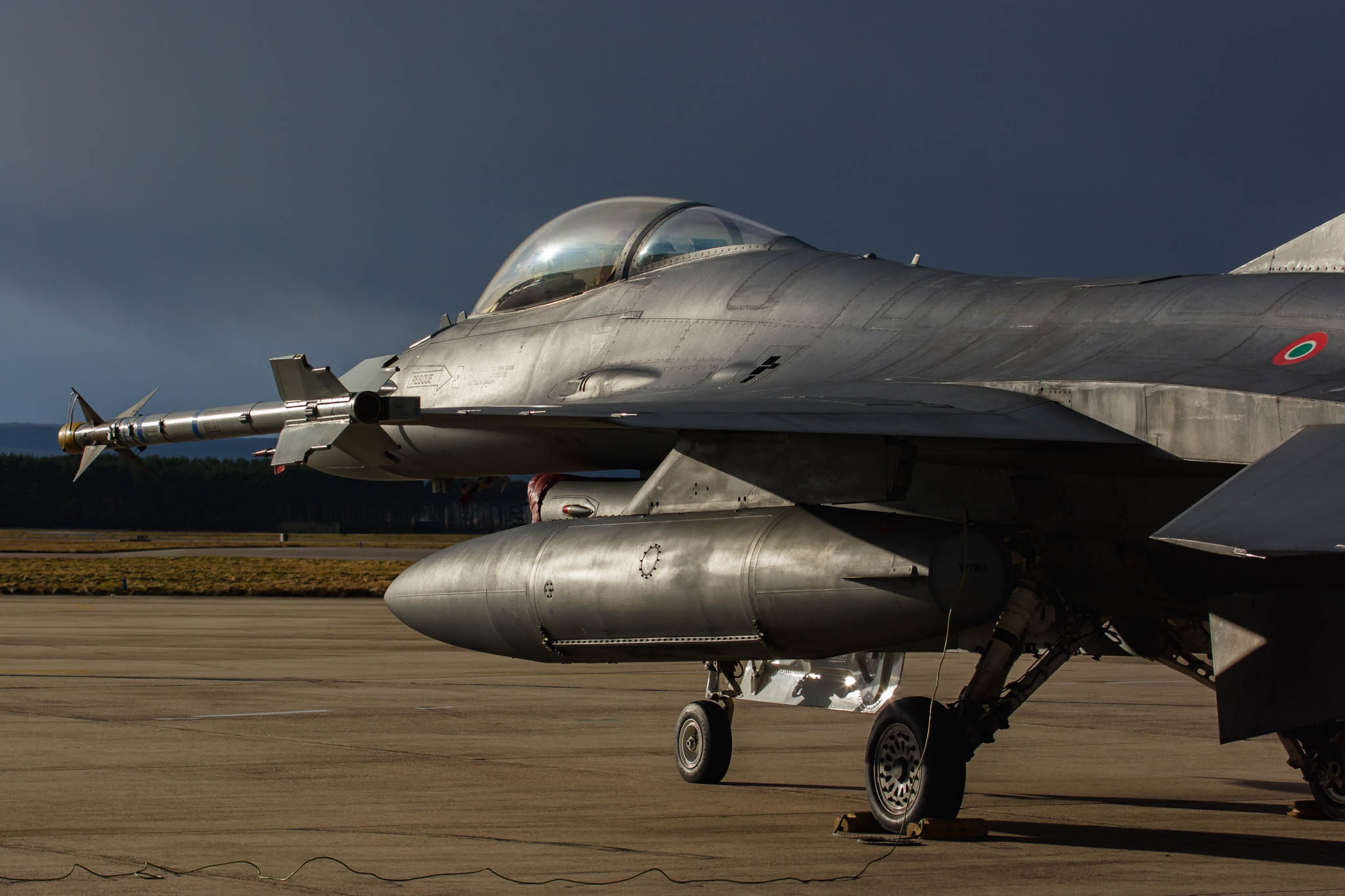 Italian Air Force F-16A-ADF (MM7262) catching the early morning sun just before a snow storm.

Training for future conflicts


Clearly the TLP offers some very effective training, incorporating as much real-life scenarios as possible. Col Matier, an F-15C Eagle pilot with extensive experience gained in the Middle East, has been responsible for putting the mission scenarios together for the last nine months. He said, "We don't know what the next war is going to look like but we can guess that there could be some Combat Search and Rescue (CSAR) and Close Air Support (CAS) with deep strikes certainly a possibility." To demonstrate that not all TLP missions involve air strikes. One mission involved a French Air Force C-160 Transall. "Transport aircraft need protection when they are fly freight to a war zone as in Iraq and Afghanistan. Fast jet pilots need to know how to deal with this scenario. They need to know how to protect them and integrate them into the mission package?"

The TLP dates back to 1978, it's founding nations were Belgium, Canada, Germany, Holland, Great Britain and the United States. Originally it was just an academy and did not involve any flying, the original two-week seminars enabled aircrew to discuss and formulate NATO tactics, techniques and procedures.

In 1979 the TLP moved to Jever Air Base in Germany where two weeks of flying was added to the course. In 1989 the TLP moved to the Belgian Air Force base at Florennes. Although Canada withdrew from the TLP in 1997, when they closed their bases in Europe, other nations have been eager to sign the Memorandum of Understanding (MOU) for the TLP. In 1996 Italy and Denmark signed up followed by Spain in 2002.

The considerable costs of running the courses are shared amongst the MOU members, based on the number of flying slots committed to. However non-member nations, such as France, Greece, Turkey, Portugal and the Czech Republic are offered slots, which they pay for on a slot by slot basis. Each year around 150 slots are available with 25% being taken up by non-member nations.
In the summer of 2009 the TLP will move to Albacete Air Base in Spain and France and Greece will sign the MOU to join the eight other full members. There are several reasons for the move to Spain. Over Belgium civilian traffic has doubled over the years leading to airspace restrictions. Unlike Belgium, Spain can offer night-flying and better weather. All six TLP courses will be operated from Albacete AB. Col. Steyaert will remain in post up until the move to Albacete is complete, when a Spanish AF Colonel will take over command.
TLP 2008-1 Flying Schedule


Wednesday 16th - Familiarisation Flights
Thursday 17th - Tactics Introduction
Friday 18th - Red v Blue Opposing

Night flying this week only
Monday 21st - 'Counter Surprise'
Tuesday 22nd - Joint Munitions Effectiveness Manuals
Wednesday 23rd - Time-Sensitive Targeting & Strike Control and Reconnaissance
Thursday 24th - No Flying (weather slip day)
Friday 25th - Slow Moving targets (cancelled due to weather)

Monday 28th - Time-Sensitive Targeting & Strike Control and Reconnaissance
Tuesday 29th - Threat Feedback and AAR
Wednesday 30th - Anti Surface Warfare Academics
Thursday 31st - Anti Surface Warfare and AAR (cancelled due to poor sea state)
Friday 1st - Response Option (cancelled due to poor sea state)

Monday 4th - Combat Search and Rescue Academics
Tuesday 5th - Combat Search and Rescue
Wednesday 6th - Anti Helicopter
Thursday 7th - Consolidate
Royal Netherlands Air Force General Dynamics F-16AM Fighting Falcon (J-201).

TLP Course 2008-1

(The participants)
6x F-16AM Belgian Air Force (2 Wing, 1sm from Florennes and 10 Wing, 31sm from Kleine Brogel)
2x F-16AM Royal Netherlands Air Force (322 Squadron from Leeuwarden)
2x Mirage 2000D French Air Force (EC02.003 'Champagne' from Nancy-Ochey )
2x Mirage 2000N French Air Force (EC01.004 'Dauphine' from Luxeuil-St.Sauveur)
2x Mirage F.1CT French Air Force (EC02.030 'Normandie-Niémen' from Colmar - Meyenheim)
2x Super Etendard French Navy (17 Flotille from Landivisiau)
2x Tornado IDS Italian Air Force (6° Stormo, 154° Gruppo from Ghedi)
1x Dassault Falcon 20ECM Flight Refuelling Aviation
2x F-16A-ADF Fighting Falcons Italian Air Force (5° Stormo, 23° Gruppo from Cervia)
2x Hawk T.1A RAF (100 Squadron from Leeming)
1x C-160R Transall French Air Force (ET01.061 'Touraine' from Orléans - Bricy)
2x SA330B French Air Force (EH01.067)
2x HH-3F Pelikan Italian Air Force (15° Stormo from Rimini - Miramare)
Left to right: General Dynamics F-16AM Fighting Falcon's (FA-84, line-up, FA-121 inscribed on tail '1 Squadron Stingers' and FA-91 'FS') of the Belgian Air Force.
Left to right: Super Etendard (55 and 39) of French Navy.
Left to right: Mirage 2000N (333 '4-AB' and 326 '4-AS') of EC01.004 French Air Force based at Luxeuil-St.Sauveur.
Left to right: Mirage 2000D (615 '3-JY' and 678 '3-JB') of EC02.003 French Air Force.
Left to right: Mirage F.1CTs (279 '30-QL'' and 272 '30-QZ') of RC02.030 French Air Force.
Left to right: F-16AM Fighting Falcons (J-644 and J-201) of the Royal Netherlands Air Force.
Left to right: Italian Air Force F-16A-ADF.
Photography:
Having allocated two days to cover the TLP at Kinloss it was disappointing to find that the weather conditions prevented any flying on both days due to the sea state. When the waves are too high it is deemed to risky to fly missions over the sea in case a pilot has to be rescued. Never-the-less I was very well looked after by the staff at Kinloss and I am also very grateful to the TLP chiefs for granting me a very informative interview.

The very low winter sun provided some beautiful lighting and combined with ample time to explore various angles lead to some pleasing images.
A special thanks must also go to members of the Italian Air Force and the invitation to the evening party.......