USS Harry S Truman (CVN-75)
A short visit to Portsmouth
Stokes Bay
April 4-10, 2005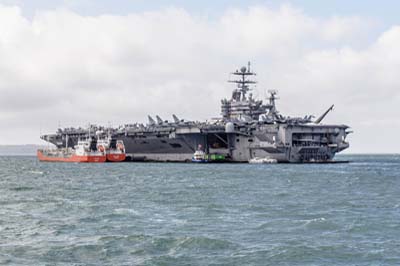 With just a day or two's notice USS Harry S Truman slipped into Stokes Bay, between the Isle of Wight and Portsmouth on April 4. Returning from the Arabian Gulf, the 5,500 strong crew were given a few well earned days of rest and relaxation, before returning to their home port at Naval Air Station Norfolk, Virginia.



The Harry S Truman Carrier Strike Group relieved the USS John F. Kennedy (CV-67) in the Gulf on November 20 to continue in support of Operation Iraqi Freedom (OIF) and maritime security operations (MSO). Up until passing over operations to the Carl Vinson Carrier Strike Group on March 19, Truman and Carrier Wing (CVW) 3 launched 2,577 sorties. Whilst 13,000 flight hours were flown in support of OIF and MSO. One very important exercise involved support of coalition forces during the January 30 Iraqi elections. "I'm very proud of the close co-operation and esprit de corps on the ship, Air Wing and throughout the Strike Group" said Commander, Carrier Strike Group (CSG) 10 Rear Admiral Michael C. Tracy. "I know for a fact that the troops on the ground appreciated our ability to provide close air support."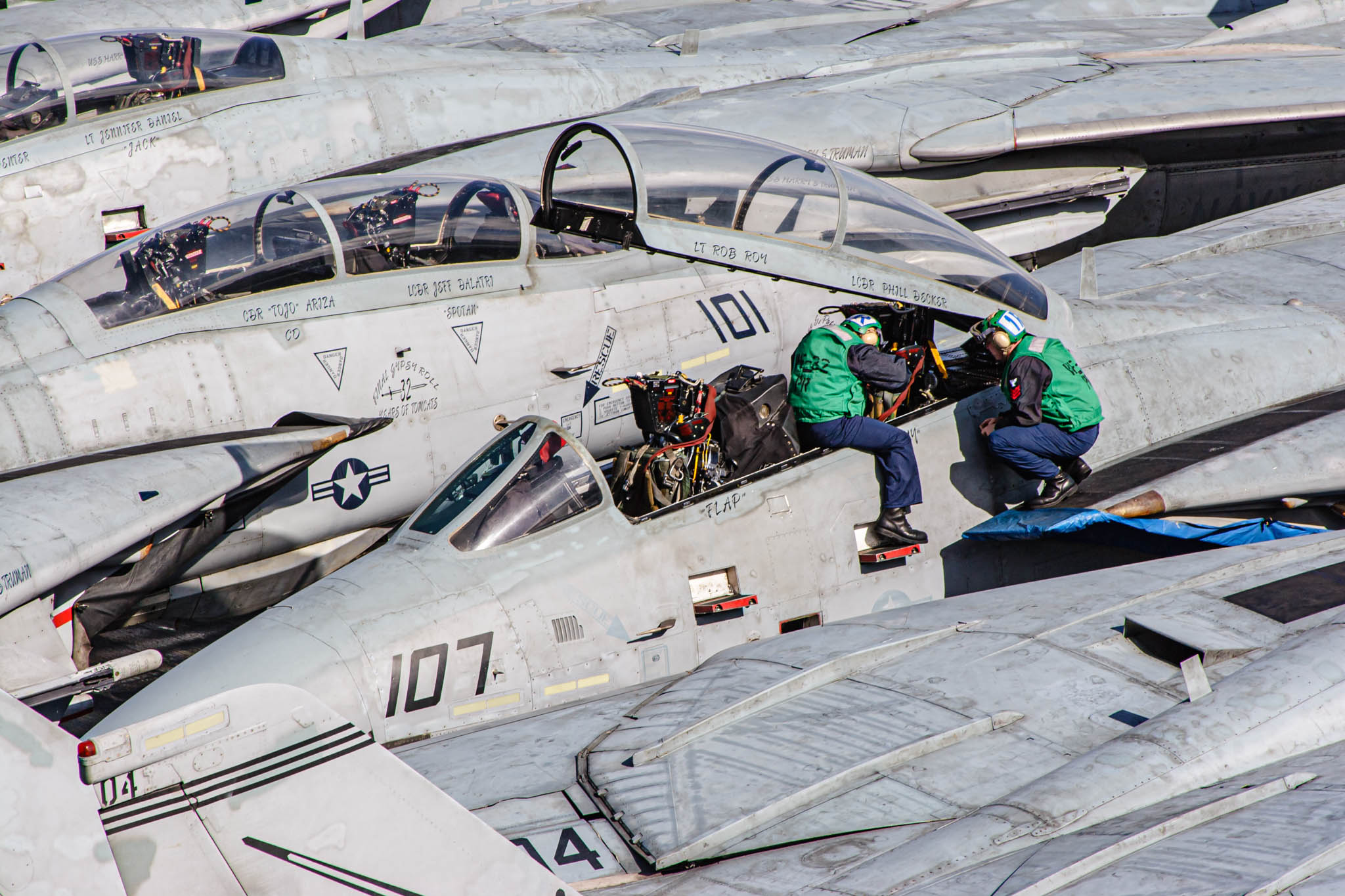 The Truman was the first carrier to implement United States Navy's new Fleet Response Plan (FRP) from the beginning, according to the commander of CVW-3, Captain Patrick Rainey. The FRP has created a more deployment-capable and responsive Navy. The overall objective is to have the ability to surge six carrier strike groups to a contingency, with the ability to push forward an additional two carrier strike groups. The FRP will also change the way that ships are maintained, keeping them at a higher state of readiness during their surge windows. Capt. Rainey added, "When we get home, we'll be able to relax in pieces before we start flying and conducting air wing training. We'll be maintaining a high level of readiness and conducting sustainment training for the next 11 months."
CVW-3 witnessed the end of an era with this deployment as it was the final combat flight of Fighter Squadron (VF) 32s Grumman F-14B Tomcats, which will be replaced by F/A-18F Super Hornets later this year. While there are some heavy hearts within VF-32 they know it's a necessary step forward in their mission. "I'm lost for words", said Chief Aviation Machinist's Mate (AW/SW) Jerry Robinson, whose 23 year career witnessed the heyday of the Tomcat. Ten F-14B Tomcats of VF-32 'Swordsmen' were onboard from their shore base at Naval Air Station Oceana. The Tomcat uniquely employs Low-Altitude Navigation and Targeting InfraRed at Night (LANTIRN) system software, which enables it to acquire mensurated target co-ordinates that are accurate enough for GPS weapons. LANTIRN made the Tomcat the platform of choice for precision targeting despite the arrival of the F/A-18E Super Hornet, as it's targeting pod is deemed superior over the F-117A Night Hawk the F/A-18Es equipment. The Tomcats also have a superior range. Never-the-less the Tomcat is being retired early due in part to it's high maintenance costs compared to the newer Hornets and Super Hornets.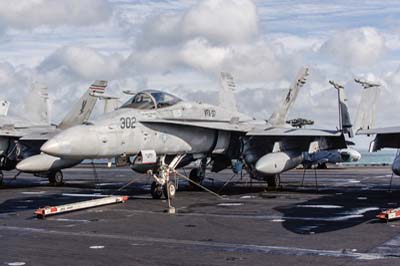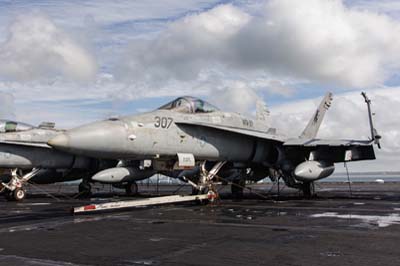 The F/A-18 Hornet is now the strike aircraft of choice for the United States Navy. The Truman carried 11 F/A-18C Hornets from Strike-Fighter Squadron VFA-37 'Ragin Bulls' (see above) from their shore base at NAS Oceana, Virginia along with,
11 F/A-18Cs from VFA-105 'Gunslingers' (see above) also from NAS Oceana, Virginia.
A further 11 F/A-18As were from the Marines Fighter Attack Squadron, VMFA-115 'Silver Eagles', based at MCAS Beaufort, South Carolina.
Four EA-6B Prowlers of VAQ-130 'Zappers' are the oldest Tactical Electronic Warfare Squadron in the United States Navy and have a 'Zapper Dragon' as their insignia, they are based at NAS Whidbey Island, Washington. The VAQ-130s Prowlers are responsible for leading all SEAD (Suppression of Enemy Air Defences) missions, using High Speed Anti-Radiation Missiles (HARM). They are often the first aircraft to cross into hostile airspace accompanied by their fighter escort.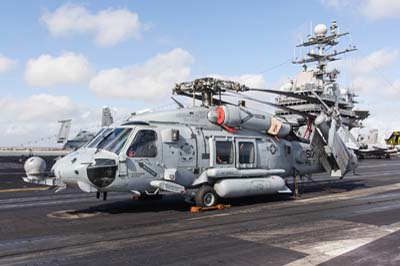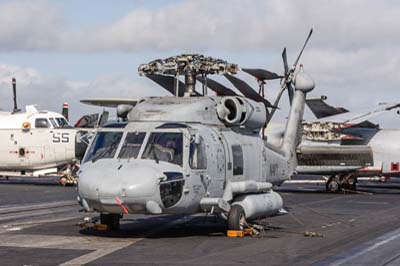 Helicopter support is provided by HS-7 'Dusty Dogs' and their SH-60Fs (four carried) and HH-60Hs (3 carried) Sea Hawks. They are tasked with anti-submarine warfare (ASW) using the SH-60F and combat search and rescue using the HH-60H.

The SH-60F is a multi-mission, day and night all weather aircraft. The SH-60F has the means to detect, track and attack enemy submarines as well as provide the task force with utility support. The SH-60Fs primary sensor is the AQS-13F variable depth sonar and is employed along with sonobuoys to detect and track enemy submarines. The SH-60F carries a wide range of ordnance, including MK-46 and MK-50 series homing torpedoes and M-60D/M240 machine guns.
The HH-60H helicopter is a derivative of the SH-60F and is designed to perform combat search and rescue (CSAR) and special warfare missions. It is designed to covertly penetrate enemy airspace, locate and recover isolated personnel and return them to safety. HS-7 is shore based at NAS Jacksonville, Florida.
The Truman is equipped with four E-2C Hawkeye of VAW-126 'Seahawks' from their shore base at NAS Norfolk, Virginia. VAW-126s primary mission is long range airborne early warning in defence of the Carrier Battle Group, using electronic surveillance and radar countermeasures.
Two Grumman C-2A Greyhounds of VRC-40 detachment 5 'Rawhides' and based at NAS Norfolk, Virginia, were aboard. The Greyhounds primary role is one of fleet logistics, providing the carrier with a vital transport and cargo (including jet engines if required). The C-2A, is a derivative of the E-2C Hawkeye and first flew back in 1964.

Finally from the Sea Control Wing at NAS Jacksonville, Florida were eight Lockheed S-3B Vikings of the VS-22 squadron 'Checkmates'. The S-3B Viking is an all-weather, carrier-based jet aircraft and is the Carrier Battle Groups' primary airborne tanker. It's other missions includes day and night surveillance, electronic countermeasures, command control and communications warfare. It is also used search and rescue (SAR).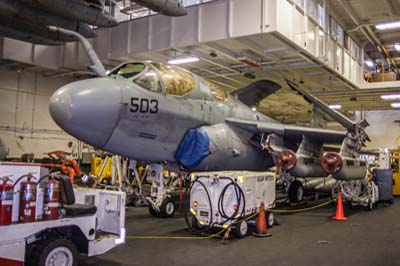 Our guided tour started at the vast hangar deck, below which we were told, are 22 other decks. Despite containing ten aircraft it looked more them half empty.

Most of the time was spent on the Flight deck above. All aircraft were chained down and often very closely parked together, making photography challenging at times. A good wide angle lens was essential, however there were some angles where a longer lens produced some good results. Later we were taken up to Vulture's row, where views of the vast deck, enabled the use of much longer telephoto lenses.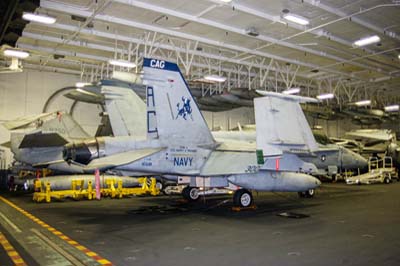 The Nuclear powered Truman was commissioned on July 25, 1998 and has a flight deck of 1,096 feet in length. It's four steam powered catapults are capable of launching an aircraft from 0 to 150 mph in just two seconds. Interestingly its two 30 ton anchors were taken from USS Forrestal (CV-59) when it was decommissioned.

'Give 'Em Hell'